Ever wonder what goes on in the mind of your pet? My cat goes on crazy adventures all day long. I think it's awesome. Last night he got lost in bed sheets and made a fort out of laundry. Next thing I know he's playing fetch with bottle caps and herding socks to a corner. What goes on in his head? How is he always so self occupied and entertained? Maybe he is just bored stupid. Either way, he's awesome. I am so glad he never lost that kitten charm.
Broccoli and Cheese Soup
from http://www.foodnetwork.com/
Ingredients
3 tablespoons unsalted butter, plus 2 tablespoons cold unsalted butter, cut into pieces
1 cup yellow onions or sliced leeks (white parts only, well rinsed)
1/2 teaspoon salt
1/4 teaspoon freshly ground white pepper
Pinch nutmeg
1/2 teaspoon minced garlic
1/2 teaspoon chopped fresh thyme leaves
3 tablespoons all-purpose flour
3 cups chicken stock or canned, low-sodium chicken broth
1 (16-ounce) package frozen broccoli, thawed and separated
1/2 cup heavy cream
1 1/4 cups shredded medium Cheddar
Croutons, for garnish
Preparation:
In a medium pot, melt the 3 tablespoons butter over medium-high heat. Add the onions, salt, pepper, and nutmeg and cook, stirring, until soft, 3 minutes. Add the garlic and thyme cook, stirring, until fragrant, for 20 seconds. Add the flour and cook, stirring until the mixture is well blended and smells fragrant, 2 minutes. Slowly add the chicken stock, whisking constantly, and bring to a boil. Reduce the heat and simmer until thickened, about 5 minutes. Add the broccoli and cook, stirring, until tender, for 10 minutes.
Remove the pot from the heat and puree with a hand-held immersion blender. (Alternatively, in batches, puree in a blender or food processor and return to the pot.)
Add the cream and bring to bare simmer to heat through. Add the cheese and cook over low heat, stirring, until melted. Add the remaining 2 tablespoons cold butter, stirring to blend.
Remove from the heat and ladle the soup into bowls. Sprinkle croutons over the top of the soup and serve immediately.
What I Did Different:
I added
Finely mince in a food processor. Added after the garlic.
The soup just wasn't cheesy enough for my liking – so Velveeta it was. Yes, I know… but its so yummy.
I also added a bit more cream then called for. My soup got really thick after its spin through the blender and the 1/2 cup just wasn't cutting it.
Crispy Italian Panini

A la me – and everyone whose ever made an Italian hoagie since the dawn of time

Ingredients:

Focaccia bread of your choosing, cut into sandwich sized portions
Olive Oil
Sandwich pepperoni, sliced
Salami, sliced
Ham, sliced
Turkey, sliced
Fontina cheese, sliced
Fresh ground pepper

Preparation:

Preheat grill pan, panini press or whatever other fancy contraption you have going on to medium high.

Drizzle olive oil on the inside of the bread. Add ground pepper to season.

Layer your meat and cheese slices as desired (I'm a one slice of each on top and bottom with the cheese in the middle kind of girl).

Place in panini press making sure to apply pressure to the lid for 10 seconds. Let cook for 5 minutes.

Remove, slice in half and serve.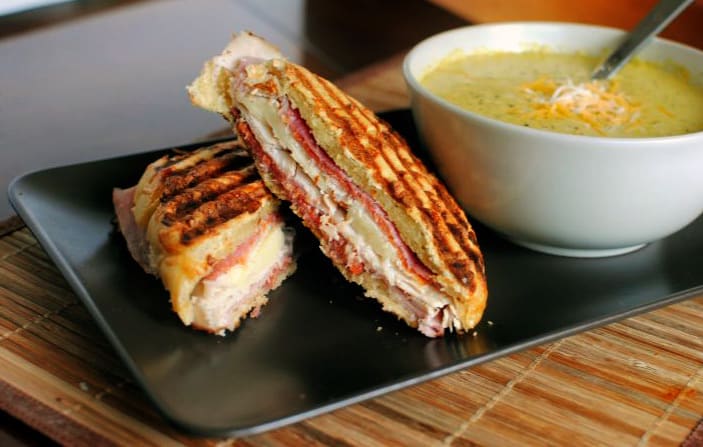 Seriously, could dinner be any easier?