As we bumped along in our truck down narrow icy roads, I looked across the seat to my driver and said, "Maybe this is it for us." Maybe we don't need the big house, the fancy cars. Maybe it's just us, the bikes, good food, great friends, and some adventures here and there. Heck, that's a lot better than my parents had it. And it's perfect for us as we found ourselves knee deep in snow storms, skiing, and relaxing in a beautiful hotel in the small charming town of Hawley Pennsylvania, looking for a quick weekend getaway to invigorate us for the upcoming season.
After a little research and reviews, we decided to go all in, and book a two nights at Ledges hotel, a beautiful old building renovated into a stunning hotel. The high ceilings, beautiful bathrooms, clean bedrooms, and friendly staff were just the add on bonus to the view – over looking a frozen waterfall from our room, and several areas in the hotel.
But before we get to that, let's start with the adventure at Shawnee Mountain. My first time on skies. We just parked the truck here on the way up to the hotel and dove in. Or rather, rolled down the side of a mountain, but you know, it's all in good fun. I learned to 'make pizza' from the staff, but still needed a few toppings before braving the big boy slopes. A storm rolled in, wind blowing things sideways, and lights on the slopes, made me feel rather bad ass, even on the bunny slope. Shawnee was a great first experience for skiing. There were different areas that I could test out my skills, and the patient staff was awesome at talking me through things (you know, like getting off the lift…) 😉 After a few more practice rounds, the snow shut us down and we continued our (slow and steady) trek north to our hotel.
Even in the cold and snow, the small town of Hawley was beautiful. Ledges hotel, light up with perfect outdoor lighting, looked amazing. After warming up, we went down to the hotel restaurant, Glass. Hotel restaurants are often hit or miss, most of the time, leaning towards miss. But Glass was amazing. The menu is simple and reads wonderfully. We enjoyed the pork belly and scallops. And ended the evening on the tiramisu. The friendly waiter chatted with us (as the snow had driven most of the business away for the night – and given that it's sitting on a huge lake, it tends to be a summer town) and recommended some other local restaurants for the next day.
Reviews of the hotel led me to believe my room would be tiny and cramped. They lied. That's what I get for reading the interwebs. The room was perfect, a large bed next to a huge window with a beautiful view, a desk, and TV, all with a sleek modern look. A rain shower head in the bathroom with clean white tile and glass divider. Simple and attractive. Not fluffy or over done. Perfect for the old stone building.
In the morning we ventured up the road (literally) to the shops – almost – connected to the hotel. Looking for the local bike store (finding it closed… as we have a knack for doing), we wandered around the huge building looking at the variety of little shops. From organic pastas, stylish clothes, and stunning photography, this one little strip was more entertaining than my local mall.
For breakfast we wandered (seriously, this convenient) across the parking lot to Cocoon Coffee House. My inner hipster hatred started to blossom, and then was immediately extinguished as I felt cozy in the charming large coffee shop, with it's shelves packed with well loved books, and bakery cases filled with fresh pastries. I could have wasted a lot of time in that one spot.
Lucky for me we had some more adventuring to do. We headed back out to the slopes and I officially made it up the mountain and down a few times. Sure, there were some comical crash landings that come with inexperienced nerves, but overall it was a blast. I am lucky to have a collection of mountain biking base layers and friends with extra gear, so I stayed warm and happy all day. Even when I found myself trying to 'make pizza' way of track once or twice in three feet or more of snow.
We ventured through the town again that night and upgraded our room at the hotel. And, I hate to go all bumpkin on you, but I have never upgraded anything. I am far too cheap, to terrified, to afraid to waste those hard earned pennies to 'upgrade' my coffee, let alone a bed for one night.
Worth. Every. Single. Penny.
Our new room had two stories, one for lounging, with a kitchenette area, social area with a sofa and TV and a small desk. Up the circular stairs was a large bedroom area with two huge windows over looking that beautiful waterfall, and a bathroom bigger than my kitchen with the same view. Yeah, I am not regretting that splurge of dollars one bit. It was glorious and something I fell like everyone should try to do for at least one night once.
We headed home in the morning, making a bit of an adventure out of the drive home, stopping at Twin Rocks Diner to fuel up on pancakes, with random pit stops along the way for snap shots and a random doughnut. A perfect 3 day trip. Exactly what we needed. Rolling stones comes to mind…
I would love to travel back to Hawley in the summer months, when the town is probably bustling with activity. When the candy shop is open and the locals are out and about. I bet the view off the lake is amazing…. For now though, we are gearing up for another great season of bikes and local outdoor adventures. BBQ's and pool side margaritas. Gardening and long nights just sitting on the back deck.
Yeah, spring is calling… but for the weekend, winter was a blast.
Update. Sadly, Ledges hotel had a small fire that has caused them to temporarily close. Given how amazing our trip was, we can not wait to see them re-open so we can stop by back for a summer weekend getaway!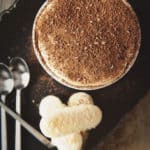 Tiramisu Recipe
Ladyfingers, much like ladies, come in different shapes and sizes. I recently learned that the harder once (found in the Italian foods aisle) is more likely what you would like for a proper tiramisu. The soft ones are better for other baking needs - I'll come back to that in a future post. The suspense will kill you.
Ingredients
5

egg yolks

1/4

cup

Sugar

plus 4 tbs, divided

3/4

cups

Marsala Wine

divided

1

cup

heavy cream

1

lbs

Mascarpone Cheese

room temp

1-1/2

cup

brewed very strong coffee

1

tbs

vanilla

24

packaged ladyfingers**

Cocoa Powder

For Dusting
Instructions
In the bowl of a double boiler, whisk the egg yolks with 1/4 cup sugar until they are pale yellow. Place the bowl over a pot of simmering water. Whisk in the 1/2 cup wine, cooking until thick, stirring often until thick enough to coat a spoon (almost like curd but not quit that solid). Remove from heat. Lay plastic wrap directly on the surface of the egg mixture and let cool. Place in fridge to cool completely.

In a large bowl, stir together the mascarpone cheese and the egg mixture until smooth.

In the bowl of your stand mixer fitted with the whisk attachment, whip the heavy cream with the remaining 4 tbs sugar until soft peaks form. Fold the whipped cream into the mascarpone mixture. Cover with plastic wrap and place in fridge for 1 to 2 hours to set.

Arrange the first layer over lady fingers in a single row in one single 9 x 13 pan or in several smaller serving dishes (if desired). Mix 1 1/2 cups coffee with the remaining wine and the vanilla. Spoon a tiny bit over the lady fingers (too much and they will fall apart). Spread a layer of the mascarpone mixture over the lady fingers and repeat with another layer as needed until your dish is full. Let set in fridge a 2 hours before serving.

Dust with cocoa powder before serving. Serve withing 24 hours, as those lady fingers will start to become mushy if not eaten quickly.
Recipe Notes