Managing a food blog (and yes, I did say managing for those of you who snorted because it has become a rather time consuming hobby) can be very crucial to a happy home. There is a list a few pages, sticky notes and magazines clippings long of recipes I want to try, nibbles and bites that I would love to experiment with and ingredients I would have to do a google search to identify and find. I could fill 3 squares for 365 days plus snacks and desserts, never repeat a recipe once and probably only result in adding even more to the dreaded 'to make' list. This seems all fine and dandy for the rest of you food bloggers out there, but for a home, some meals are necessary to please everyone, and as a cook, isn't that ultimately the goal?
Negotiations must be made, onion portions halved (and even then minced into minute little unrecognizable pieces), and sometimes ingredients neglected to be noted when meals are served. And sometimes, we meals are made just for the other people in mind. A customer of mine at the comic shop asked for a Chicken Marsala recipe for her large family and I was happy to oblige as this would also make our rather tiny household happy.
This creamy, onion free, comforting meal came together quicker than you would think after an exhausting bike ride on a Friday night. I knew if I served it with potatoes we would over indulge, so I served this over a small portion of Spinach-chive linguine from Trader Joes and pretended that it counted for some serving of vegetables. If I had more energy, a small spinach salad would have gone wonderfully with this as well.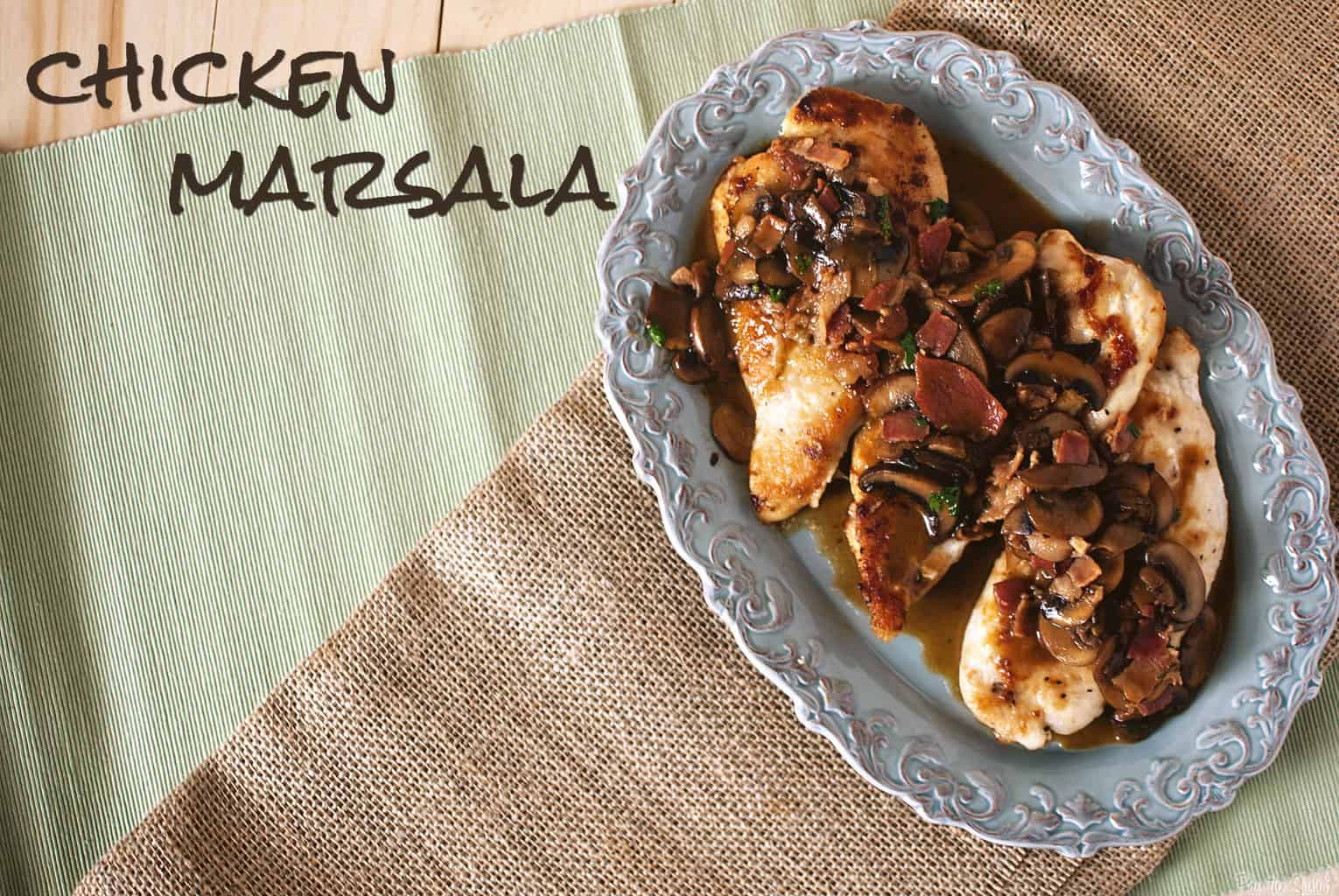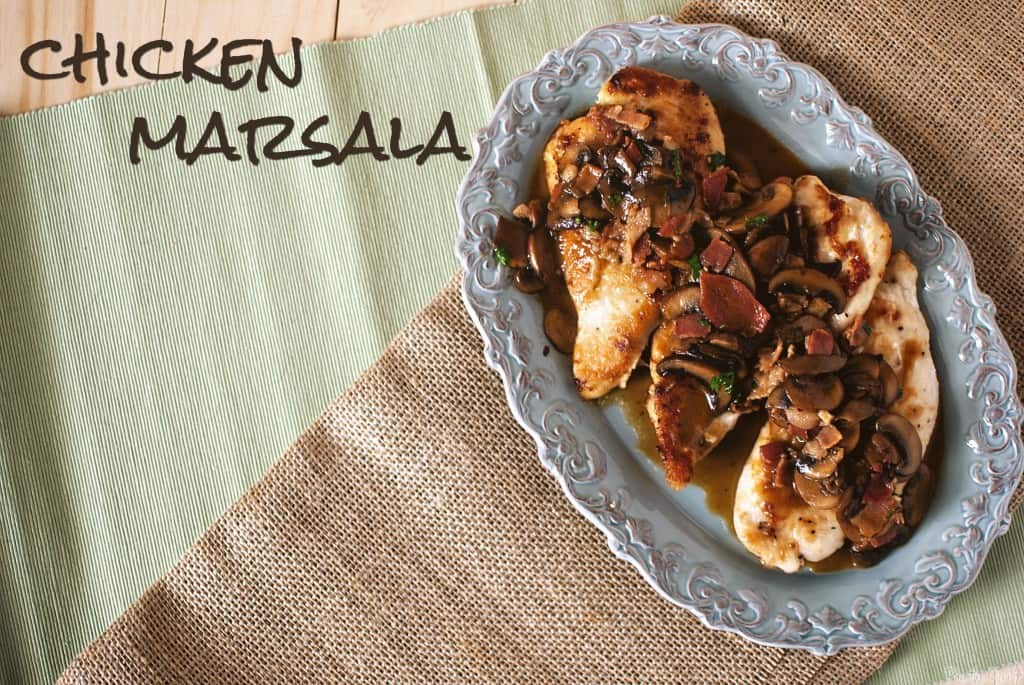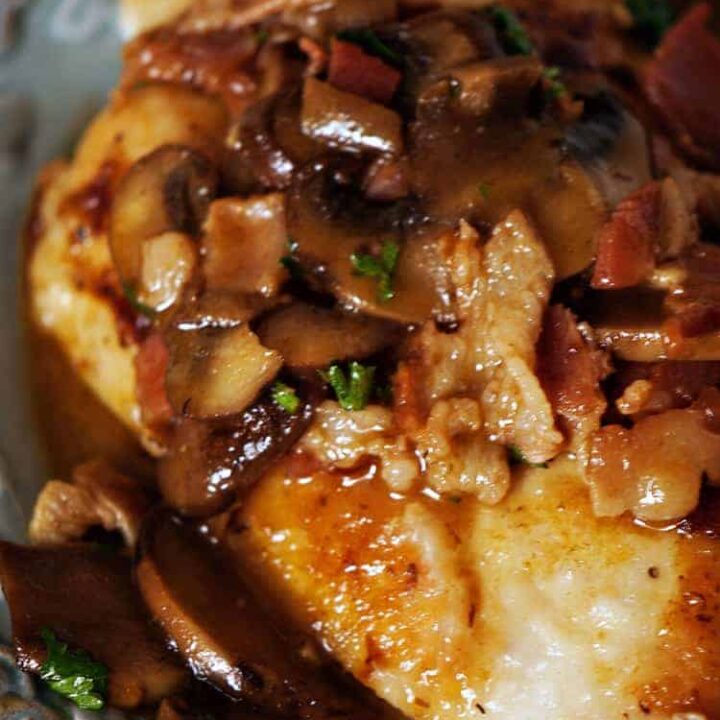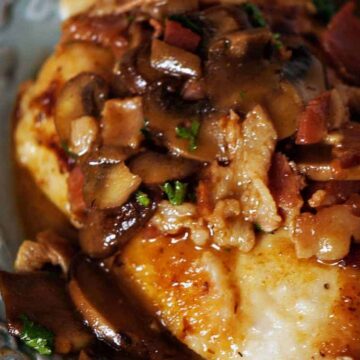 Ingredients
4 6-8

oz

chicken breasts

-

boneless skinless, tenderloins removed and trimmed

1

cup

flour

Salt and pepper

¼

cup

vegetable oil

2 ½

oz

pancetta

-

cut into pieces 1 inch long and ⅛ inch wide

8

oz

white mushrooms

-

trimmed and sliced thin

1

garlic clove

-

minced

1

teas tomato paste

1 ½

cups

sweet Marsala wine

4 ½

teas lemon juice

4

tbs

unsalted butter

-

cut into 4 pieces and chilled

2

tbs

chopped fresh parsley
Instructions
Adjust oven rack to middle position and heat oven to 200 degrees. Halve chicken horizontally, then cover chicken halves with plastic wrap and pound to an even ¼ inch thickness with meat pounder. Place flour in a shallow dish or pie plate.

Pat chicken dry with paper towels and season with salt and pepper. Working with 1 cutlet at a time, dredge in four mixture, shaking off excess, and transfer to large plate.

Heat 2 tbs oil in a 12 inch skillet over medium-high heat until shimmering. Place 4 cutlets in skillet and cook until golden brown on first side, about 3 minutes. Flip cutlets, reduce heat to medium, and cook until no longer pink and lightly browned on second side, about 2 minutes longer; transfer to large oven safe plate. Wipe out skillet. Repeat with remaining 2 tbs oil and remaining cutlets. Tent loosely with aluminum foil and transfer to oven to keep warm while making sauce.

Cook pancetta in now-empty skillet over low heat, stirring occasionally and scraping up any browned bits, until crisp, about 5 minutes. remove pancetta with slotted spoon and transfer to paper towel lined plate. Add mushrooms to skillet, increase heat to medium-high and cook stirring occasionally, until softened and lightly browned, about 8 minutes. Stir in garlic and tomato paste, and crisp pancetta and cook until tomato paste begins to brown, about 1 minute. Off heat stir in Marsala, scraping any browned bits. Return to high heat, bring to a vigorous simmer, and cook stirring occasionally, until sauce is thickened and measures 1 ¼ cups, about 5 minutes. Off heat, stir in lemon juice and any accumulated chicken juices. Whisk in butter, 1 piece at a time. Stir in parsley and season with salt and pepper to taste. Pour sauce over chicken and serve immediately.
Nutritional informations provided as a courtesy and is only an approximatation. Values will changes based on ingredients used.
⭐ Tried this recipe? Rate it ⭐
Help out the next person and give it a star rating below!
*I didn't have pancetta on hand so I substituted bacon for that is always in my fridge.