Carbonara is an Italian pasta dish that originated in Rome. It includes eggs, cheese, Italian bacon (guanciale or pancetta), and freshly cracked black pepper.
I love trying new things. In the past 11 months, I have discovered a world of new ingredients and flavors that I would have never otherwise known had I not challenged myself with this blog and to try two new recipes a week. However, when dealing with new things you aren't always certain of how things are supposed to look, taste or turn out. Every now and then I like to call in a friend for advice, technique and even to prepare the whole meal as I sit back and feel like a lazy bum.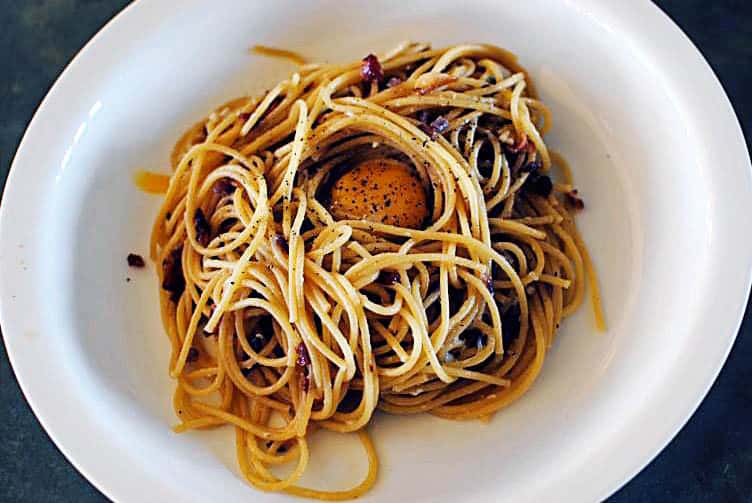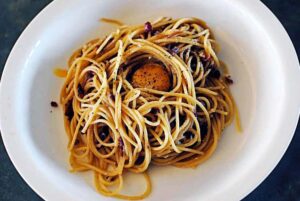 Spaghetti alla carbonara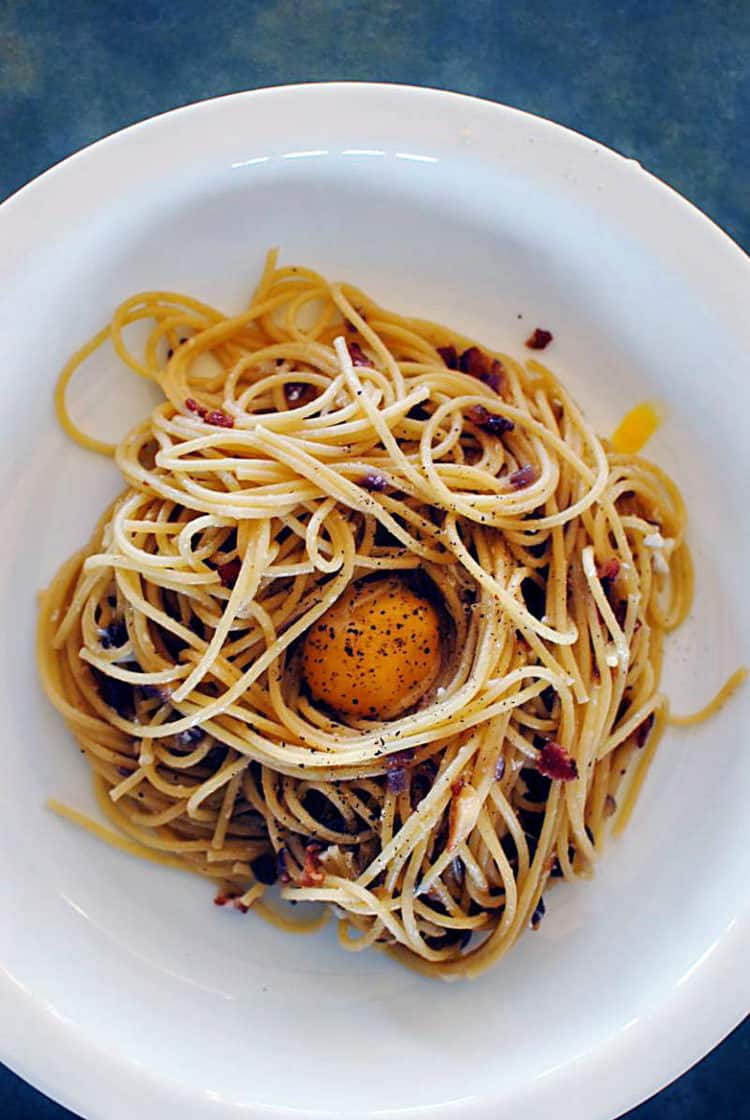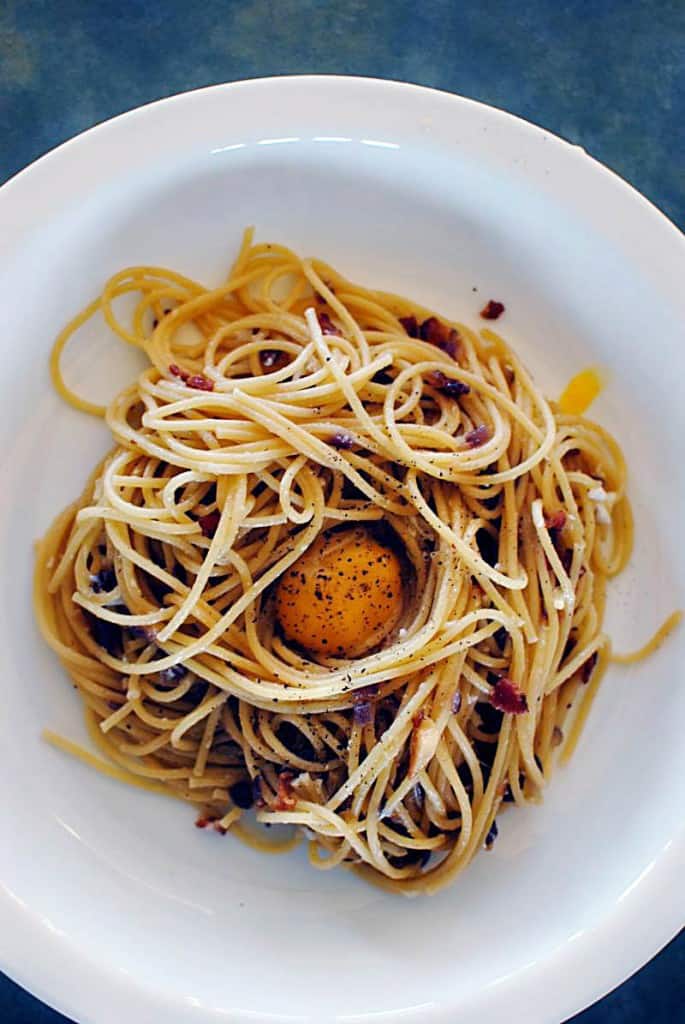 From the kitchen of a friend: Justin Jones
(Makes 4 servings)
This is a pretty simple dish, but much like an omelet, there's a surprising degree of finesse required to execute it properly. There is a fine line you must walk when heating the pasta in the pan: if the heat is too low, the egg whites & pasta water will make the dish runny, as will the egg yolk later; if the heat is too hot, the egg whites will scramble. The goal is for the pasta to have a creamy, unctuous finish, where the cheese, egg whites, pasta water, and finally yolks are in harmony.
Ingredients:
Extra virgin olive oil (3 tablespoons)
8 oz diced bacon, (pancetta, or guanciale, if you can find it)
1 lb spaghetti
1-2 cups freshly grated parmigiano-reggiano, depending on your taste
4 large eggs, separated
3 cloves garlic, minced
A brunoise of 1 medium red onion
Freshly ground pepper
Kosher salt to taste
Steps:
1. Bring 5-6 quarts of water to boil in a large pot. Season generously with several pinches of kosher salt (this should be done whenever you cook pasta, and cannot be emphasized enough).
2. In a large (12 in) saute pan, add the olive oil over medium/low heat, tilting the pan to make certain that the oil covers the entire surface. Add the bacon, cooking until it has rendered its fat, and become crisp.
3. Add onions and garlic to pan, tossing to combine with bacon. Cook for 5 minutes, or until translucent. Remove pan from heat, set aside, do NOT drain the fat.
4. Cook the spaghetti in the water (it should be at a rolling boil) until al dente, about 5-6 minutes. Reserve ⅓ cup of the pasta water and set aside. Drain the pasta.
5. Add the reserved pasta water to the pan with the bacon, onions, and garlic, tossing in the pasta. Return the pan to medium heat, shaking it for 1-2 minutes. Remove from the heat, adding in 1 cup of the parmigiano-reggiano, the egg whites, and ground black pepper, tossing all ingredients to make certain they are mixed completely.
6. Divide the pasta into four portions, topping each portion with one of the reserved egg yolks. (Note: do this gently, so as to not prematurely break the yolk before the plate reaches the diner). Season each yolk with more cracked black pepper, and use the remaining parmigiano-reggiano to garnish the top of each serving. Serve immediately (Note: if you don't serve immediately, the pasta will have lost enough heat that it won't cook the yolk when it is stirred in).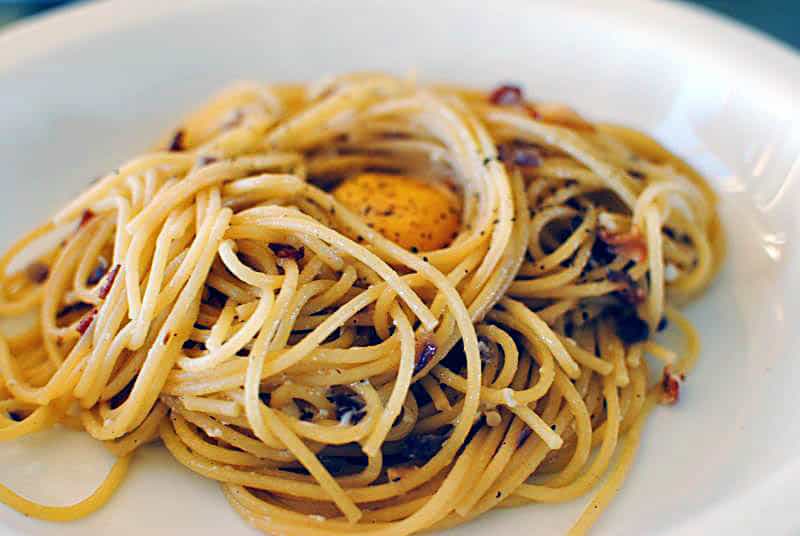 Wanna know an amusing secret about this post? I hate eggs. Cooking with them is one thing, but eating an egg - that idea just gives me the creeps.
I went into this Carbonara recipe knowing exactly what I was getting into and was able to chow down without really putting too much thought into it. Actually, I found it quite good. It was a very hearty pasta dish and even my meatatarian self didn't miss the absence of a large piece of chicken, pork or beef on the plate.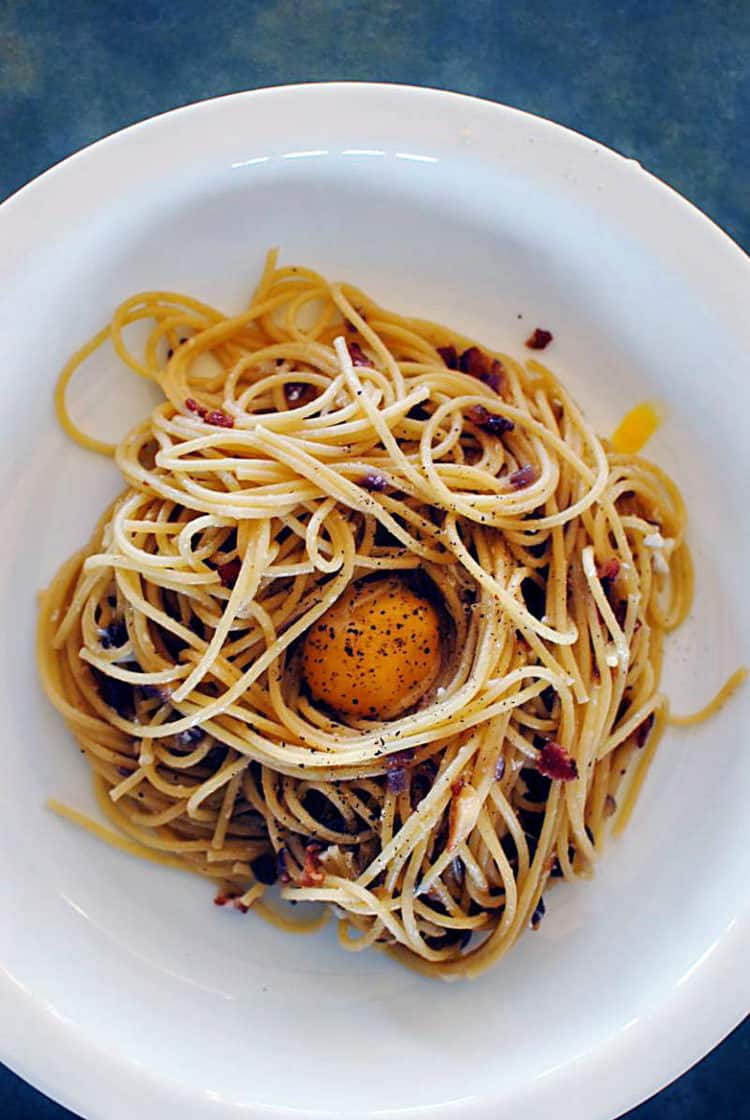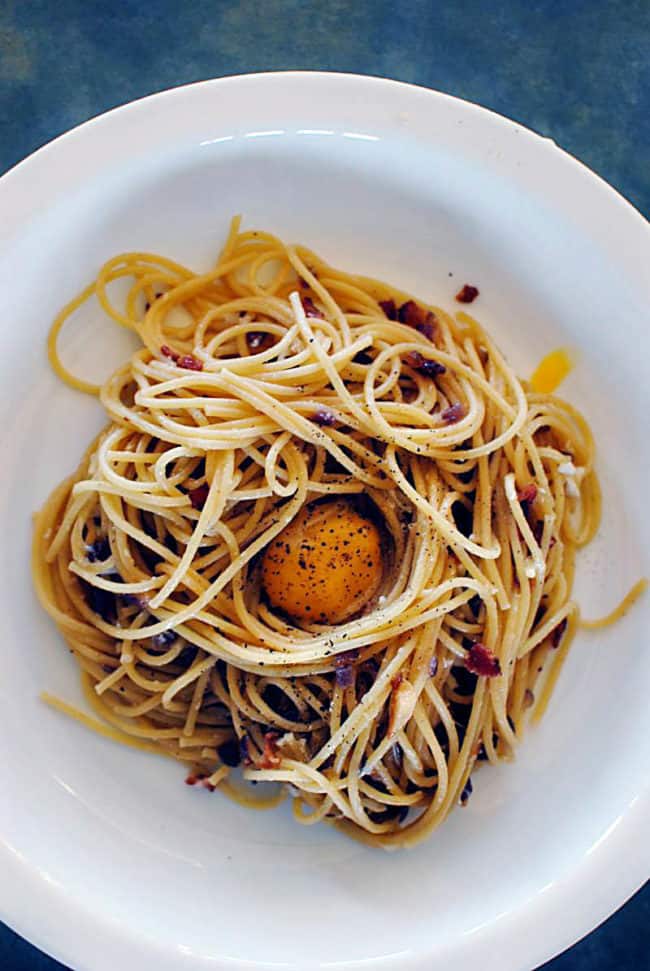 Enjoy!
Update:
This post made it to the Food Buzz Top 9!