A Classic juicy burger, topped with cheese and bacon. Yeah, you have it fixed in your mind. This Ultimate Steak House burger is that burger. So. Good.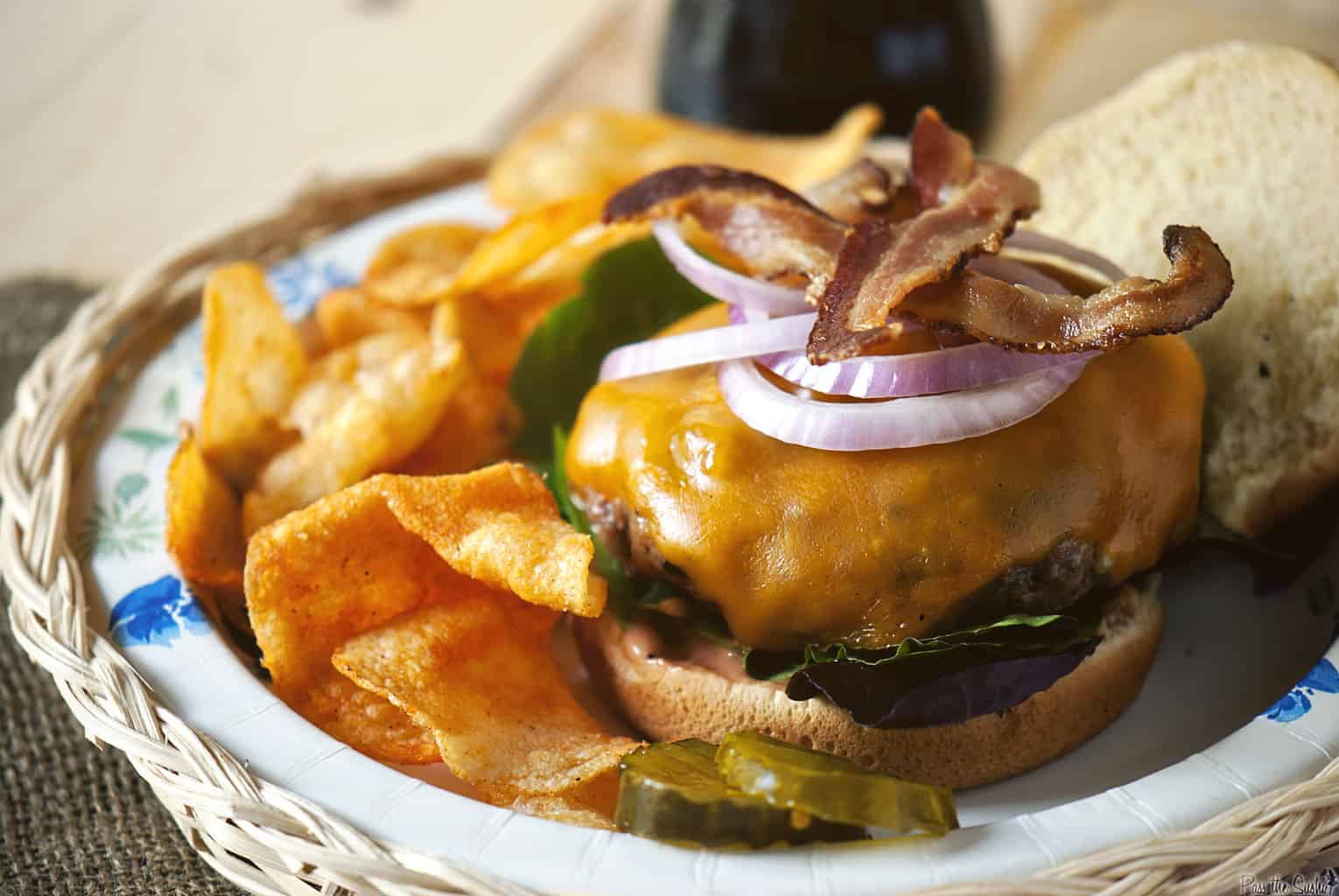 Let's talk meat. The perfect fat kid meal for any time of year. Burgers. Is it thin patties on a griddle top that make the best burger or thick juicy burgers with nice char marks right off the grill? Do you slather yours with ketchup or do you have a secret sauce (or is sauce all together blasphemy)? No matter how you like it, one thing we can all agree on is that a great burger hits that carnivorousness g-spot every single time.
If you are reading this for grill tips, I am sorry, I am no master - I have another website - Girl Carnivore - with an entire section containing well over 100 recipes dedicated to grilling. And I do make a damned good burger, so read ahead or check out some of my other burger recipes here.
Now, some tips for your next burger shindig:
Never EVER use frozen patties. Sure, bulk frozen patties have their place. Just not here.
Grind your own meat. I often use a combination of chuck and sirloin. I make sure the chuck has a nice portion of fat, nothing too lean. Fat is the secret ingredient to the magical concoction that is flavor. I'm (in that not at all sort of way) for being healthy, but a burger that is made of ground anything that is too lean is just not as juicy or flavorful as one that has a great speckling of fat mixed in.
If you are making big fat juicy burgers, don't over pack your meat. Don't use hard firm hands to mold your patties into dense hockey pucks, unless that is what you are going for. Use light fingers and a cupped palm for packing into a light and airy burger.
Pre-heat your grill, grill, skillet, broiler - whatever. Just pre-heat it. Do not plop cold burgers onto a cold cook surface and expect to get a beautiful work of art.
Some people may request well done. Ignore them.
Cheese is a must. It's not really, but if you are coming to one of my barbecues, it is. I love a sharp cheddar and smooth mozzarella, but for a classic burger, I go all American. Why? Because it's awesome. It has a taste like no other, it melts to perfection and something about it just works for me.  You can fancy up your burger with something else, but 99% of the time, I'm going for the single wrap pre-sliced crap.
Arrange for a toppings bar. I believe a good burger can be chewed on naked with nothing accompanying it, but a good rolls, fresh lettuce, onions, and slices of tomatoes can really take it up a notch.
Now, for a classic burger from a trusted source, check out this mouthwatering recipe: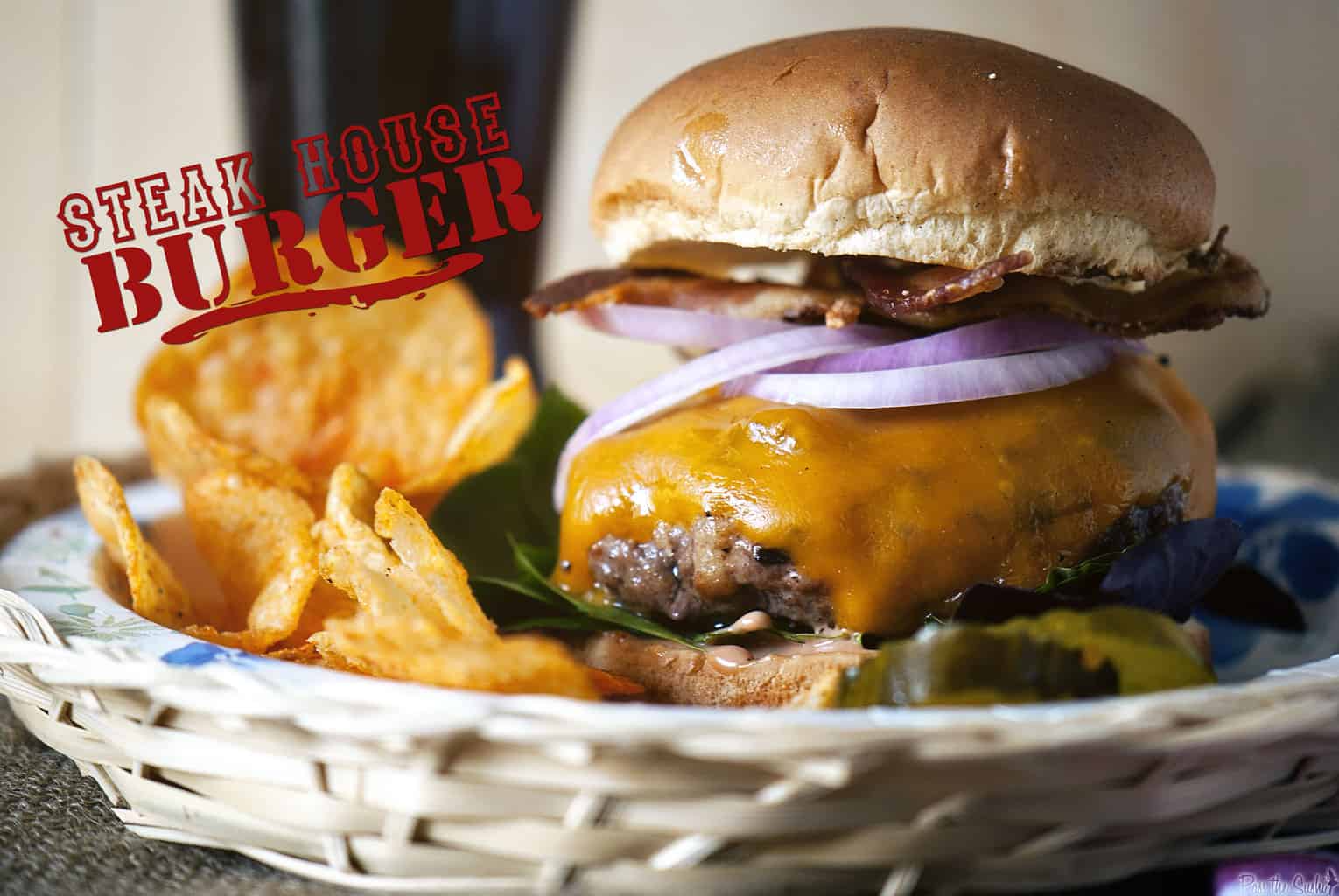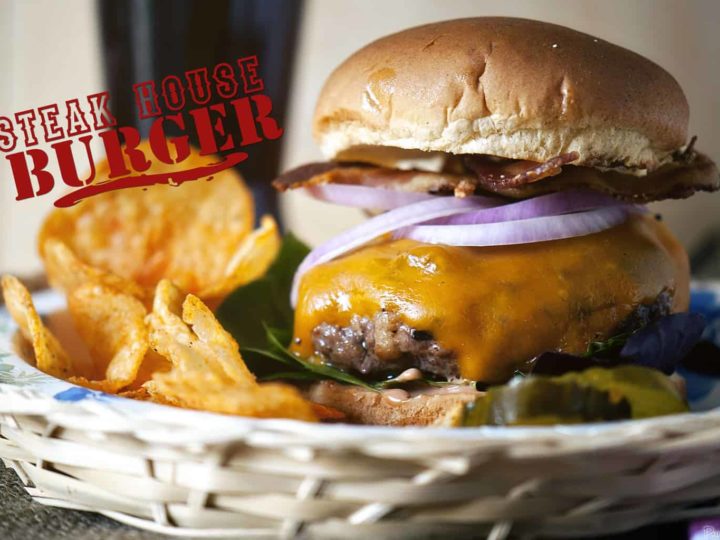 True Story, I love burgers. So much so, that I manage burgermonth.com. So if you're looking for the absolute best burger game around, without going to your local steak house, I think you've found it. Try these babies out on your grill!

Shrimp Po Boy Burger
Roasted Garlic Butter Burgers
Caribbean-Jerk Lamb Burgers with Tostones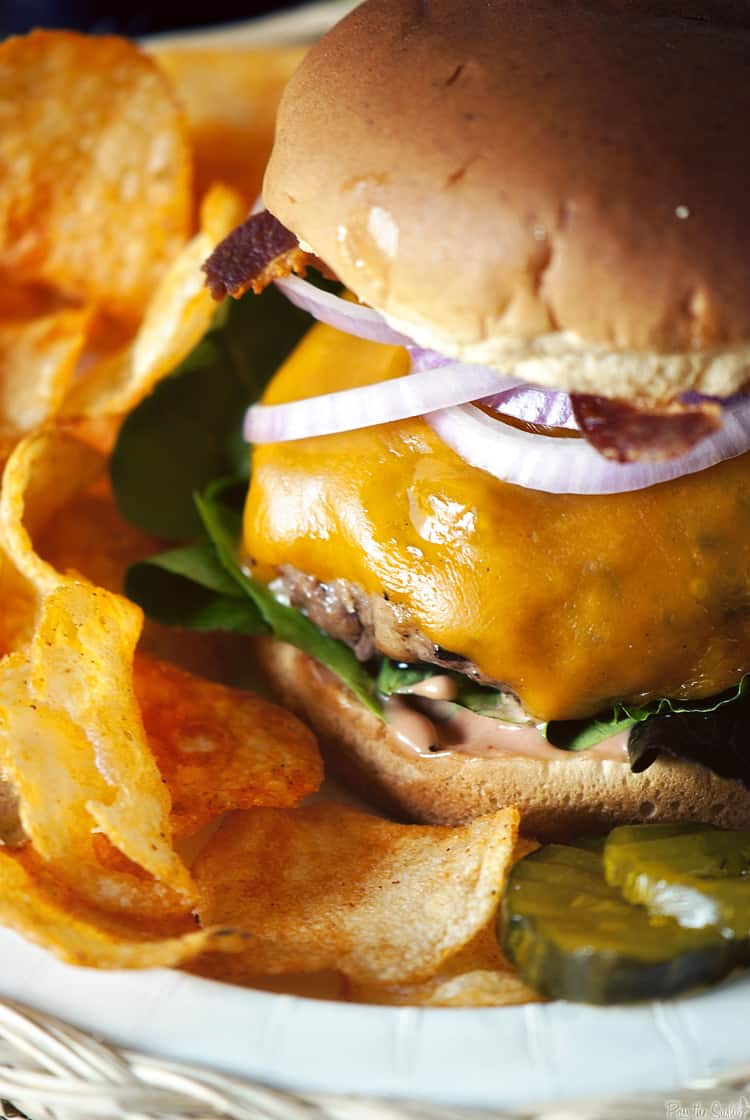 If you've tried my Ultimate Steak House Burger recipe or any other recipe on passthesushi.com please don't forget to rate the recipe and let me know where you found it in the comments below, I love hearing from you! You can also follow along for more good eats and travel tips on Instagram @passthesushi & @girlcarnivore, Twitter & Facebook.
Yield: 4 Burgers
The Ultimate Steak House Burger
*for this particular burger, use 85 to 90% lean beef as you will be adding bacon fat into the mixture.
Ingredients
8 strips bacon
1-2 slices white sandwich bread, crusts removed and discarded, cut into ½ inch pieces.
¼ cup milk
1 ½ lbs ground beef
1 teaspoon salt
½ teas pepper
2 large garlic cloves, minced
4 burger buns
Instructions
Fry bacon in a large skillet over medium heat until crisp, about 8 minutes. Reserve 3 tbs of bacon fat and place n a small bowl in refrigerator.
Soak bread in milk in a bowl until saturated, about 5 minutes. Mash with a fork to a smooth paste like mixture.
Break up beef into a medium bowl. Season with salt and pepper, add garlic, bread paste, and reserved bacon fat.
Using your hands, gently knead meat mixture to incorporate ingredients.
Divide meat into 4 equal portions and form into loose balls by passing back and forth between your hands. Then gently flatten into ¾ inch thick patties.
Open the bottom grill vents on a charcoal grill completely. Light large chimney starter filled with charcoal briquettes.
When coals are hot, spread them evenly over bottom of grill. Set cooking grate in place, cover and heat frill until hot, about 5 minutes.
Clean and oil cooking grate.
Grill burgers, without pressing down on them, until well seared on both sides, 7 to 10 minutes. Serve, topped with bacon and other burger fixins if desired.
Notes
Cook's Country Backyard Barbecue
Recommended Products
As an Amazon Associate and member of other affiliate programs, I earn from qualifying purchases.
Nutrition Information:
Yield:
4
Serving Size:
1
Amount Per Serving:
Calories:

752
Total Fat:

40g
Saturated Fat:

15g
Trans Fat:

1g
Unsaturated Fat:

20g
Cholesterol:

175mg
Sodium:

999mg
Carbohydrates:

33g
Fiber:

1g
Sugar:

4g
Protein:

60g
Nutrition information provided is an estimate from nutritionix.com. For specific health concerns, please put the recipe into your Dr recommended nutrition calculator.