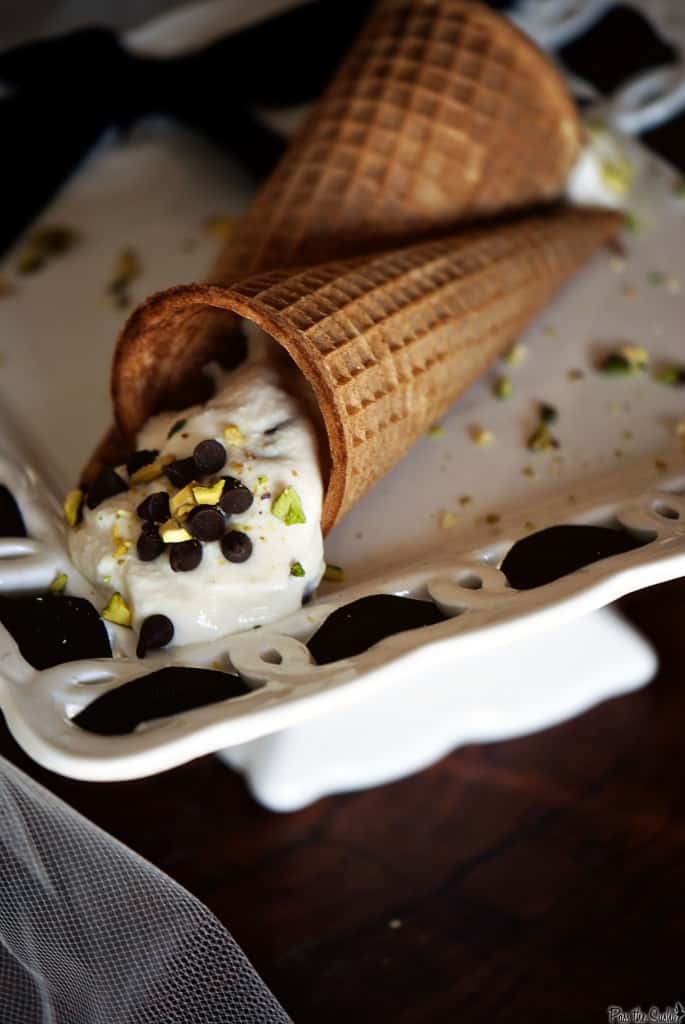 Cannoli's are one of those dessert that draws a line in the sand and plants people firmly on one side or the other of the love it hate it boundary. Personally, dry, often stale pastry shells dusted with too much confectioners' sugar just doesn't do it for me. But the filling, that's what makes it for me. I would always scoop out the middle leaving the ring behind and leave behind the crust (yeah, I'm going to offend some serious cannoli lovers with this, but I'm calling it a crust). I know some people who shrivel their nose at the sound of then traditional Sicilian dessert and others who can't pass up the opportunity to try a new bakery's version. (Personally, I love the one's down at D'Lorenzo's – a warm fresh dough sliced and filled. Heaven.)
When I spotted this version of the cannoli, with cute little ice cream cones and barely any work, I knew I had to try them. I just wish I had seen them before my step-sisters wedding shower. Tell me these wouldn't have been perfect! So the next time you want a down and dirty quick and easy dressed up dessert to impress your neighbors, this is it.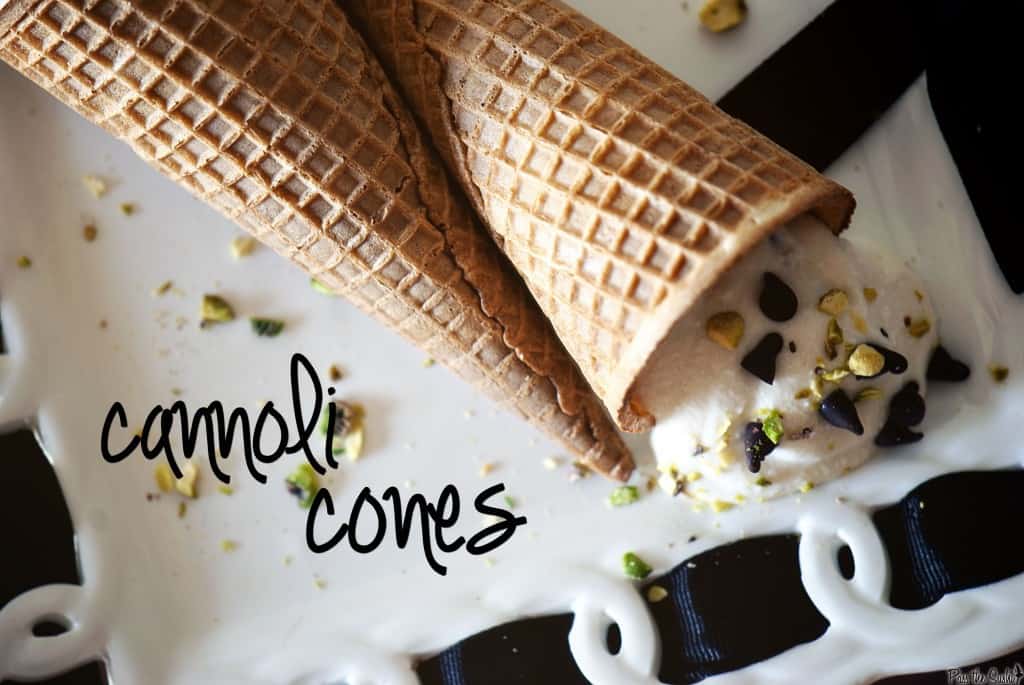 Cannoli Cones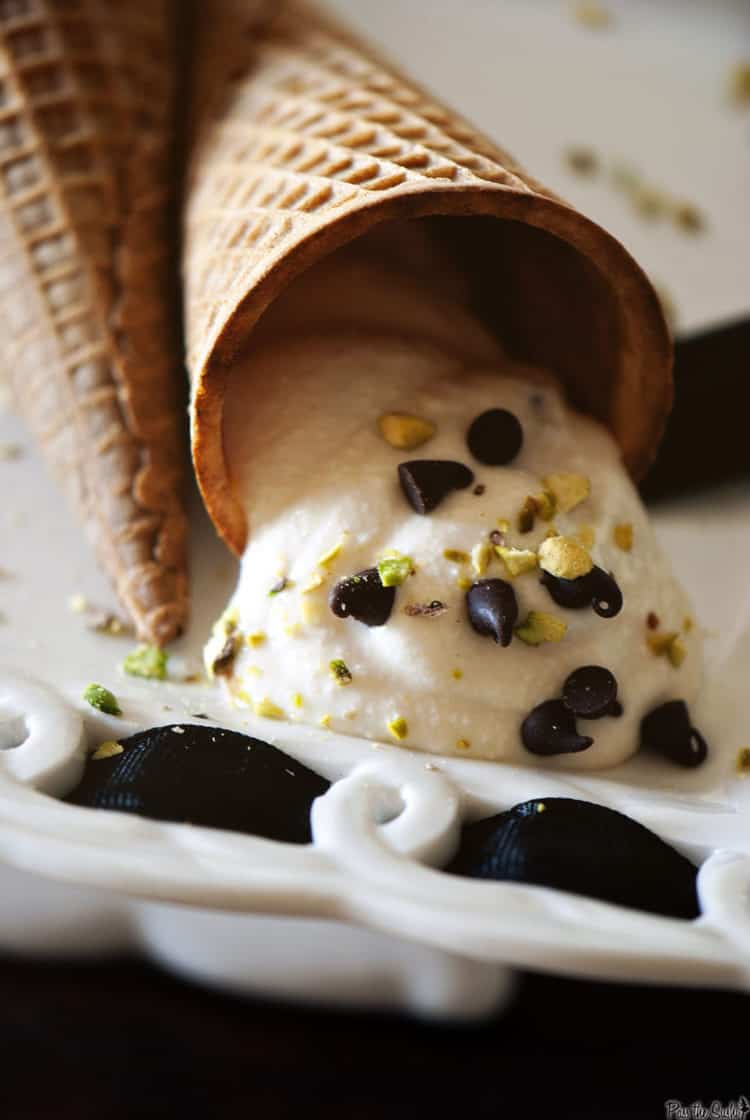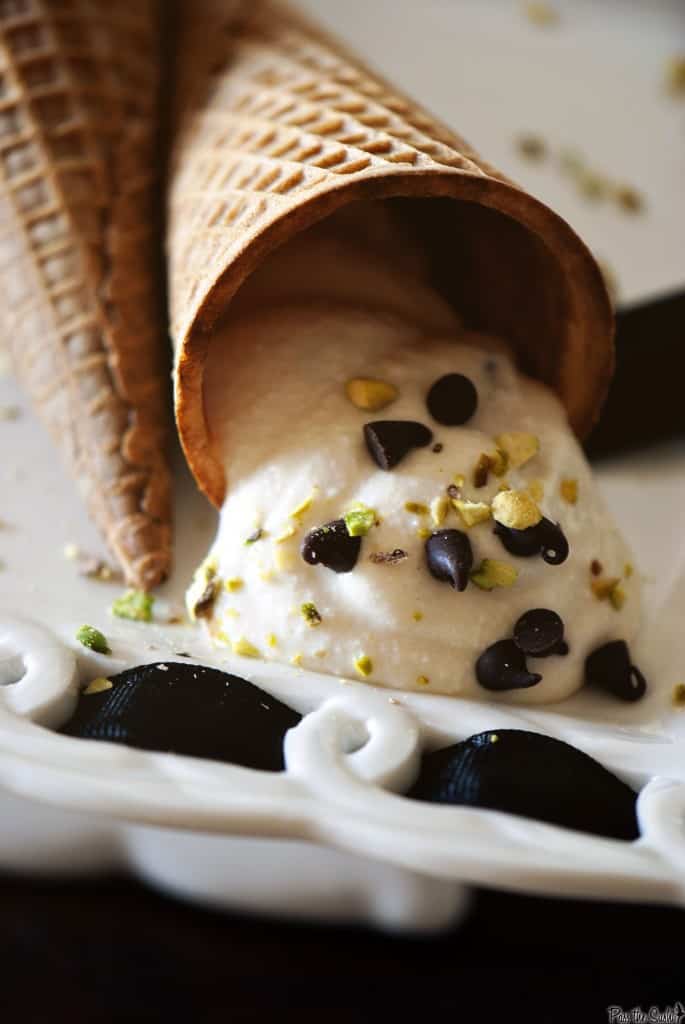 from Food Network Magazine June 2011
Ingredients
1 1/4 cups ricotta cheese
1/4 cup cream cheese, at room temperature
1/3 cup confectioners' sugar, plus more for dusting
1 teas vanilla extract
1/4 teas almond extract
1 teas finely grated orange zest
1/3 cup finely chopped bittersweet or semisweet chocolate (about 2 ounces)
6 sugar cones
2 tbs finely chopped pistachios
Preparation:
Pour the ricotta cheese over a fine-mesh sieve, folded cheese cloth, or several folded paper towels and drain 30 minutes.
Place the ricotta in a large bowl and add the cream cheese, confectioners' sugar, vanilla and almond extract. Mix with a hand mixer until smooth and fluffy. Fold in 3 tbs of the chopped chocolate. Cover with plastic wrap and refrigerate at least one hour, until thick.
Spoon ricotta mixture into a ziplock bag, twist the top and push the mixture towards one corner. Snip off a corner with scissors and pipe dollops into the sugar cones. Sprinkle the remaining chocolate and pistachios over the mixture. Dust with confectioners' sugar if desired.
*If you don't have a need to make all of the cones at once, you can store the remaining filling in an air tight container in the fridge for a few days. Scoop out and serve as needed for a little cannoli hit.