Step into a world where sophistication meets smoldering allure with the Smoked Manhattan cocktail—a harmonious blend of aged whiskey, aromatic bitters, and a captivating touch of smoky essence that elevates this classic libation to new heights.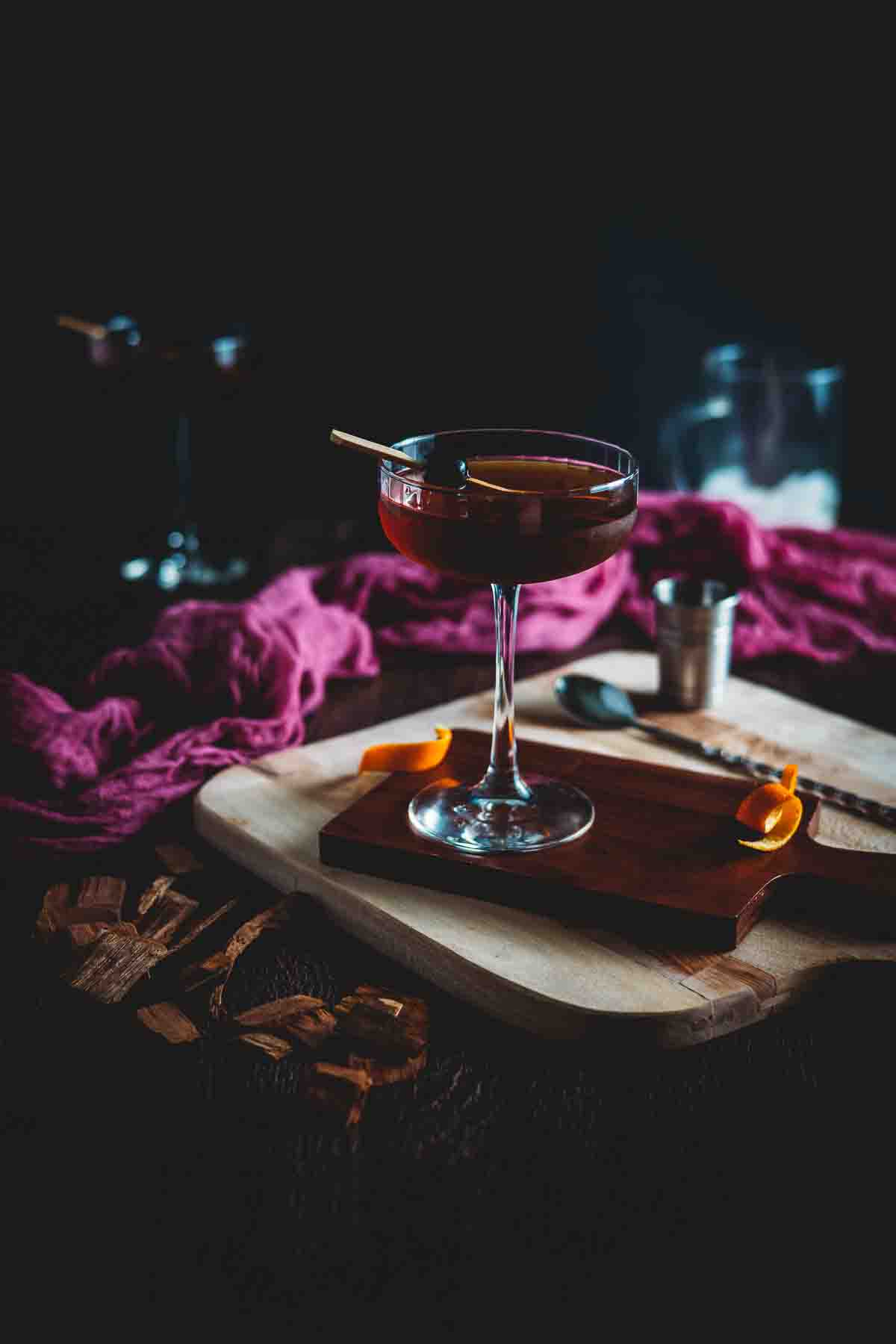 Jump to:
Welcome to the world of smoked cocktails, where we take traditional cocktail recipes and jazz them up with subtle smoke flavor. For this recipe, we're taking a fun twist on the classic Manhattan cocktail.
The traditional Manhattan cocktail made its first appearance in New York City's Manhattan Club in the 19th century. Since then, it has become a favorite cocktail amongst cocktail enthusiasts everywhere. For this recipe, we're taking a different turn. We're infusing our cocktails with a smoky flavor from torched wood chips, similar to our Smoked Old Fashioned and Smoked Gin and Tonic. Trust us; you've never tasted a cocktail quite like this one! 
What Is a Smoked Manhattan?
The traditional Manhattan recipe uses rye whiskey and vermouth with a few dashes of bitters to create the classic cocktail we all know and love. However, for this recipe, we're doing things a little bit differently. We're still keeping the alcoholic base but adding the subtle flavor of hickory chips. What we love about this recipe is that it still keeps the integrity of your favorite cocktail intact but adds a fun, sophisticated twist!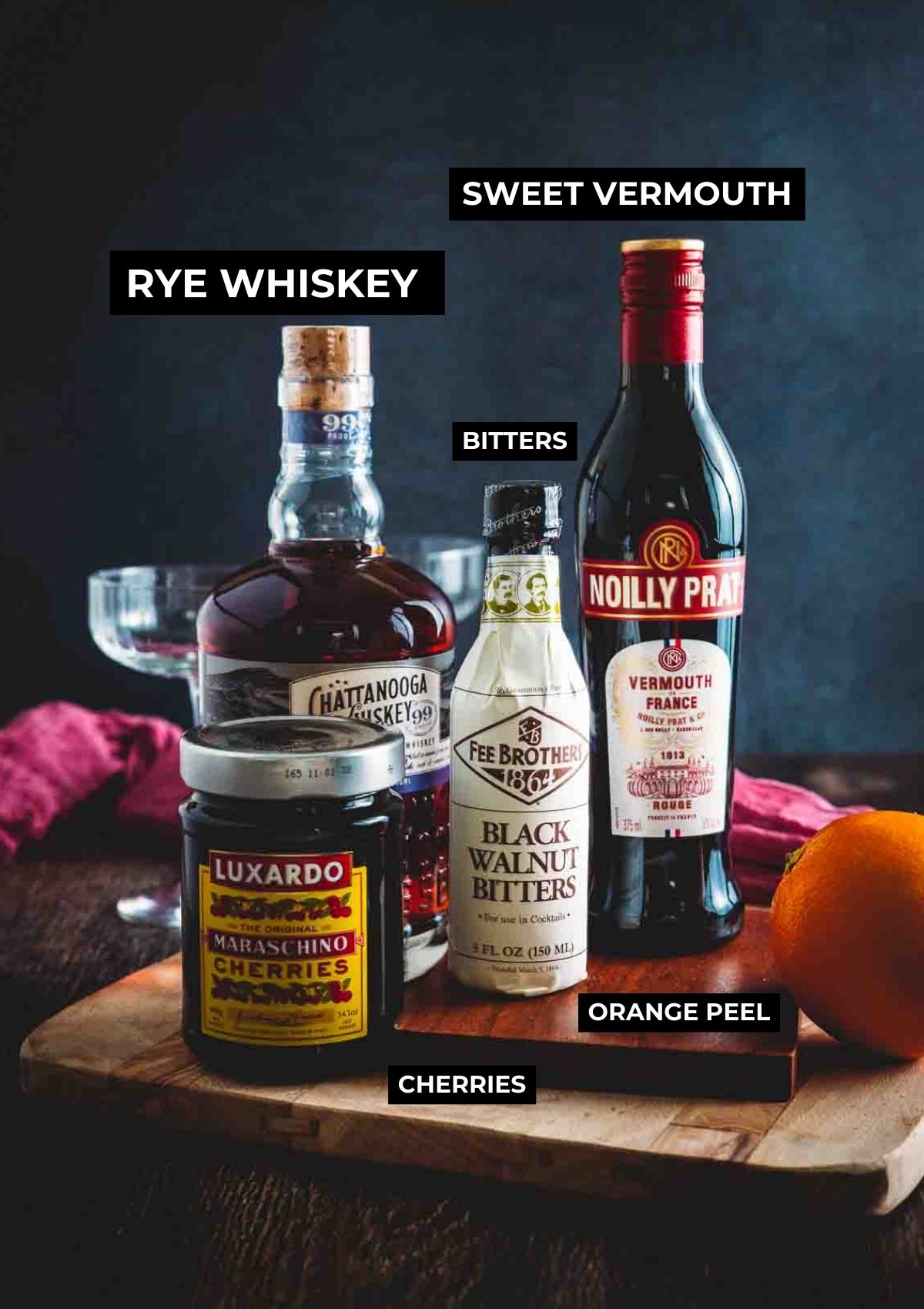 What You Need to Make a This Manhattan
Rye Whiskey – Use your favorite rye whiskey.
Sweet Vermouth – Try to find sweet red vermouth for this recipe, as Mahattans are typically made with red vermouth.
Black Walnut Bitters
Orange Peel
Garnish – Dark Maraschino cherry
Tools
Wood chips (we use Western Wood BBQ smoking chips, oak, or cherry for this recipe)
Wood plank for smoking
Torch
Glass: Highball or coupe
How to Make a Smoked Manhattan
Prep Your Cocktail Glass
Fill a coupe glass with ice and gather your ingredients.
Set Up Your Torching Station
Place a wood plank on a safe surface, add woodchips, and ignite them with a torch. Quickly remove the ice from the glass, and flip it over the woodchips to trap the smoke inside. Let it sit for 30 seconds to absorb the smoke.
Craft Your Cocktail
Add ice to a cocktail shaker and add rye whiskey, vermouth, and bitters. Stir with a long spoon around 15 times to fully mix.
Pour, Garnish, and Serve
Flip the glass upside down and strain the chilled cocktail into the smoky glass. Garnish with an orange twist to express the oils and a dark maraschino cherry. Serve immediately and relish the captivating flavors and aromas of this remarkable drink.
Watch: How to Make a Smoked Manhattan
What to Serve With a Smoked Manhattan
Because of this Smoked Manhattan's warm bourbon flavor notes, this drink pairs beautifully with succulent dishes like this bacon-wrapped meatloaf or London broil. The smoky flavors in this drink also pair well with other smoky dishes like this mesquite smoked chicken or smoked beef ribs. Want to skip dinner and head straight for dessert? Try pairing your Smoked Manhattan with these decadent smoked and salted almond brownies or this chocolate whiskey cake to compliment the whiskey in your drink.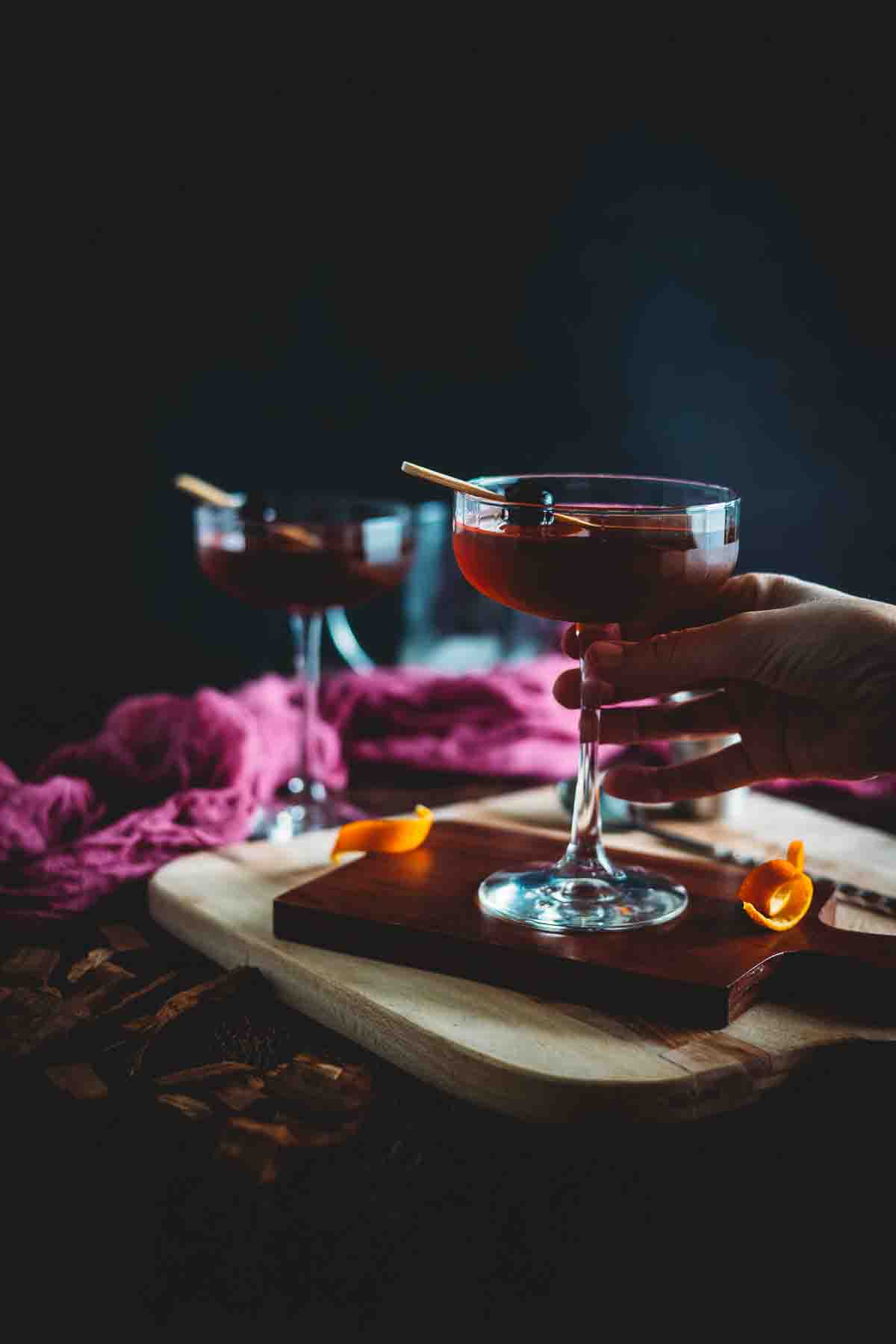 Expert Tips
Swap out the black walnut bitters for orange bitters for a touch of citrusy goodness.
Add a few dashes of Angostura bitters for a more classic Manhattan vibe.
Play around with a few different citrus peels, like lemon and lime, for different flavor profiles.
Recipe FAQs
Can I use bourbon instead of rye whiskey?
While the classic Manhattan recipe traditionally calls for rye whiskey, you can certainly put your own spin on it by using bourbon instead. Swapping rye whiskey for bourbon will bring a slightly different flavor profile to the cocktail, with its characteristic sweetness and smoothness. It's all about personal preference, so feel free to experiment and find the combination that tickles your fancy. 
Can I use dry vermouth instead of sweet vermouth?
Absolutely! It depends on your personal preference. For example, dry vermouth will be less sweet and spicy than sweet vermouth. So, it just depends on what kind of flavor profile you're looking for in your Smoked Manhattan.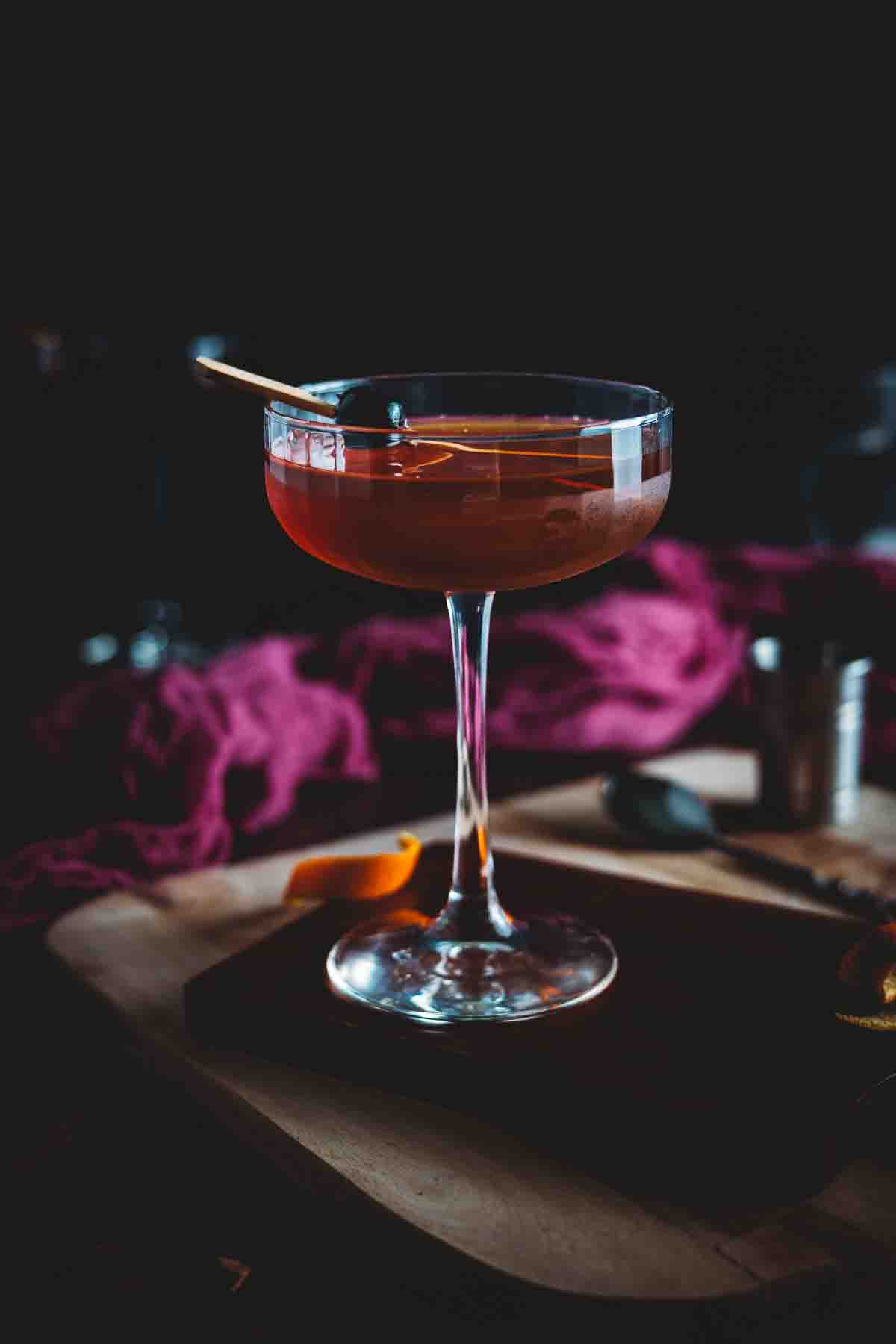 More Whiskey and Bourbon Recipes to Try
You don't have to be sitting at a hotel bar to enjoy this savory, smoky cocktail. All you need are a few simple ingredients, and you can recreate one of the best smoked cocktails you've ever had! The harmonious blend of rye whiskey and vermouth provides that same familiar Manhattan feel with a hint of smoky intrigue.
After taking one sip of this great drink, you'll wonder how you ever lived without it! Also, please rate the recipe card and leave a comment below to help out the next reader!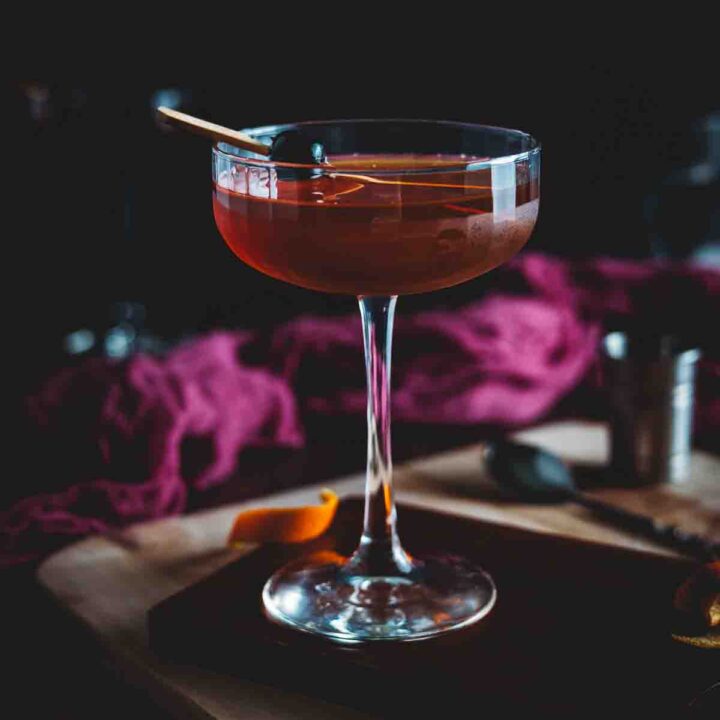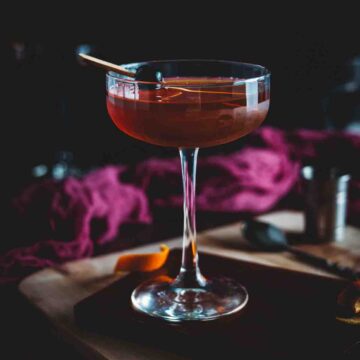 Smoked Manhattan Cocktail
Crafted with care and imbued with smoky allure, our Smoked Manhattan is a timeless libation that demands attention. Stirred to perfection with quality whiskey, sweet vermouth, and a dash of aromatic bitters, it delivers a sophisticated balance of flavors. Indulge in this enticing cocktail and discover a new level of cocktail appreciation.
Print
Pin
Rate
Equipment
Wood chips

(we use Western Wood BBQ smoking chips, oak or cherry for this recipe)

Wood plank for smoking

Torch

Glass

Coupe glass or Highball glass
Ingredients
For the manhattan cocktail:
2

oz

rye whiskey

1

oz

sweet vermouth

2

dashes of black walnut bitters

Orange peel
Instructions
Place ice in a coupe glass

Meanwhile, prepare your mise en place by gathering all of your ingredients.

Place the wood plank on a safe work surface or on a baking sheet.

Place a small handful of woodchips on the plank in the center.

Using a torch, light the woodchips until they are just smoking.

Quickly remove the ice from the glass, and flip it over the woodchips, trapping the smoke inside.

Let the glass sit for 30 seconds while you mix the cocktail.

Add ice to a cocktail shaker.

Pour the rye, vermouth, and bitters over the top.

With a long spoon, stir 15 times to mix.

Flip the cocktail glass over, allowing the aromatics to be enjoyed, and immediately strain the chilled Manhattan in the glass.

Twist an orange peel over the top to express the oils and garnish with a maraschino cherry.

Serve immediately.
Nutrition
Serving:
1
g
|
Calories:
174
kcal
|
Carbohydrates:
2
g
|
Protein:
0.02
g
|
Potassium:
1
mg
|
Sugar:
0.3
g
|
Iron:
0.01
mg
Nutritional informations provided as a courtesy and is only an approximatation. Values will changes based on ingredients used.
⭐ Tried this recipe? Rate it ⭐
Help out the next person and give it a star rating below!