Let's get real, have a little <3 to <3 shall we? My foodies, friends, and fellow bloggers, this one's for you.
Lately, things just haven't been the same around here. I mentioned a few weeks ago that I was a little down on the whole blog thing and couldn't figure out why. I am certainly not tired of cooking. I still love snapping pics and getting better with my camera. And I'm always making plans for what to post next. But lately, I'm just not feeling the love. And after looking around and reading some other posts, I don't think I'm alone.
I was reminded of this yesterday by Kate at Diethood, who shared a link on her Facebook wall about a very well written post on internet manners and how hard we all work for our content just to be redistributed to thousands of other people via Pinterest with no thanks back to us. The post said how Pinterest has changed the way we view the internet, and damned if I don't think that is spot on. Even I am guilty of playing catch up in my reader and only pinning pics without leaving a comment thinking the 'Pin' is enough to show my support. But, like I said, we're getting real here, it's not. My pictures are pinned hundreds of times a day by random strangers, and even though that's really freakin cool, it doesn't let me know you came, saw and were inspired, because you'r pin is just mixed in with the 10,000 other Chai Pumpkin Spice Thumbprints and I may not have even noticed it. So, for my friends who I have been letting down and only pinning, I'm sorry. I need to make more of an effort to not only pin, but to let you know I just embarrassingly drooled on my keyboard at work looking over your enchilada casserole and that I really am making it for dinner, pics or not.
Back when Foodbuzz was at it's peak before it crumbled into a disappointing hot mess, I met a ton of wonderful other people passionate about the same thing I was - food. The community was great, my ever growing inbox of daily recipe posts from these other bloggers was fantastic and I got to read a lot and see a lot of great posts. I feel that a lot of people met and connected there. And, frankly, I got a ton of comments from that community. And we all know, at the end of the day, comments about what we posted really go a long way. But my comments have dropped - a lot - and one can not help but think about why. Was it because Foodbuzz feel apart and Pass the Sushi wasn't compelling enough to find after the daily inbox disappeared? Was it because summer rolled around at the same time and we all got so busy? Or was it because I don't have a 'family friendly' blog? Is it me? Did we break up and I didn't know it... You could have at least called.

My numbers are still rising, my views are up, and I should be satisfied. But where's the love? Are we still in this together or have you moved on and found another meat-centric blogger who writes hilarious posts to keep you away from me? Tell me who it is, I'll slice their tires. I don't keep myself up at night worrying over the comments. I'm busier then before and am not leaving as many comments myself, but I am trying to get better at that. I think after reading some things yesterday, I owe it to you.
If any thing, just to thank you for the time you put into making the food, taking the pics, and posting it for the world to see (let's not forget that mountain of dishes no one else is washing that's staring at you while you try to read).
I will never be one to comment back on every person that comments here. I feel that is disingenuous and creates a dangerous circle of blogger tag. I do read a lot more posts than I comment on. I try to keep the comments sincere and not just, 'delish'. But even if I do write that, know that I mean it. Some things really do just leave me staring at the screen jealous that I wasn't invited to supper. But we all need to remember that a little love goes a long way in this community. Whatever it was that had us commenting before, hasn't changed. The content is still there. The time. The effort. It's all still there. And the food, it's still the fat kid friendly down home deliciousness that I promise to bring you. So, unless I did something to gravely offend the internet world, tell me, where's the love?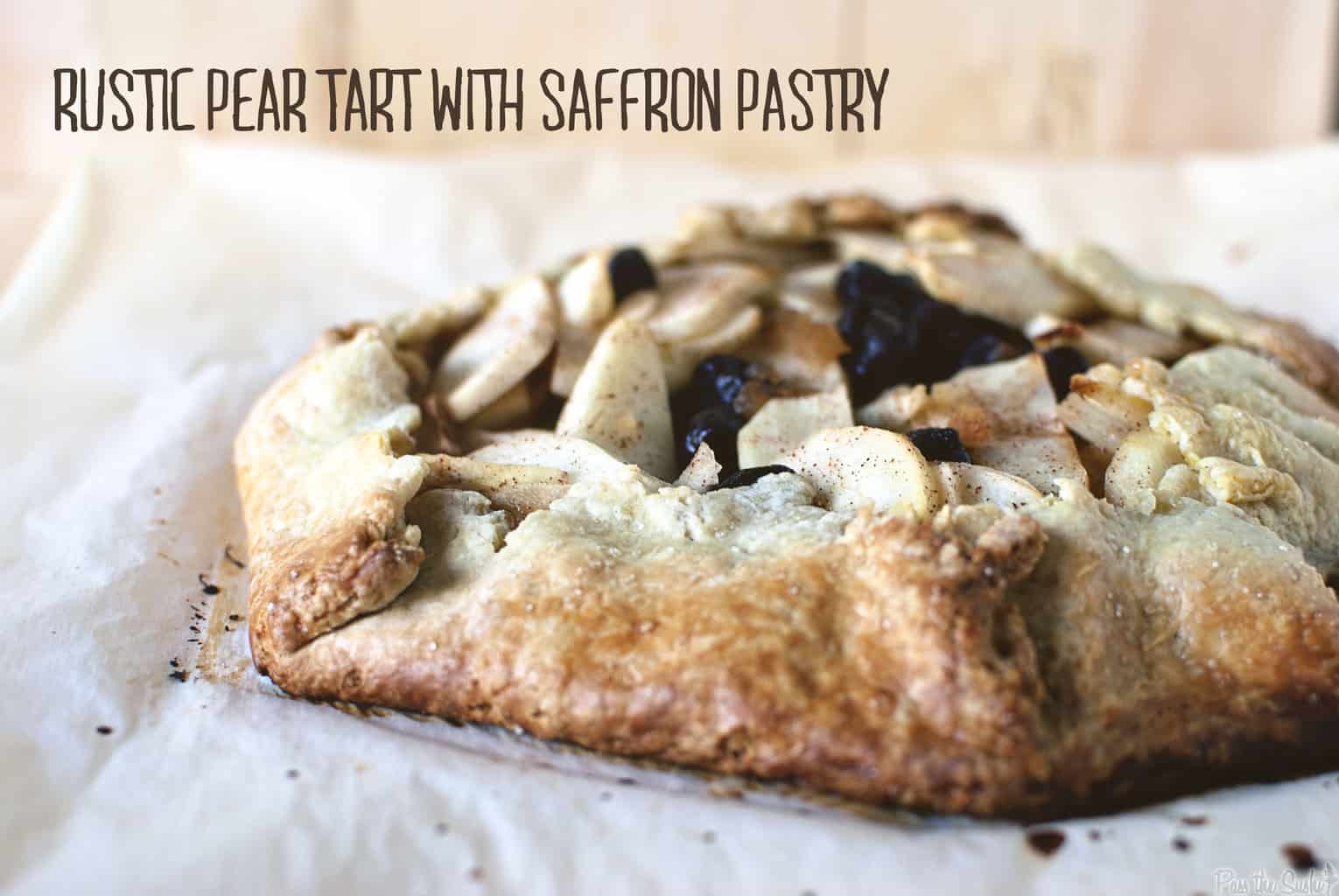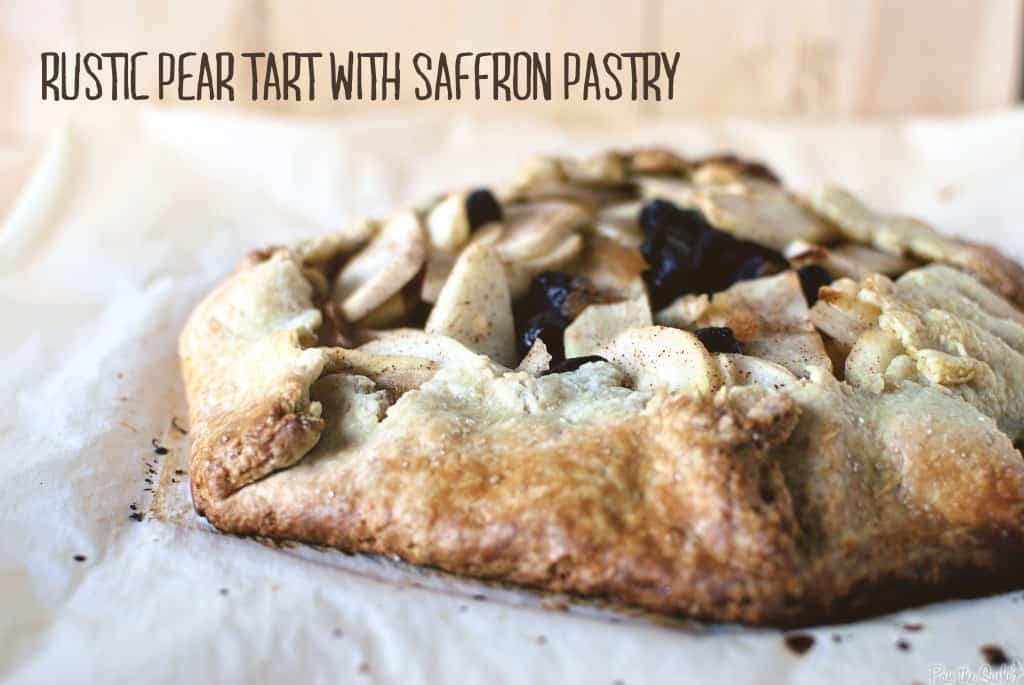 Rustic Pear Tart with Saffron Pastry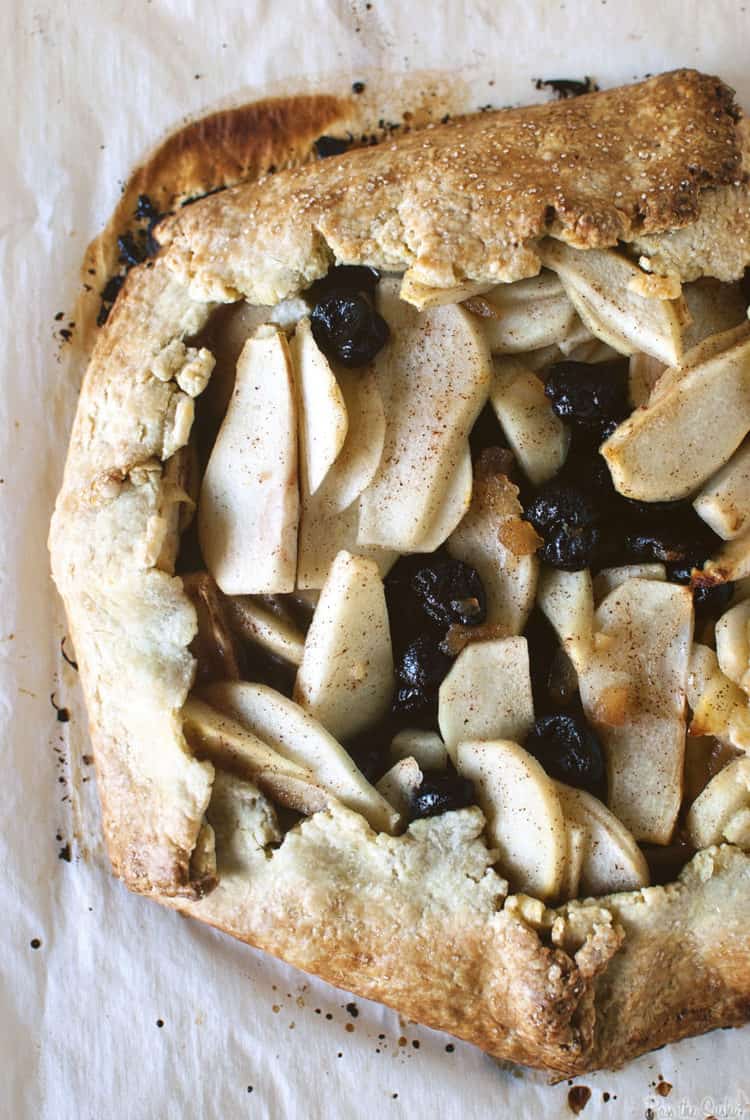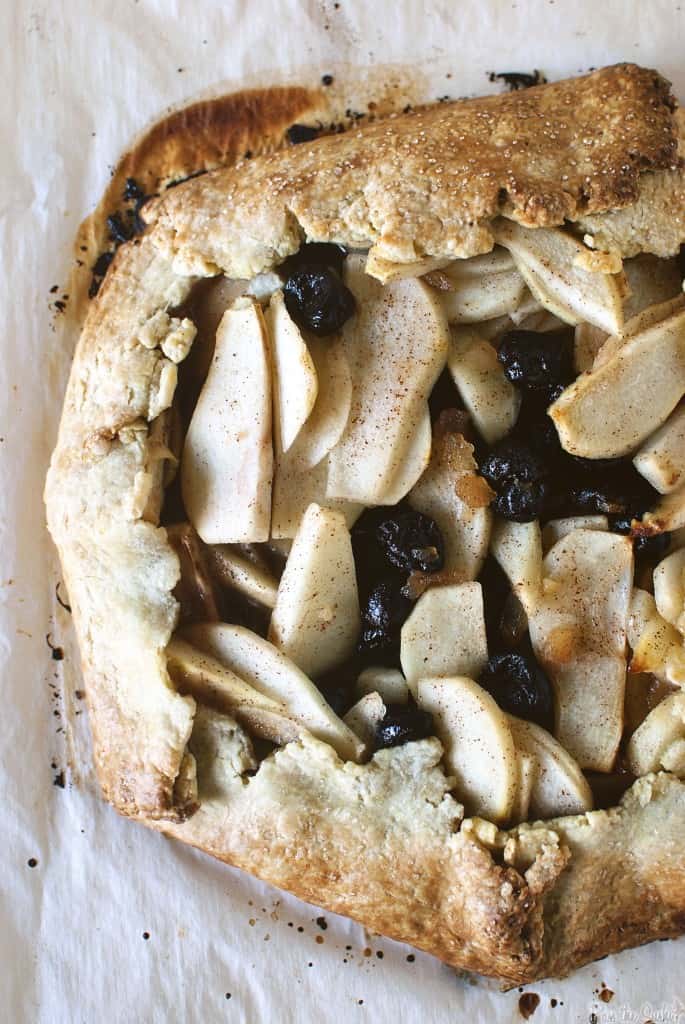 from BHG Special Interest Publication Fall Baking
Ingredients:
For the pastry:
5 tbs boiling water
¼ teas saffron threads
4 ice cubes
2 cups flour
¼ cup sugar
¾ teas salt
½ cup cold butter, cut into small pieces
1 egg yolk
For the filling:
4 medium Bartlett pears, peeled, cored, and sliced
¾ cup dried cherries
1 tbs lemon juice
2 tbs sugar
1 tbs flour
¼ teas ground cinnamon
dash of salt
¼ cup applejack
3 tbs sugar
2 tbs finely chopped crystallized ginger
milk
sugar
ice cream, optional
Preparation:
For the dough: In a small bowl pour the boiling water over the saffron threads; let stand 15 minutes. Add the ice cubes to chill the mixture, set aside.
In a large bowl, combine the flour, sugar and salt. Using a pastry blender, cut in the butter until the mixture resembles coarse cornmeal. In a small bowl, combine the egg yolk, and 3 tbs of the saffron-water. Pour the egg yolk mixture into the flour. Stir in enough of the remaining saffron-water mixture, 1 tbs at a time, to just moisten the flour mixture. Gather mixture into a ball, kneading gently to make it hold together. Flatten into a disk and wrap in plastic wrap. Chill in the refrigerator for 30 minutes (or up to three days).
On a lightly floured work surface, roll the dough into a 13" circle. Carefully transfer to a large baking sheet lined with parchment paper. Cover with plastic wrap and set aside while preparing the filling.
For the filling:
Preheat the oven to 375 degrees F.
In a large bowl gently toss the sliced pears, dried cherries, and lemon juice. Add the 2 tbs of sugar and 1 tbs of flour, cinnamon, and a dash of salt. Toss to combine; Set aside.
In a small saucepan, combine the applejack, 3 tbs sugar, and the crystallized ginger. Heat just to a boil over medium heat. Reduce heat and simmer, uncovered, for 5 minutes. Add to fruit mixture and gently toss.
Spoon fruit mixture onto dough circle, leaving a 2" border of dough around the edge. Fold dough edge up and over fruit mixture, pleating if needed, and leaving the center uncovered. Spoon any remaining liquid on top of the pears. Brush the edges of the dough with the milk and sprinkle with sugar. Cover the exposed pears with aluminum foil.
Bake for 45-60 minutes until dough is golden and filling is bubbly. Cool on baking sheet on a wire rack. If desired, serve with ice cream.