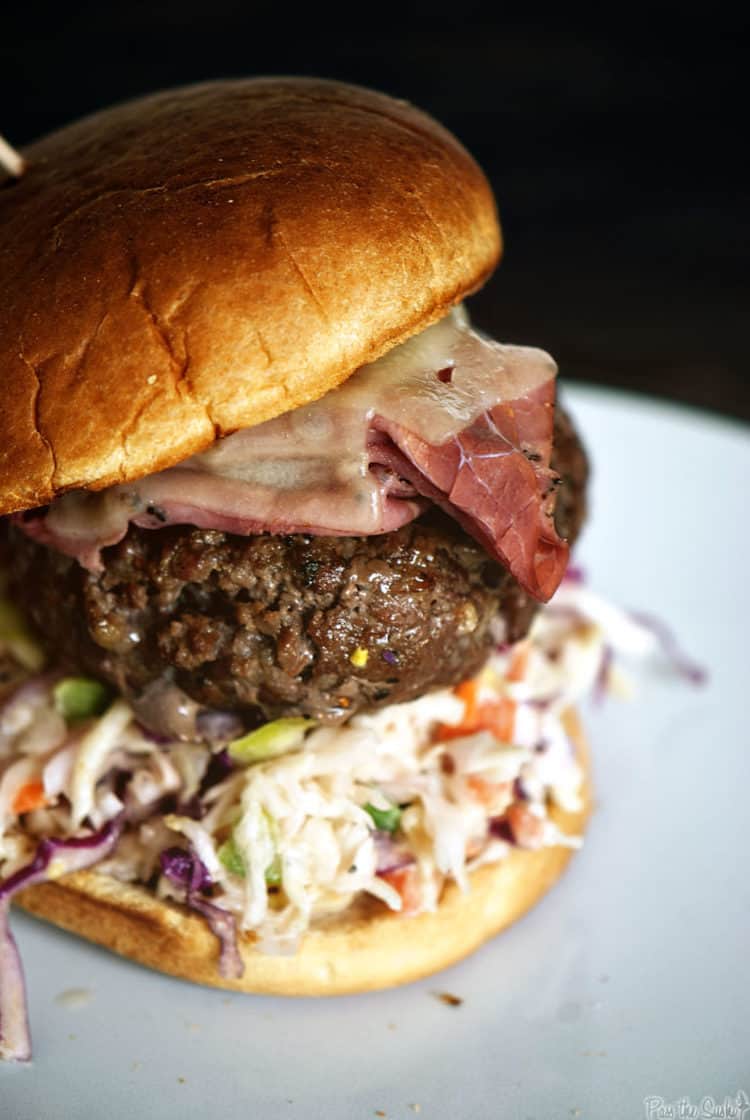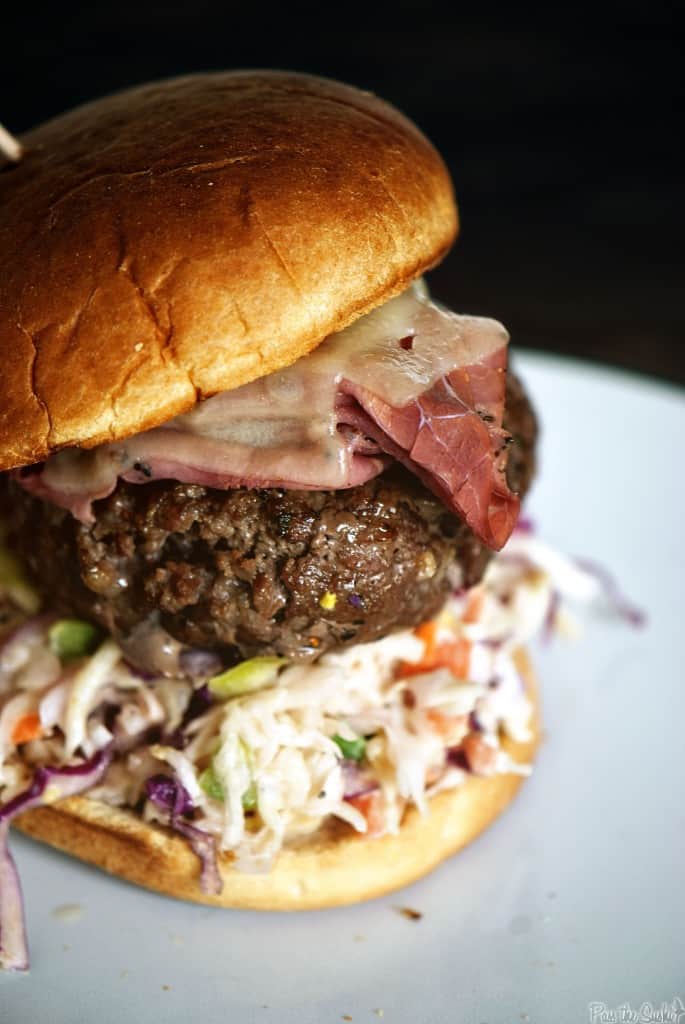 I have some pastrami and freshly ground beef, can anyone else guess whats about to go down in my kitchen? That's right, I'm taking on Michael Symon's famous Fat Doug Burger. Let me tell you, it' lives up to it's reputation. And it's not the pastrami or fresh ground beef that does it, I think the real secret to this drool worthy burger is in the ShaSha Sauce.
Not only is this burger worth its weight in gold, but it officially kicks off my Burger of the Month Club.  While you're over there lick the screen, no one's looking. Check it out for yourself, give feedback, and who knows, maybe you'll even want to participate in the grill action!
Michael Symon's Fat Doug Burgers
From Food Network
Ingredients:
For the Slaw:
½ head napa cabbage, shredded
½ clove garlic, minced
½ small red onion, thinly sliced
½ fresh jalapeno pepper, minced
3 tbs champagne vinegar
1 tbs dijon mustard
2 tbs mayonnaise
1 tbs sugar
1 ½ teas salt
1 tbs Worcestershire sauce
1 tbs ShaSha Sauce*
For the Burgers:
½ lb ground sirloin
½ lb ground brisket
½ lb ground boneless short rib (or use 1 ½ pounds ground beef total, 75% to 80% lean)
Salt and pepper
½ lb pastrami, thinly sliced
4 slices Swiss cheese, medium thick
1 ½ tbs unsalted butter
4 brioche or egg buns, split
Preparation:
Combine the cabbage, garlic, onion, jalapeno, vinegar, mustard, mayo, sugar, salt, Worcestershire sauce, and ShaSha sauce in a large bowl. Cover in plastic wrap and refrigerate at least one hour.
Preheat grill.
In a large bowl, combine the ground meats and form into patties. Season liberally with salt and pepper.
Grill burgers until medium rare, 3-5 minutes per side, or to desired doneness. Sing a little ditty in your head and go about building the rest of this burger.
Heat a large saute pan over medium heat. Place heaping piles of pastrami in the skillet just to heat through. Top with Swiss and cover. Remove the pastrami, set aside, and cover.
Add the butter and swirl to coat the pan. Place the buns, cut side down, in the pan and toast until just golden.
Arrange buns on platters. Top with the slaw, a burger, and a mound of pastrami and cheese. Cover each with remaining bun tops. Serve immediately. Leave no evidence.
ShaSha Sauce
Ingredients:
12 hot banana peppers from a jar, tops removed, chopped
4 cloves garlic
1 cup yellow mustard
1 cup white wine vinegar
½ cup sugar
2 tbs flour
½ cup water
Preparation:
In a food processor, combine the peppers, garlic, mustard and vinegar. Process to a fine puree.
Pour the puree into a nonreactive saucepan. Add the sugar and bring it to a boil over high heat. Lower heat and let simmer for 30 minutes.
In a small bowl, mix the flour and water to make a smooth paste. Whisk it into the pepper mixture and simmer for an additional 20 minutes, stirring regularly, until it becomes very thick. Remove from heat and cool completely.
The sauce can be refrigerated for up to 1 month in a nonreactive container.