Perfectly flaky dough with a caramel and nut topping that's not overly sweet but just sweet enough to give your sweet tooth a fix. Ina Garten knows her homemade pecan sticky buns, and after you make this sticky buns recipe, you'll know and love them, too.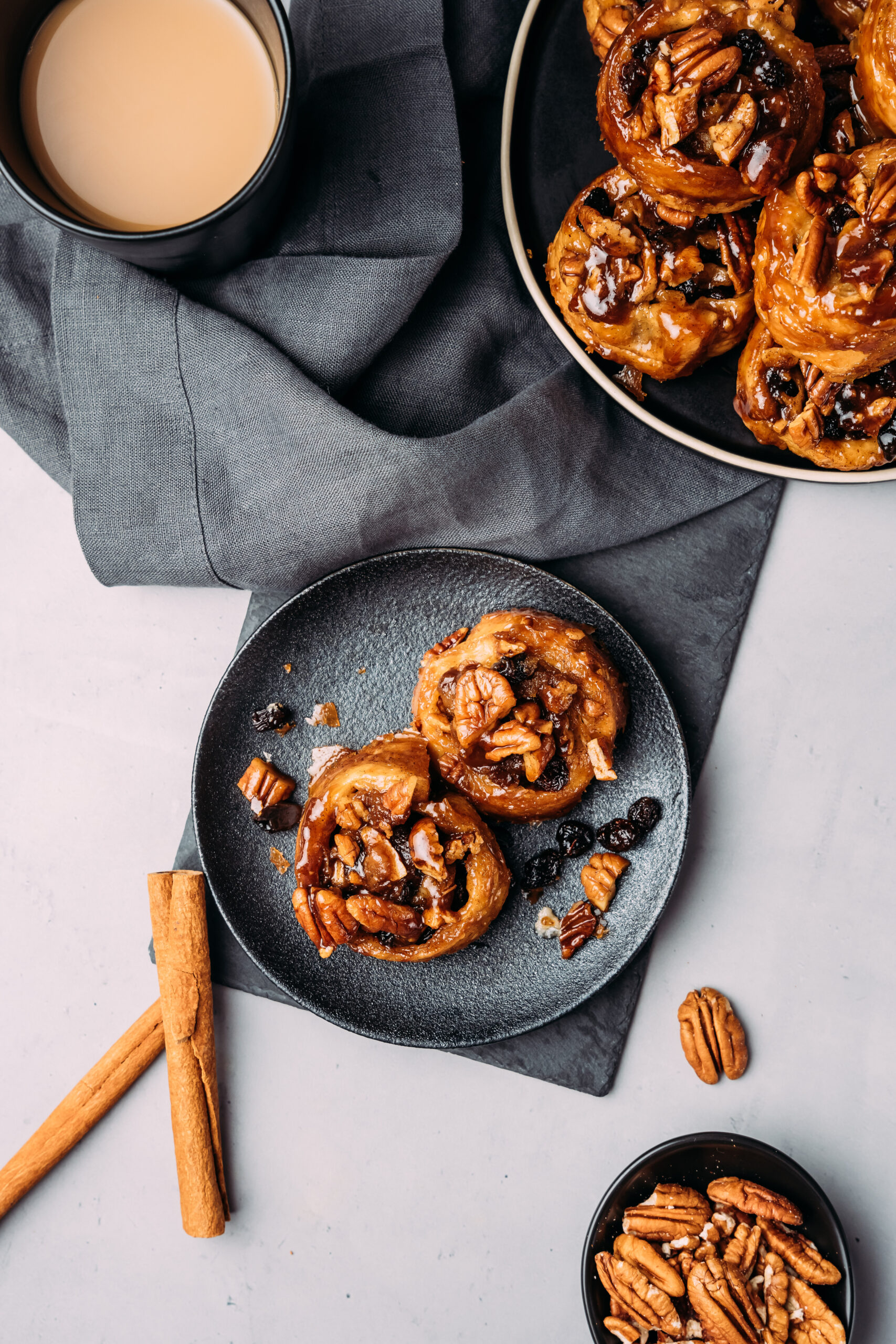 Jump to:
When procrastination kicks in, the perfect way to feel productive is to do a little baking. These sticky buns are the perfect solution!
And since breakfast kicks off the day, it's a great place to start. Sticky buns are amazing, not only because of how simple they are to make, but because of the numerous variations you can toss into the mix.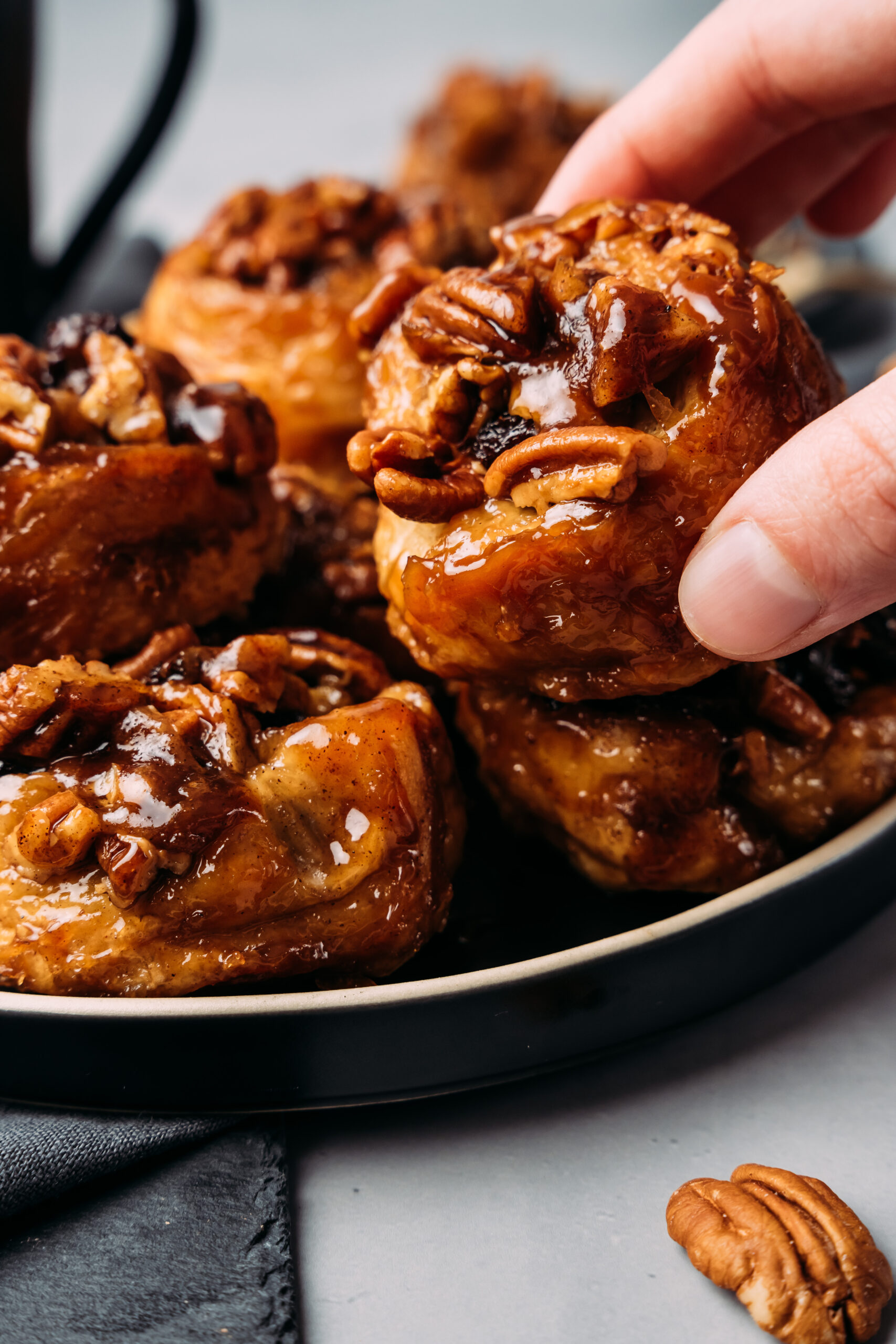 What are Sticky Buns
Sticky buns are warm, gooey, and delicious. They're yeast bread that is filled with delicious ingredients like nuts and caramel before baking. The water in the dough creates steam, which causes bubbles to form within the dough while it rises. Placing butter on top of the caramel helps create an ultra-flaky crust.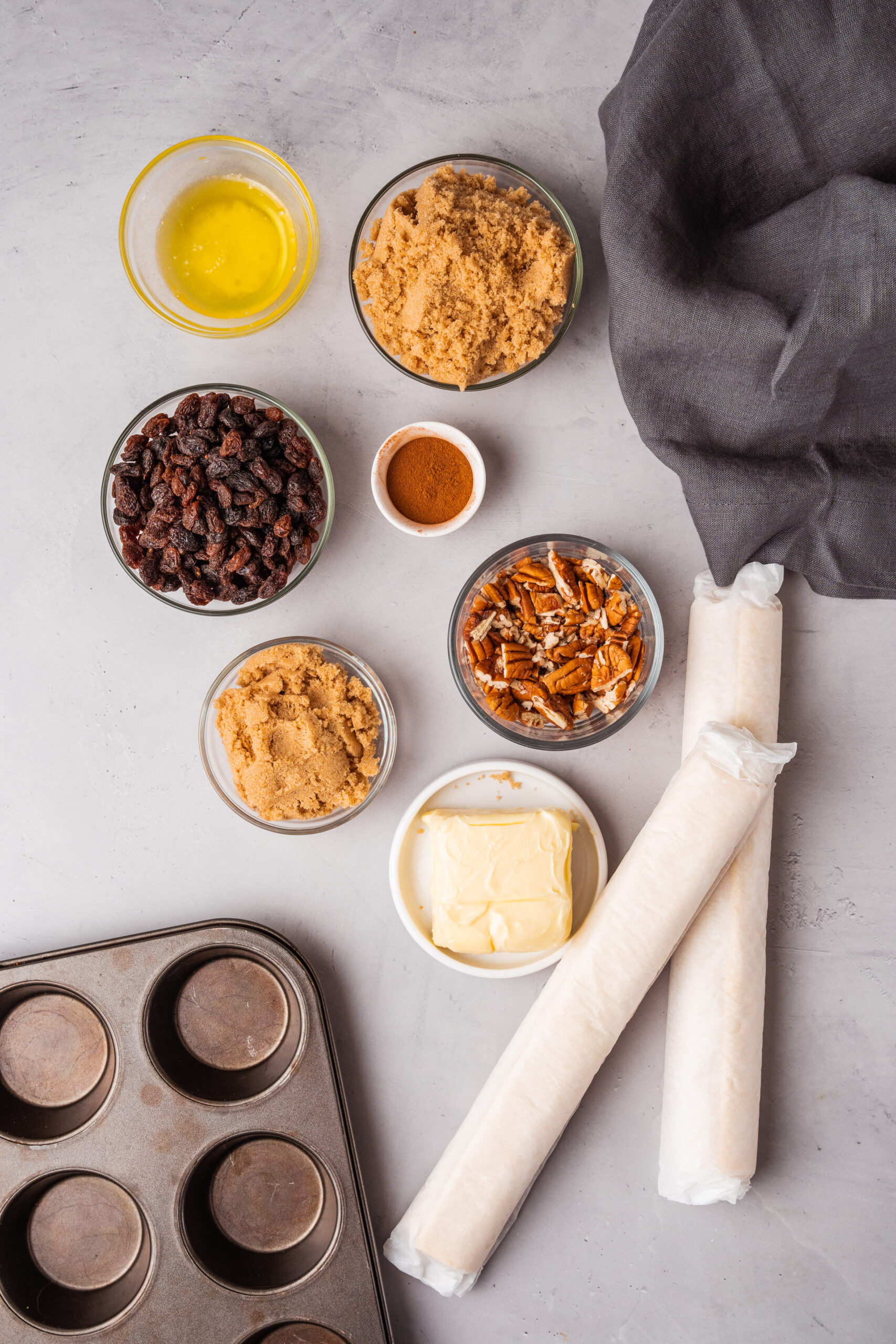 Ingredients for Homemade Sticky Bun Recipe
Dough ingredients
Pecans (chopped pecans are best)
Puff pastry
Butter
Sugar
all-purpose flour (for your surface)
For The Cinnamon-Sugar Filling
Cinnamon
Sugar
Unsalted butter
Raisins (not everyone likes them, so feel free to leave them out if you prefer them that way)
How to Make Easy Sticky Buns
Ina Garten's Sticky Buns recipe is super easy to make. They use a muffin tin to hold their shape, so that takes some of the work out for you. And keeps the sticky topping contained and right where it belongs-on top of the buns, not pooling in the pan.
Start by preheating the oven and lining a muffin tin with parchment paper rounds or even cupcake liners. Nonstick cooking spray will work, but you may have to help them out with a knife when they are done baking.
Then cream the butter and sugar together with a hand mixer or in the bowl of a stand mixer on low speed. Add a pat of the butter mixture to each muffin cup and sprinkle the pecans evenly over top.
Next, place dough onto a clean work surface sprinkled with flour. Use a rolling pin to stretch it out if needed. Brush the entire surface of the dough with melted butter.
Add the filling by sprinkling the brown sugar, cinnamon, and raisins over the top of the dough, being sure to leave a 1-inch border along the long edge to pinch closed with rolled.
Starting from the long side that has the cinnamon sugar mixture on it, roll the puff pastry up into a log, finishing with the pinched seamed down. Slice into 6 buns and repeat with the second sheet of puff pastry to make enough buns to fill the muffin tin.
Place each, spiral side up, into the muffin tins, and then bake in the preheated oven.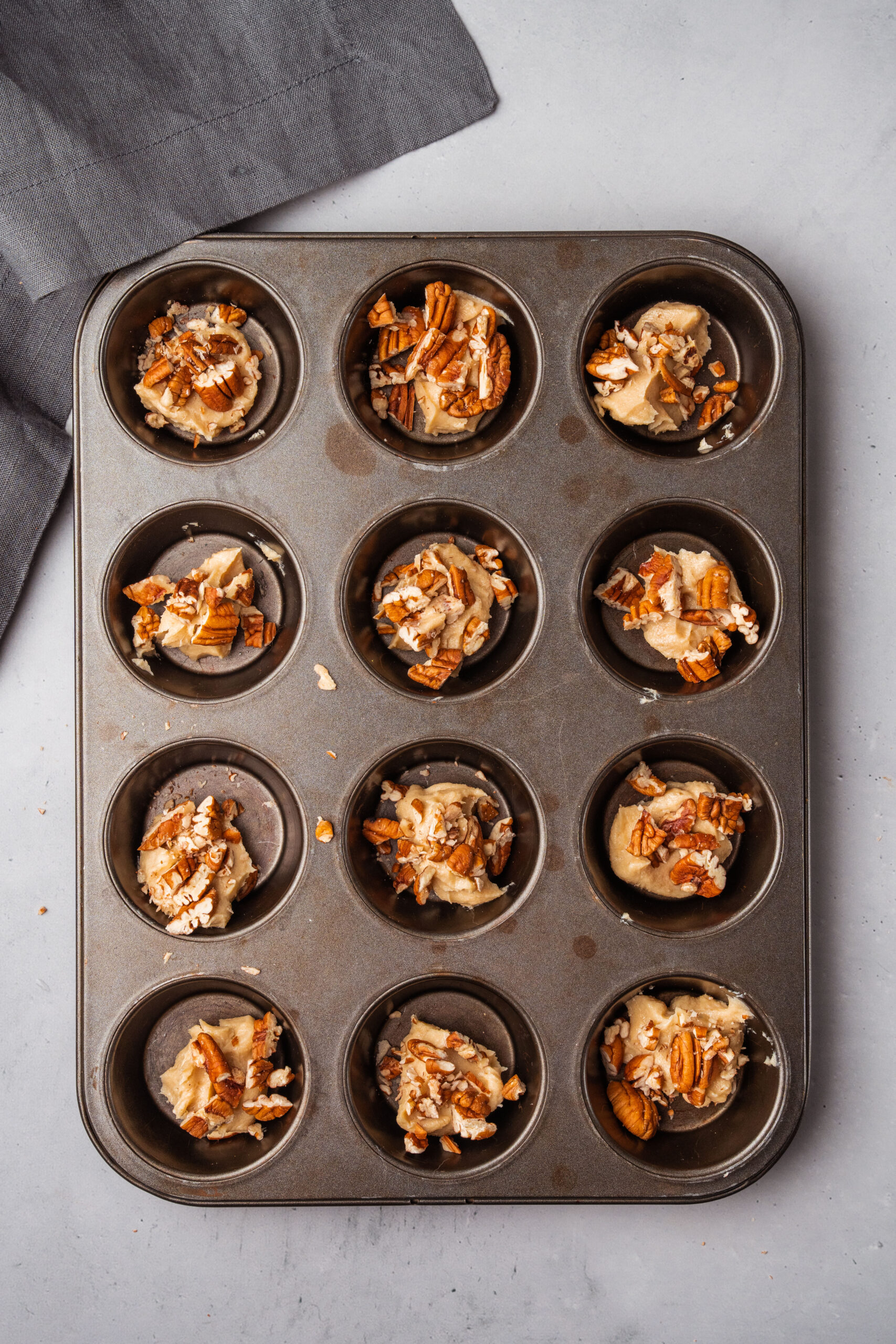 Finally, allow the sticky buns to cool for at least 5 minutes before flipping the tin over. The filling is super hot! If needed, use a spoon to help wiggle each bun out of the tin.
Serve as soon as they are cool enough to eat!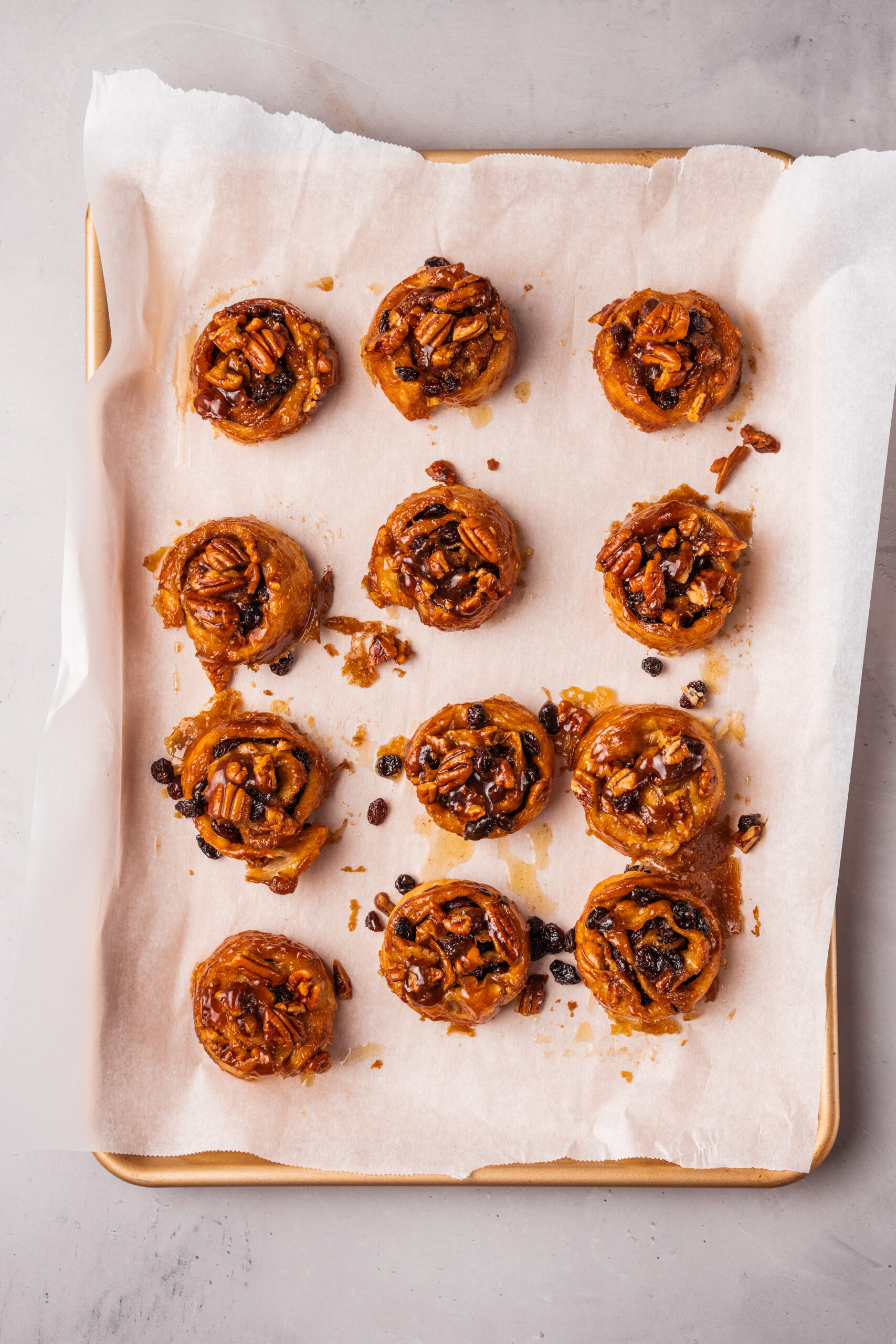 Expert Recipe Tips
Use a lightly floured surface
This step is important to ensure that your dough doesn't stick to itself and make a goopy mess. A lightly floured work surface will make spreading and stretching the dough ball easier.
Don't skip the cinnamon-sugar mixture.
These ingredients are key to the flavor of the delicious puff pastry. Experiment with how much cinnamon and sugar you use, and add raisins if you enjoy them.
Use a sharp knife to cut your gooey sticky bun
A dull knife will just pinch and press the rolls. A shark knife will ensure you get nice round circle to place on your sheet pan.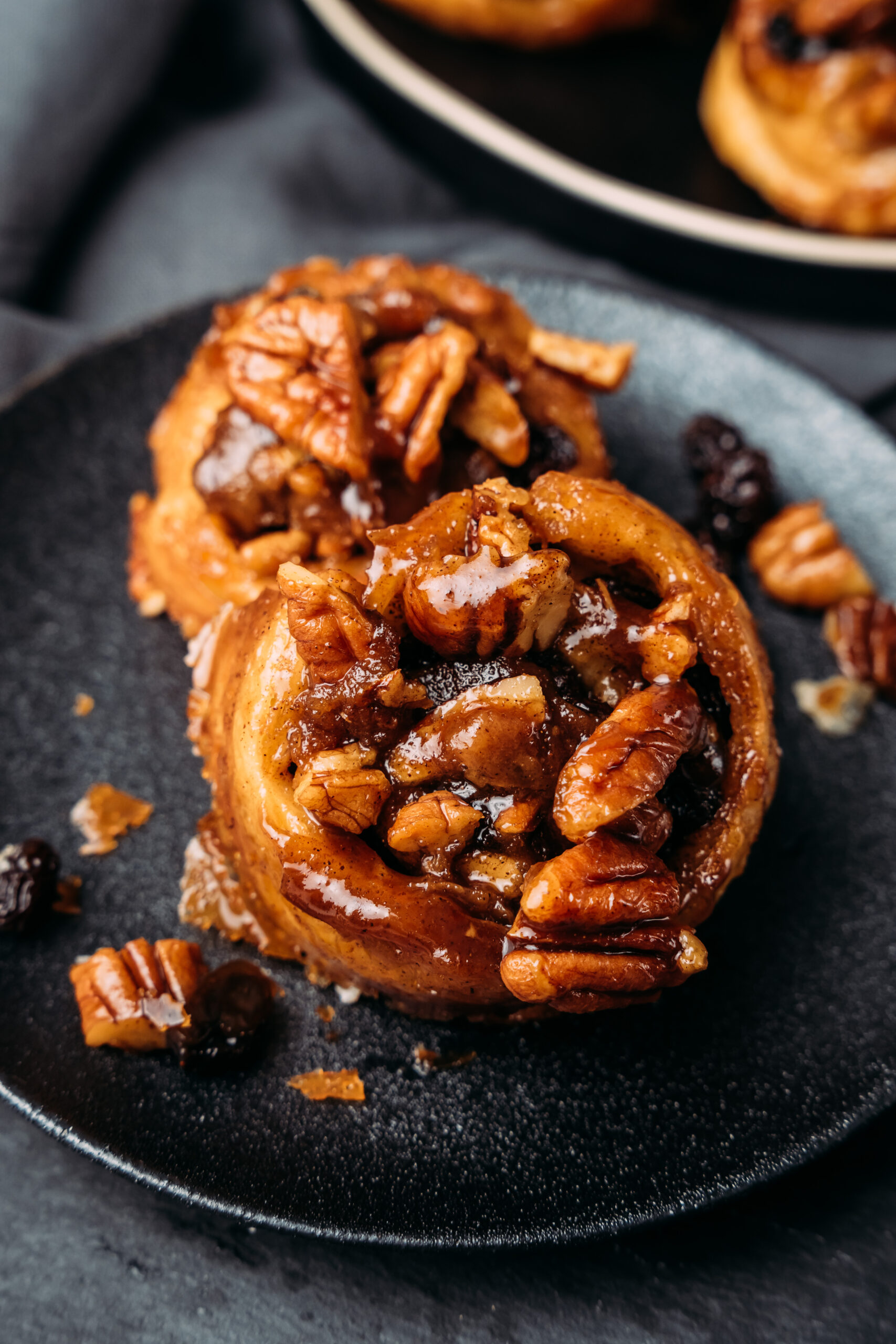 How to Store Pecan Sticky Buns & Reheating
You can store your puff pastry sticky buns in an airtight container in the refrigerator for several days. Another option is to wrap them in plastic wrap on the countertop.
If your buns are a bit stale, you can place a glass of water in the microwave with your pastry, and they'll revive perfectly!
You can easily rewarm any leftover sticky buns in the microwave, oven, or air fryer. Use an appropriate baking dish and warm it on a low heat setting.
What to Serve with Pecan Sticky Buns Recipe
No yeast sticky buns don't have to be the only treat you have on hand for breakfast. A baked croissant french toast or peanut butter-dipped donuts are sure to impress also! Try serving these tasty buns with cinnamon buns, Belgian waffles, or Tex-Mex hashbrowns and eggs for a full brunch!
Pecan Sticky Buns Variations
Dabbling in new flavors can be so much fun, so try some of these ideas.
Caramel Sticky Buns- Use a drizzle of caramel sauce when you do the brown sugar and butter, then add some to the top for good measure. These caramel rolls are a delicacy.
Orange Pecan Sticky Buns- Add some orange extract to the sticky buns recipe, then add a bit to the glaze.
Apple Cinnamon Sticky Buns-add ½ teaspoon apple pie spice to the brown sugar before mixing it with the butter.
Frequently Asked Questions
How do I know when my buns are done?
When they are golden brown on top, insert a knife or toothpick, and when it comes out clean, your dough is done through to the center.
My sticky buns are sticking to the tin, what do I do?
I don't usually find this to be a problem, but if it is your experience, and you've followed all the steps, you can give your muffin tin a coat of non-stick spray before you fill it. You can also buy a non-stick tin like this one here.
My buns were overdone, what did I do wrong?
Oven temperature can vary, so check your buns early. You can also get an in-oven thermometer to check for the true temperature and find out if you have any hot spots.
Can I use a cake pan instead of muffin tins?
A cake pan will work, much like when you make fluffy cinnamon rolls. You will just have to cut the delicious sticky buns out of the prepared baking dish instead of them being separated.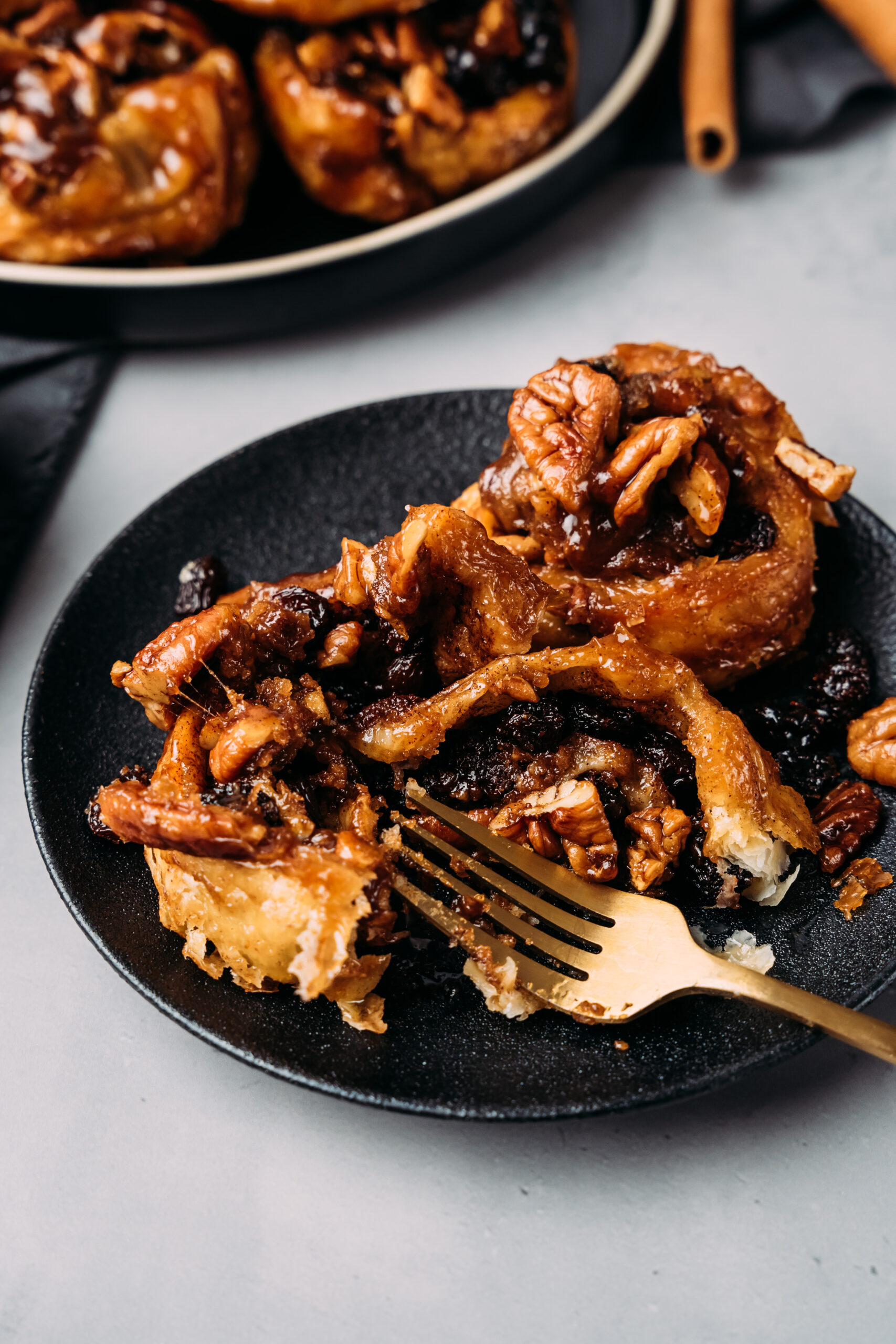 More Delicious and Easy Recipes for Breakfast
Seriously, is there anything you can think of that smells more like a big cozy hug? Sticky buns are the epitome of comfort food, especially on a cold morning. Once you bite into that soft gooey perfection, you can't help but smile. So make some sticky buns, have a cup of coffee, and get down to business.
If you've tried this recipe, be sure to rate the recipe and leave a comment to help the next reader out!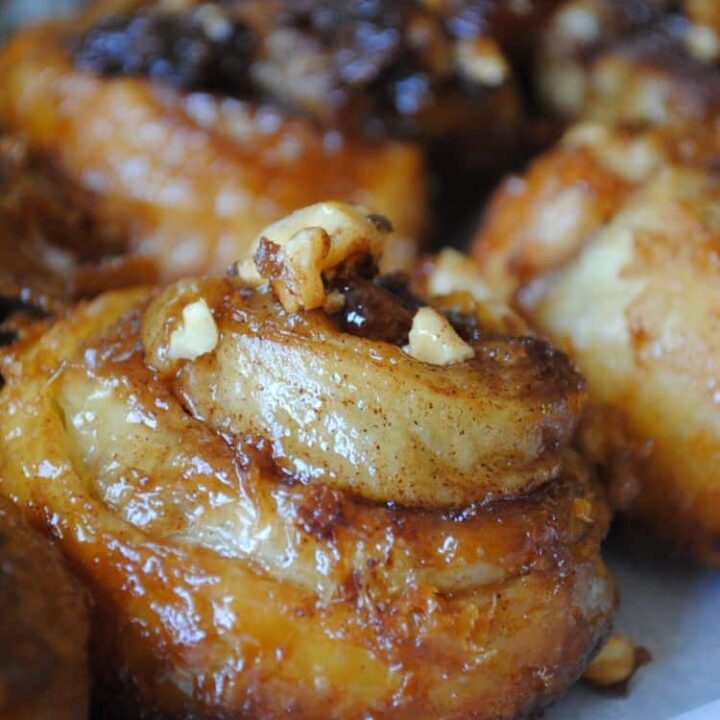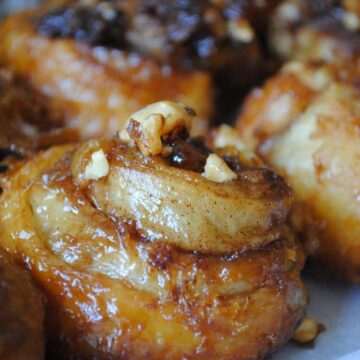 Easy Homemade Sticky Buns
Experience pure bliss with our homemade sticky buns. Soft, pillowy dough infused with cinnamon, rolled up and baked to perfection, then generously coated with a luscious caramel glaze that's sticky, sweet, and utterly irresistible. These sticky buns will take you on a journey of pure indulgence with every bite!
Print
Pin
Rate
Share by Text
Ingredients
For the buns:
12

tablespoon

1 ½ sticks unsalted butter

-

at room temperature

⅓

cup

light brown sugar

-

lightly packed

½

cup

pecans

-

chopped in very large pieces

1

package

-

17.3-ounces/ 2-sheets frozen puff pastry, defrosted
For the filling:
2

tablespoon

unsalted butter

-

melted and cooled

⅔

cup

light brown sugar

-

lightly packed

3

teaspoon

ground cinnamon

1

cup

raisins
Instructions
Preheat the oven to 400 degrees F. 

Place a 12-cup standard muffin tin on a sheet pan lined with parchment paper.

In the bowl of an electric mixer fitted with the paddle attachment, combine the 12 tablespoons butter and ⅓ cup brown sugar.

Place 1 rounded tablespoon of the butter mixture in each of the 12 muffin cups. 

Distribute the pecans evenly among the 12 muffin cups on top of the butter and sugar mixture.

Lightly flour a wooden board or stone surface. 

Unfold 1 sheet of puff pastry with the folds going left to right. Brush the whole sheet with the melted butter. 

Leaving a 1-inch border on the puff pastry, sprinkle each sheet with ⅓ cup of the brown sugar, 1 ½ teaspoons of the cinnamon, and ½ cup of the raisins. 

Starting with the end nearest you, roll the pastry up snugly like a jelly roll around the filling, finishing the roll with the seam side down. 

Trim the ends of the roll about ½-inch and discard. Slice the roll in 6 equal pieces, each about 1 ½ inches wide. 

Place each piece, spiral side up, in 6 of the muffin cups. Repeat with the second sheet of puff pastry to make 12 sticky buns.

Bake for 30 minutes, until the sticky buns are golden to dark brown on top and firm to the touch. Be careful – they're hot! 

Allow to cool for 5 minutes only, invert the buns onto the parchment paper (ease the filling and pecans out onto the buns with a spoon) and cool completely.
Nutrition
Serving:
1
g
|
Calories:
273
kcal
|
Carbohydrates:
28
g
|
Protein:
1
g
|
Fat:
18
g
|
Saturated Fat:
9
g
|
Polyunsaturated Fat:
9
g
|
Cholesterol:
35
mg
|
Sodium:
20
mg
|
Fiber:
1
g
|
Sugar:
23
g
Nutritional informations provided as a courtesy and is only an approximatation. Values will changes based on ingredients used.
⭐ Tried this recipe? Rate it ⭐
Help out the next person and give it a star rating below!