Halloween martinis will make you the most famous mixologist at this year's Halloween party! Candy corn martinis, dark chocolate martinis, and Twizzler-tinis - because if you can make cocktails with candy, you should!
We're not going to talk about how it snowed in October. (which is very out of the ordinary for my part of the states). We are not going to talk about how Handsome and I hopped in the truck anxious to find a new adventure and drove 2 hours north yesterday. Just to find that some places actually got a LOT of snow and that entire towns were out of power.
Then got not-lost in wide open spaces trying to find a rest stop, while my kidneys thought they would explode. Just to be told to take it somewhere else when we finally did find a corner store.
We are not going to talk about the awesome magazine I found dedicated to meat and sausages tucked behind all of the do it yourself, quick and simple, fast and tasteless, Halloween or Christmas inspired magazines on the shelf, or how we ended up wasting a great day at the mall (bust).
Nope. We're going to sit back and get our drink on. Why?
Because it's Monday. Because we're big kids.
And because it's the spookiest night of the year, children will be trick or treating, candy will be filling pillowcases and many many parents will be dealing with the sugar high that follows. There are plenty other posts about treats for the little monsters on this site.
Drink responsibly or have someone on standby to make your responsible decisions for you and have a great Halloween.
So, these Halloween martinis are for the mommies, daddies and adults who need a little something something to get them through the night. 😉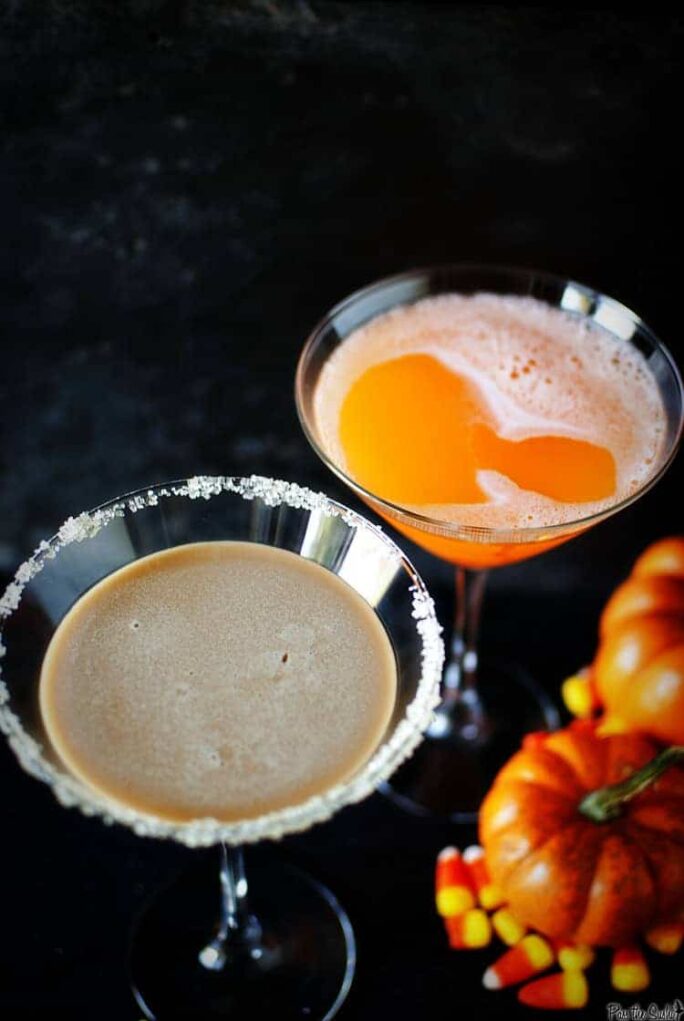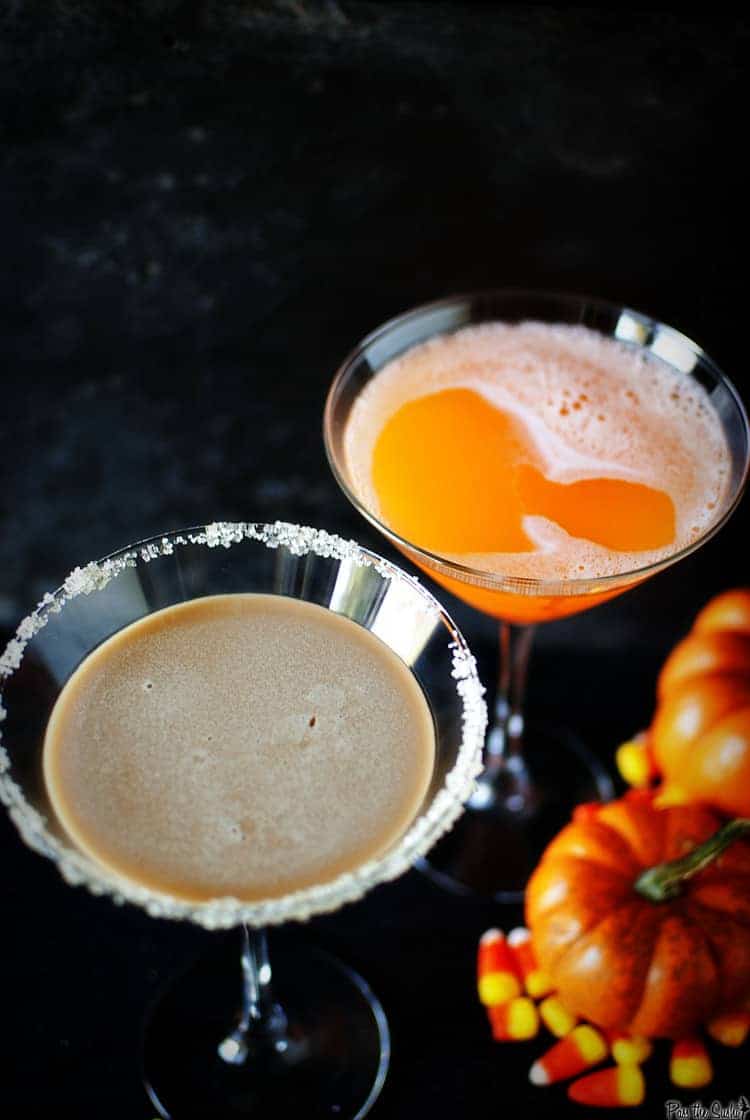 Looking for some cozy cocktails to warm up with? Try these out, perfect for after dinner, or any time.

Caramel Spiked Apple Chai Cocktail 
Irish Eyes Cocktail 
Kahlúa Midnight Coffee Cocktail
Bailey Pumpkin Silk Martini 
If you've tried these Halloween Martinis, or any other recipe on passthesushi.com please don't forget to rate the recipe and let me know where you found it in the comments below. I love hearing from you! You can also follow along for more good eats and travel tips on Instagram @passthesushi & @girlcarnivore, Twitter & Facebook.
Twizzler- Tini Halloween Martinis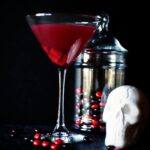 because if you can do it with candy corn, why not twizzlers?
For the Twizzler vodka:
½ cup Twizzler bites
1 ½ cups vodka
For the Twizzler-tini:
2 oz Twizzler vodka
2 oz cranberry juice
dash of lime juice
Combine Twizzlers and vodka in a jar and let mingle for at least 3 hours. Strain.
In a cocktail shaker combine Twizzler flavored vodka, cranberry, juice, and lime with ice and shake well. Serve with fresh Twizzlers bites in the glass.
Yield: 4
Candy Corn Halloween Martinis
From Food Network Magazine Oct. 2009
Ingredients
For the infused vodka:
½ cup candy corn
1 ½ cups vodka
For the Cordials:
2 oz orange liqueur
Juice of ½ lemon
1 large egg white
Candy corn, for garnish
Instructions
Infuse the vodka:
Combine the candy corn and vodka in an airtight container; set aside for at least 3 hours, then strain.
Make the cordials:
Add 4 ounces of the candy corn vodka, the orange liqueur, lemon juice and egg white to a cocktail shaker filled with ice.
Shake vigorously for at least 30 seconds.
Strain into 2 chilled martini glasses and garnish with candy corn.
Dark Chocolate Halloween Martinis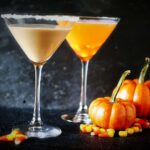 Food Network Magazine 2010
2 tbs raw sugar
2 oz chocolate liqueur
2 oz vodka
1 oz chilled espresso
1 oz heavy cream
Moisten the rim of a chilled martini glass and dip it in the sugar-chocolate mixture.
Combine the chocolate liqueur, vodka, espresso and cream in a cocktail shaker filled with ice.
Strain the cocktail into the sugar rimmed martini glass.