Apple cider doughnuts are the best way to grab a taste of autumn for breakfast!
Apples have certainly held their own here at Pass the Sushi this fall. With other blogs exploding into the autumnal flavors of pumpkin and other squash it has been hard to hold out - and keep making apple recipes - for as long as I have. We have had pumpkins on our doorsteps for a few weeks, jars of pumpkin filling are lining end caps, and those pesky Hersey's Pumpkin spice kisses have been mocking me for days.
OK, I maaay have jumped the gun and have something up my sleeve as far as those go. But! I have held out and not created one pumpkin (ignore that last comment) themed recipe yet.
So enjoy the apple cider doughnuts, and maybe a few other apple treats.
Before we know it, we'll be head strong into November and the holiday season here on Pass the Sushi.
Apple Cider Doughnuts
From Food Network Magazine Oct 2009

Ingredients
2 red apples, such as Cortland or McIntosh
2 ½ cups apple cider
3 ½ cups all-purpose flour, plus more for dusting
4 teaspoons baking powder
¼ teaspoon baking soda
3 ½ teaspoons ground cinnamon
1 teaspoon salt
¼ teaspoon freshly grated nutmeg
1 ⅔ cups granulated sugar
3 tablespoons vegetable shortening
1 large egg plus 1 egg yolk
¼ cup buttermilk
1 teaspoon vanilla extract
¼ cup confectioners' sugar
Vegetable oil, for frying
Preparation:
Core and coarsely chop the apples (do not peel). Combine with 1 ½ cups cider in a medium saucepan over medium heat; cover and cook until softened, about 8 minutes. Uncover and continue cooking until the apples are tender and the cider is almost completely reduced, about 5 minutes. Puree with an immersion blender or in a food processor until smooth. Measure the sauce; you should have 1 cup. (Boil to reduce further, if necessary.) Let cool slightly.
Whisk the flour, baking powder, baking soda, 1 ½ teaspoons cinnamon, salt and nutmeg in a medium bowl.
Beat ⅔ cup granulated sugar and the shortening in another bowl with a mixer on medium speed until sandy. Add in the egg and yolk, then gradually mix in the applesauce, scraping the bowl. Beat in half of the flour mixture, then the buttermilk and vanilla, and then the remaining flour mixture. Mix to make a sticky dough; do not over-mix.
Scrape the dough onto a lightly floured sheet of parchment paper and pat into a 7-by-11-inch rectangle, about ½ inch thick. Cover with plastic wrap and refrigerate for at least 2 hours or overnight.
Meanwhile, make the glaze: Simmer the remaining 1 cup cider in a small saucepan over medium heat until reduced to ¼ cup. Whisk in the confectioners' sugar until smooth and glossy, then set aside. Mix the remaining 1 cup granulated sugar and 2 teaspoons cinnamon in a shallow bowl; set aside for the topping.
Heat 2 inches of vegetable oil in a large heavy-bottomed pot over medium-high heat until a deep-fry thermometer registers 350 degrees. Line a baking sheet with paper towels. Cut the chilled dough into 12 rounds, using a floured 2 ½- or 3-inch biscuit cutter, then cut out the middles with a 1-inch cutter (or use a doughnut cutter). Slip 2 or 3 doughnuts at a time into the hot oil and fry until golden brown, 1 to 2 minutes per side, adjusting the heat as needed. Transfer to the paper towels to drain.
Dip one side of each doughnut in the cider glaze, letting the excess drip off; dip just the glazed side in the cinnamon-sugar or roll all over in cinnamon-sugar, if desired. Serve warm.
I did not care for the cider glaze (at all). Instead, I mixed some cinnamon and sugar in a brown paper bag and after each doughnut had cooled a moment, tossed them in there and shook. Remember the old Shake and Bake - works just like that.
😉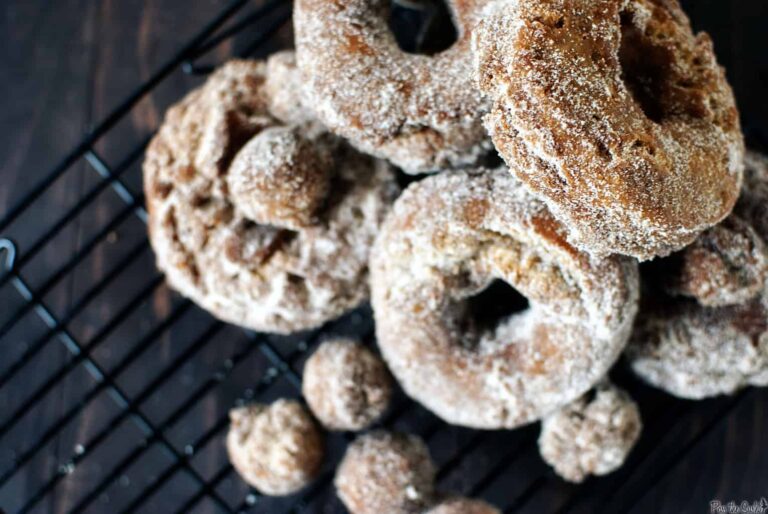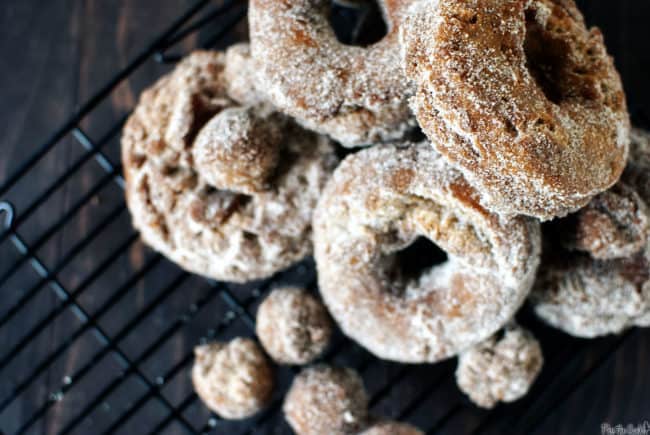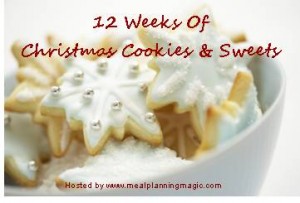 Please go check out all the other awesome post in this weeks collection of holiday goodies!