Broccoli cheddar soup is thick, creamy, and comforting. This homemade soup is a Panera copy cat recipe. It's filling too, so with a simple salad and dinner rolls, your meatless meal is complete.
Holy post holiday madness, Batman. I am so glad I don't work Mondays because I really need today to just recover. For anyone who has to work today, or yesterday, bless you. Christmas day was an awesome 12 hour marathon of presents, family, dinner, a visit from my favorite Rottweiler, and more presents.  I scored mass amounts of awesomeness, a shiny new Kindle and now I need to teach myself how to use it. These new fangled kids and their crazy technologies 😉
I am looking for new books to read now more than ever and am wondering how magazine subscriptions work on them. If you have one let me know how magazine subscriptions work or any tips, apps or other things I may need for it!
I am now relaxing watching a spiffy blu-ray copy of Sucker Punch with an exhausted pup and two cats that may of had a little too much catnip today.
I hope your Christmas was filled with joy and minimal stress.
If it wasn't stress-free, have a bowl of creamy broccoli cheddar soup and you'll feel better.

Copy-Cat Panera Broccoli Cheddar Soup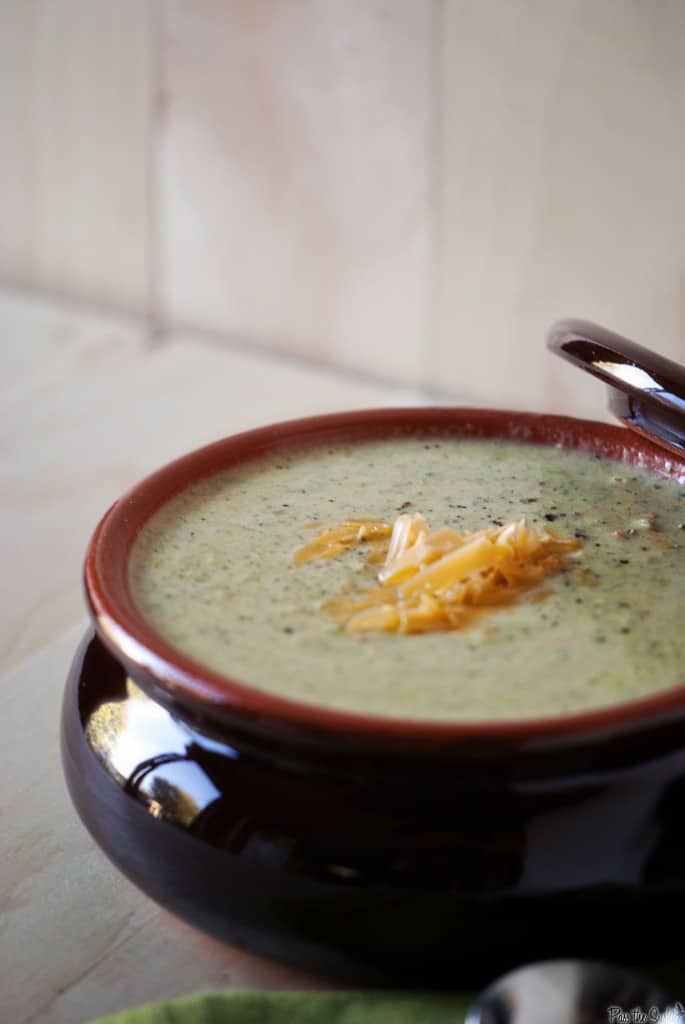 from Food Network Magazine Jan/Feb 2010
Ingredients
6 tbs unsalted butter
1 small onion, chopped
1/4 cup all-purpose flour
2 cups half-and-half
3 cups low-sodium chicken broth
2 bay leaves
1/4 teaspoon freshly grated nutmeg
Kosher salt and freshly ground pepper
4 cups broccoli florets (about 1 head)
1 large carrot, shredded
2 1/2 cups grated sharp cheddar cheese, plus more for garnish
Directions
Melt the butter in a large Dutch oven or pot over medium heat. Add the onion and cook until tender, about 5 minutes. Whisk in the flour and cook until golden, 3 to 4 minutes, then gradually whisk in the half-and-half until smooth. Add the chicken broth, bay leaves and nutmeg, then season with salt and pepper and bring to a simmer. Reduce the heat to medium-low and cook, uncovered, until thickened, about 20 minutes.
Add the broccoli and carrot to the broth mixture and simmer until tender, about 20 minutes. Discard the bay leaves. Puree the soup in batches in a blender until smooth; you'll still have flecks of carrot and broccoli. Return to the pot. (Or puree the soup in the pot with an immersion blender.)
Add the cheese to the soup and whisk over medium heat until melted. Add up to 3/4 cup water if the soup is too thick. Ladle into the bowls and garnish with cheese.
If you like copy cat recipes like this broccoli cheddar soup, give these a try, too:
Spinach Artichoke Dip- Olive Garden Copy Cat Recipe