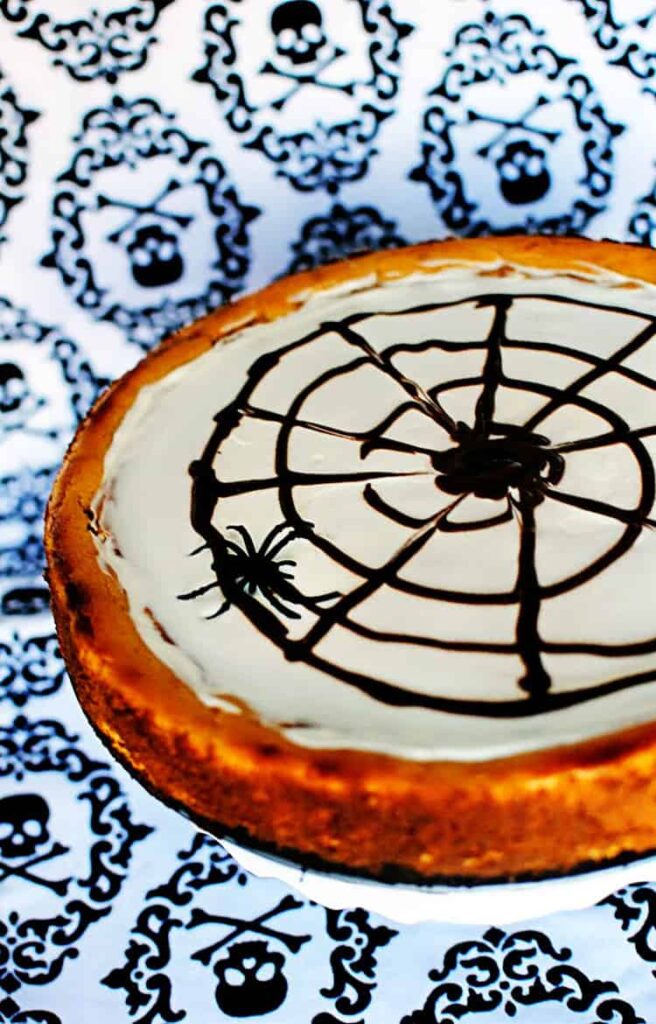 I am the queen at saying things that make you want to chew on your toes. Queen. If the position for emperor is open, I am certainly in the candidacy soon to be running for overlord. With this little tidbit of knowledge in mind I'm going to share a story.
The other night I was at a friends house and his roommate was keeping watch over our attempt to repair my sewing machine with his hot tea in hand. The roommate stood silently for a while while my friend and I carried on around him. Finally he spoke, "So, I went to visit my mom and step father last night."
Pause. Long pause.
"And," he continued, "he was complaining about being ill and he looked like a zombie."
Pause. Long pause. So in an attempt to be polite and make conversation with the odd roommate, I replied, "Well, maybe he is a zombie. It's kind of trendy these days."
"Well, (pause) he died an hour ago so… "
See, I told you, the queen.
Pumpkin Cheesecake

from Kraft Recipes

Ingredients:

OREO Cookies, finely crushed (about 1-1/2 cups)
2 Tbsp.  butter or margarine, melted
3 pkg. (8 oz. each) Cream Cheese, softened
3/4 cup  sugar
1 can (15 oz.) pumpkin
1 Tbsp.  pumpkin pie spice
3 eggs
1 cup  Sour Cream
1 square Semi-Sweet Chocolate
1 tsp.  butter or margarine

Preheat oven to 350°F if using a silver 9-inch springform pan (or 325°F if using a dark 9-inch nonstick springform pan). Mix cookie crumbs and 2 Tbsp. butter; press firmly onto bottom of pan. Set aside.

Beat cream cheese and sugar in large bowl with electric mixer on medium speed until well blended. Add pumpkin and pumpkin pie spice; mix well. Add eggs, one at a time, mixing on low speed after each addition just until blended. Pour over crust.

Bake 50 to 55 min. or until center is almost set; cool slightly. Carefully spread sour cream over top of cheesecake. Run knife or metal spatula around rim of pan to loosen cake; cool before removing rim of pan.

Place chocolate and 1 tsp. butter in small microwaveable bowl. Microwave on MEDIUM (50%) 30 sec.; stir until chocolate is completely melted. Drizzle over cheesecake in spiral pattern. Starting at center of cheesecake, pull a toothpick through lines from center of cheesecake to outside edge of cheesecake to resemble a spider's web. Refrigerate 4 hours or overnight. Store leftover cheesecake in refrigerator.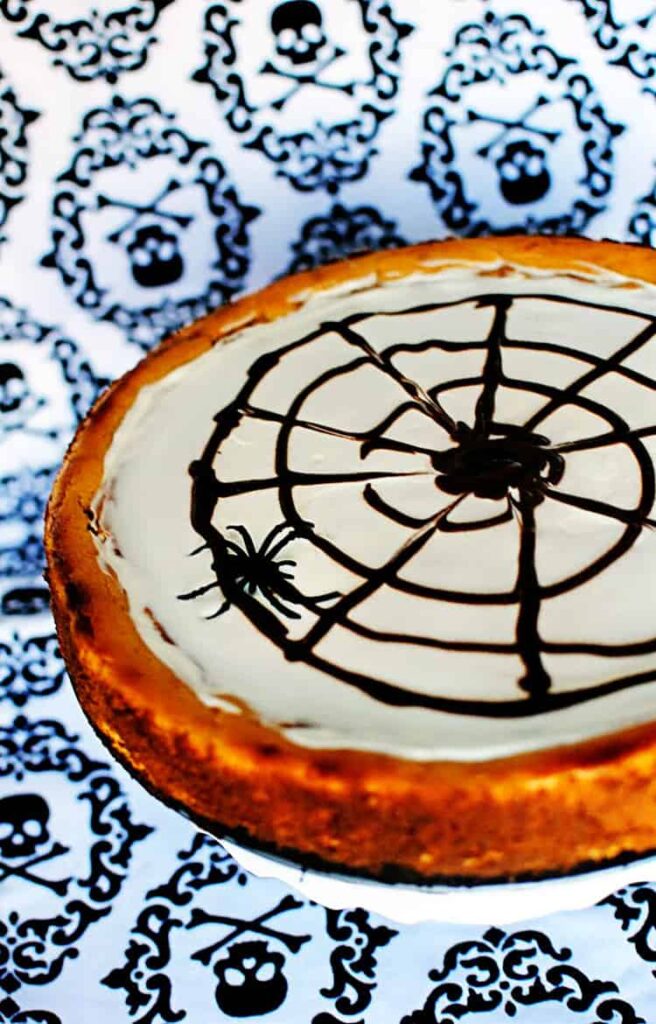 I hope everyone has a safe and happy Halloween!