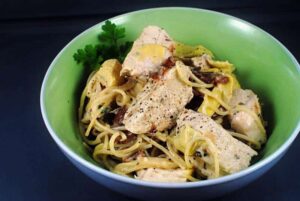 It was another late night dinner when Handsome got home from school at 10pm. I always feel bad because he doesn't often get a lot to eat during the day and being a hard worker, I want to make sure he at least gets one good meal a day. Not to mention, he loves himself some artichoke (not sure I do). I have never really worked with artichoke, and the few times I've had it (canned) it seems bitter and a little grainy. So, with no real idea of whether or not this would work, I went town in the kitchen.
Artichoke Chicken Pasta

a la me

Ingredients:

For the marinade:

3 tbs Olive Oil
2 teas lemon juice
1/2 teas rosemary
1/2 Italian seasoning
1/4 teas red pepper flakes
salt pepper
1lb chicken breast

For the Pasta:

Leftover cream sauce ( I used a leftover Fontina cream sauce I had made previously, and thinned it out more with milk).
2 tbs olive oil
1 medium onion, diced
6 slices bacon, diced
15 oz can artichokes
Pasta of choice

Preparation:

Whisk together olive oil, lemon juice, rosemary, Italian seasonings, and S&P in a bowl. Place chicken in a ziplock container and add marinate. Let marinate for 1 to 12 hours.

Heat grill to medium high. Cook chicken 10-15 minutes or until done.

Bring heavily salted water to boil for pasta. Boil per directions on box.

In skillet heated to medium-high, saute onion in olive oil 5 minutes. Add bacon and saute until crisp. Drain.

In same skillet, add artichokes and heat through. Chop the chicken into bite size pieces.

Toss pasta, with your cream sauce of choice, artichoke bacon mix, and chicken. Top with fresh parmesan, parsley and fresh black pepper.
I really had no idea if this dish would work or not, but I was impressed with the end result. It was rich and delicious. The lemon in the chicken really stood out, which was great because I was afraid the cream sauce and artichoke would over power it. It looked super fancy and really only took 20 minutes to pull together. Quick and tasty – that's what we're talking about.