Mesquite smoked chicken will turn your bland, boring whole chicken dinner into a tender chicken dinner that's packed with flavor. The secret lies in flavorful dry rub and the mesquite wood chips.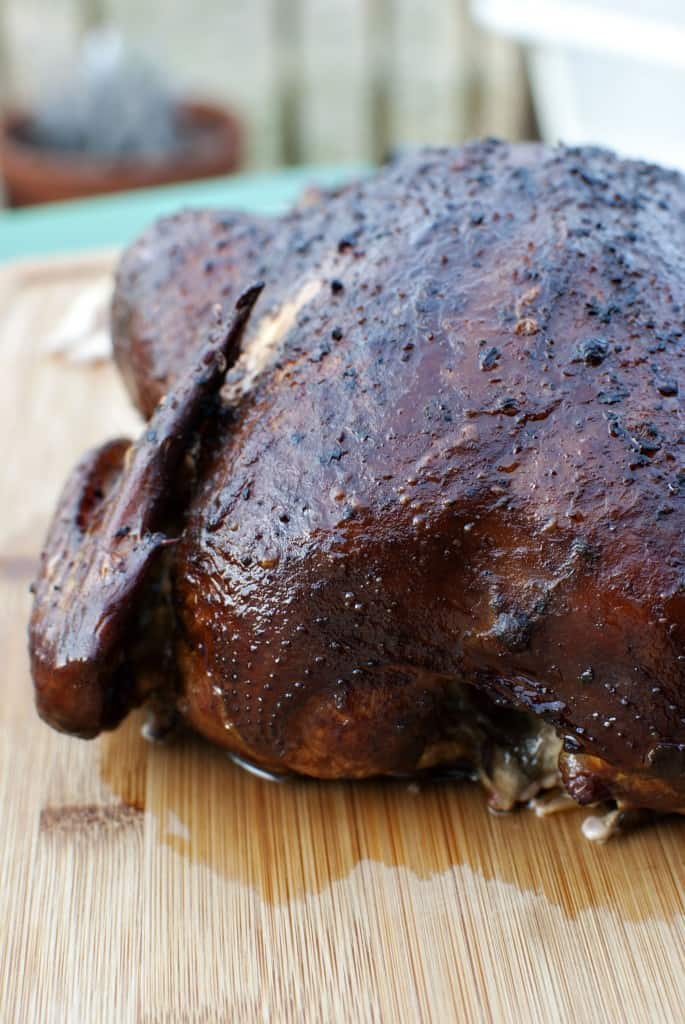 What could be better than to follow a post about eggs with a post about chicken?
A few weeks back, Mother Nature teased us with a run of amazing weather. Beautifully sunny days topping in the mid 70's, which for my neck of the woods is a gift that I don't take without thanks. However, it has a down side, because now I want to be outside all of the time. And the feeling just hasn't been mutual between the good old misses and I.
I'm ready for grills, charcoal, propane, wood chips, fire pits, and hanging outside with good company and cold drinks. Is that too much to ask? Remind me of this in a a couple of months, when it's 101 degrees for weeks on end and there's enough humidity to frizz everyone's hair.
But for now, I'm sneaking out between rain clouds and cold temps cure my desire for grilled meals.
This mesquite smoked chicken was the first to be made.
I named my chicken Jacob. We bonded with a simple rub down before I placed him in the smoker for a few hours, and then I devoured him.
He was a good chicken. He will be missed.. until I light the smoker again and a whiff of hickory makes Jacob a distant memory.
Simple Mesquite Smoked Chicken
From foraging through my kitchen pantry
Ingredients:
1 4 to 5 lb chicken, rinsed and patted dry
2 tbs olive oil
1 package McCormick Grill Mates Mesquite Marinade
Preparation:
Soak wood chips of choice for 6 to 12 hours. Heat your smoker to 225 degrees.
Prep the chicken by rubbing olive oil all over. Place your Mesquite Marinade in a small glass and with a spoon sprinkle generous portions all over the chicken using your other hand to rub under the skin, in the cavity, between the wings and thighs, and top and bottom of the chicken.
Wrap in plastic wrap and let marinate for 1 hour to over night.
Place in smoker for 4 hours or until juices run clear and chicken is cooked through.
Mesquite smoked chicken is delicious and juicy. The best part is the leftovers. Pull any leftover meat from the bones and use it in anything else. Every time you open your leftover container, you will catch the wonderful, smoky aroma.