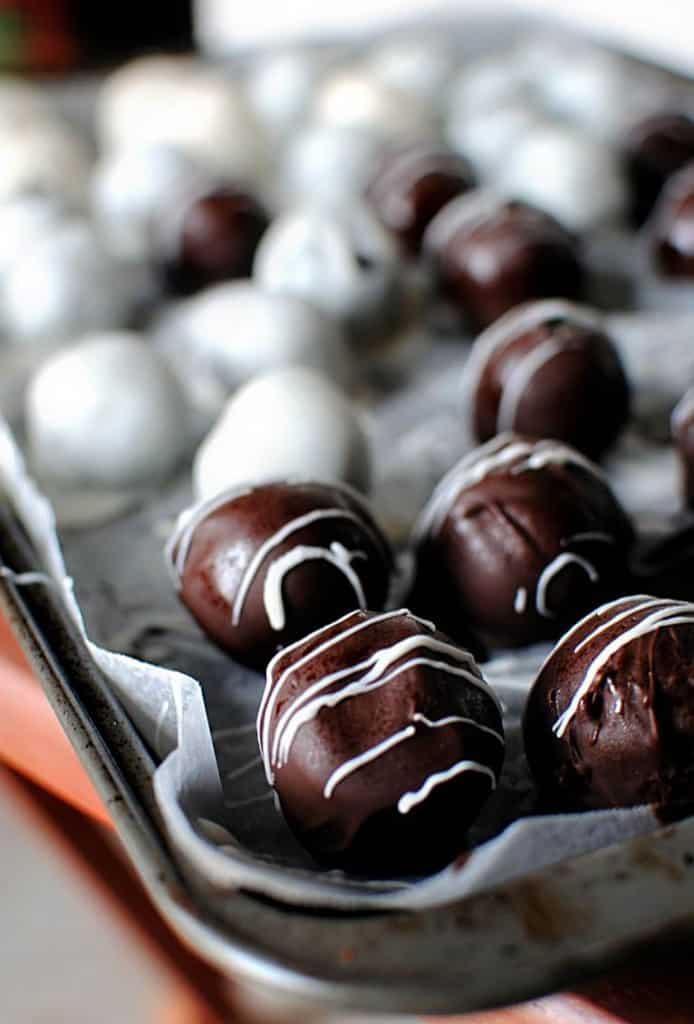 I believe cookie dough makes a great treat.
Don't get me wrong. I love me some fresh out of the oven warm ooey-gooey chocolate chip cookie goodness. Every now and then though, a spoon full of cookie dough is where it's at. When I was little my mom would give us spoonfuls of the stuff as a treat (same woman who served us chocolate jimmy sandwiches too), and once in high school an entire roll of cookie dough was split into thirds and eaten as an afternoon snack – in one sitting. I know there's raw egg in it and that it's not the safest treat in the world but if that's the most I walk the line, I'll take my chances from time to time.
That's right, I'm wild and crazy.
But really, cookie dough is a guilty indulgence that brings out the childhood deviant so the moment I saw Cookie Dough Truffles on the interwebs I knew I had to try it. I paired them with an Oreo truffle I had previously tested out just for variety and they were a hit.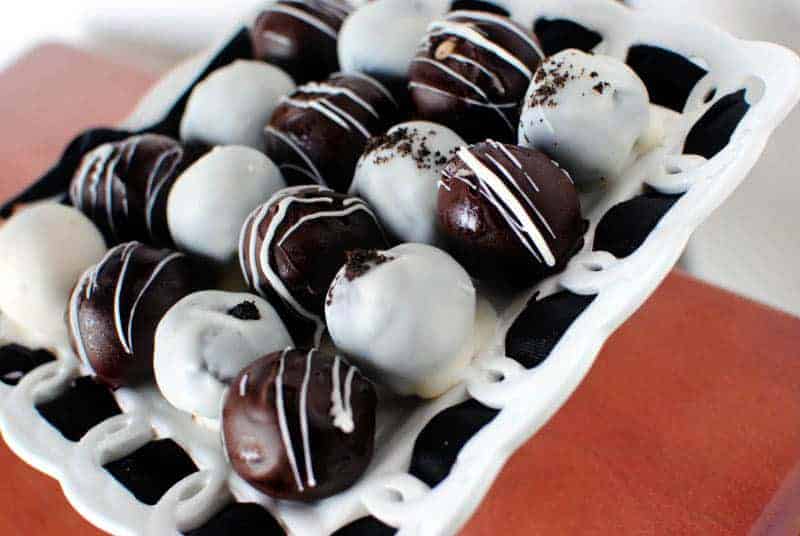 Cookie Dough Truffles
From Annie Eats

Ingredients:
8 tbs unsalted butter, at room temperature
¾ cup light brown sugar, packed
2¼ cup all-purpose flour
1 (14 oz.) can sweetened condensed milk
1 tsp vanilla extract
½ cup mini semisweet chocolate chips
1½ lb. semisweet (or bittersweet) chocolate, coarsely chopped
Mini chocolate chips (for garnish)
Preparation:
Combine the butter and sugar in a mixing bowl and cream on medium-high speed until light and fluffy, about 2 minutes.  Beat in the flour, sweetened condensed milk and vanilla until incorporated and smooth.  Stir in the chocolate chips.  Cover with plastic wrap and refrigerate until the mixture has firmed up enough to form balls.
Shape the chilled cookie dough mixture into 1-1½ inch balls.  Place on a baking sheet lined with wax paper.  Cover loosely, transfer the pan to the freezer and chill for 1-2 hours.
When ready to dip the truffles, melt the chopped chocolate in a heatproof bowl set over a pot of simmering water.  Dip each chilled truffle, one at a time, coating in chocolate and shaking gently to remove the excess.  (If at any point during dipping, the cookie dough balls become too soft, return to the freezer to chill for 30 minutes.)  Transfer to a wax-paper lined surface.  If using mini chocolate chips for garnish, sprinkle on top quickly after dipping each truffle before the chocolate sets.  Once all the truffles have been dipped, store them in the refrigerator until ready to serve.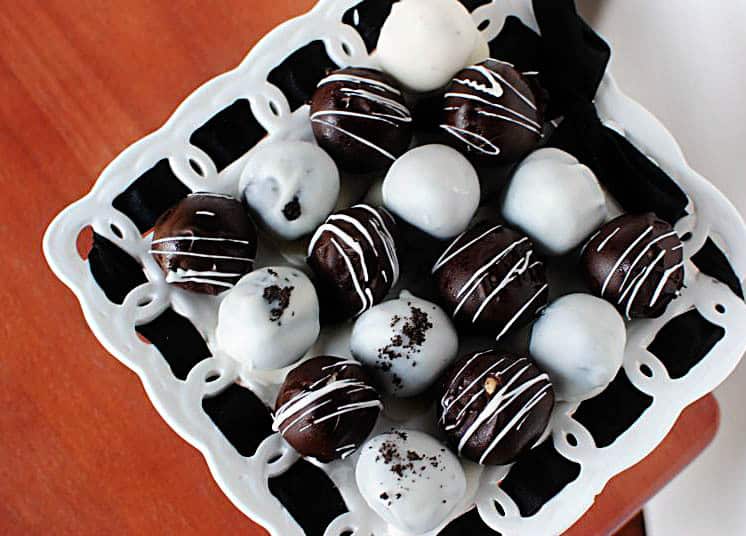 Easy Oreo Truffles
From Kraft Foods
Ingredients:
1 pkg. (1 lb. 2 oz.) Oreo Chocolate Sandwich Cookies, finely crushed, divided
1 pkg. (8 oz.) Cream Cheese, softened
2 pkg. (8 squares each) Baker's Semi-Sweet Baking Chocolate, melted
Preparation:
Mix 3 cups of the cookie crumbs and the cream cheese until well blended (You don't need to measure out the 3 cups… just reserve about 1 tablespoon of cookie crumbs for the topping. When I only used 3 cups for the truffles, I ended up with leftover crumb topping). Shape into 42 (1-inch) balls.
Dip balls in melted chocolate; place on waxed paper-covered baking sheet. Sprinkle with remaining cookie crumbs.
Refrigerate 1 hour or until firm. Store any leftover truffles in tightly covered container in refrigerator.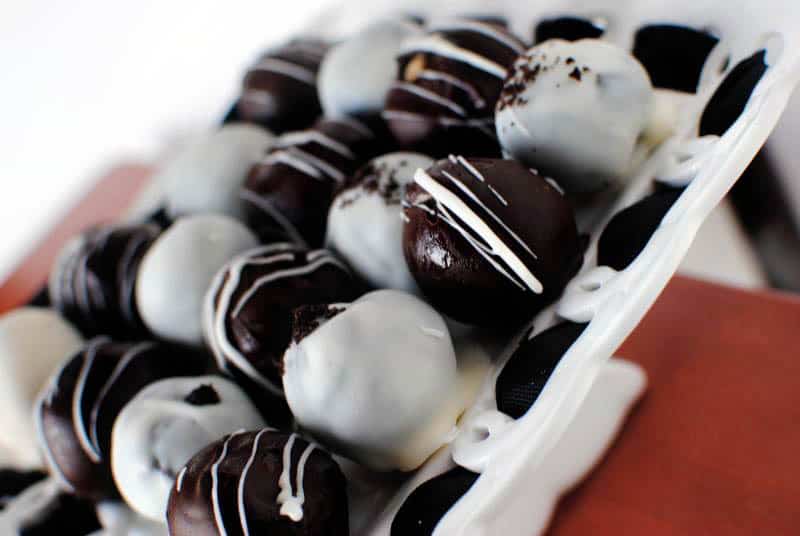 I used a small scoop to portion each truffle before rolling them into balls. I also dipped the Oreo Truffles into melted white almond bark so that people would know there were two different kind.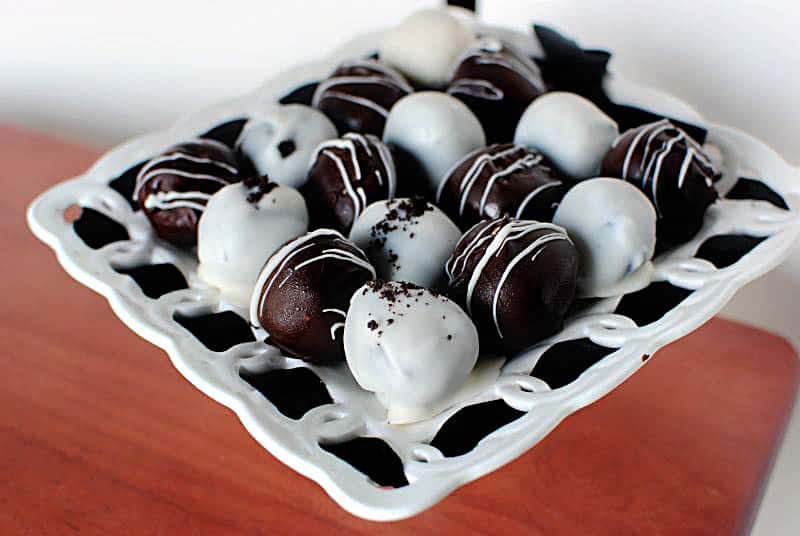 Remember to check in Friday for Justin's Top Chew review and have a safe and happy holiday!
Merry Christmas!
Update: This post made it to FoodBuzz Top 9!