Raspberry chambord is paired with red velvet cake and white chocolate cream cheese frosting to create a deliciously indulgent dessert, that I've titled Raspberry Chambord Red Velvet White Chocolate Trifle. Yes, that's a mouth full of words, and a delicious mouth full of food!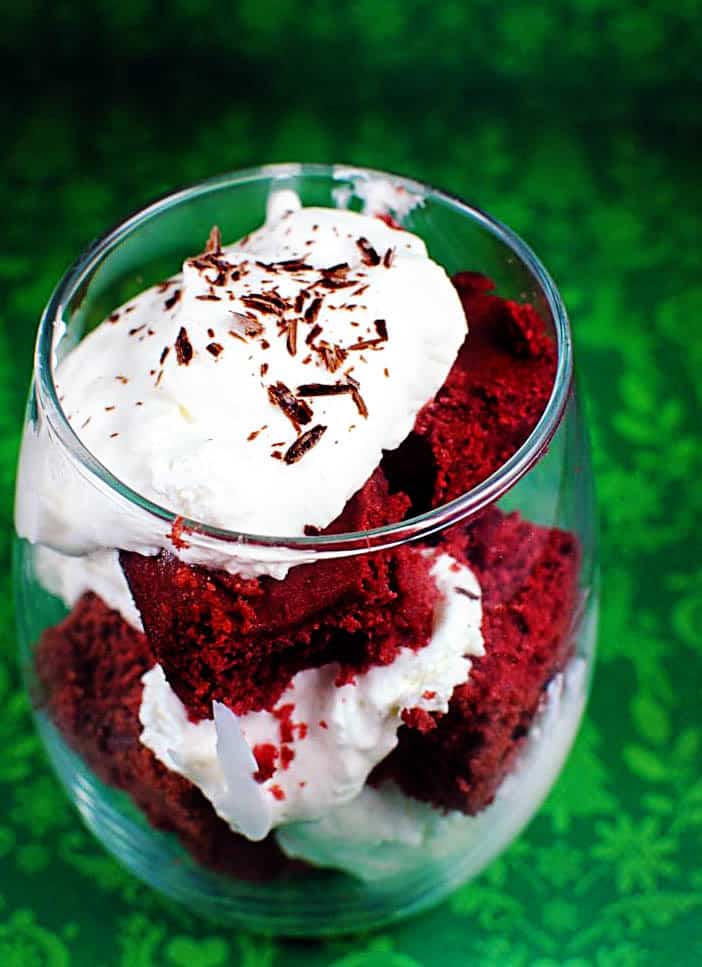 I've often read when one is feeling down to bake something to get your mind off of it (and pig out on it later). I often find myself cooking no matter what's on my mind, but I have never indulged in a food when I am down. Actually, I tend to eat a lot less. However, this raspberry chambord red velvet dessert breaks the mold.
The next time I am down on my luck – I am making this – and I am pigging the heck out on it!
Originally, this recipe was intended for Saturday night's party, but it never made it to the table with everything else going on. Not wanting things to go to waste, I completed it this morning and actually took a bite and then, enjoyed a few more. Tonight I plan on finishing the rest off.
Raspberry Chambord Red Velvet White Chocolate Trifle
Cooking With Paula Deen Vol. 6 Issue 6
Ingredients:
Red Velvet Cake:
1 cup unsalted butter, softened
1 cup sugar
2 large eggs
1 1/2 cups APF
3 tbs unsweetened cocoa powder
1/2 tsp baking soda
1/2 tsp salt
2/3 cup whole buttermilk
1 (1-ounce) bottle red food coloring
1 1/2 tsp white vinegar
1/2 tsp vanilla extract
Raspberry Filling:
1 cup seedless raspberry preserves
1/4 cup water
1 tbs fresh fresh lemon juice
1/4 cup Chambord or other raspberry liqueur
White Chocolate-Cream Cheese Topping:
1 (8-ounce) package cream cheese, softened
1 (4-ounce) bar premium white chocolate, finely chopped
2 tbs Chambord or other raspberry liqueur
1 cup heavy whipping cream
Garnish: fresh raspberries, chocolate, fresh mint
Preparation:
To prepare Red Velvet Cake: Preheat oven to 350 degrees. Spray a 9-inch square baking pan with nonstick baking spray with flour.
In a large bowl, beat butter and sugar at medium speed with a  mixer until creamy. Add eggs, one at a time, beating well after each addition. In a medium bowl, combine flour cocoa, baking soda, and salt. In a small bowl, combine buttermilk and food coloring. Gradually add the flour mixture to butter mixture alternately with buttermilk mixture, beginning and ending with flour mixture, beating until just combined. Beat in vinegar and vanilla. Spoon batter into prepared pan (batter will be thick). Bake 25 minutes or until a wooden pick inserted in center comes out clean. Let cool in pan on a wire rack 10 minutes. Remove from pan, and cool completely on wire rack.
To prepare Raspberry Filling: In a medium saucepan, combine preserves, water and lemon juice: bring to a simmer over medium heat. Cook 3 minutes or until smooth, stirring with a whisk. Stir in 1/4 cup liqueur.   Cool completely.
To prepare White Chocolate-Cream Cheese Topping: In the top of a double boiler over simmering water, combine cream cheese and chocolate, stirring until smooth (about 5 minutes). Remove from heat. Add 2 tbs liqueur, stirring until well blended. Cool slightly. In a medium bowl, beat cream at high speed with a mixer until soft peaks form. Fold into chocolate mixture.
Cut cake into cubes. In 9 individual serving glasses, layer cake cubes; lightly drizzle with preserves mixture, and top with chocolate mixture as desired. Cover and chill for up to 1 hour. Garnish with raspberries, chocolate curls, and mint, if desired.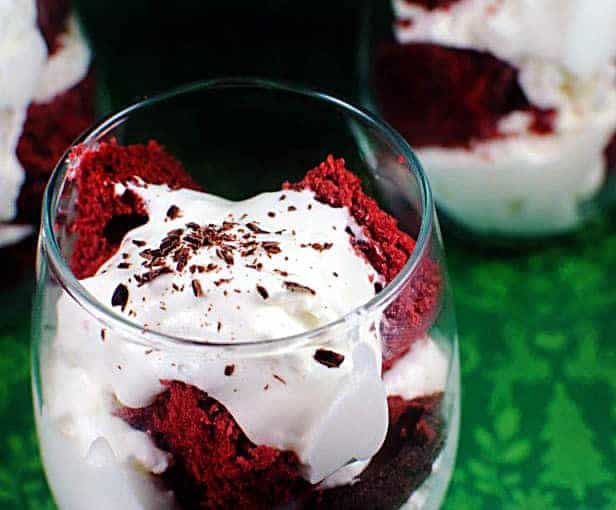 What I did differently:
I omitted the Raspberry chambord filling because I am not a huge fan of fruit.
I did not change the size of the pan – despite my gut telling me to do so. This did not bake in a 9×9 pan at 350 in 25 minutes. When I make again, I will use a 9×13 pan for better cooking time and a more ideal thickness for slicing into cubes.
I have never made a Paula Deen recipe before because I have a horribly unfair dislike for her (she reminds me of my evil grandmother in her mannerisms and looks), but this recipe is great. Perhaps I'll have to give her sticks of butter and pounds of bacon more of my attention in the future. Mmm.