Because Sausage and Peppers aren't just for the grill top. This recipe is slow, savory, and you need to try making it, cause I'm not sharing.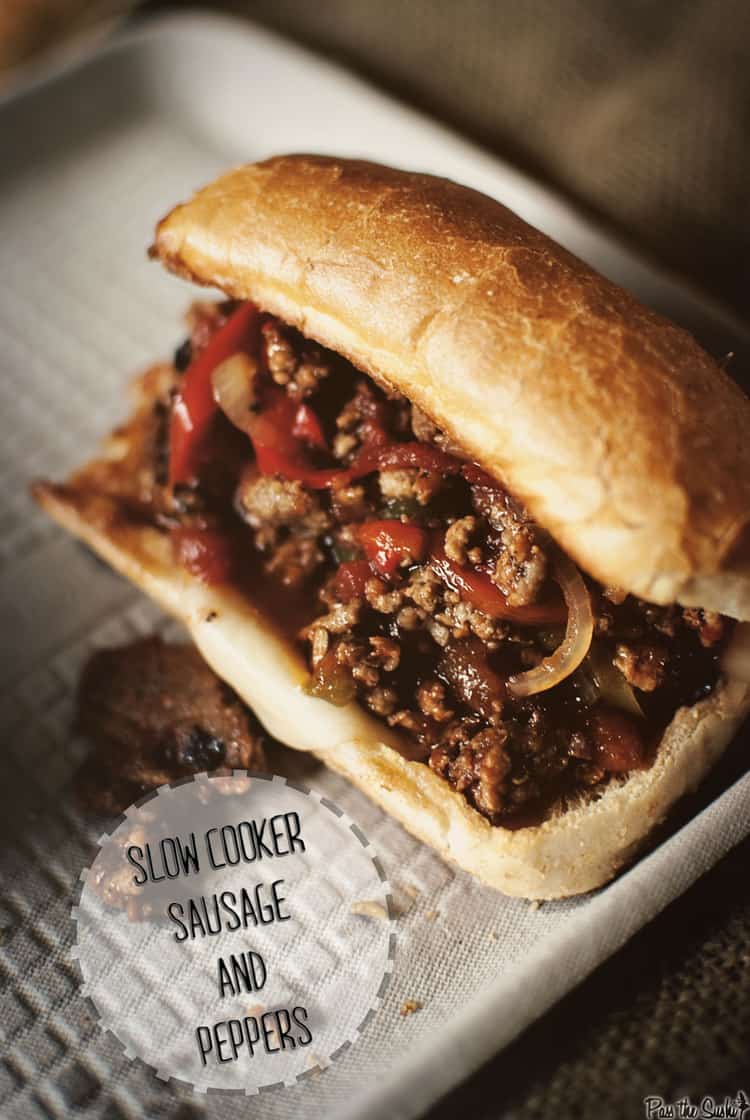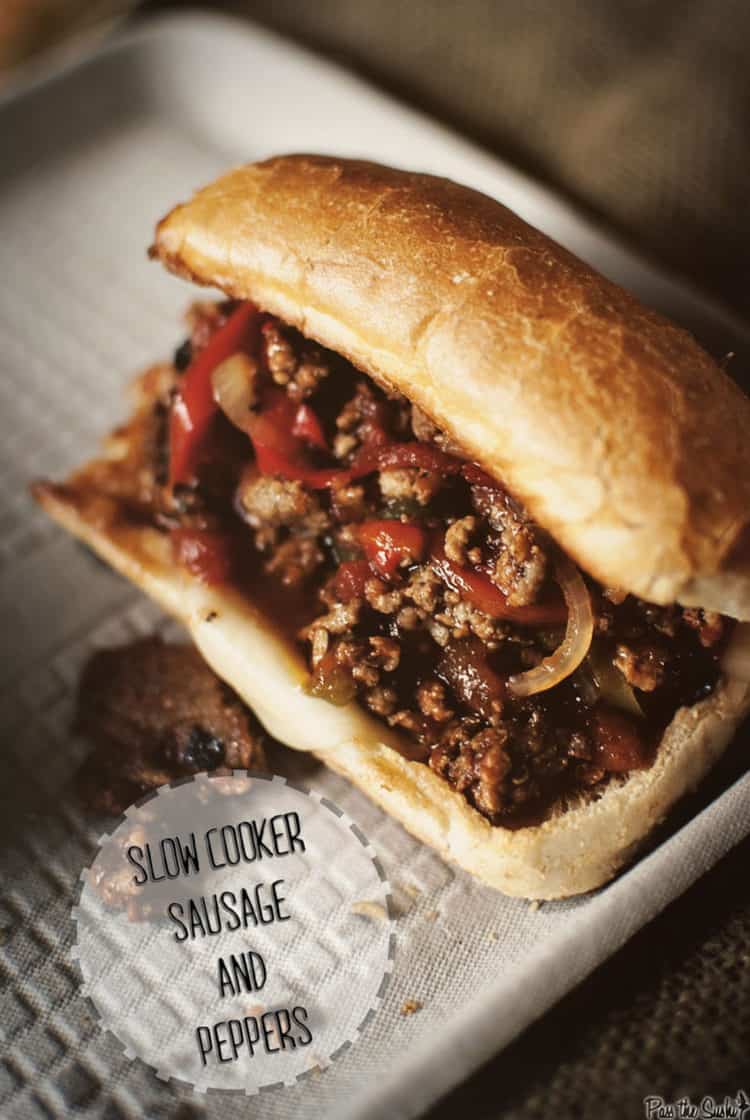 Why do you need to make Sausage and Peppers right now?
Because you don't live in New York City. Word on the street is that Tony Dragonas (AKA Tony the Dragon) serves the best Sausage and Peppers hero that can be found anywhere out of his truck on 62nd and Madison. I do not claim to harbor the secrets of Tony's signature sandwich. Nor am I going to make any claim that if you make this sandwich you will have the metro area knocking on your door placing orders. What I will claim is that if you make sausage and peppers right now, you will have a full belly, and be pretty darn happy with yourself.
Next time you're on Madison Avenue, stop at Tony Dragons. But until then, get your game face on and tackle this sandwich with me. I mean seriously, I'm talking war paint up your mug like you are Mel Gibson getting ready to storm the battlefields of Stirling. And gather your army, because this recipe makes enough to feed them.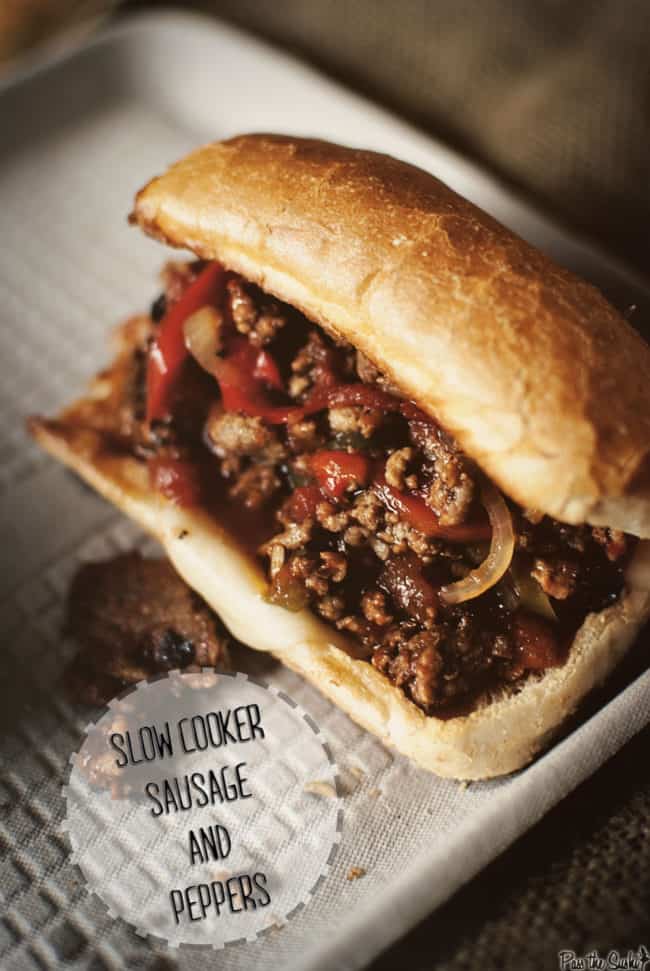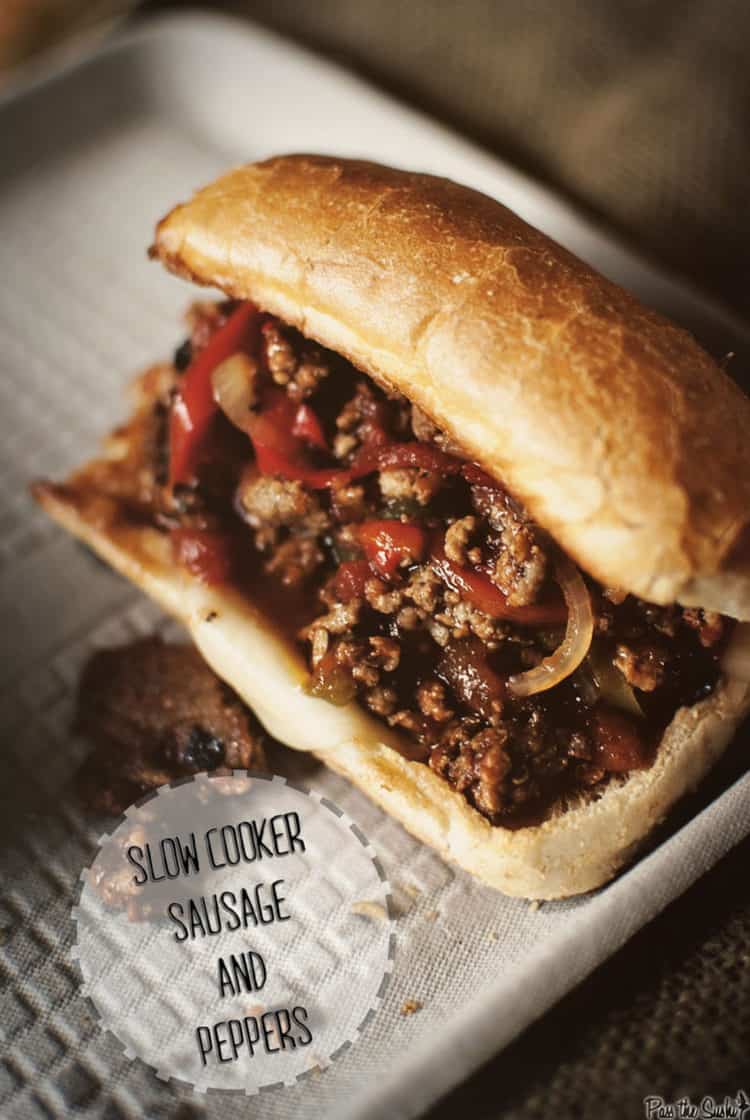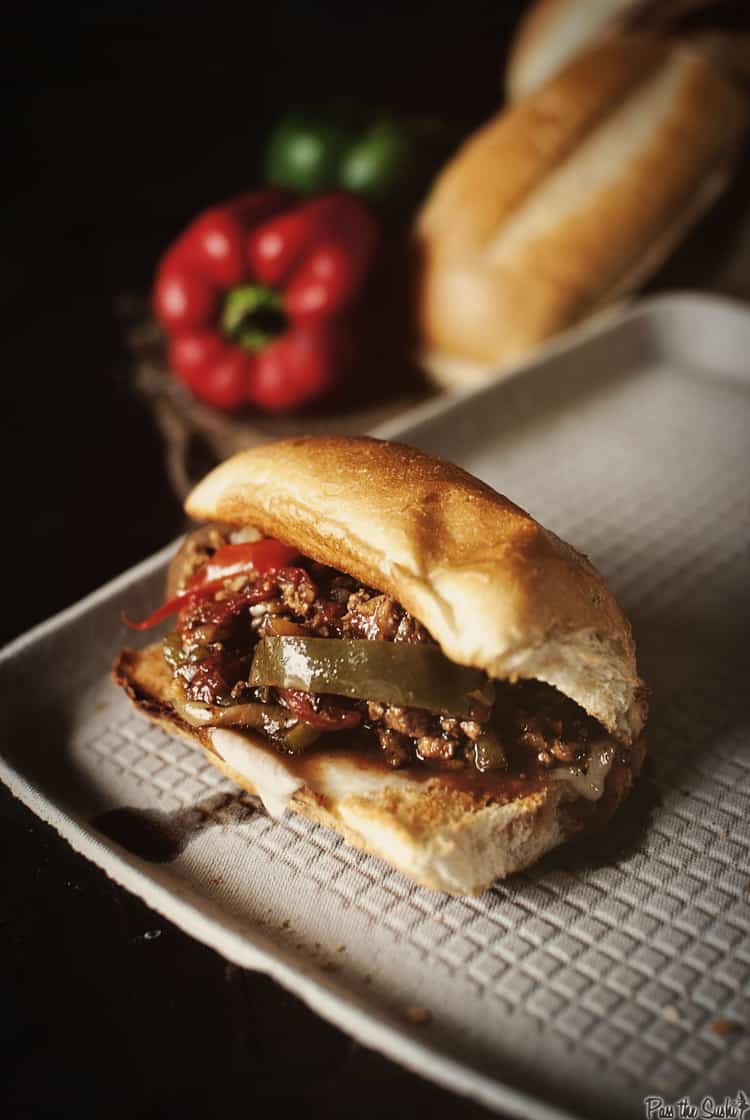 What Makes This Sausage and Peppers Better?
Not all Sausage and Peppers are created equal. Some serve a whole or butterflied sausage with some peppers on top. Others are diced up, combining everything into a hearty mix so that the flavors meld together. This sandwich takes it one step further. So if you're looking for a sausage and peppers that has true body, and all of the flavors at peak perfection, this sandwich might be for you.
Slow Cooker Sausage and Peppers
You read that right. We're going to use the slow cooker for this one. I used a combination of ground Italian sausage and ground beef, but you don't have to stick to that religiously. If you have some Italian sausage links laying around, give them a quick sear and dice them up. It will work just as well. And if you happen to have both links and ground sausage on hand, I'm pretty sure that by mixing them together, you might have a semi-religious experience. If you do try that out, let me know how it goes in the comments below.
This sausage and peppers mix is going to spend half the day simmering in your slow cooker, absorbing and blending scents and flavors with the tomatoes. so get ready to be tempted by its smell all day long. I won't blame you if you sacrifice one of your hoagie rolls to take a test dip in the liquid.
Let's do this!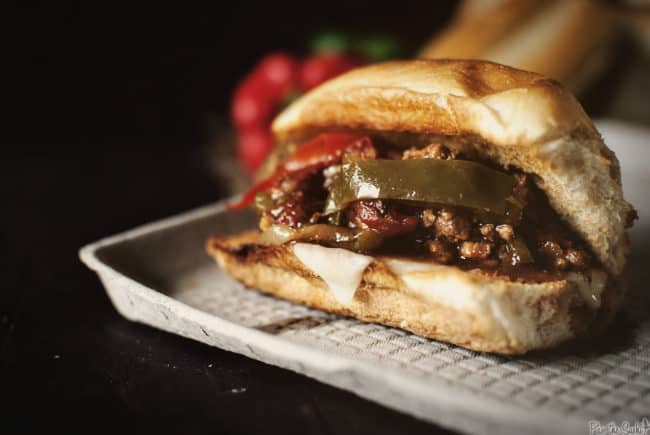 True Story, I love burgers and sandwiches of all kinds. So much so, that I own and run BurgerMonth every year! So if you're looking for the absolute best thing between two slices of bread around, I think you've found it. Try these babies out and tell me I'm wrong!

If you've tried my Sausage and Peppers recipe or any other recipe on passthesushi.com please don't forget to rate the recipe and let me know where you found it in the comments below, I love hearing from you! You can also follow along for more good eats and travel tips on Instagram @passthesushi & @girlcarnivore, Twitter & Facebook.
Yield: 8 sandwiches
Slow Cooker Sausage and Peppers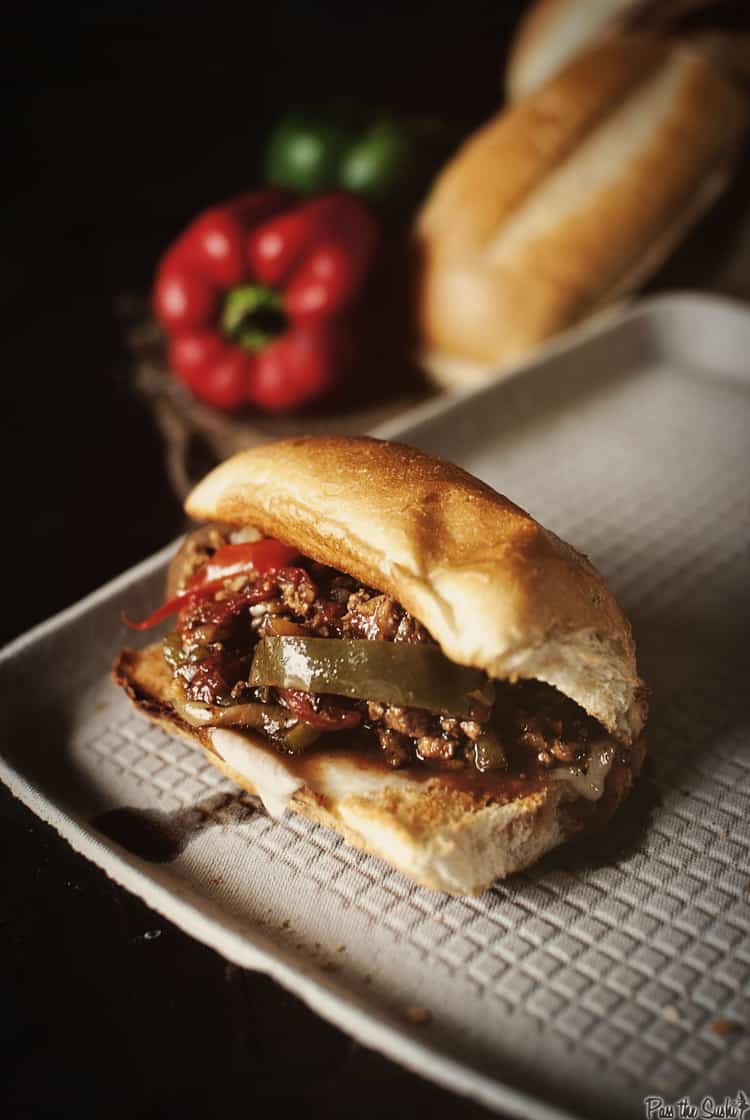 These are super messy, cozy, down home kind of sandwiches made for big appetites. Have some napkins ready and enjoy.
Total Time
6 hours
10 minutes
Ingredients
1 tbs olive oil
1 lbs bulk ground sweet sausage
½ lbs ground beef
30 oz fire roasted tomatoes
8 oz tomato sauce
1 small onion, sliced
1 red pepper, sliced
1 green pepper, sliced
16 slices provolone or mozzarella
8 Fresh rolls
Instructions
Heat olive oil in a large skillet over medium heat. Brown the sausage and ground beef, breaking into bite sized portions as it cooks.
Transfer to a large slow cooker. Stir in the roasted tomatoes, tomato sauce, onion, and peppers into the slow cooker with the sausage mixture.
Cook on low for 5-7 hours.
Toast rolls with a slice of mozzarella on each until golden brown and cheese is starting to melt.
Using a slotted spoon, pile sausage and pepper mixture onto rolls.
Notes
BHG Special Interest Publication Tailgating
Recommended Products
As an Amazon Associate and member of other affiliate programs, I earn from qualifying purchases.
Nutrition Information:
Yield:
8
Serving Size:
1
Amount Per Serving:
Calories:

341
Total Fat:

25g
Saturated Fat:

8g
Trans Fat:

0g
Unsaturated Fat:

14g
Cholesterol:

79mg
Sodium:

751mg
Carbohydrates:

9g
Fiber:

3g
Sugar:

6g
Protein:

22g
Nutrition information provided is an estimate from nutritionix.com. For specific health concerns, please put the recipe into your Dr recommended nutrition calculator.