Because Sausage and Peppers aren't just for the grill top. This recipe is slow, savory, and you need to try making it, cause I'm not sharing.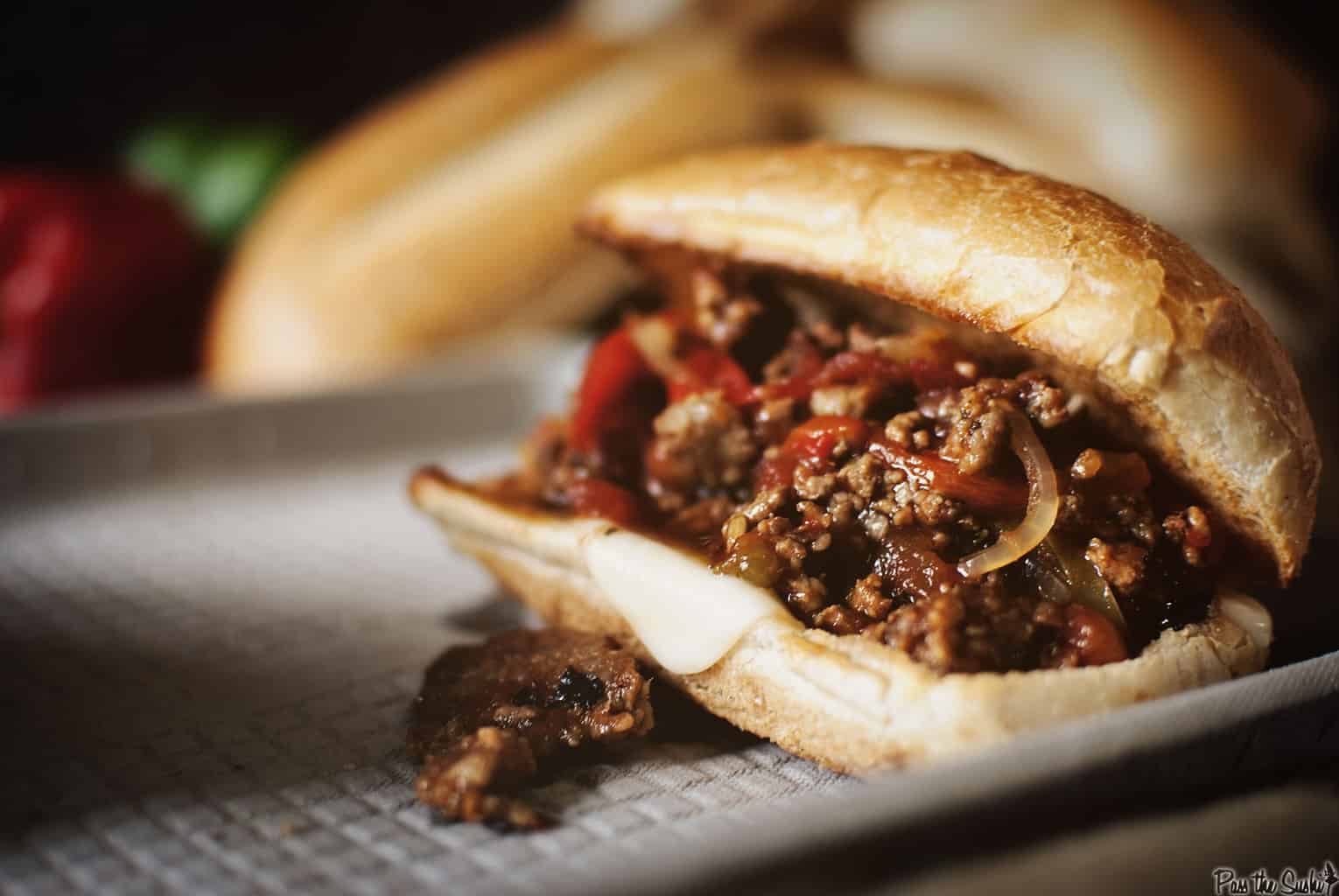 Why do you need to have Sausage and Peppers right now?
2012 is over. No going back now. It's time to get your game face on and tackle the upcoming year with me. I mean seriously, I'm talking war paint up your mug like you are Mel Gibson getting ready to storm the battlefields of Stirling.
For 2013 – let's just make a checklist.
For the home: New carpet, new sofa, new chairs for the kitchen, big shiny new back door. Yeah, that last one needs to happen. Our house is slowly developing a look but we need to have a little heart to heart. I mean seriously, our house is missing… personality. It's getting there but I want our house to feel like two young energetic people live there, not just that were store our laundry there. I have a list of all the rooms and all the things we can do in a weekend to get this house some mojo. Oh and a new ceiling fan in the bedroom. That would be dreamy.
For me: More mountain biking, more time. No really, I have been in retail since I was in 16. What are these mythical weekends you people talk of? This year I am determined to take some weekends off and get out and adventure. Run a 5k. Not sure why. I haven't even run around the block. But it's bound to happen. Get fit. A plan. It's time to write one and get this train back on the tracks. Send Christmas cards. Print photos – all of them! Since digital cameras, we don't print nearly enough. IamHoneyBee sent me some awesome scrapbook swag and it's time to bust out those hard earned arts and craft skills I honed in elementary school. 😉
For PtS: Less blogging, more writing. I have some great ideas that I can't wait to share with you, but I don't want to be churning out posts just to be posting 4 times a week. I have only posted two recipes in the last two weeks and it felt pretty liberating. With it being the holidays though, I was not able to spend any time squirreling away life changing posts for you. I have done nothing but cook, clean and work for the last two weeks and there was little to no stressing about whether or not the internet was loathing me for a lack of fresh psts. But there is some tastiness to come so – More barbecue! More meat! More smoke!
So, lets organize that hotmess of a brain storm and I'll get back to you. Clearly, my brain is still celebrating the holidays.
I really enjoyed falls theme of soups every Monday so now we're rolling into Slow Cooker Mondays all. winter. long. Yes, I know, it's not Monday. Deal.
Let's do this!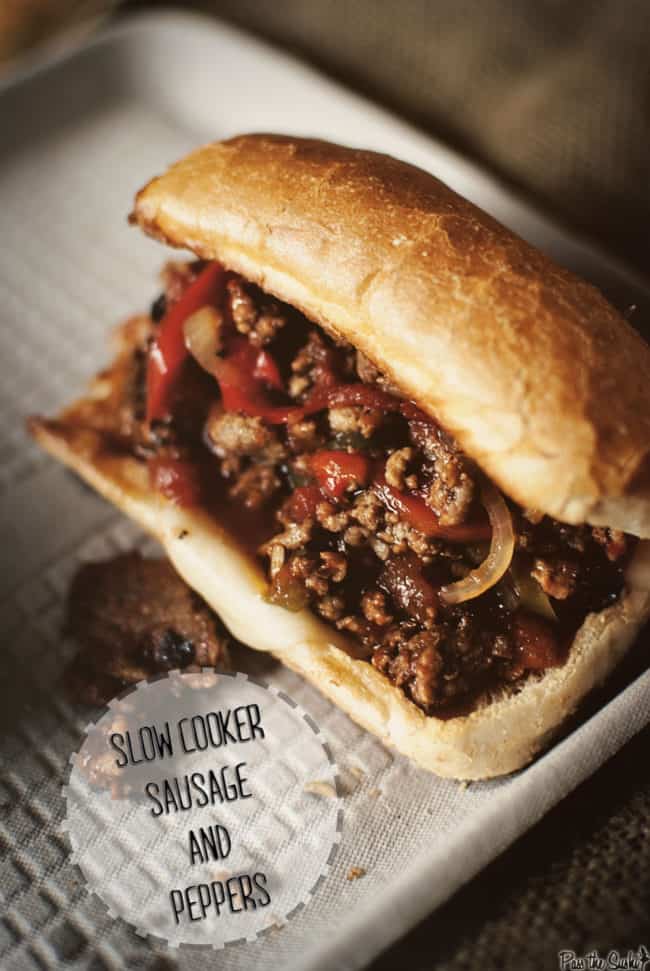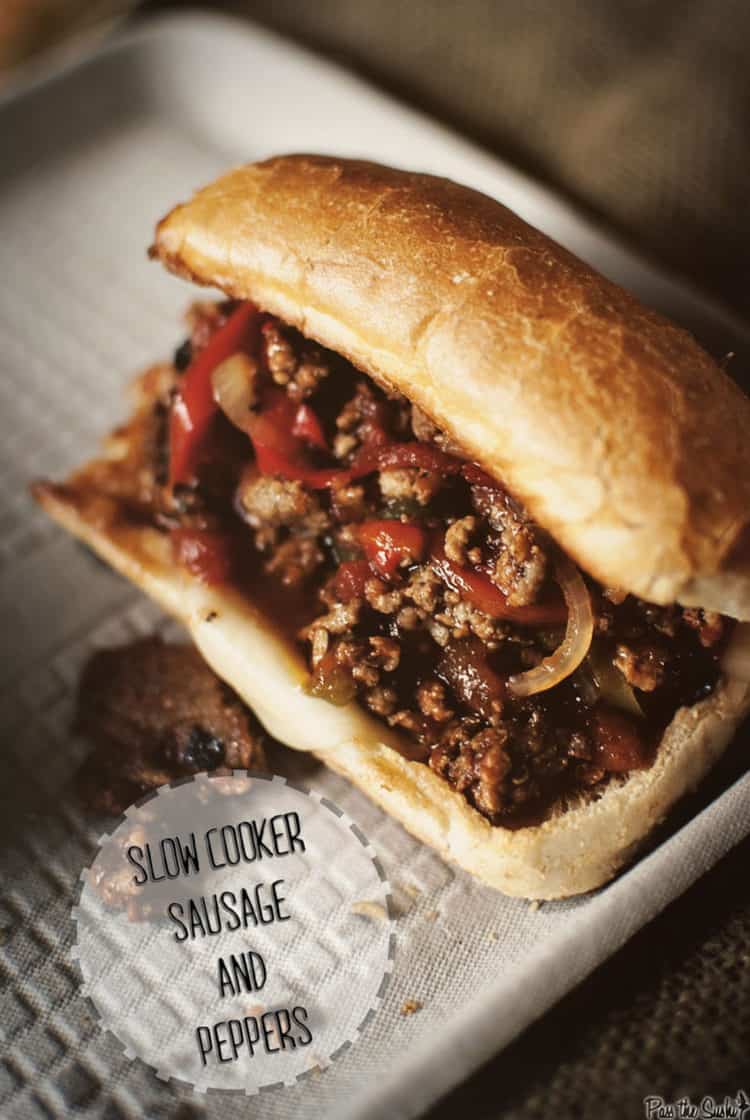 If you've tried my Sausage and Peppers recipe or any other recipe on passthesushi.com please don't forget to rate the recipe and let me know where you found it in the comments below, I love hearing from you! You can also follow along for more good eats and travel tips on Instagram @passthesushi & @girlcarnivore, Twitter & Facebook.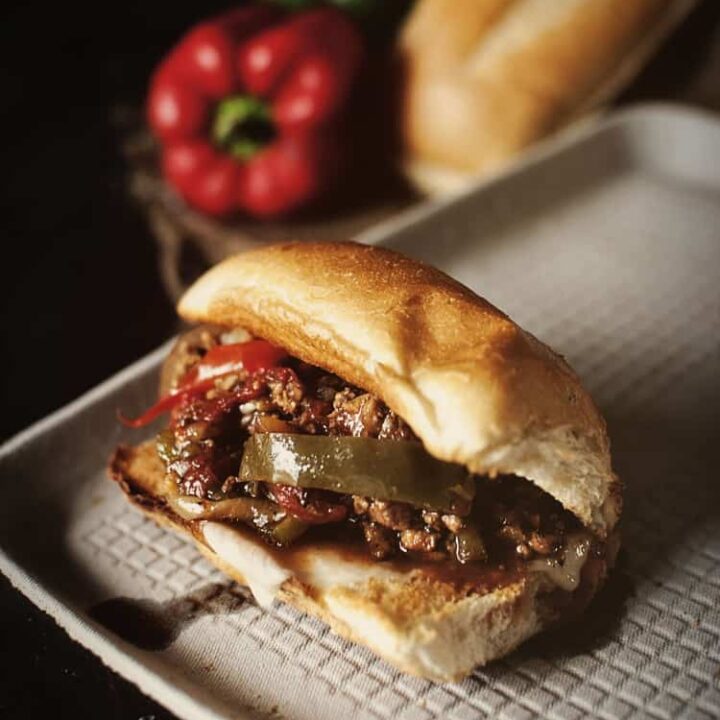 Slow Cooker Sausage and Peppers
Yield: 8 sandwiches

Prep Time: 10 minutes

Cook Time: 6 hours

Total Time: 6 hours 10 minutes

These are super messy, cozy, down home kind of sandwiches made for big appetites. Have some napkins ready and enjoy.
Ingredients
1 tbs olive oil
1 lbs bulk ground sweet sausage
1/2 lbs ground beef
2 15 oz cans fire roasted tomatoes
1 8 oz can tomato sauce
1 small onion, sliced
1 red pepper, sliced
1 green pepper, sliced
sliced provolone or mozzarella
Fresh rolls
Instructions
Heat olive oil in a large skillet over medium heat. Brown the sausage and ground beef, breaking into bite sized portions as it cooks.
Transfer to a large slow cooker. Stir in the roasted tomatoes, tomato sauce, onion, and peppers into the slow cooker with the sausage mixture.
Cook on low for 5-7 hours.
Toast rolls with a slice of mozzarella on each until golden brown and cheese is starting to melt.
Using a slotted spoon, pile sausage and pepper mixture onto rolls.
Notes
BHG Special Interest Publication Tailgating
Nutrition Information:
Yield: 8 Serving Size: 1

Amount Per Serving:

Calories: 341 Total Fat: 25g Saturated Fat: 8g Trans Fat: 0g Unsaturated Fat: 14g Cholesterol: 79mg Sodium: 751mg Carbohydrates: 9g Fiber: 3g Sugar: 6g Protein: 22g

Nutrition information provided is an estimate from nutritionix.com. For specific health concerns, please put the recipe into your Dr recommended nutrition calculator.