These Peanut Butter Krispy Treats are meant to be shared wherever we all gather, hang out, and gorge ourselves on snacks. I can promise they will be a hit with your fans at home or on the court.
I admit it. For as little as I know about football, I know even less about basketball. I know that people are playing the game right now, and that it's some sort of March Madness. I'm guessing it's similar to the playoffs for football and getting close to basketball's version of the Super Bowl. I don't think they get nearly the commercials though, as I've never watched a basketball game for the commercials. Heck, I've never watched a basketball game.
One thing I do know, though, is how to feed a room full of hungry fans. I might not understand what's going on on the TV and all the shouting, but food? I've got that covered.
These bad boys came to mind while I was fixing up my Kim's recipe index and saw that she had a category just for krispy treats. With some long-neglected (as in about to expire) boxes of cereal calling my name, and a quick trip to the market for the marshmallows, it was on.
Peanut Butter Krispy Treats
These treats were meant to be shared post-mountain bike ride where we all gather, hang out, and gorge ourselves on snacks. Sadly, it rained. But I can promise they will still be a hit with your fans at home or on the court.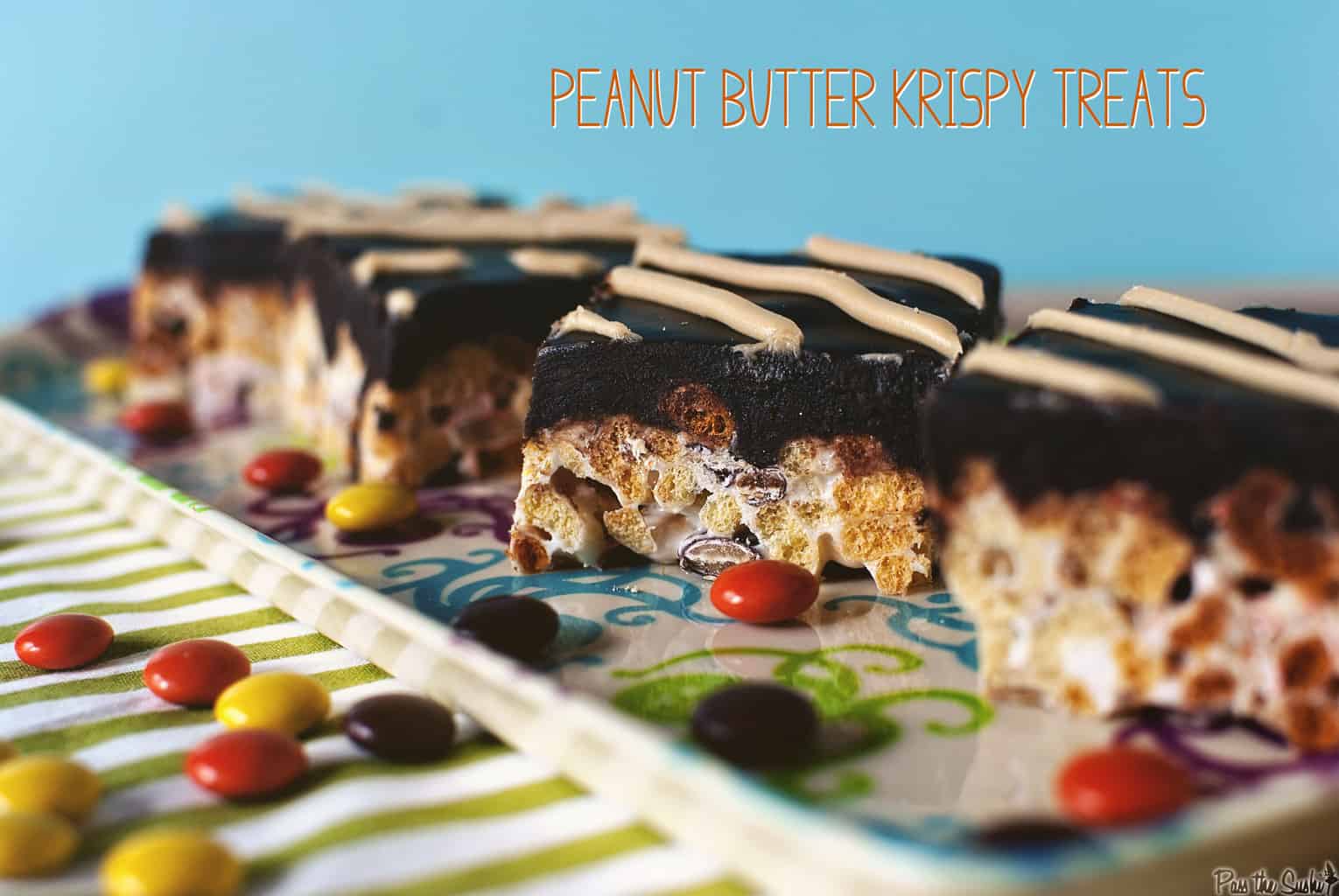 If you've tried this Peanut Butter Krispy Treats recipe or any other recipe on passthesushi.com please don't forget to rate the recipe and let me know where you found it in the comments below. I love hearing from you! You can also 
follow along for more good eats and travel tips 
on Instagram @passthesushi & @girlcarnivore, Twitter & Facebook.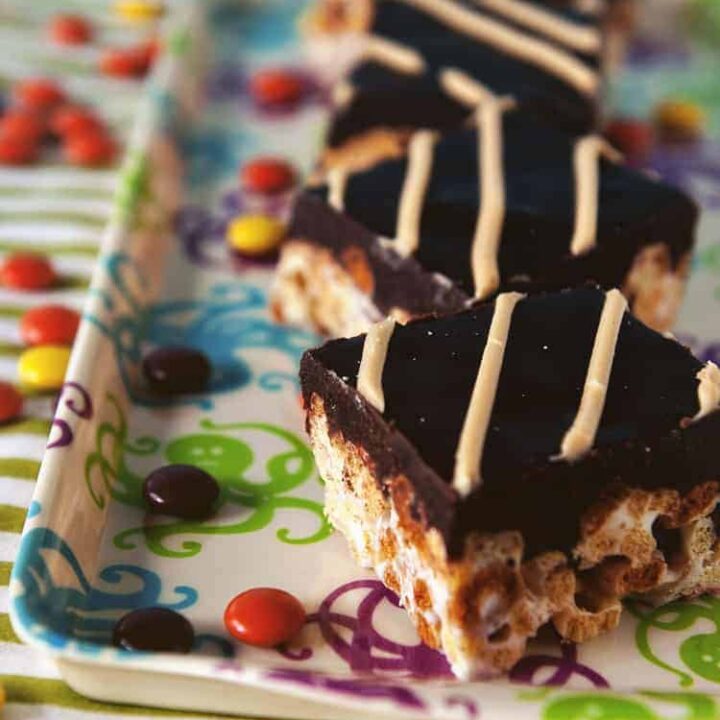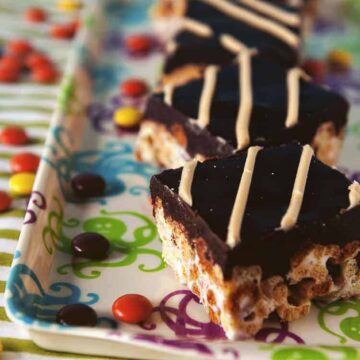 Ingredients
2

tbsp

butter

10

oz

mini marshmallows

4-5

cups

peanut butter cereal

4

oz

peanut butter candy

1/2

cup

heavy cream

1/2

cup

creamy peanut butter

-

plus 2-3 tbs peanut butter

1/2

cup

semisweet chocolate chips

2

tbsp

corn syrup

1/4

cup

confectioners' sugar

2 - 3

tbsp

creamy peanut butter

1

tbsp

cream
Instructions
Line a 9x13 pan with aluminum foil.

In a large skillet over medium heat, add the butter and swirl about the pan until melted. 

Add the marshmallows and stir with a wooden spoon until melted. 

Remove from heat. 

One cup at a time, stir in the cereal. (You may need to transfer this part of the recipe to a large bowl if your skillet is not large enough). 

Stir in the peanut butter candy.

Spray the back of a large metal spoon with non stick cooking spray and use it to press the marshmallow mixture into an even layer in the prepared pan. Set aside.

Bring the cream to just a simmer over medium heat - bubbles will be appearing at the edges.

Remove from heat, add the peanut butter and chocolate.

Let stand for 5 minutes. 

Stir until completely smooth. 

Let sit for 15 minutes before pouring over marshmallow treats. 

Place in fridge for 15 minutes minimum to set.

Meanwhile, in a bowl, whisk together the peanut butter, confectioners' sugar and cream until smooth. If needed add more or less sugar or cream. 

Using a pastry bag or a resealable bag with a hole cut in the corner, pipe the peanut butter onto the glaze layer into zig zags or whatever your heart desires.

Slice into portions and devour.
Nutritional informations provided as a courtesy and is only an approximatation. Values will changes based on ingredients used.
⭐ Tried this recipe? Rate it ⭐
Help out the next person and give it a star rating below!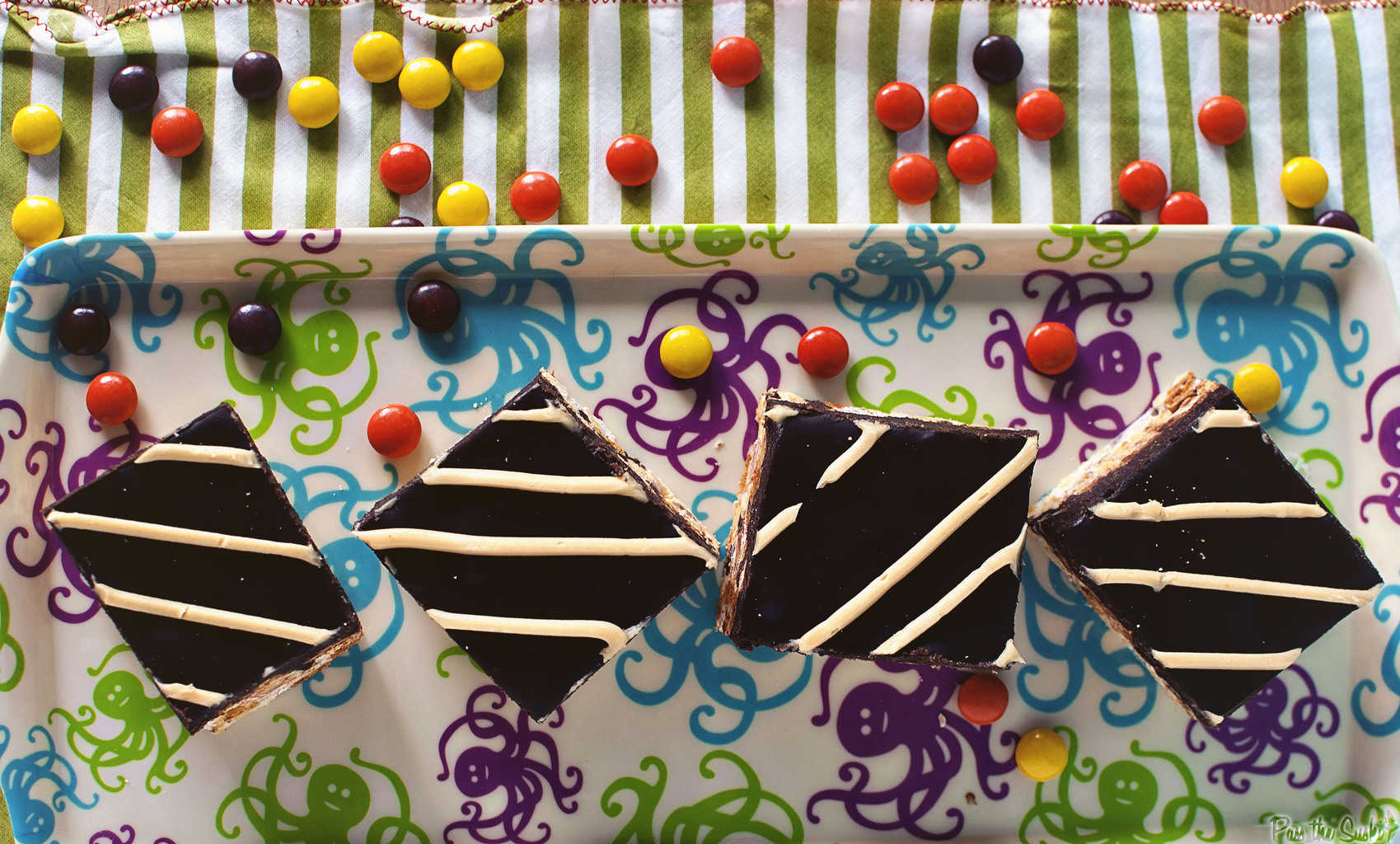 This post is part of BlogHer's March Madness Game Day Eats editorial series, made possible by Kettle Brand Chips.
For more Krispy Treats, Try these: