These little Cannoli Bites are perfect fresh the day of and are a fast and fun alternative to a traditional cannoli.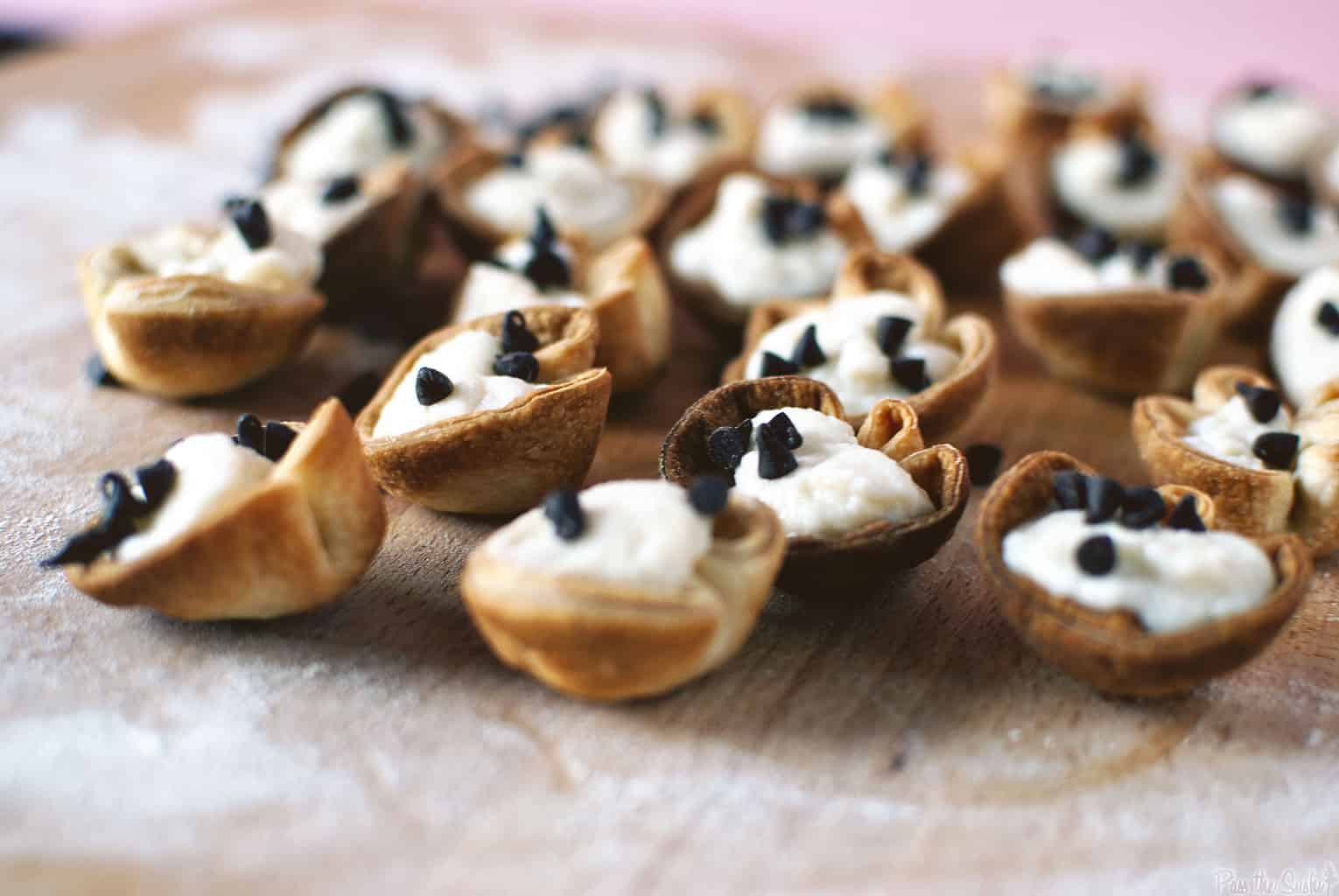 Cannoli Without the Cannoli
Cannoli's are one of those dessert that draws a line in the sand and plants people firmly on one side or the other of the love it hate it boundary. Personally, bites of dry, often stale pastry shells dusted with too much confectioners' sugar just don't do it for me. But the filling, that's what makes me smile. I would always scoop out the middle and leave behind the crust (yeah, I'm going to offend some serious cannoli lovers with this, but I'm calling it a crust). I know some people who shrivel their nose at the sound of then traditional Sicilian dessert and others who can't pass up the opportunity to try a new bakery's version. (Personally, I love the one's down at D'Lorenzo's – a warm fresh dough sliced and filled. Heaven.)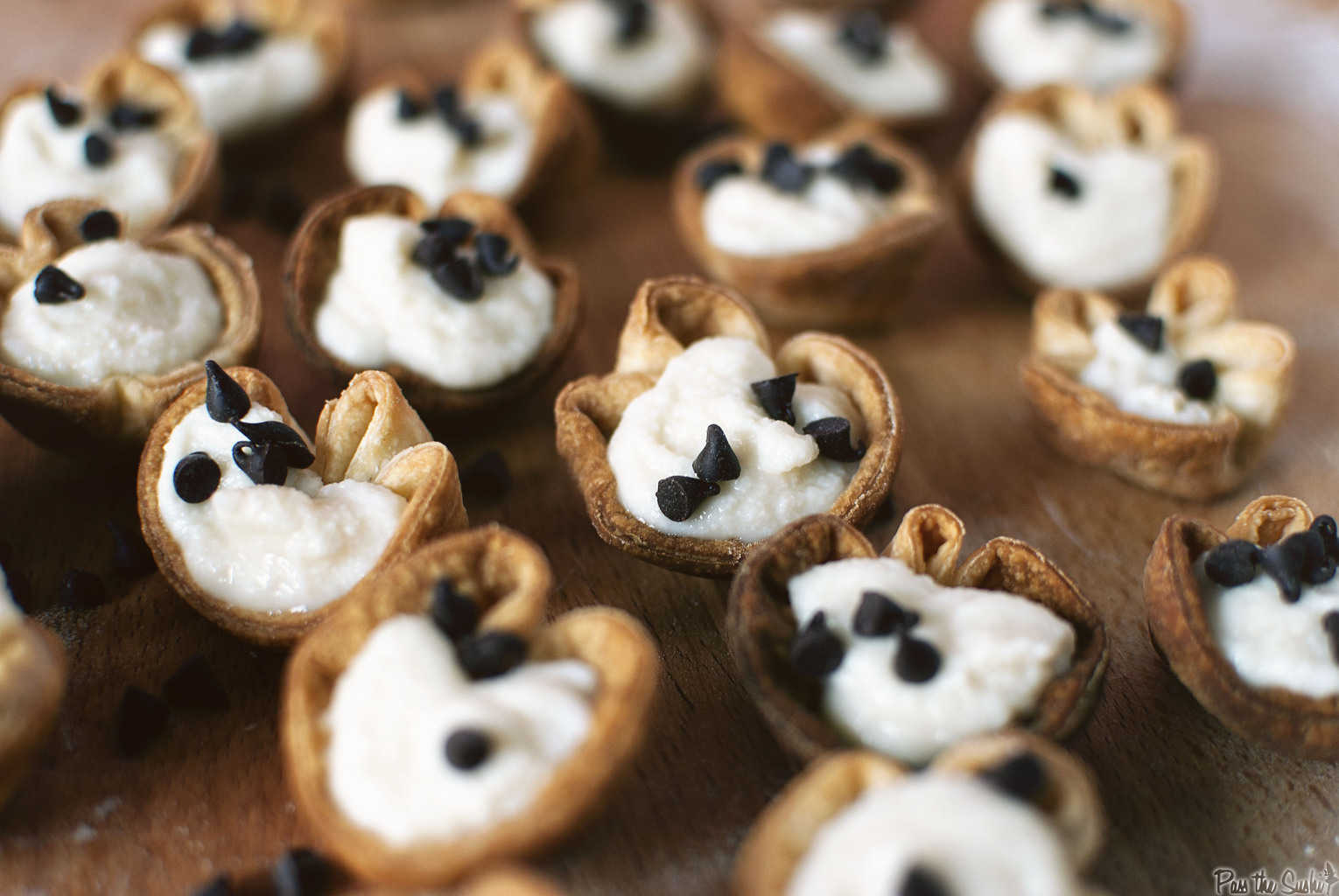 Mini Cannoli Bites are simple
When I spotted this version of the cannoli, with cute little cups and way less work, I knew I had to try them. Perfect to please the "I'm not sure I want a whole Cannoli" Crowd as well. So the next time you want a down and dirty quick and easy dressed up dessert to impress your neighbors, this is it.
Need more Cannoli love? Try these.
If you've tried this Mini Cannoli Bites recipe, or any other recipe on passthesushi.com please don't forget to rate the recipe and let me know where you found it in the comments below. I love hearing from you! You can also follow along for more good eats and travel tips on Instagram @passthesushi & @girlcarnivore, Twitter & Facebook.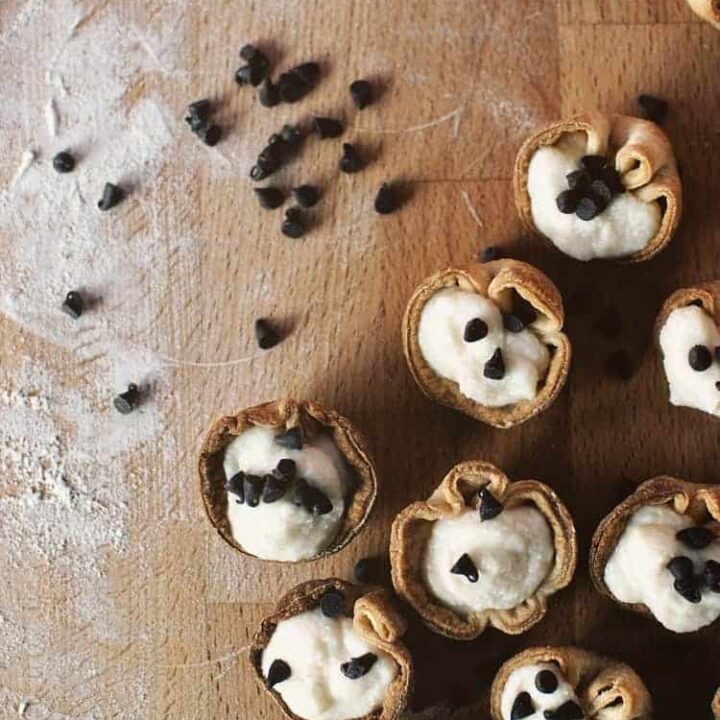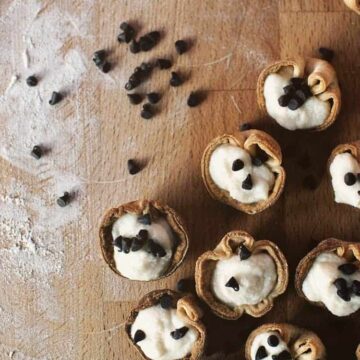 Mini Cannoli Bites
These little Cannoli Bites are perfect fresh the day of and are a fast and fun alternative to a traditional cannoli.
Print
Pin
Rate
Ingredients
15

oz

whole-milk ricotta cheese

1/2

cup

confectioners sugar

2

tbs

sugar

1/2

tsp

vanilla

1/2

classic pie dough recipe

3

tbs

sugar in the raw

1

tsp

ground cinnamon

1/4

cup

mini semisweet chocolate chips

Confectioners' sugar for dusting
Instructions
In the bowl of your stand mixer fitted with the paddle attachment, beat the ricotta, confectioners' sugar, sugar, and vanilla until creamy.

Place in a resealable storage bag or container and place in fridge for at least one hour before making the bites.

Preheat oven to 425 degrees F.

Dust a clean work surface with flour, sprinkle the raw sugar and cinnamon over the dough and roll out the pie dough to about 1/4" - 1/8" thick.

Using a 2 1/2" round cookie cutter cut out pastry rounds.

Gently press each round into a mini muffin tin. Place a few ceramic pie weights in each round, if desired.

Bake for 10 minutes or until golden brown. Remove from oven and cool completely. Remove ceramic pie weights with a toothpick (make sure you get all of them... trust me on this one) Re-roll leftover dough and repeat as needed.

When ready to serve, pipe filling into each pie crust. Sprinkle with mini chocolate chips and dust with additional confectioners' sugar if desired.
Nutrition
Serving:
1
g
|
Calories:
198
kcal
|
Carbohydrates:
28
g
|
Protein:
4
g
|
Fat:
8
g
|
Saturated Fat:
5
g
|
Polyunsaturated Fat:
3
g
|
Cholesterol:
18
mg
|
Sodium:
70
mg
|
Fiber:
1
g
|
Sugar:
21
g
Nutritional informations provided as a courtesy and is only an approximatation. Values will changes based on ingredients used.
⭐ Tried this recipe? Rate it ⭐
Help out the next person and give it a star rating below!
The Internet is a Strange Place these days…
Have you heard of this new thing called 'catfishing'? Apparently, people are making up personalities and using them to have fake relationships with people online. Pretend to have a shocked face. Seriously people, this is the internet. But I do think it's all rather sad. The internet is such a huge part of our lives today, and I have made so many friends in this food blogging world – I would hate to find out that someone wasn't who they said they were, but was rather some hairy man in his grandmothers basement surrounded by boxes of tissues and howling cats that hadn't moved in forty days. But, these 'catfisher's' build believable lives, stories, fictitious friends and events for themselves. If you have friends on facebook, you have to be real right? Who has that kind of time? Then they find people and string them along. All of it (to be a little old school)  just ain't right.
Don't drag me into it.
A week or so ago I opened an unusual email where someone was grasping at straws trying to put together the story of an identity they had met online who was so kind as to include myself in their not-so-grand scheme. After reading it, I did what every person does and a quick Google search of the name. And it brought up nothing… well… it's 2013, if you aren't in Google, you're pretty much dead to me. Second, they said they were friends with a famous food blogger (me). Ok, that parts hilarious. And flattering. My head instantly grew like three sizes bigger. There were so many things I wanted to say to this person, but I didn't want to come off as a total bi-otch. But nothing I could think of didn't sound downright mean and where normally that's not a problem, it seemed like this person was having a bad enough day. I didn't need to rub their nose in it.
How do you reply though? "Um, yeah…. good luck with all that" or do you knock some common sense into them. "It's 2013. People are crazy easy to find on the internet. Unnervingly so. If you can't find your made up lover of 5 years and they haven't come to see you yet – they are not real." At the end of they day I simply answered, I do not know this person. And hit send. Not a great answer, but what was?
So, Catfisher, who ever you are.
If you are going to use this famous blogger to string along your catch, first, follow me on facebook with your fake personality. Then I can't say I haven't spoken with you. It could be possible. And, know that there are like 3 'famous' food bloggers outside of our little food blogger world. Sure, tons that are amazing to me. But really, like 3 people I'd call 'famous'. No, scratch that, my father has no idea who the Pioneer Woman is… Make up some fake accounts with that fake name. Come on, if your going to be a creeper on the internet at least be a good one. Commit to it. Comment on some forums in your fake name. Post some pics! Google loves that. Lastly, I say get a hobby. Something like knitting or picking up trash. That way you can't actively stare at a computer screen all day and your hands would be too busy to type or tweet or text. Are you really going to dig yourself when you look back and realize lying to people over the internet was how you spent your days?
If you are catfishing and want to your victim something to nibble on, these aren't it. They totally won't hold up in the mail. But for those of you who aren't these little bites are perfect fresh the day of and are a fast and fun alternative to a traditional cannoli.