Lightened up macaroni and cheese, with three types of cheese! The use of cauliflower keeps the calories in check. There isn't a better comfort food to keep a hungry stomach happy.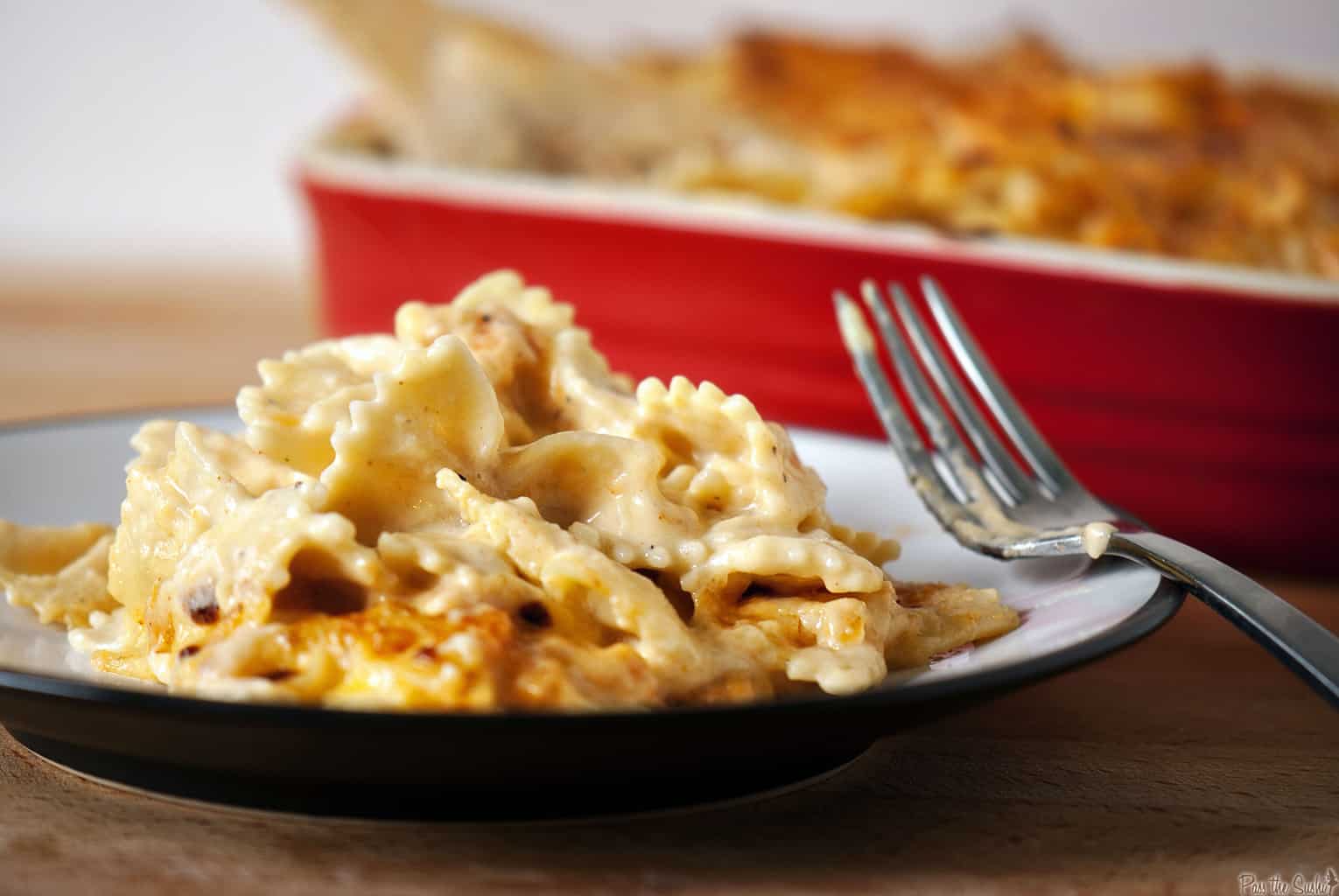 As a food blogger, I feel obligated to present my readers with a Thanksgiving assortment of classic recipes, modern twists, and delectable desserts. Problem is, I don't cook Thanksgiving dinner (and to be 100% honest, I'm not down with pumpkin pie). That doesn't mean I don't enjoy a hearty scoop of homemade mashed potatoes slathered in gravy. Or a mountain of stuffing, surrounding a perfectly prepared slice of turkey. So, I'm going to do my best to present a few recipes before the big day that you may want to add to the assortment.
In late summer, we discovered the joy of roasted cauliflower and I've been keeping it on hand ever since. It's quickly become a favorite vegetable on our house and I've been looking for ways to use it as much as I can. Now, we all know someone who doesn't allow anyone to mess with their macaroni and cheese, but from time to time, we can all sneak a little something in.
I'm no dietitian, but this lightened-up macaroni and cheese recipe, adapted from from Food  Network magazine, would certainly fool me if I were counting calories. Heavy cream, lots of cheese, and pasta – I'm pretty sure the only redeeming quality is the cauliflower. However, if you want another lightened up version, check out this Gluten-free Mac and Cheese recipe.
Either way, it makes a delicious meal and even better leftovers. Especially when mixed with a little taco meat and reheated.

Decide for yourself if this is really lightened up or not. But taste it first, just to be sure. 😉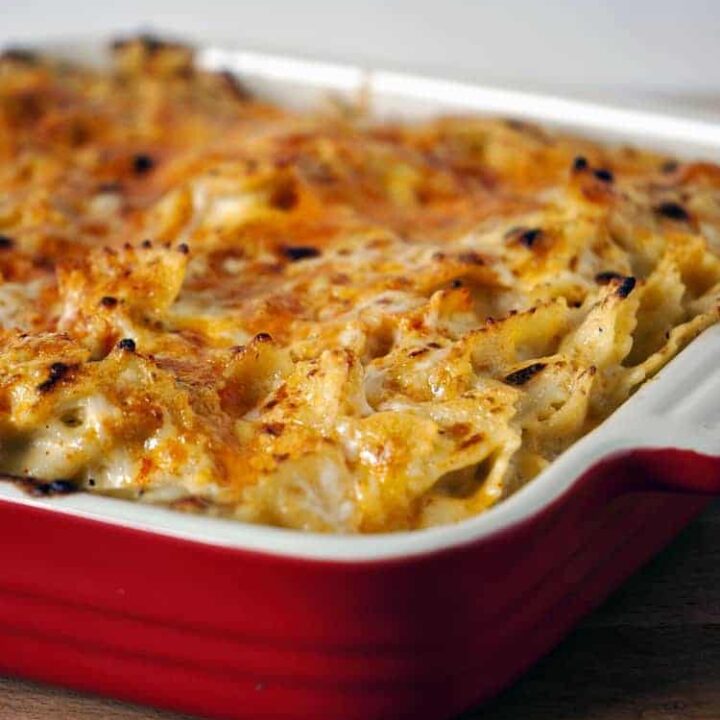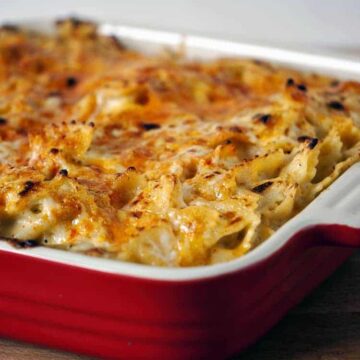 Ingredients
1

large egg

1/2

cup

heavy cream

1/2

cup

2% milk

Pinch

of cayenne pepper

Pinch

of freshly grated nutmeg

1/2

teas smoked paprika

Kosher salt and freshly ground black pepper

1 1/3

cups

grated extra sharp cheddar cheese

1/2

cup

grated havarti cheese

3/4

cup

grated pecoreno romano

1/2

head cauliflower

-

cut into small flourets

2

cups

medium pasta shells

2

cups

medium whole wheat pasta shells
Instructions
Whisk the eggs, cream, milk, cayenne, nutmeg, paprika, salt, and pepper to taste in a bowl. Toss the 1 cup cheddar, 1/2 cup havarti dill, and 1/2 cup pecoreno romano in a separate bowl.

Bring a large pot of salted water to a boil. add the cauliflower and cook until almost falling apart, about 7 minutes. Transfer with a slotted spoon to a bowl. Add the pasta to the same water and cook until al dente, about 10 minutes. Drain, reserving 1/4 cup cooking water. Preheat broiler.

Combine the egg mixture and the grated cheeses in the empty pot and cook over medium-low heat, stirring constantly, until the cheese melt and the sauce begins to thicken. Remove from the heat and add the cauliflower. Puree with an immersion blender until smooth and light (you could also use a regular blender). Stir in some of the reserved pasta water until creamy.

Toss the pasta in the sauce; season with salt and black pepper. Transfer to a shallow casserole dish and top with 1/3 cheddar and 1/4 pecorino romano. Broil until golden brown, about 5 minutes.
Notes
Food Network Magazine Oct 2009
Nutritional informations provided as a courtesy and is only an approximatation. Values will changes based on ingredients used.
⭐ Tried this recipe? Rate it ⭐
Help out the next person and give it a star rating below!