Flu season is here, but I have a solution to shove the aches and pains out the door. Flu fighter cookies, packed with healthy oats, ginger, lemon, and antioxidants.
It's that time of year where if you don't have the sniffles, someone you know does - and you're avoiding them like the plague. Each of us has a little secret up our sleeve, on standby for if we ever do come down with a cold to make us feel better and get back up and running.
I ripped out an article in Rachael Ray Magazine (November 2011) talking about our symptom 'crushers' and asking "The Doctors" (a show I had never heard about before) whether or not they work.
The first one was sleeping on onions. Ew. And you guessed it, no. Sleeping on onions won't cure anyone of anything. Then someone asked about Vicks VaporRub on your feet, and once again the doctor shot it down. I hadn't heard of either of these personally. Isn't VaporRub for your chest? The quote does go to say that it can cause irritation in small children, so keep that in mind if you are a parent.
Neti Pots, chicken soup, and echinacea are also discussed, along with my favorite cold and flu fighting tool (along with a proven effective general stubbornness to admit I'm ill) hot tea.
Tea and honey. I swear by it. Whether it just be because the moment I get a sniffle I stop drinking crap (Pepsi max) and start downing natural tea and honey, thus getting some goodness in me or if there really is some illness curing flu fighting benefit to the hot drink, it doesn't really matter. It just works.
These cookies aren't really going to ward off any cold or flu, but packed with the healthiness that they are, it certainly can't hurt to munch on a few if you aren't feeling 100%.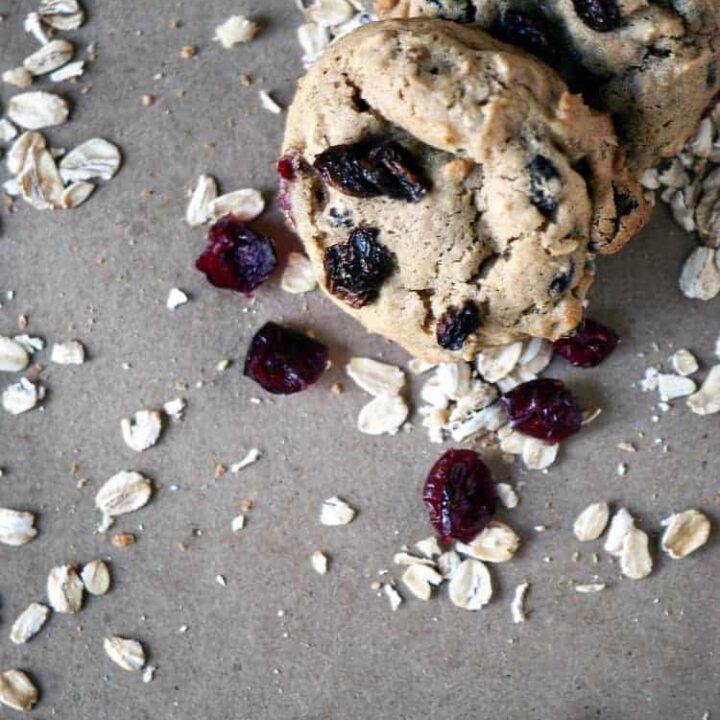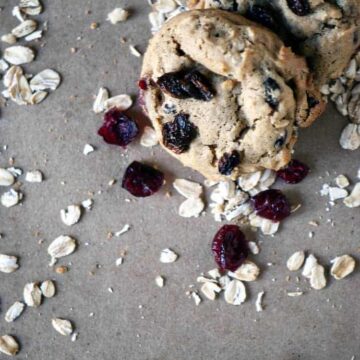 Ingredients
2 ¼

cups

all-purpose flour

1 ¼

teas baking powder

¾

teas baking soda

¾

teas ground cinnamon

½

teas freshly grated nutmeg

Pinch

of ground cloves

¼

teas salt

1

stick unsalted butter

-

at room temperature

1

cup

packed dark brown sugar

2

large eggs

¼

cup

molasses

¼

cup

low-fat plain Greek yogurt

1

tbs

freshly grated ginger

2

teas finely grated lemon zest

-

about 1 lemon

½

cup

old-fashioned oats

1 ¼

cups

golden raisins

1 ¼

cups

dried cranberries

1 ¼

cups

roughly chopped walnuts

-

toasted
Instructions
Line 2 large baking sheets with parchment paper. Whisk the flour, baking powder, baking soda, cinnamon, nutmeg, cloves and salt in a medium bowl.

Beat the butter and brown sugar in a large bowl with a mixer on medium speed until light and fluffy, 3 minutes. Beat in the eggs one at a time, fully incorporating each before adding the next. Add the molasses, yogurt, ginger and lemon zest and beat until smooth, scraping the sides of the bowl as needed. Reduce the mixer speed to low and beat in the flour mixture to make a sticky batter (do not overmix). Fold in the oats and half of the raisins, cranberries and walnuts. Mix the remaining dried fruit and nuts in a small bowl and set aside.

Drop heaping tablespoonfuls of batter onto the prepared baking sheets. Top each with some of the reserved dried-fruit-and-nut mixture and chill for 30 minutes. Meanwhile, preheat the oven to 375 degrees.

Bake the cookies until dark golden but still soft, 10 to 12 minutes; cool on a rack. Store in an airtight container for up to 1 week.
Notes
Food Network Magazine October 2009
Nutritional informations provided as a courtesy and is only an approximatation. Values will changes based on ingredients used.
⭐ Tried this recipe? Rate it ⭐
Help out the next person and give it a star rating below!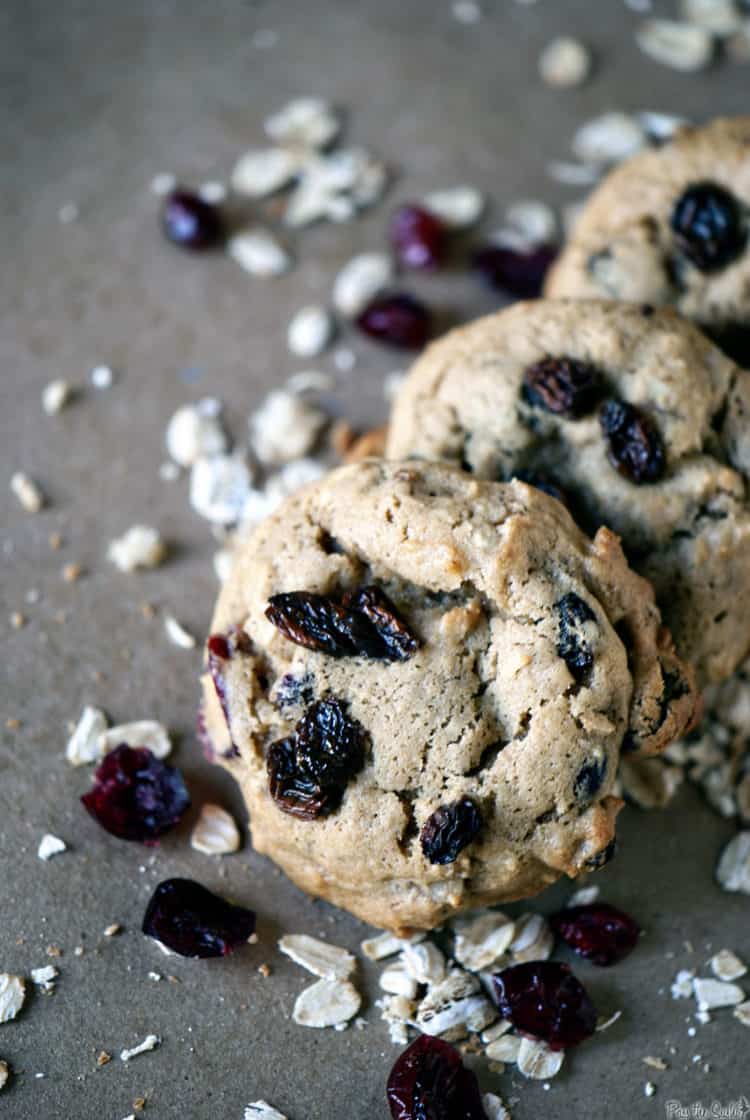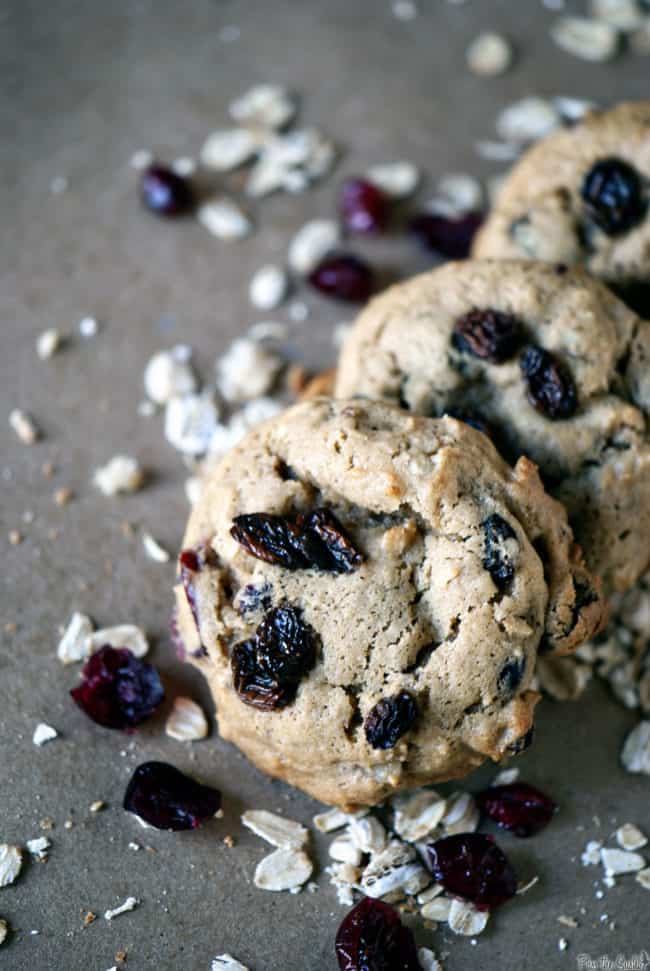 Do you have family remedy, long time trick or anything that you have to have to make you feel better when you start to get a little under the weather?
Go and check out all of the other holiday goodies being shared in this weeks 12 Weeks of Christmas Cookies link up!