Thomas Keller's buttermilk fried chicken is the best fried chicken you will ever eat! The recipe comes from his book, "Ad Hoc at Home", and I'm going to show you how to make it!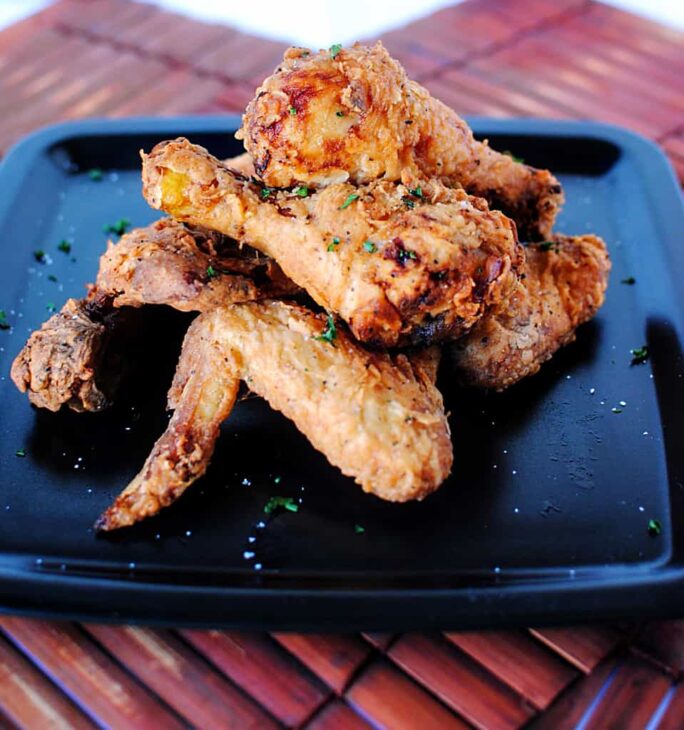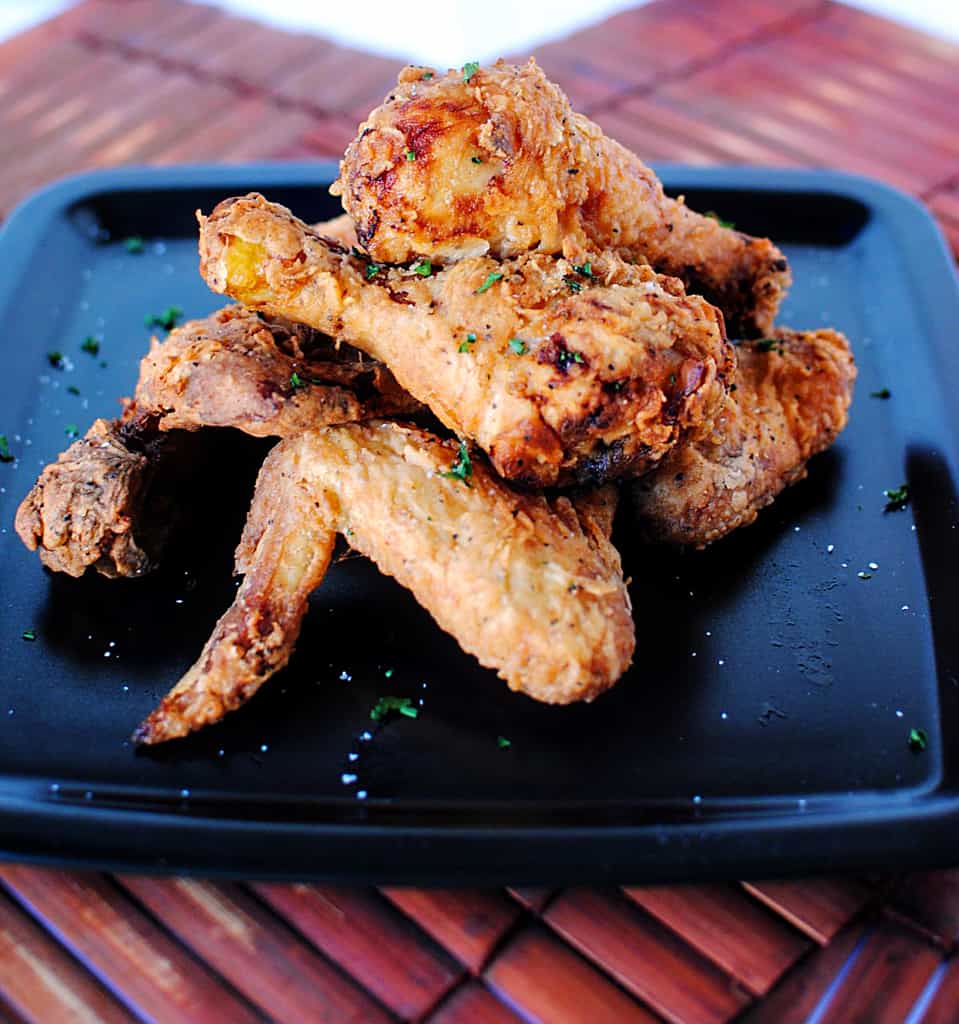 I just saw a Stouffer's commercial for their skillet meals for two. Now, as much as I love to cook, my weeknight meals never inspire flowers, music, or wine. The commercial makes me feel like I should stop cooking so damned much so that maybe when I do cook some awesomeness (or in the commercial's case, a decent prepackaged skillet meal) it would get a romantic reaction of some sort. Oh, who am I kidding? Romance isn't necessarily something this Girl Carnivore specializes in.
Yes, I know the above paragraph makes me sound like a brat, but who doesn't want a random flower, a glass of wine, or a little excitement because of their hard work on any day of the week? I'm not just making food all the time because I blog, mister! So people; remember to kiss the cook from time to time. It's simple, but it keeps us happy and keeps you fed.
Now for this dinner recipe: I don't think fried chicken is sexy, but it sure is good.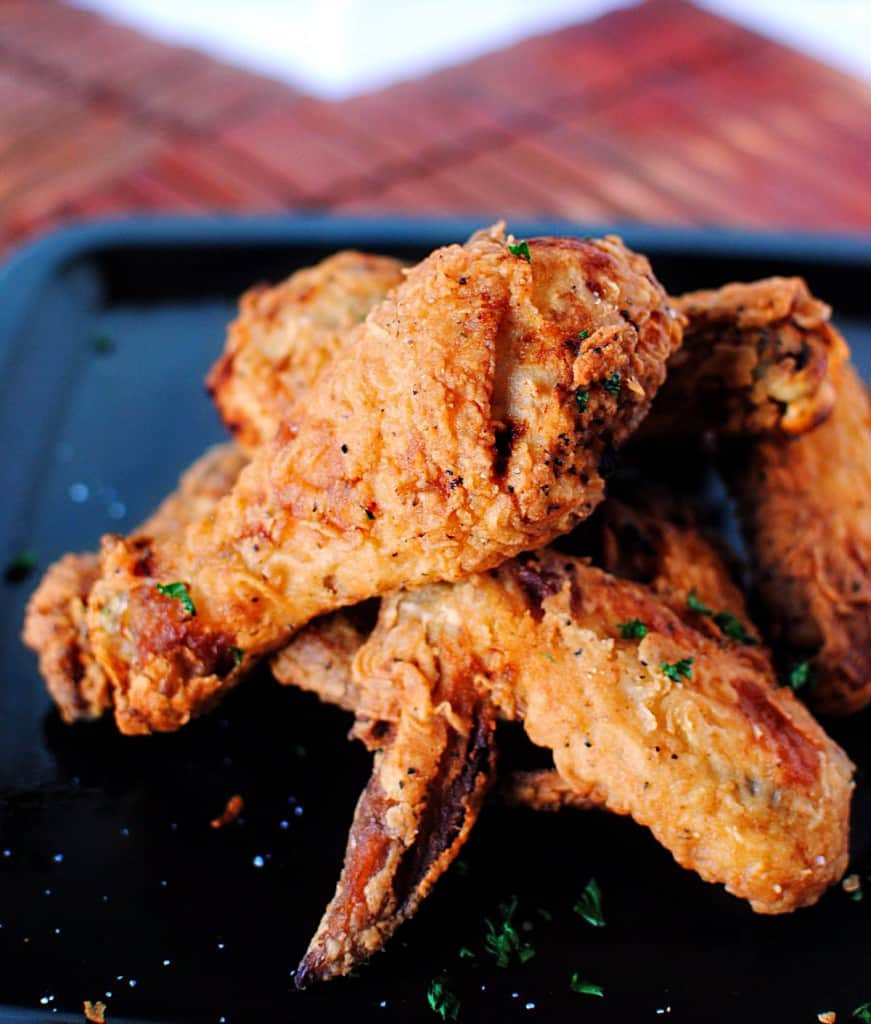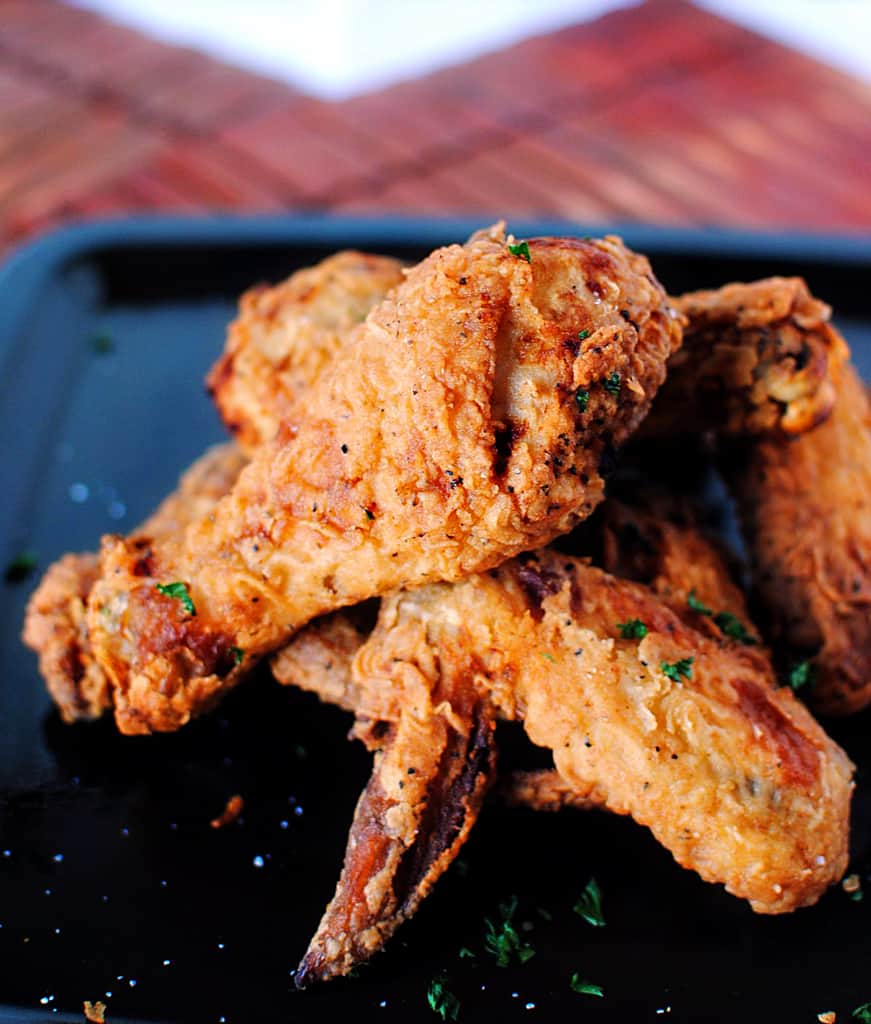 Thomas Keller's buttermilk fried chicken recipe is notorious, and because I'd never eaten fried chicken before, I decided to start with the best. This isn't an ordinary recipe, because Thomas Keller's not an ordinary man. He's a culinary genius.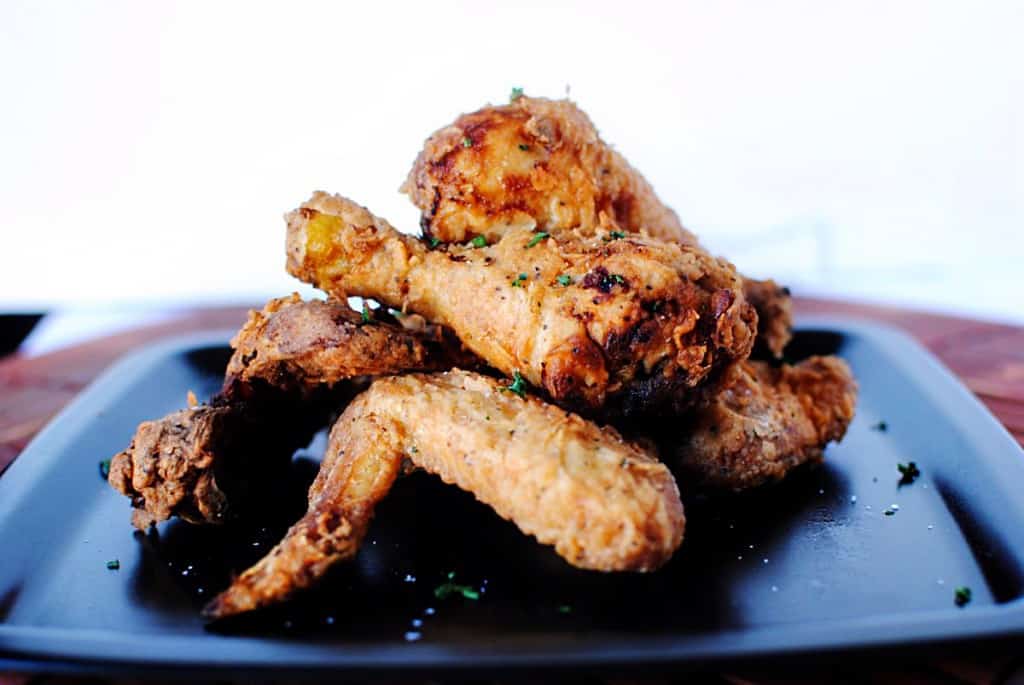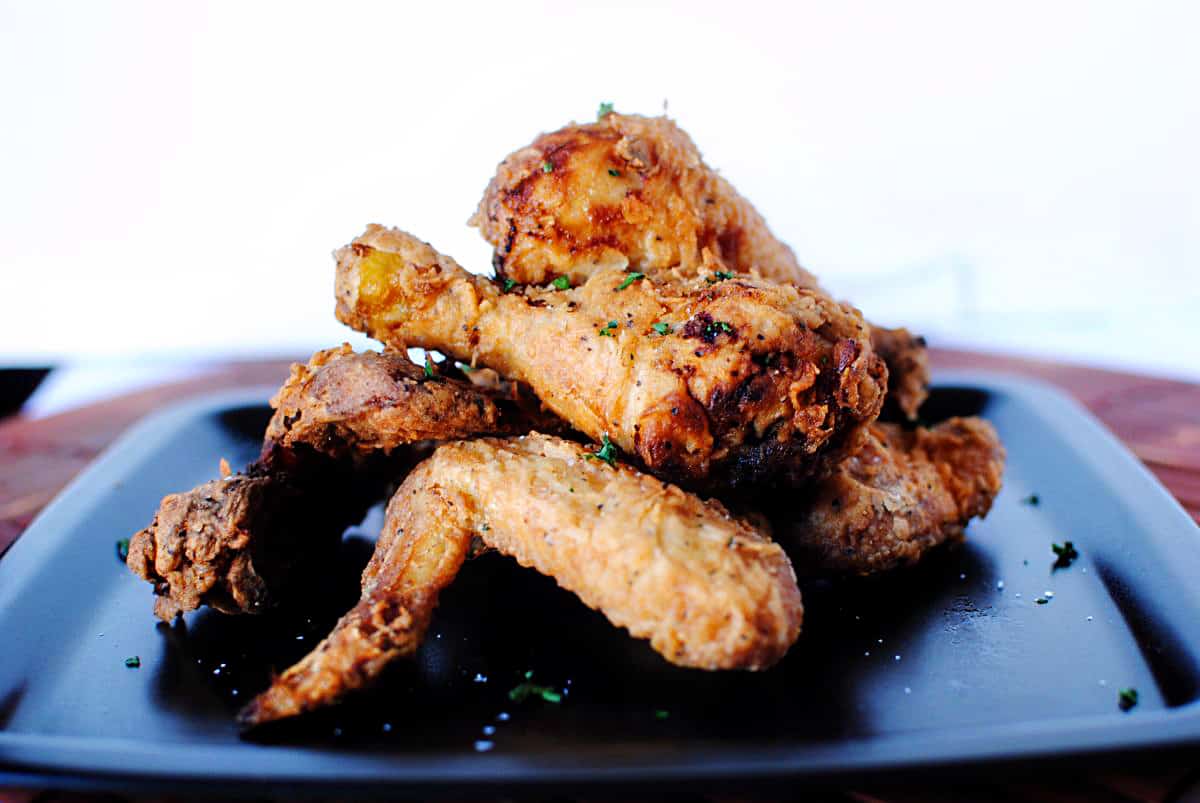 Truth. This recipe is forever long, but this fried chicken is worth it. If you're going to do something, you may as well do it right, and Thomas Keller's a perfectionist. The quality of his finished recipes executed in your own kitchen should be no fail because of his thorough directions. So kick it up tonight, and enjoy.
I promise you this: Thomas Keller's buttermilk fried chicken is not going to disappoint you!
Now that you've tried Thomas Keller's Fried Chicken Recipe, you're probably planning the next time you are going to make it 😉 Here are some ideas for using it!

Fried Chicken Cordon Bleu Sandwich
Maple Fried Chicken and Savory Cornbread Waffles
Quick Fried Chicken Sandwiches
If you've tried Thomas Keller's Buttermilk Fried Chicken recipe or any other recipe on passthesushi.com please don't forget to rate the recipe and let me know where you found it in the comments below, I love hearing from you! You can also follow along for more good eats and travel tips on Instagram @passthesushi & @girlcarnivore, Twitter & Facebook.
Yield: 10 servings
Thomas Keller's Buttermilk Fried Chicken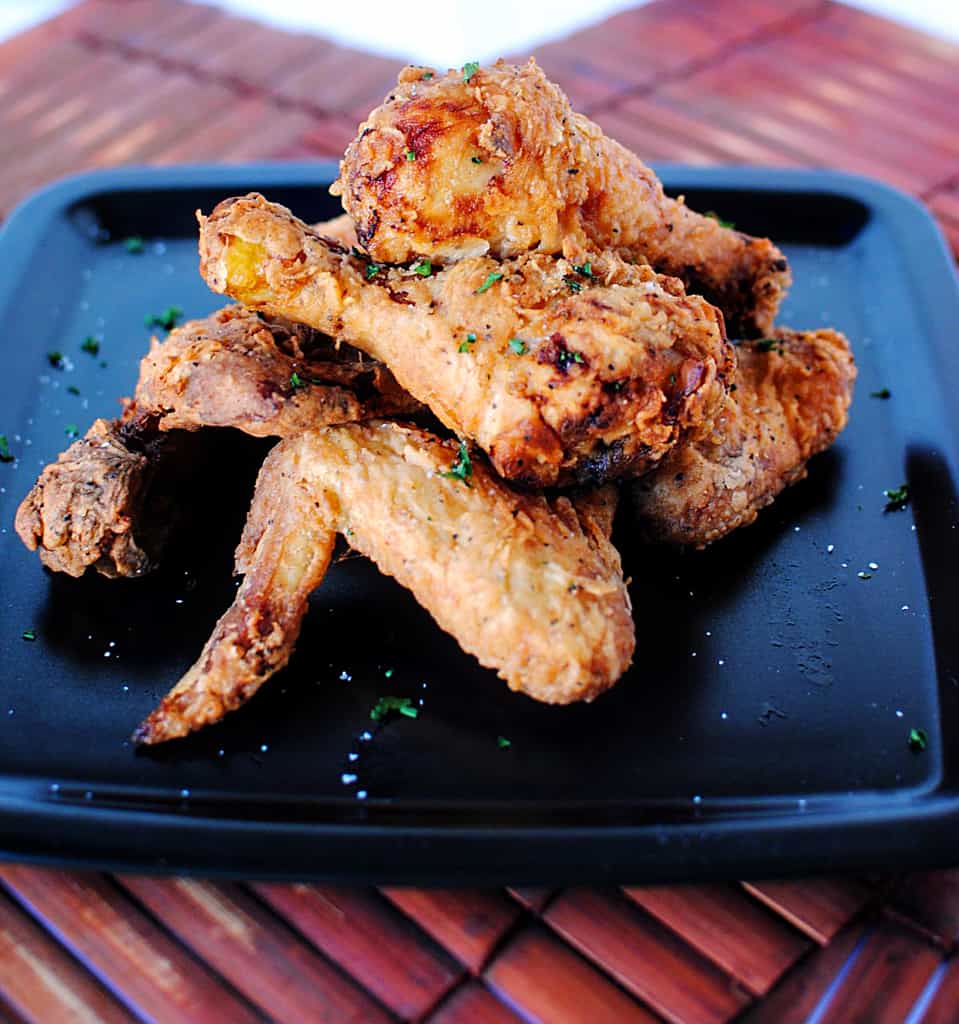 Thomas Keller's buttermilk fried chicken is the best fried chicken you will ever eat! The recipe comes from his book, "Ad Hoc at Home", and I'm going to show you how to make it!
Total Time
13 hours
40 minutes
Ingredients
Chicken Brine:
5 lemons, halved
12 bay leaves
1 bunch (4 ounces) flat-leaf parsley
1 bunch (1 ounce) thyme
½ cup clover honey
1 head garlic, halved through the equator
¼ cup black peppercorns
2 cups (10 ounces) Diamond Crystal kosher salt
2 gallons water
For the Fried Chicken:
6 lbs whole chickens (use 2 small chickens)
Chicken Brine
For Dredging and Frying:
Peanut or canola oil for deep frying
1 quart buttermilk
Kosher salt and freshly ground black pepper
Coating:
6 cups all-purpose flour
¼ cup garlic powder
¼ cup onion powder
1 tablespoon plus 1 teas paprika
1 tablespoon plus 1 teas cayenne
1 tablespoon plus 1 teas kosher salt
1 teaspoon freshly ground black pepper
Ground fleur de sel or fine sea salt
Rosemary and thyme springs for garnish
Instructions
Cut each chicken into 10 pieces: 2 legs, 2 thighs, 4 breast quarters, and 2 wings.
Mix the brine in a container large enough to hold the chicken pieces, add in the chicken, and refrigerate for 12 hours (no longer, or the chicken may become too salty).
Remove the chicken from the brine (discard the brine) and rinse under cold water, removing any herbs or spices sticking to the skin.
Pat dry with paper towels, or let air-dry.
Let rest at room temperature for 1 ½ hours, or until it comes to room temperature.
If you have two large pots (about 6 inches deep) and a lot of oil, you can cook the dark and white meat at the same time; if not, cook the dark meat first, then turn up the heat an cook the white meat. No matter what size pot you have, the oil should not come more than one-third of the way up the sides of the pot. Fill the pot with at least 2 inches of peanut oil and heat to 320 degrees F.
Set a cooling rack over a baking sheet. Line a second baking sheet with parchment paper.
Meanwhile, combine all the coating ingredients in a large bowl.
Transfer half the coating to a second large bowl.
Pour the buttermilk into a third bowl and season with salt and pepper.
Set up a dipping station; the chicken pieces, one bowl of coating, the bowl of buttermilk, the second bowl of coating, and the parchment-lined baking sheet.
Just before frying, dip the chicken thighs into the first bowl of coating, turning to coat and patting off the excess; dip them into the buttermilk, allowing the excess to run back into the bowl; then dip them into the second bowl of coating.
Transfer to the parchment-lined pan.
Carefully lower the thighs into the hot oil. Adjust the heat as necessary to return the oil to the proper temperature.
Fry for 2 minutes, then carefully move the chicken pieces around in the oil and continue to fry, monitoring the oil temperature and turning the pieces as necessary for even cooking, for 11 to 12 minutes, until the chicken is a deep golden brown, cooked through and very crisp.
Meanwhile, coat the chicken drumsticks and transfer to the parchment-lined baking sheet.
Transfer the cooked thighs to the cooling rack skin-side-up and let rest while you fry the remaining chicken. (Putting the pieces skin-side-up will allow excess fat to drain, whereas leaving them skin-side-down could trap some of the fat.)
Make sure that the oil is at the correct temperature, and cook the chicken drumsticks.
When the drumsticks are done, lean them meat-side-up against the thighs to drain, then sprinkle the chicken with fine sea salt.
Turn up the heat and heat the oil to 340 degrees F.
Meanwhile, coat the chicken breasts and wings.
Carefully lower the chicken breasts into the hot oil and fry for 7 minutes, or until golden brown, cooked through, and crisp.
Transfer to the rack, sprinkle with salt, and turn skin side up.
Cook the wings for 6 minutes, or until golden brown and cooked through. Transfer the wings to the rack and turn off the heat.
Arrange the chicken on a serving platter. Add the herb springs to the oil (which will still be hot) and let them cook and crisp for a few seconds, then arrange them over the chicken.
Notes
Note: We let the chicken rest for 7 to 10 minutes after it comes out of the fryer so that it has a change to cook down. If the chicken has rested longer than 10 minutes, put the tray of chicken in a 400 degree F oven fro a minute or two to ensure that the crust is crisp and the chicken is hot.
Recommended Products
As an Amazon Associate and member of other affiliate programs, I earn from qualifying purchases.
Nutrition Information:
Yield:
10
Serving Size:
1
Amount Per Serving:
Calories:

1095
Total Fat:

42g
Saturated Fat:

11g
Trans Fat:

0g
Unsaturated Fat:

25g
Cholesterol:

251mg
Sodium:

23236mg
Carbohydrates:

88g
Fiber:

5g
Sugar:

20g
Protein:

89g
Nutrition information provided is an estimate from nutritionix.com. For specific health concerns, please put the recipe into your Dr recommended nutrition calculator.