Cranberry Vanilla Bean Cake; Soft, decadent, and just a little bit tart. The perfect compliment to your holiday gathering.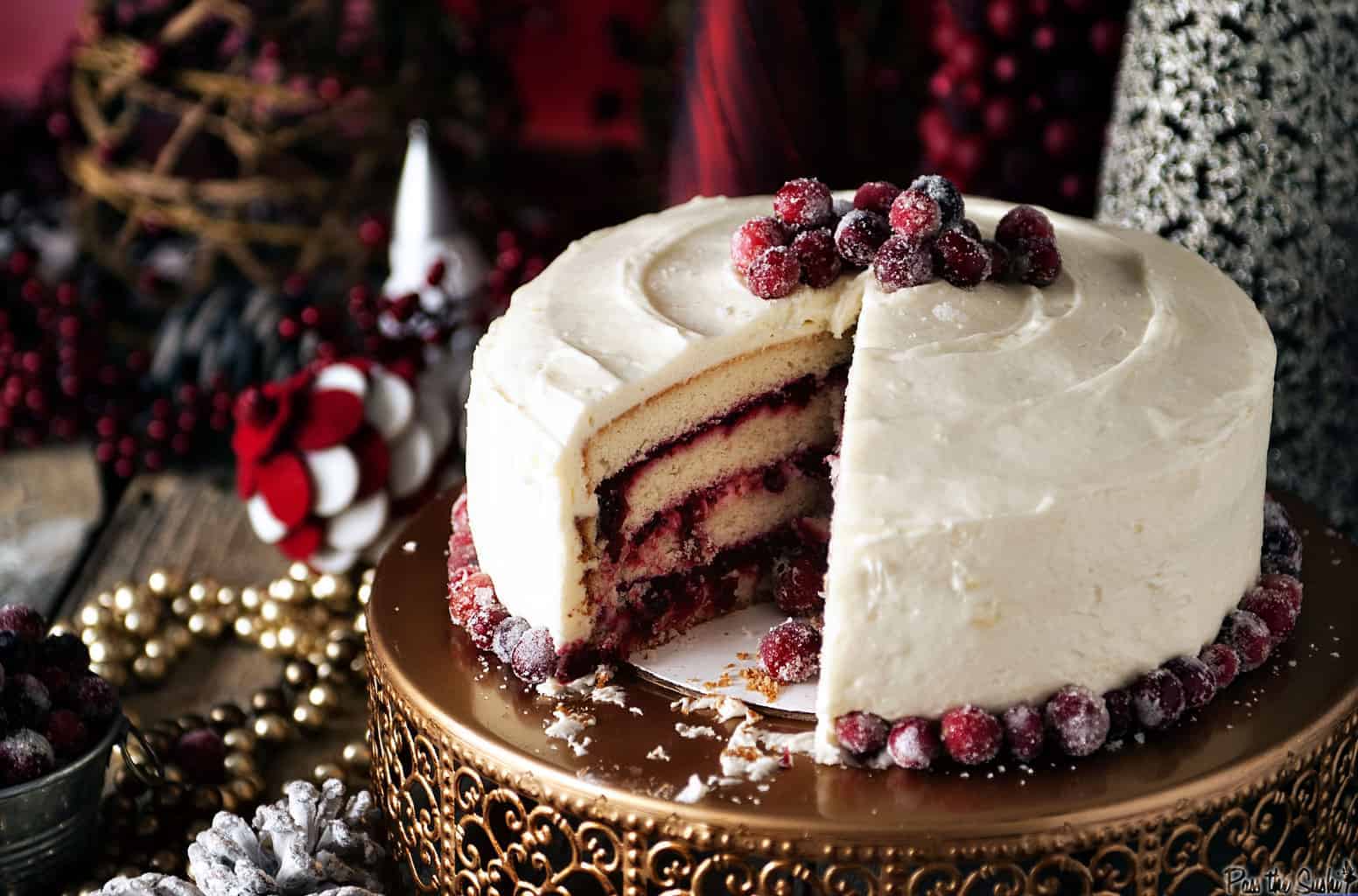 Throwing killer parties is work – but it's also a blast and I love doing it. If it were up to me, every Friday night would be all about entertaining. But we all know that's not realistic. When I do get to entertain large groups of friends and family, I always have a game plan, a keep it cool mantra, and roll off my shoulders attitude about everything. Once you do it a few times, it becomes a breeze and you'll see just how easy throwing a killer holiday party can be. And, if you make this Cranberry Vanilla Bean Cake, you will be remembered as the host of all hosts. Yeah, it's that good.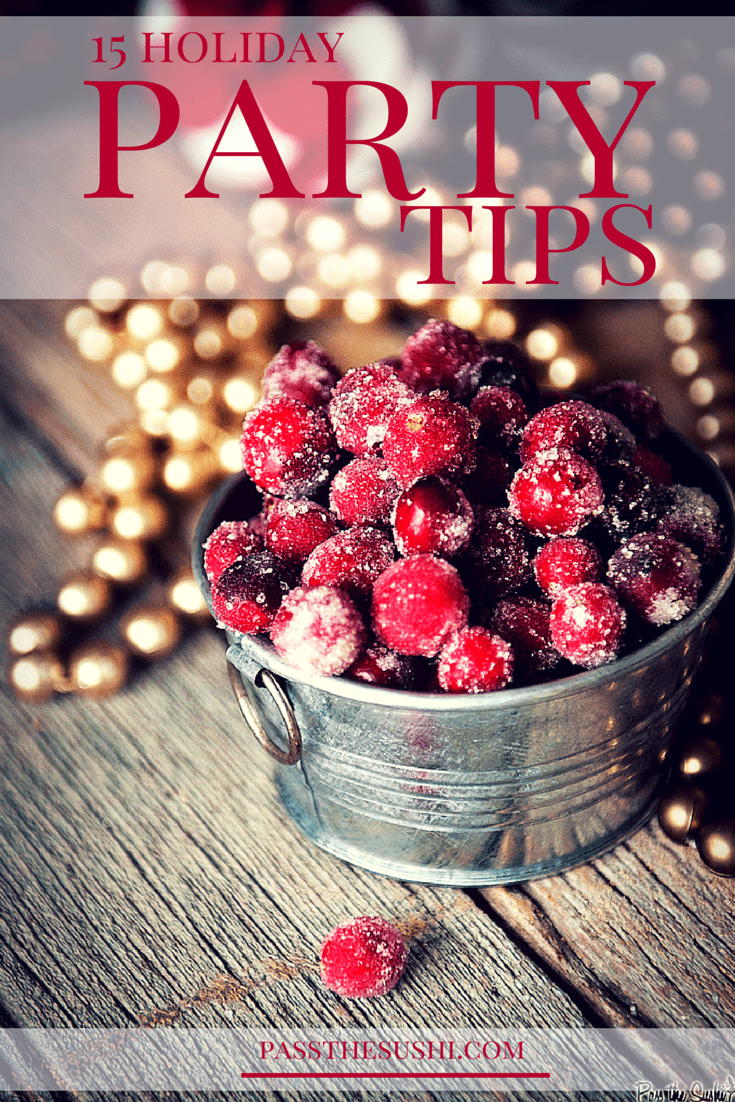 15 Holiday Party Tips to get you prepped and ready!
Make a list – check it twice. Redundant, I know. But it really does help. From cleaning – room by room, to menu items, where I list out the ingredients, and finally to a drink list – it's all written down. First, it makes shopping easier. It makes prep easier, and I know when I missed something or a step. Lists keep me rolling with the eye of the tiger.

Blast some tunes and clean your home the day before, leaving only a quick sweep and bathroom check for right before guests arrive. Get a seriously good clean on those floors. Make the Pine-Sol mama proud. Vacuum. Dust everything. Change out the bathroom towels. An hour before guests arrive, take one last quick look around. All the works been dun, you may just have to pick up a stray dust bunny. If you miss sweeping the floors that one extra time, no one is going to notice.
Get all Amy Atlas up in here. Bust out the fun fine china, use those gaudy crystal glasses. Have fun with your festive dinnerware. Pick a color scheme and stick with it. I happen to own a lot of red, so it's my accent color for everything from plastic ware to napkins. This year instead of teaming the red dishes up with white, a couple bucks on some gold spray paint and recycled tins, and I've got myself a new color palette for under $5. Use cake plates to hold appetizers and snacks. Add volume, so that things are easy to reach by adding wooden boards and boxes below dishes. It doesn't have to be expensive. Don't buy new plates for this. Mix and match what you already own to create a fun inviting spread.
Set the all the serving plates, dishes, and utensils out ahead of time.  I always set my table the night before. One) So I know where everything is going and can just pop finished dishes in place a moment before guests arrive.  Two) So that I can realize what I forgot and make that pesky last minute trip to the market… again.
Buy some fun festive disposable utensils. There are so many out there right now that the boring white box of 400 forks can go away. Run to Target, or your local party store and pick up glittery forks and spoons, peppermint swirled straws, and cute napkins. It will help the clean up breeze by.
Prep work is your friend. Anything that can be diced, minced, mixed or made ahead is. I use about 4 crock pots at any given party. All with dips, small appetizers or meatballs of sort. Everything is made the day before, placed in an airtight container and dropped in to heat a hour or two before the party starts.

Play by Ina's rules, don't make every thing – No one expects you to! Sure, you may be the diva in the kitchen, but cooking for 30 is crazy if you want to enjoy yourself. Friends will offer to bring something, and let them. It takes some pressure off you – and you'll get to enjoy something fresh and unexpected after a day in the kitchen prepping for this shindig. Purchase some pre-made snacks, cookies, appetizers or desserts to mix in along side your home made confections. No one will know the difference. Last year I made dessert dips, and paired them with fun purchased cookie varieties (animal crackers, biscotti bars, etc). Everyone thought they were great!
Keep it simple! A great antipasti platter with cheese, olives, cured meats goes a long way and looks impressive on the table. Crock pot dips are always a hit. Finger foods galore. People are here to mingle, no need to carve a turkey and have a sit down meal. (Though the Cranberry Vanilla Bean Cake below is killer)
Be mindful of your guests diets. I keep vegetarian dishes marked and away from non-vegetarian ones so that no one has to guess. Place serving spoons (and something to put it on) in front of everything so that nothing gets mixed accidentally.
Prep the bar with a trash can for beer bottles and caps, plenty of glasses, ice and a big pitcher of sangria. Have coolers near by our right outside (to keep them cool in winter) stocked with beers and drinks. Don't forget the ice. And keep in mind, that someone is going to be driving home, so have non-alcoholic options for them as well. Keep plenty of water bottles about too. You can never have enough.

Small speakers with low music throughout the house. It keeps a soft subtle white noise so at an awkward pause or conversation lapse, no one notices.
Mood lighting. Don't use harsh day light bulbs, but rather, replace everything with softer lights – 25 watts. Use holiday lights to illuminate areas and set a fun tone.
Candles – first, fire safety. Don't leave an open flame near curtains or the tree. (I shouldn't have to say this, but my neighbors house just burned down… wanna guess why?) I always light a few candles in the bathroom so that it's easy to find. Should one guests flip off the lights, the next can easily find their way. And you know… candles smell pretty.
Set some boundaries. Define what area's are off limits. This is one of those hate to say it tips, but really it's helps with my stress if I know guests aren't poking in my bedroom. We have an entertaining area in the basement, is it for this party or not, decide ahead of time and make sure you stick to your guns. Closed doors and lights off means don't enter to me. No kids is another boundary we have to set. Are you a bad friend for not wanting kids at your holiday cocktail party – no. Our house isn't kid friendly, there are stairways without doors, sharp things, tools, and frankly, we don't have toys so our stuff becomes playthings and that's just not cool. Last time we had kids over my toothbrush was in the toilet (oh, hide that somewhere too). How? Why? It doesn't matter…. I love my friends kids, but at our parties, we include in the invitation, no children please.
Most of all – enjoy yourself. Friends don't care about picture perfect tables, fancy food, or creative cocktails. They will enjoy themselves with a bag of Cheetos and some High Life if it's what's on tap. It's about the company and conversation. So after you've handed out the first round of drinks, settle in and spend some time with your guests, not serving them.
Ready to make a Cranberry Vanilla Bean Cake?
Yeah, lets do this.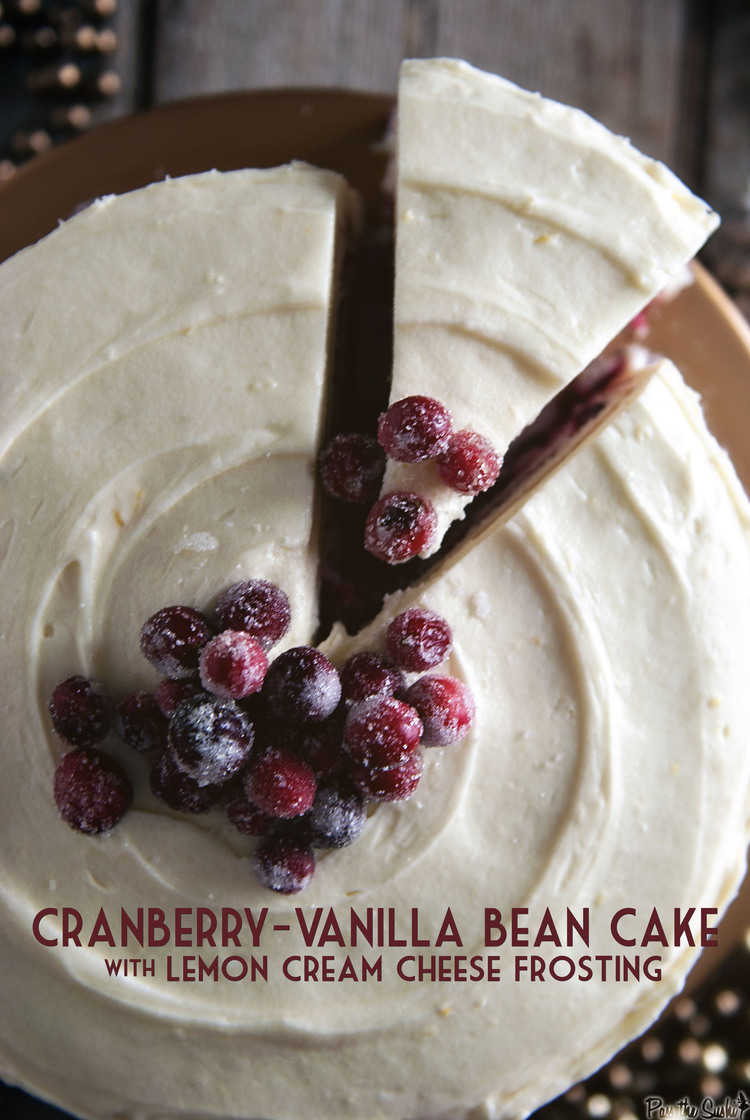 If you've tried my Cranberry Vanilla Bean Cake recipe, or any other recipe on passthesushi.com please don't forget to rate the recipe and let me know where you found it in the comments below, I love hearing from you! You can also follow along for more good eats and travel tips on Instagram @passthesushi & @girlcarnivore, Twitter & Facebook.
If you are looking for another pull out all the stops cake, go no further.

Drunken Fig Layer Cake
Irish Dream Cheesecake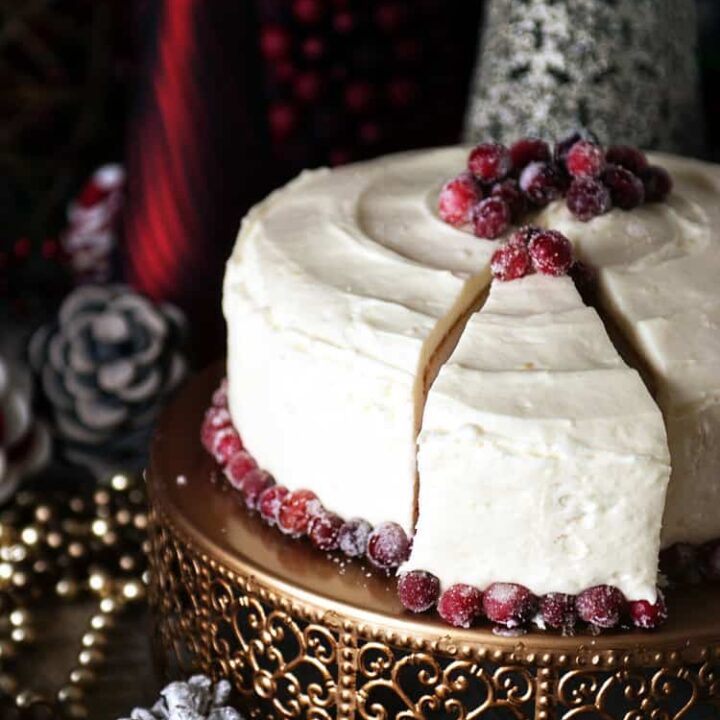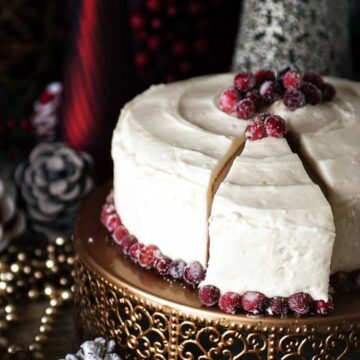 Cranberry Vanilla Bean Cake
Cranberry Vanilla Bean Cake; Soft, decadent, and just a little bit tart. The perfect compliment to your holiday gathering.
Print
Pin
Rate
Ingredients
Cranberry filling
12

oz

fresh cranberries

-

picked over

1/2

cup

sugar

2

tsp

finely shredded orange zest

2

tbsp

orange juice

1/4

tsp

ground cinnamon

1/8

tsp

ground ginger

1/8

tsp

ground cloves
Cake
6

egg whites

-

lightly beaten

1

cup

buttermilk

1

vanilla bean

-

split lengthwise

2 1/4

cups

cake flour

1 3/4

cups

sugar

4

tsp

baking powder

1

tsp

salt
For the Frosting
3/4

cup

butter

-

softened

16

oz

cream cheese

-

softened

3/4

cup

butter

-

softened

1

tbsp

finely shredded lemon zest

1

tbsp

lemon juice

3 1/2

cups

confectioners' sugar

Sugared Cranberries
Instructions
Make the cranberry filling:
In a small saucepan, combine the cranberries, sugar, orange zest, juice, cinnamon, ginger, and cloves. 

Bring to a boil over, then reduce and simmer for 10 minutes, or until cranberries pop. 

Remove from heat and mash cranberries with a wooden spoon. Allow to cool completely.
Make the cake:
In a bowl, combine the beaten egg whites and buttermilk. 

Using a sharp knife, carefully scrape seeds from the inside of the vanilla beans and stir them into the buttermilk mixture. Allow to stand at room temperature for 30 minutes. 

Prep two 9" cake pans by greasing and flouring. Knock out any excess flour. Set aside. 

Preheat the oven to 350 degrees F.

Whisk together the flour, sugar, baking powder, and salt together in a large bowl and set aside.

In the bowl of your stand mixer, fitted with the paddle attachment, cream the butter for 30 seconds on medium high. 

Scraping down the sides as needed, gradually add the flour mix. 

Add half of the buttermilk and mix to combine. 

Add the remaining buttermilk and beat on medium speed for 2 minutes, pausing to scrape down the sides as needed.

Divide batter evenly into the cake pans and bake for 25 to 30 minutes, until a toothpick comes out clean and edges are light golden. 

Cool for 10 minutes on a wire rack before removing cakes from pans to cool completely.
Meanwhile, make the frosting:
Combine the cream cheese and butter in the mixing bowl of your stand mixer and beat on medium speed until light and fluffy. 

Add the lemon zest and juice and mix again. 

Scrape down the sides and add in the confectioners' sugar, 1/2 cup at a time until combined. Add a tablespoon of milk if the mixture is too thick.
To assemble:
Cut the cakes in half evenly to make 4 total cake layers. 

Place one cake layer bottom side down in the center of your serving platter and spoon 1/3 cup cranberry sauce evenly over the top. 

Place a cake layer on top of that and spread 1/2 cup lemon frosting evenly over it. Top with a thin layer of cranberry sauce, about 1/3 cup. 

Top with the next cake layer and spoon 1/3 cup cranberry over top. 

Finally top with the last cake layer, cut side down. Crumb coat your cake and place in fridge for 10 minutes to set. 

Finish off with a healthy layer of frosting and top with sugared cranberries before serving, if desired.
Notes
BHG Special Interest Magazine Holiday Recipes
Nutrition
Serving:
1
g
|
Calories:
736
kcal
|
Carbohydrates:
98
g
|
Protein:
7
g
|
Fat:
37
g
|
Saturated Fat:
22
g
|
Polyunsaturated Fat:
11
g
|
Trans Fat:
1
g
|
Cholesterol:
100
mg
|
Sodium:
726
mg
|
Fiber:
2
g
|
Sugar:
73
g
Nutritional informations provided as a courtesy and is only an approximatation. Values will changes based on ingredients used.
⭐ Tried this recipe? Rate it ⭐
Help out the next person and give it a star rating below!