Santa is packing up the sleigh and reading for his ride. The reindeer are nibbling on their candy canes and fueling up. Elves are putting in the last go round and probably looking forward to a nice day off in their PJs. Kids are bursting at the seams in anticipation. And I for one am pumped.
This holiday season flew by. Came too quick. Rushing by without a moment to savor. I have nothing wrapped and am disappointed that I didn't find magic gifts this year that I knew would delight. But, as a client just asked me if I was set and ready for a good holiday, for the first time since holiday conversations started this year, I was able to answer yes. Because it will be good, and I am ready for it, no matter what's under the tree.
This recipe is my second round contribution to #CaptainsTable for Captain Morgan's fun campaign with food bloggers this season to raise funds for WhyHunger. I wanted to stay away from cookies and cocoa, I tried… I did… But really, what else does one make this time of year. And bribing the big man in red with a little rum can't hurt right?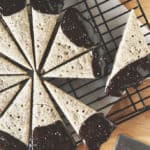 Rum-Praline Shortbread #captainstable
Ingredients
1

cup

pecan halves or pieces

1/4

cup

packed dark brown sugar

2

tbs

eggnog

2 1/4

cups

flour

1

teas coarse sea salt

1/2

teas baking powder

1

cup

butter

softened, and cut into 1/4? cubes

2/3

cup

powdered sugar

1 1/2

tbs

Captain Morgan Black Spiced Rum

1

teas vanilla extract

4

oz

semi-sweet chocolate

1

teas shortening

fleur de sel or raw sugar for sprinkling
Instructions
Preheat the oven to 350 degrees F.

Place the pecans, brown sugar, and eggnog in a baking dish. Stir to combine and coat the pecans. Bake for 20 minutes, stirring once half way through, until brown sugar sauce is starting to crystallize and pecans are sticking to pan. Turn out onto greased foil to cool completely. (may want to soak that pan immediately).

In the bowl of your food processor, pulse the pecans and 1/4 cup flour until they are finely ground. Add the remaining flour, baking powder, and salt. Pulse to combine and set aside.

In the bowl of your stand mixer, beat the butter with the paddle attachment for 30 seconds, until smooth. Beat in the powdered sugar and combine, scraping down sides as needed. Add the rum and vanilla. Gradually beat in the flour mixture until combined.

Turn the dough out onto a clean work surface and knead into a ball. Divide into 2 portions and cover with plastic wrap. Chill in fridge over night.

Let sit at room temperature for 20 minutes, until the dough is workable. Roll out on a clean work surface between two sheets of wax paper to form a disk, about 1/4? thick. Slice into portions and place on a parchment lined baking sheet. Poke holes with a fork.

Bake for 15-18 minutes, until edges are light golden brown. Carefully remove from oven and cut along the edges again. Allow to cool.

Repeat with remaining dough.

When cooled, melt the chocolate in a small saucepan with the shortening over medium-low heat until smooth. Dip the edges of the shortbread in and arrange on a wire rack to set. Sprinkle with fleur de sel or raw sugar if desired.
Recipe Notes
BGH Special Interest Christmas Cookies