Whip up a pitcher of these Grilled Peach Bourbon Cocktails and prop your feet up. It's going to be a long weekend, and you earned a little RnR.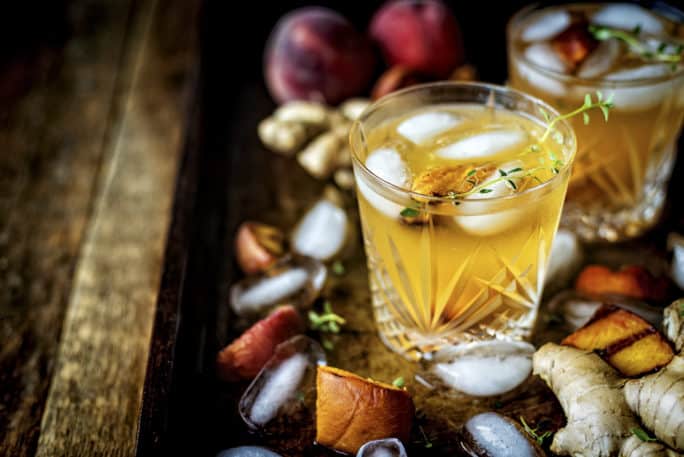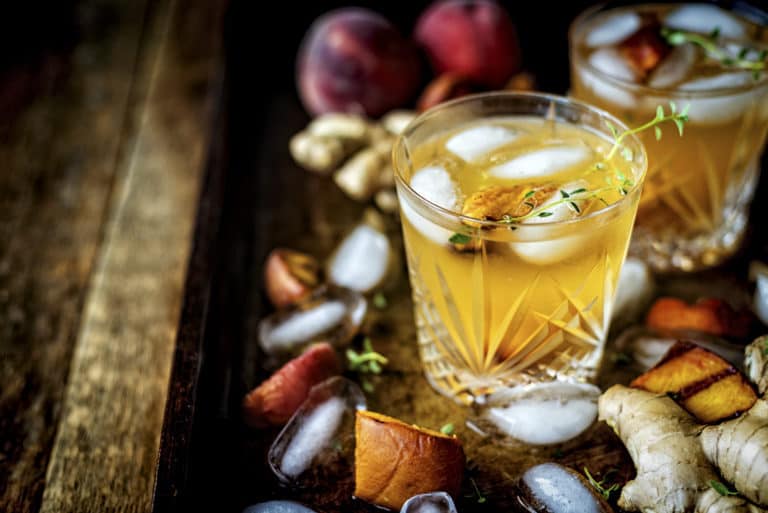 The long weekend. Ah, a much-awaited respite from the daily grind with an add on an extra day to the weekend. Which, is just what the doctor ordered.
Labor Day is snuggled right between the end of summer and the start of the back to school grind designed to give us one last glimmer of grill season pool party pour me a cold one sense of freedom before things speed up yet again. And, as we gather around the grill and share stories with our friends, we will do just that. But surviving the holiday weekend, and coming out feeling refreshed can be rough.
Though shall Imbibe.
That's right, step one, Grab a cocktail. Have a designated driver, take turns switching back and forth over the few days off, use Uber. But step one is crucial to the weekend and unwinding (even if this means choosing a pop or something as a reward should you abstain from alcohol. Have an extra ice cream cone. Do something as a treat just for you. This part may be the key to the rest of them, so start there. I mean, it's not like I don't have a full collection of sip worthy libations perfect for summertime waiting for you to taste test.
Though shall not scratch everything off the honey-do list.
Don't spend the morning of the BBQ trying to scratch every single thing from the list. No one is going to comment on the few remaining weeds or that rogue present from Rufus, and if they do, hand them another cold one and move to the next friend in the circle. Relax. No point in heading back to work Tuesday morning stressed and sore because you "worked" too much over holiday.
Though shall surround themselves with a healthy balance of friends & family.
Sure, we all love family. Aunt Sue is great. But we didn't get to pick them, and as close as we all are, that can make things tense after two or three hours of sun baked summer time attention spans running short and the third time you've heard about the great coastal road trip of 1975, how everything broke down, and the thighs were sticking to the leather seats a bit tedious to smile through. Toss some, god willing, friends in the mix. Take turns bouncing around, or sitting them down to chat. It may be the first time they are hearing about a younger slimmer Aunt Sue's thighs, who knows, they may like it.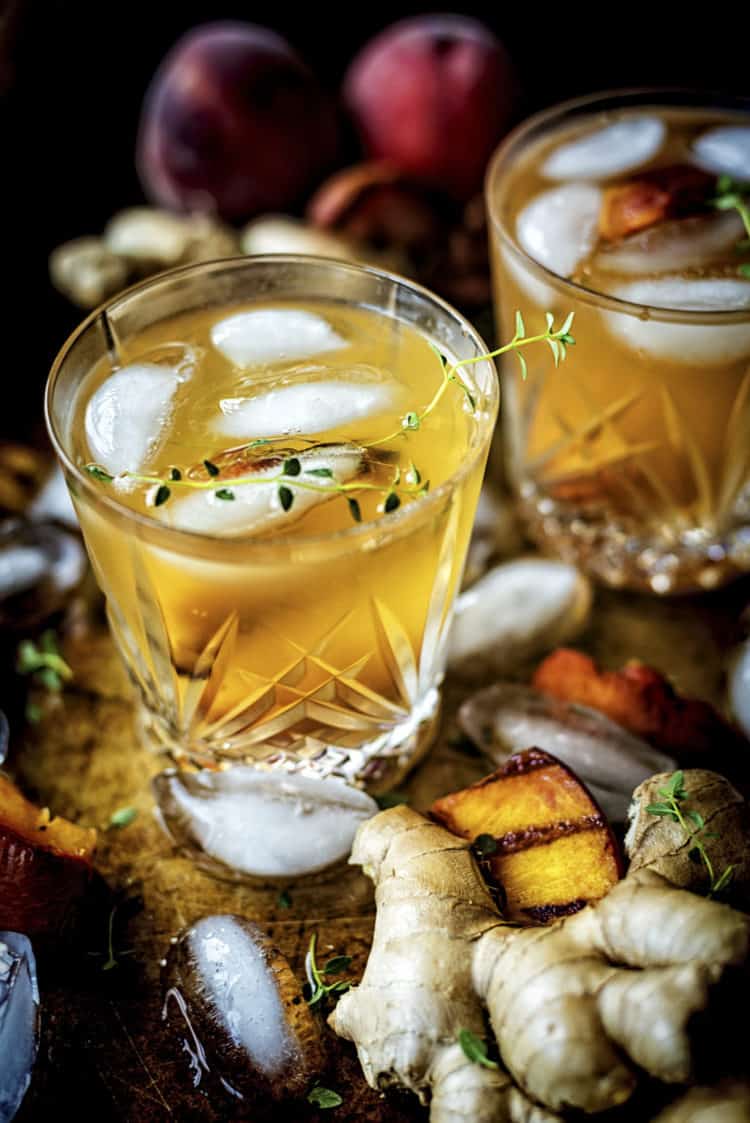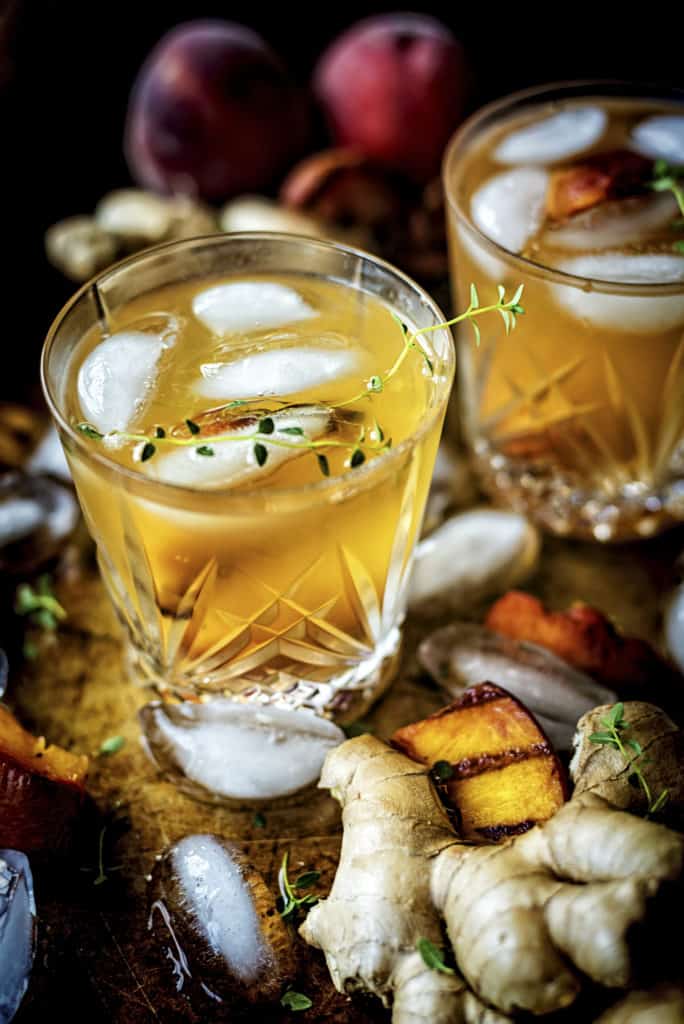 Though shall be a gracious winner or loser.
Whether it's bags, buckets, horseshoes or Go Fish this weekend, don't be the guy who gloats, runs around, and shoves his over the top palms out for high fives against the defeated five year old for the 3rd time. Sure we all love to win, and we all hate to lose, but just don't be that guy. No matter how many times you repeat step one.
Thought shall allow someone else to man the grill. At least for a little bit.
Right, so I am the grill master of my domain. I have been known to hover relentlessly over the grill/s for hours making sure that burgers, brats, and sides are coming off in waves for the crew. Which often means that I am not around the mingling and joining in on the gracious winning, imbibing, and horror stories from family vacations past. So when a willing soul steps over and offers to take a shift, say thanks, and allow it to happen. They wouldn't have offered if they didn't need the minute alone, and you need to be a part of the party too. Who knows, you may even enjoy it. Should you get this moment, be sure to start over at rule one all over again.
Work your way through this process as many times as needed to be sure that when you head back to the grind Tuesday you are ready to plow through until the next three day weekend. (Wait, when is that again?)
Now, let's make a batch of Grilled Peach Bourbon Cocktails and bring it on!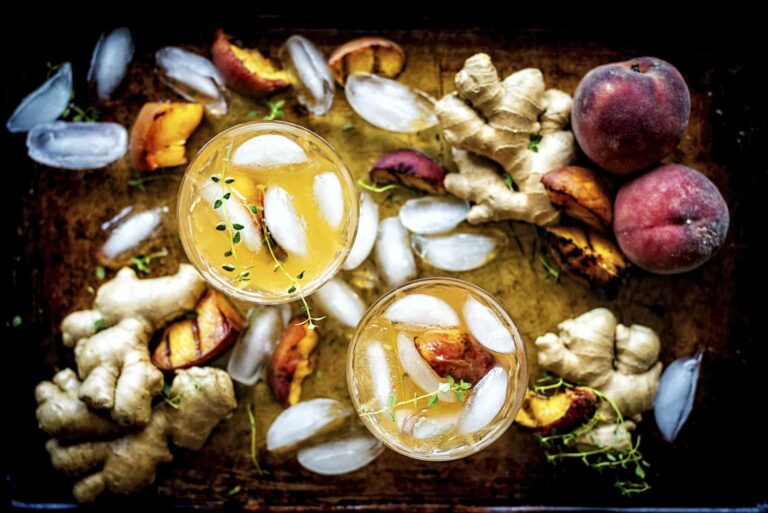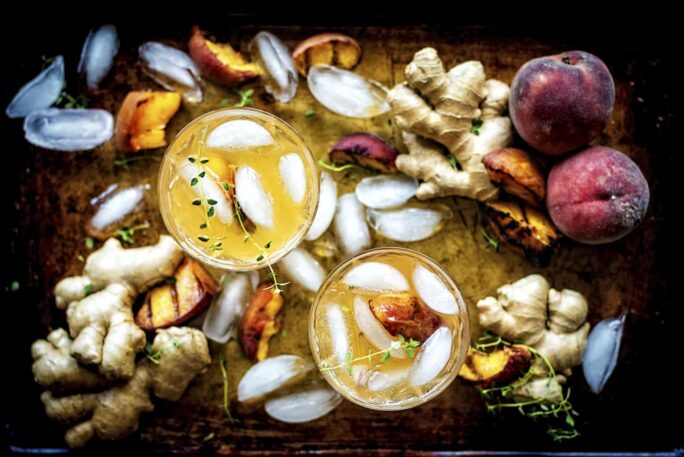 📖 Recipe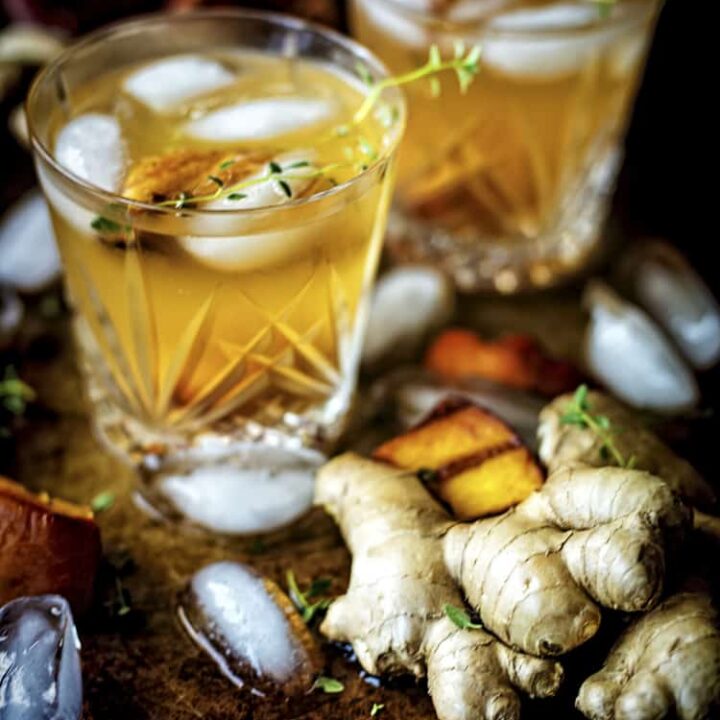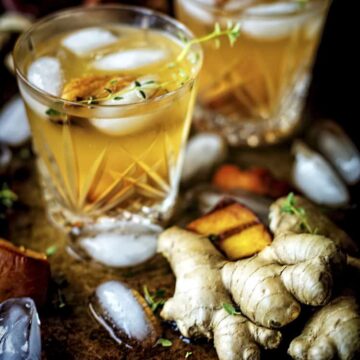 Grilled Peach Bourbon Cocktail
When it comes to peach season nothing beats this smooth bourbon cocktail! Grilled peaches, ginger, and bourbon make this your go-to summer libation!
Print
Pin
Rate
Ingredients
For the Thyme Simple Syrup
10

sprigs fresh Thyme

1

cup

Sugar

1

cup

Water
For the Grilled Peach Cocktail
3 to 4

Peaches

Non-stick cooking spray

-

for grilling

Bourbon

Thyme Simple Syrup

Ginger Peach Drink
For Garnish
1

tbs

fresh ginger

-

thinly sliced

Fresh thyme sprigs
Instructions
Make the Thyme Simple Syrup
In a heavy bottomed pot, add the sugar and water. Place the thyme in as well and heat over medium high heat until the sides just start to bubble. Reduce heat to medium, medium low if needed, and stir, until the sugar dissolves. Allow to sit for a few minutes off heat and pour into a resealable airtight jar to store. The simple syrup can be made several days ahead and stored in the fridge until ready to use.
Make the Grilled Peach Ginger Cocktails
Slice and pit the peaches. Oil your cooking grates well and prep the grill for medium high heat. Grill the peaches, until charred on all sides. Remove from heat.

If making a big batch, stir the peaches, with ice in a pitcher. Add bourbon, simple syrup, and peach and ginger drink in an 2 to 1 to 1 ratio, taste testing as needed. For a large pitcher, I would add 2 parts peach ginger drink to one part bourbon to a splash or two of the syrup, taste and adjust accordingly.

For a single glass, 2 parts bourbon, 1 part syrup, 1 part peach ginger drink over ice.

Garnish with thin slices of ginger and thyme sprigs. Sip and enjoy.
Nutrition
Serving:
1
g
|
Calories:
362
kcal
|
Carbohydrates:
87
g
|
Protein:
2
g
|
Fat:
1
g
|
Sodium:
3
mg
|
Fiber:
3
g
|
Sugar:
85
g
Nutritional informations provided as a courtesy and is only an approximatation. Values will changes based on ingredients used.
⭐ Tried this recipe? Rate it ⭐
Help out the next person and give it a star rating below!