Looking for a quick libation to add to the winter season? Ring in the winter solstice with this smooth Evergreen Cocktail, a blend of gin, Limoncello and just the right touch of mountain air.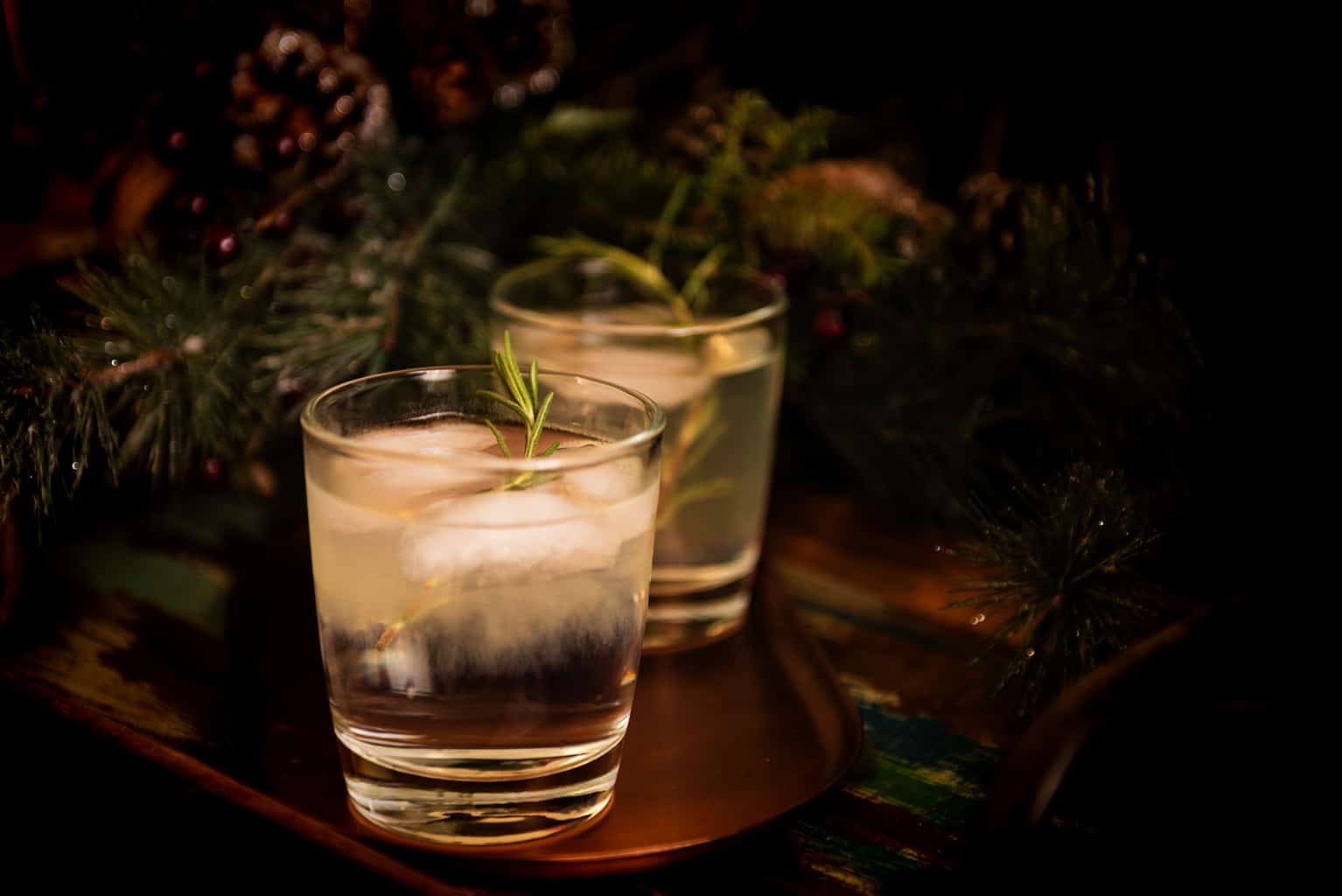 It's that time of year where everyone is getting ready to go out, to count down to the start of a new year. To party with friends and declare new goals.
Whew, this is hard. Despite the merriment bouncing off the walls, I am taking a few days to get quiet. No plans of rining in 18 in colourful or loud ways. Just a pause. A moment to sit in silence and catch a breath. Honestly, I am craving a winding trail. Somewhere far away. A walk. The smell of the crisp winter air and the sound of hiking boots hitting the frozen ground.
This year has been hard.
Hell, for me, 2017 was downright scrappy. It left me worn, stretched thin, and tired. I have been writing here since 2010, and in 2017 more than ever, I struggled with that at a crossroad for creativity. There's a fine line for bloggers of providing quick snippets and (in my case) quality recipes for the ever-growing Pinterest audience. But then there's why we start (before blogs were income generating marketing machines). There's that space we carved out for us. I lost that space. Needing the income. Wanting something more, though unsure as to what. GirlCarnivore has grown and there are stories I want to tell, both there, for American Ag and farming, and here, as I have collected memories that I need to put to paper. But maybe, this corner I carved, isn't the place. Maybe this remains the quick snippets and food, and I start something new. A new home for great adventure and lost tails. A place to go far, and get lost.
So, as I bounced around the country, trying to keep my footing with my hound dog and two bikes strapped tightly to a two-door coupe, I kept things rolling as best I could. Using Instagram to showcase images and to limit my words. Somewhere, this place became less of talking about the random nuance of life, daily musings, sarcasm and adventures, to curating what I think the reader wants, all for clicks.
As I sit and concentrate on 2018, from a fresh place, with that hound dog and those bikes, I am grateful for the year I had. I spent it bouncing across the country, chasing a big crazy wild dream. Meeting amazing people. Seeing that even without everything you think you need, if you know what you want, it can be done. Not saying it's easy (Ignore that my Instagram chronicles strive to make it that way).... But, the honest hard-earned reminder that anything can be done if you are willing to put the work in.
There is something about winter that revitalizes.
The forced pause in forward momentum because of a snowstorm or frigid temps. The cold snap of air kissing your cheeks, the way it smells, fresh and clean, the clarity of the night skies illuminating the stars. I am itching for new adventures. This last year closed a chapter and opened many new ones. Now, more than ever, I need to give myself the grace to chase them. To pursue them at all costs and to turn doubt to kindling, to continue to fuel that wanderlust into something magic. We only get this once,
Why not at least fail forward?
Sometimes, it takes getting knocked on your ass and a fresh restart to realize something we all knew as children. Falling doesn't hurt as much as we fear it. Get back up. Do it again. And again.
Now, for those of you just here for the Evergreen Cocktail Recipe or those who read (thank you) and are still scrolling onward, cheers. May 2018 bring you more magic than ever.
The Evergreen Cocktail
The Evergreen Cocktail was inspired by a cocktail I enjoyed on my Girls Weekend to Ski Solitude Resort in Utah. Not only was it a perfect summer getaway (though, I'd love to head back and try out my skiing skills), the food and cocktails were killer! Seriously, just far enough away from Park City, with beautiful slopes and amazing views - you have to check it out if you are itching to get outside and play.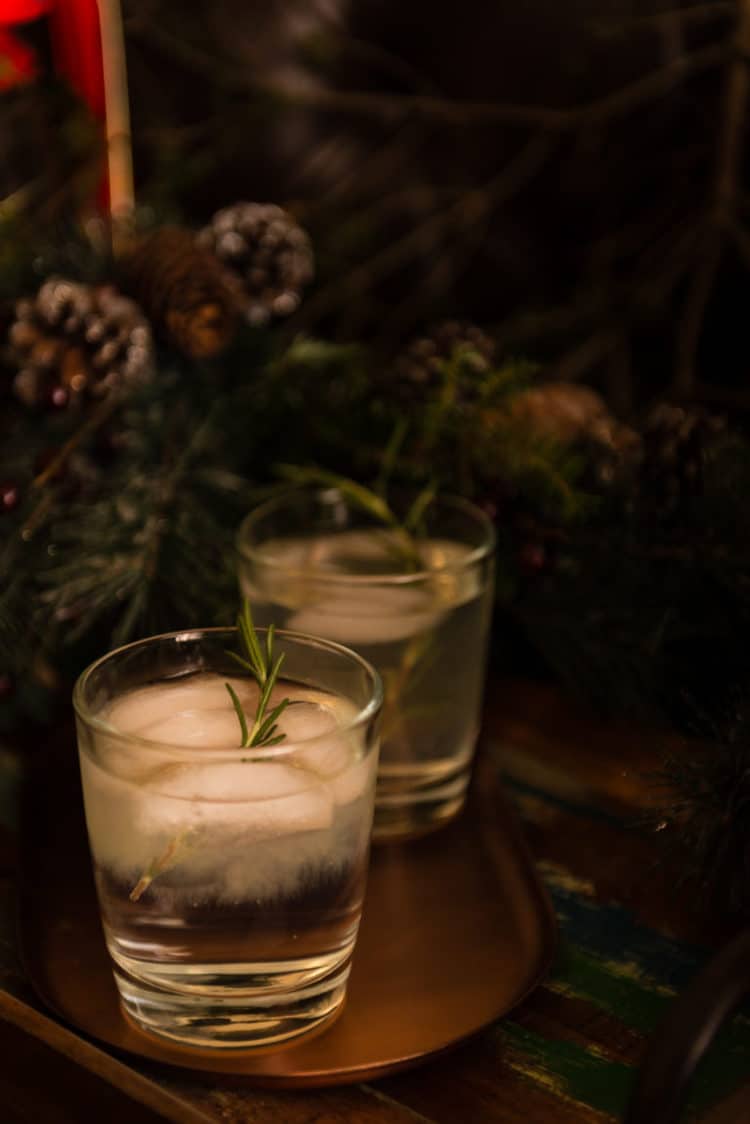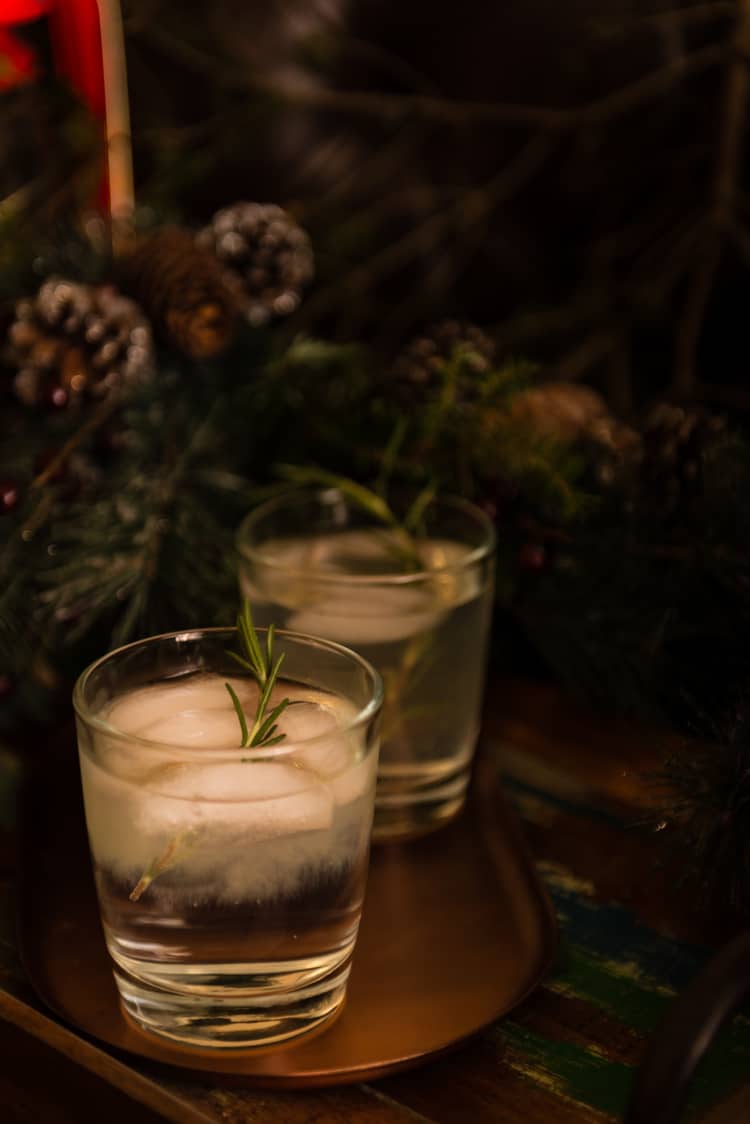 If you've tried my Evergreen Cocktail recipe, or any other recipe on passthesushi.com please don't forget to rate the recipe and let me know where you found it in the comments below, I love hearing from you! You can also follow along for more good eats and travel tips on Instagram @passthesushi & @girlcarnivore, Twitter & Facebook.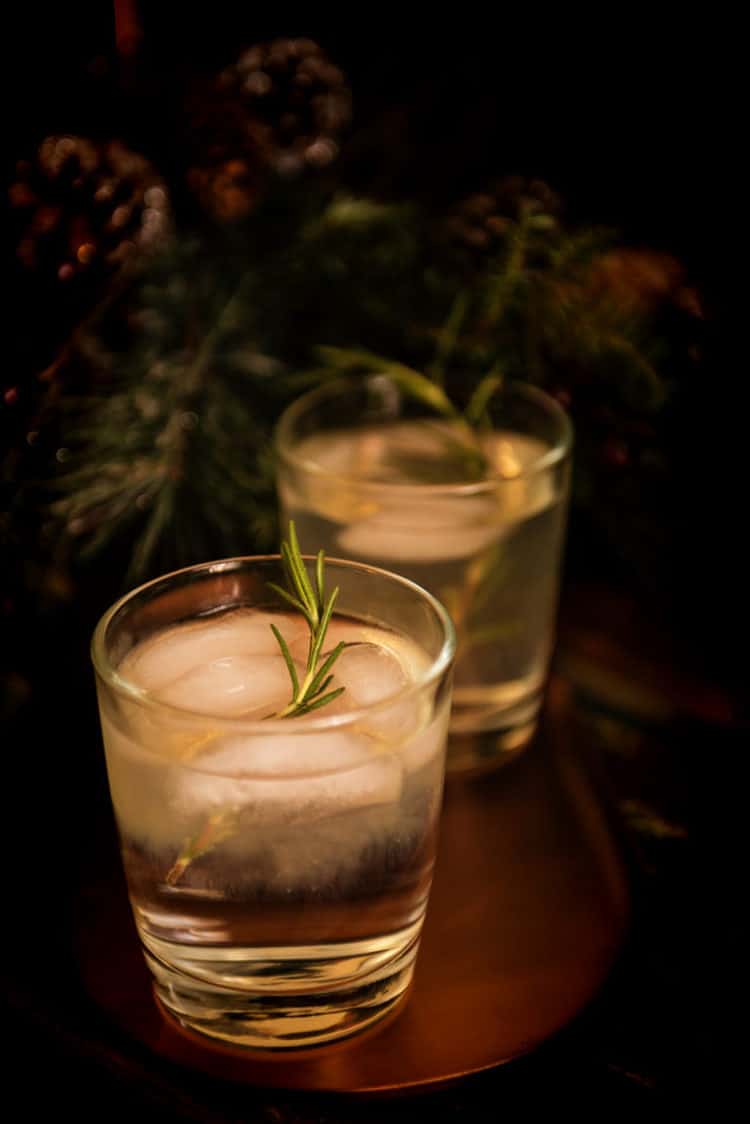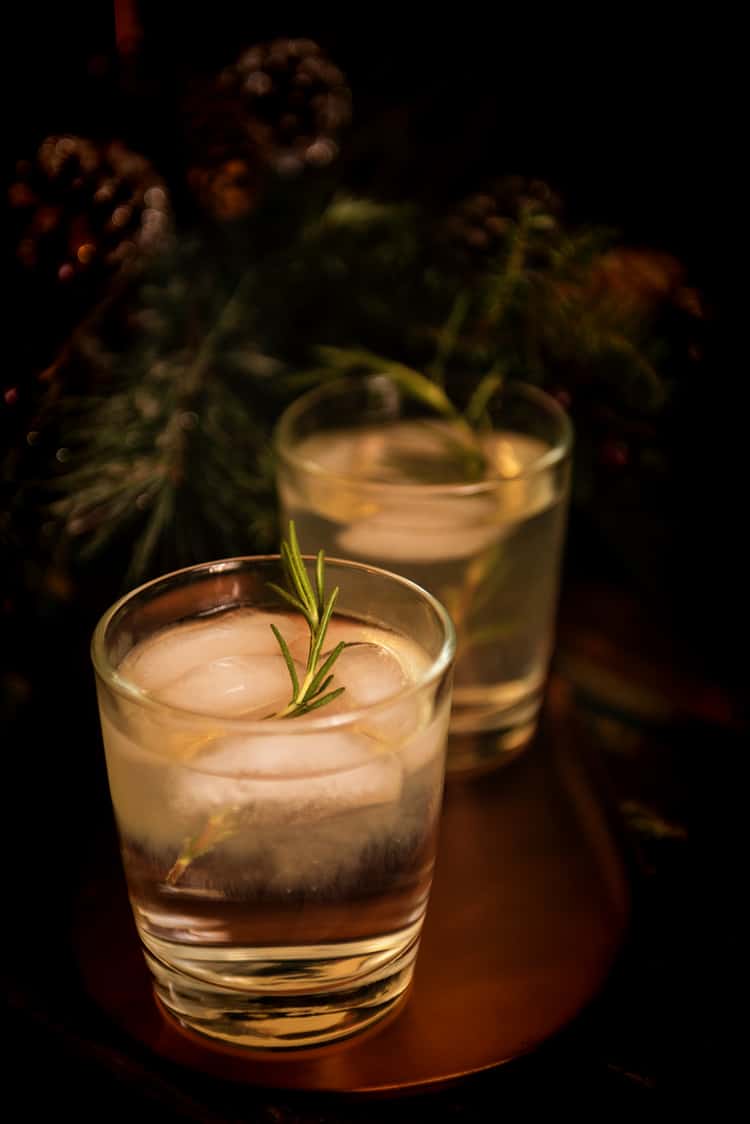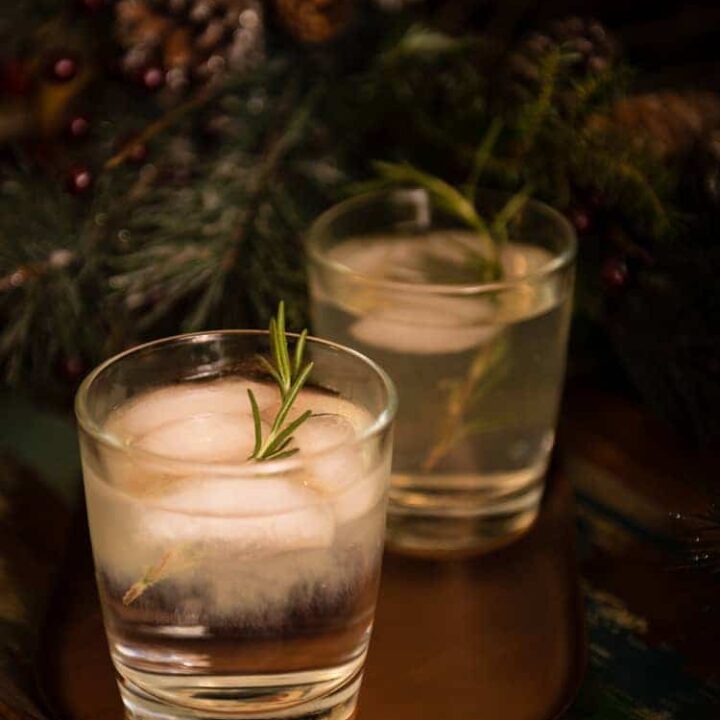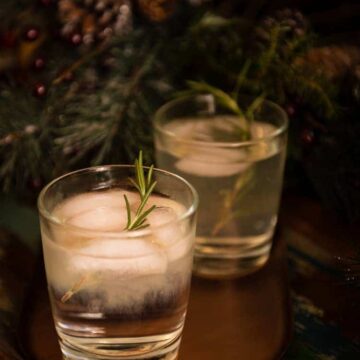 Ingredients
For the Pine Simple Syrup
2

sprigs fresh pine breaches - snipped about 5 o 6" long

1

cup

water

1

cup

sugar
For the Cocktail
Ice

2.5

oz

Gin

1

oz

Pine Simple Syrup

1

oz

Limoncello

Pine sprigs for garnish
Instructions
For the Pine Syrup
In a heavy bottomed pot over medium heat, add the sugar and water. Stir until the sugar dissolves. 

Remove from heat and add the pine sprigs. 

Let the mixture infuse for 20 minutes. Remove the pine sprigs and store in a glass jar until ready to use for up to 4 days.
For the Cocktail
Add ice to highball glasses.

Shake the gin and pine simple syrup in a cocktail shaker over ice.

Strain into a glass.

Carefully pour the Limoncello on top of each. It will sit as it's own layer until stirred.

Serve with a simple pine sprig or rosemary for garnish.

Toast and enjoy
Nutrition
Calories:
342
kcal
|
Carbohydrates:
31
g
|
Sodium:
29
mg
|
Sugar:
31
g
Nutritional informations provided as a courtesy and is only an approximatation. Values will changes based on ingredients used.
⭐ Tried this recipe? Rate it ⭐
Help out the next person and give it a star rating below!