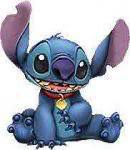 Lets all say Aloha! Have your own luau with hula stirts and flower leis while you gather the family around the supper table. Tonights "set it and forget it" dinner is inspired by the flavors of Hawaii and my favorite Disney movie, Lilo and Stitch. Mom and Dad can tuck away some hidden flavor of pineapple and teriyaki while this pork shoulder slow cooks all day and is fork tender and ready to shred just in time for a little family moment. After all, that's what this is all about! Ohana.
I was probably too old to have the obsession with Lilo and Stitch that I did, but something about that movie connected with me right away. Lilo is quarky in all the right ways and the moment Stitch says he's lost, I lost it. You can probably catch me quoting some of my favorite lines on any given day and often sneaking a watch when I know no one else will be home.

Hawaiian Pulled Pork Sandwiches
from FoodNetwork.com 
Ingredients:
1 tablespoon paprika
1 teaspoon fresh ground pepper
1 teas salt
3 1/2 pounds pork shoulder
1/2 cup teriyaki sauce
1/2 cup chicken broth
1/2 cup brown sugar
1/4 cup soy sauce
1 cup chili sauce
1 (6-ounce) can pineapple juice
1 medium onion, chopped
2 carrots, chopped
8 hamburger rolls
Hawaiian Sauce:
2 tbs canola oil
1 teas ginger, chopped
2 teas garlic, chopped
Preparation:
Sprinkle the pork with salt, pepper, and paprika.
In a bowl whisk together the teriyaki, chicken broth, brown sugar, soy sauce, chili sauce and pineapple juice. Set aside.
Put the chopped onions and carrots in a 5-quart slow cooker. Place the pork on top of the carrots and onions and pour half of the pineapple juice mixture over pork. Reserve remainder for Hawaiian sauce. Cover and cook on low for 7 to 8 hours until the pork is easily shred with a fork.
Meanwhile, make the Hawaiian sauce: Heat the oil over medium heat in a medium saucepan. Add garlic and ginger and saute until soft, about 2 minutes. Add the remaining pineapple juice mixture, bring to a boil, then reduce heat and simmer for 10 minutes. Remove from heat and set aside.
Serve the shredded pork on rolls drizzled with the Hawaiian sauce or on the side for dipping.
I served this with a pineapple spiked cole slaw. Leftover pork makes fantastic quesadillas or is an added bonus mixed in leftover macaroni and cheese.