Quesadillas, stuffed with roasted pork, black beans, cheese and rice. It's a quick, inexpensive dinner that keeps you full. Emphasis on inexpensive. Because not much else is cheap these days.
Let's talk politics. Ok, I don't really have a great debate prepared here, really, I am a little disappointed in something.
I went and applied for college the other day (yes, that's long over due) and found out I could not get accepted into the program I would like without a health care plan. At the last Google check, approximately 40% of Americans don't have health coverage. I am a young healthy person. I work at a small shop that can not afford to offer health care for their employees, it would simply cost the business too much (there are only 4 of us).
I also, don't make enough and am relatively healthy enough to justify the cost of having health care. Now, I don't believe that means that I get to sit in the ER and not pay my medical bills when I do occasionally get sick. I bear the brunt and pony up the cash, but $80 for an office visit and antibiotic is much less then $100+ every month for a just in case. When it does become mandatory for individuals to have health insurance, I hope I can find a cheap plan that takes care of me, but I wasn't planning on that quite yet.
I can understand that the school would want their students to have health care for general safety reasons, but that isn't going to stop anyone from suing if they fall down a flight of stairs because they tripped over a loose wire or something. So I guess I don't really understand why health care is a prerequisite for being accepted. 🙁
Either way, I need to get my crap together and get my booty into school.
Back to cooking… What does one do with 4 pounds of leftover pork loin, besides make a whole lot of sandwiches?
One makes pork quesadillas, of course!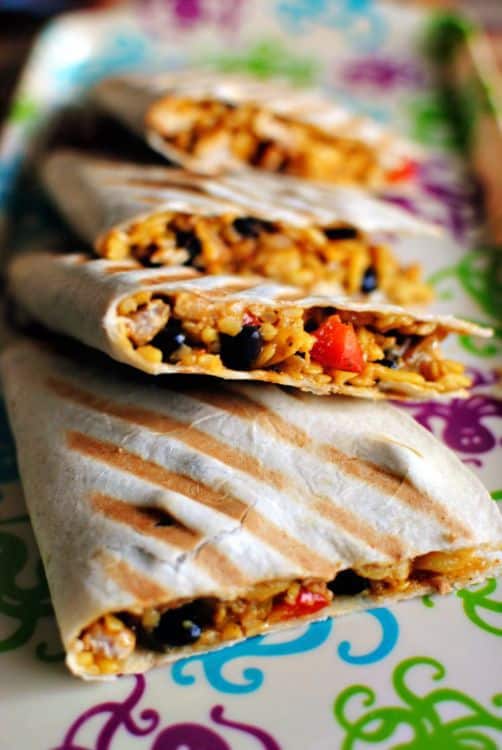 Pork and Rice Quesadillas
adapted from Robin Miller at foodnetwork.com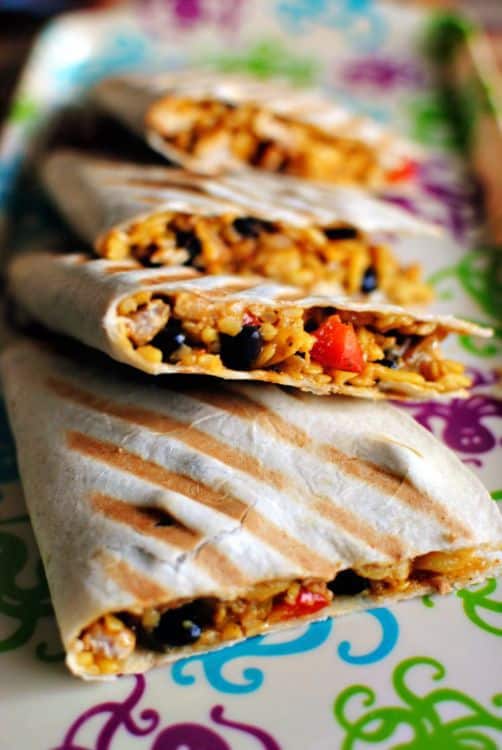 Ingredients:
Cooking spray
1 cup instant rice, cooked according to package directions
2 cups diced roasted pork loin
3 tbs olive oil
1/2 yellow onion
1 lrg bell pepper
1 teas cumin
1/4 teas rep pepper flakes
1/2 teas dried oregano
salt and pepper to taste
1 (15-ounce) can black beans, drained
1/2 cup bbq sauce
1 tbs Worcestershire sauce
1 cup shredded Monterey Jack cheese
6 burrito-size flour tortillas, regular or flavored
Preparation:
Coat a stove-top griddle with cooking spray and set over medium-high heat to preheat.
Heat oil in a large skillet, saute pepper and onion for 5 minutes. Add cumin through salt and pepper.
In a large bowl, combine rice, pork, onion, peppers, beans, cheese, and tomatoes. Mix well to combine.
Arrange tortillas on a flat surface. Top 1 side of the tortillas with pork mixture. Fold the other side over to cover filling. Transfer quesadillas to hot pan and cook 2 to 3 minutes per side, until golden brown and cheese melts. Serve with sour cream and salsa.

These quesadillas were awesomely tasty! I almost didn't make it because I was feeling lazy and unmotivated, but I am glad I did. Super simple, super quick and a great use of leftovers.
Plus it's one of those customize-to-fit-your-needs kind of recipes. See we all win!
P.S. I love my octopus plate. 😀