Pork stir fry is a common, easy, weeknight meal, but this recipe kicks it up with the addition of a spicy black pepper sauce.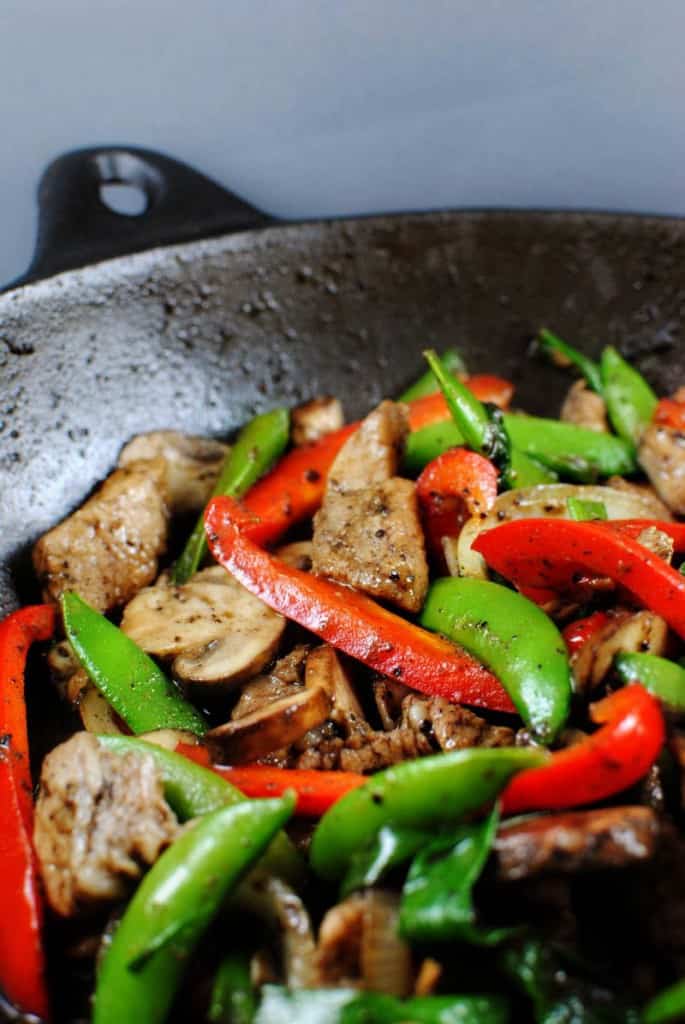 My last trip to Trader Joe's brought home several new jarred sauces that I have been really anxious to try. The ingredients on the back had me excited things were more healthy then other jarred options and the flavors on the labels seemed promising.
Often, I'm not a fan of pre-made options (we all know homemade just tastes better) but some nights having shortcuts lined up in the pantry is just what you need – especially if you hide them next to the strong liquor. 🙂
Inspired by a post that in hindsight looks nothing like what I have created here (really I have got to start reading things more thoroughly) and the sauce tucked way in the back of the pantry, I set out to make a pork stir fry.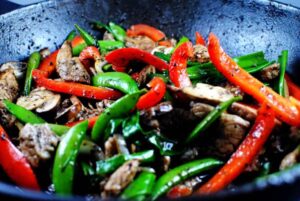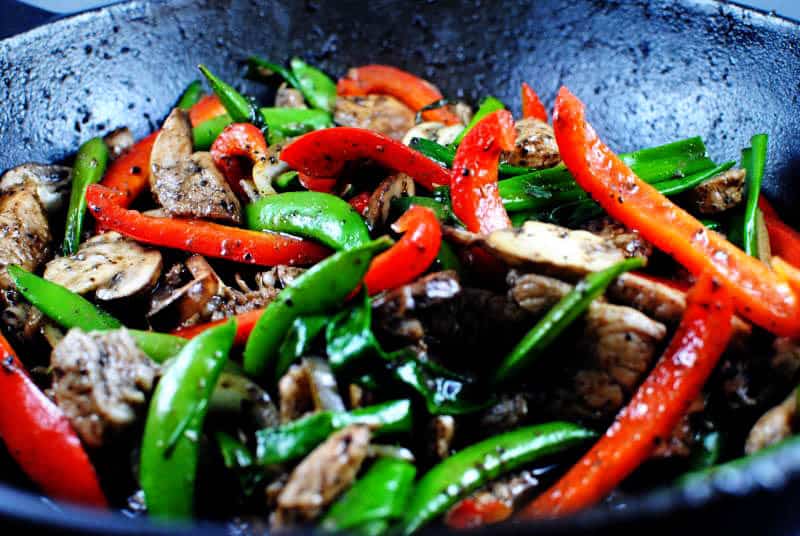 Black Pepper Pork Stir Fry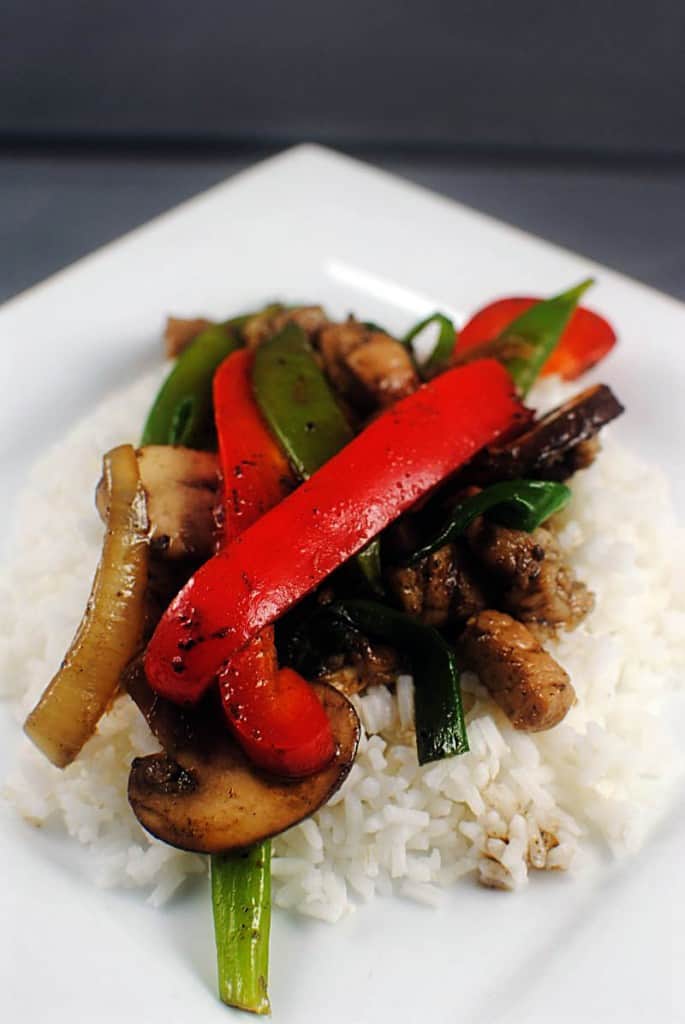 A la me
Ingredients:
1 lb pork loin diced into even sized cubes
1 cup Thai black pepper sauce, divided
3 cloves garlic, minced
3 tbs olive oil
1 red pepper, sliced
1 cup mushrooms, sliced
1 cup snap peas
5 scallions, chopped
Preparation:
Marinate diced pork in 1/2 cup black pepper sauce for at least 30 minutes before cooking.
Heat oil in wok over medium high heat. add garlic and pork. Stirring the pork constantly, saute in wok for 7 to 10 minutes or until cooked through. Remove pork from wok and keep warm.
Add peppers to wok and sautee 2 minutes. Add mushrooms and snap peas. Saute 3 minutes or to your desired crispness.
Return pork to wok and pour in the rest of the rest of the black pepper sauce. Coat evenly.
Add scallions and toss. Remove from heat and serve over rice.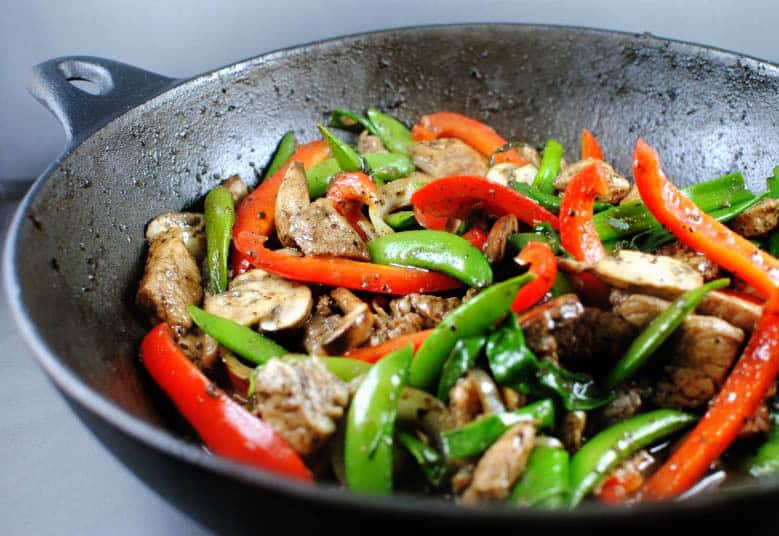 My initial response to the black pepper sauce (never having one like it before) was that the dish really needed something more. It was 'black peppery' alright, and that was about it. It really had no flavor over the rice and was overall a pretty mild sauce. I wish I had added some fresh herbs (cilantro or basil) to make things pop a little but, didn't think of it until everything was in the wok. However, this pork stir fry would be a great meal for someone just getting into Asian foods. Its quick, colorful and on the table in no time.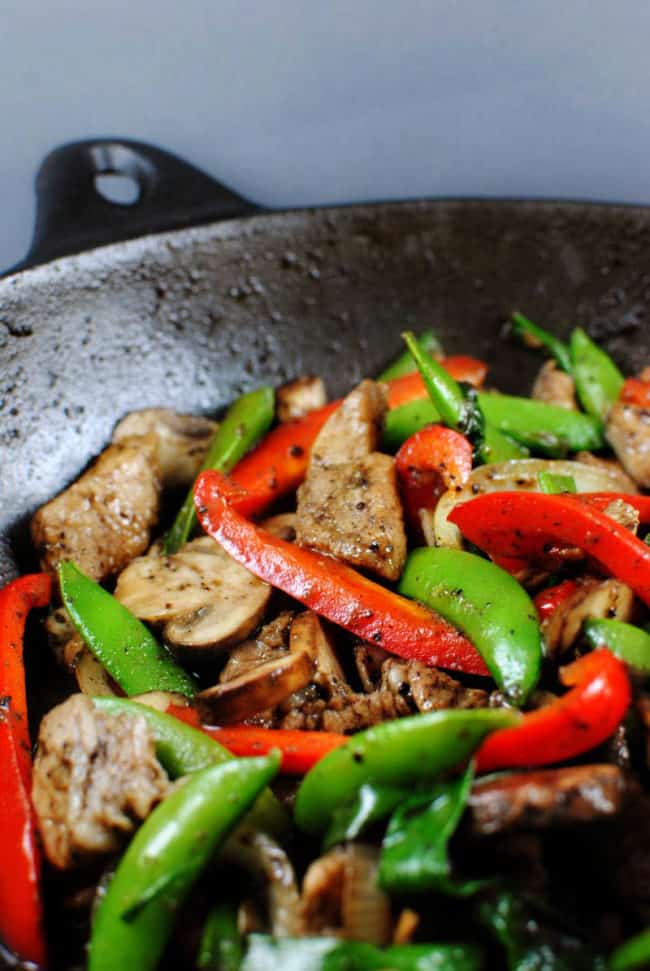 I've already tried the Trader Joe's enchilada sauce and it was good. The best part being that the bottle had more sauce then I normally am able to get out of a small can and I was excited for the extra. The flavor was smokey and great. We love enchiladas in this house and I can't wait to make them again.
I have a green curry and red Thai sauce sitting in the pantry for the next few jarred experiences.