Baked fish is a healthy choice for lunch or dinner. Lemon and fresh parsley give this baked fish dinner a huge burst of flavor.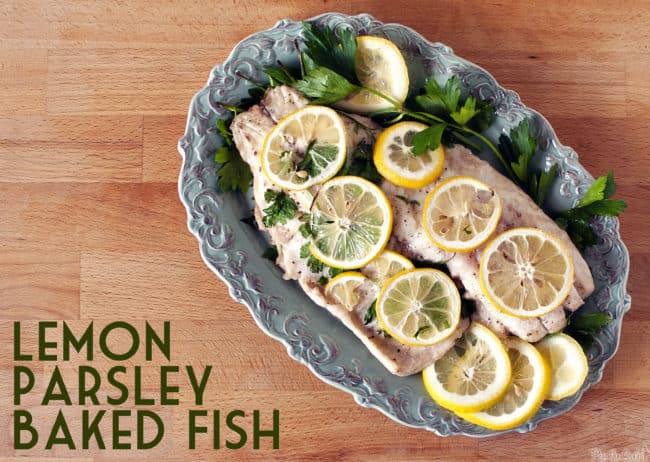 Every now and then Handsome and I get dressed up and go out for a few drinks and nice meal. I'm sure we're not the only people who like a little time away from reality to just pretend that we can be on a date and not worry about the stress of life. We don't go out to places that cost hundreds of dollars, that would just be crazy, but we do go to a few restaurants that my father would have made me dress well for as a little girl.
Sad thing is, people don't dress up much anymore. I look around and I see people in caps, camouflage and sweat pants, children crying, and cell phones being played with. Now, I'm not talking a dash out to Applebee's on a busy week night, but rather, a restaurant that took a lot of time and care in the ambiance and menu. When I'm there I want to get away, even if it's just for a few hours.
And yet the constant hum of electronics and screams of ignored children go undressed. The last time we were out our favorite place, a party of 15 (a bill that would be upwards of $1500 at this particular place) were there for what appeared to be an office party. All except for the woman in sweat pants, the sleeves cut off of her ridiculously sized shirt and her black sports bra (and not so shapely body) were hanging all out there.
Am I old fashioned in thinking some places should still require a dress code? That if your children are running about and screaming you should be asked to quiet them? Or that if you walk in stone cold drunk, loud and obnoxious (at 6:30 PM) you should not be served? (True story, that one almost caused a bar fight for the entire restaurant). I think Olive Garden and Applebee's type chains are one thing. They are family restaurants, but at places where you are breaking out more than a Benjamin, shouldn't there still be some class? Most of the time, I can cook what's on the menu for far less than the price I am agreeing to pay. It's the luxury of being waited on, the environment, and the choice of not having to cook that I am there for. In today's world, are my expectations too high?
While you chew on that thought (or just get ticked off at me for my outrageous expectations), check out this stellar lemon parsley baked fish dish.
It is minimal effort and sure to impress. With meals like these, who knows? Maybe I'll just keep making baked fish and martinis at home, saving myself some cash in the process.

Lemon Parsley Baked Fish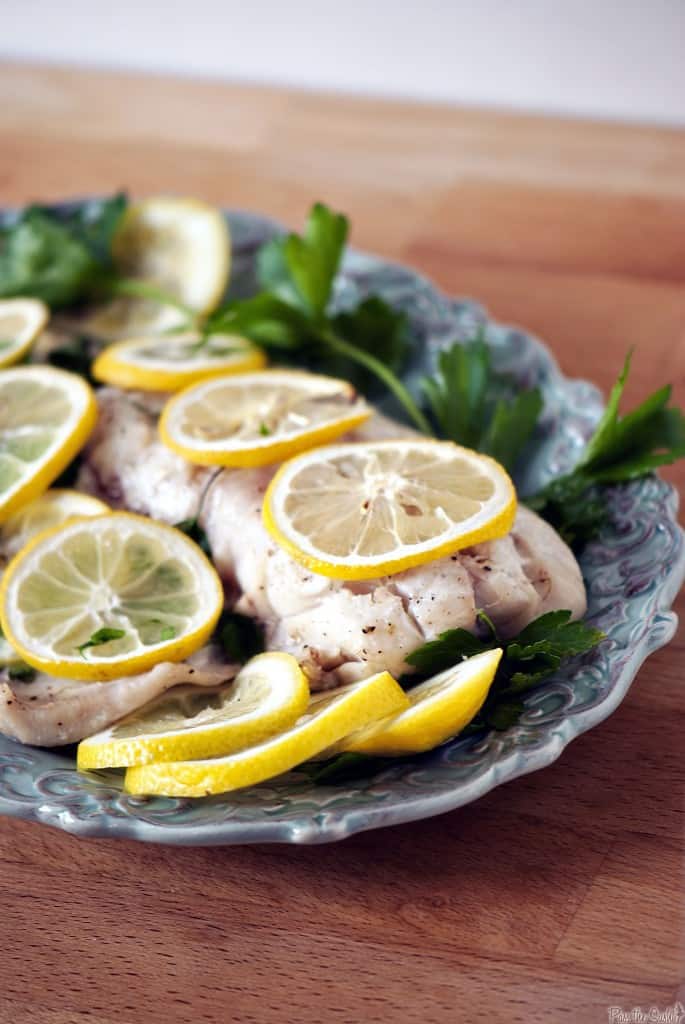 This is a super easy and clean way to serve fresh fish. 
Ingredients:
1 fresh white fish filet, I used bass
1 lemon
1 bunch flat leaf parsley
Salt and pepper
Preparation:
Preheat oven to 375 degrees F.
Line a baking sheet with aluminum foil. Place an extra layer of foil over the top, that is long enough to be folded in half. Line the foil with lemon slices and parley. Lay the fillet over the lemon and parlsey and seal by wrapping the aluminum foil around it.
Bake for 15-20 minutes, depending on the thickness of your filet, until the fish flakes with a fork easily.
Serve with additional parsley and lemon wedges. Enjoy!