Pilgrim sandwich: A compilation of Thanksgiving leftovers, tucked inside of a hearty roll. It's the perfect day-after-Thanksgiving lunch!
The best part about Thanksgiving? The leftovers, duh!
For as long as I can remember, a local sub shop has offered a sandwich all year round that is a carb-oholic's dream come true. The sandwich starts with a beautiful thick hoagie roll overflowing with stuffing, turkey, cranberries and a slather of mayo. It's the kind of sandwich that requires a long nap or a marathon immediately afterwards.  The kind of sandwich I only allow myself to order maybe once a year. It's the kind of sandwich that give's angels wings.
Oh yeah, it's that good.
So, you can imagine how elated I am to stock up on ziplock containers and bring the mountains of Thanksgiving leftovers home and sink my teeth into one of these bad boys.

Pilgrim Sandwich
From Rachel Ray Magazine October 2011
Ingredients:
3 store bought corn muffins, crumbled or diced
1 tbs extra-virgin olive oil
3 tbs butter
1 mcintosh, honey crisp or gala apple, chopped
1 small onion, finely chopped
2 ribs celery from the heart with leafy tops, chopped
Salt and Pepper
Small handful flat-leaf parsley, finely chopped
2 tsp poultry seasoning
few springs of thyme, finely chopped
1-1 1/2 cups chicken stock
1 cup whole-berry cranberry sauce
1/2 cup vegan or regular mayo
4 crusty hoagie or ciabatta rolls, split
1 1/2 lbs fresh thick sliced roast turkey
1 lb sliced sharp white cheddar cheese
Thinly sliced red onion and sliced cornichons for topping
Preparation:
Position a rack in the middle of the oven and preheat the broiler. Brown the corn muffin pieces on a baking sheet, tossing once, for about 5 minutes.
In a large skillet, heat the olive oil, 1 turn of the pan, over medium-high heat; melt in the butter. Add the apple, onion, and celery; season with salt and pepper. Cook until crisp-tender, about 5 minutes. Add the muffin pieces, parsley, poultry seasoning and thyme. Moisten with the chicken stock to your liking, 1 to 1 1/2 cups. Turn off the heat.
Mix the cranberry sauce with the mayo and slather it on roll tops. Assemble the sandwiches on the roll bottoms with cornbread stuffing, sliced turkey and cheese. Broil to melt the cheese. Top with the onion, cornichons and roll tops.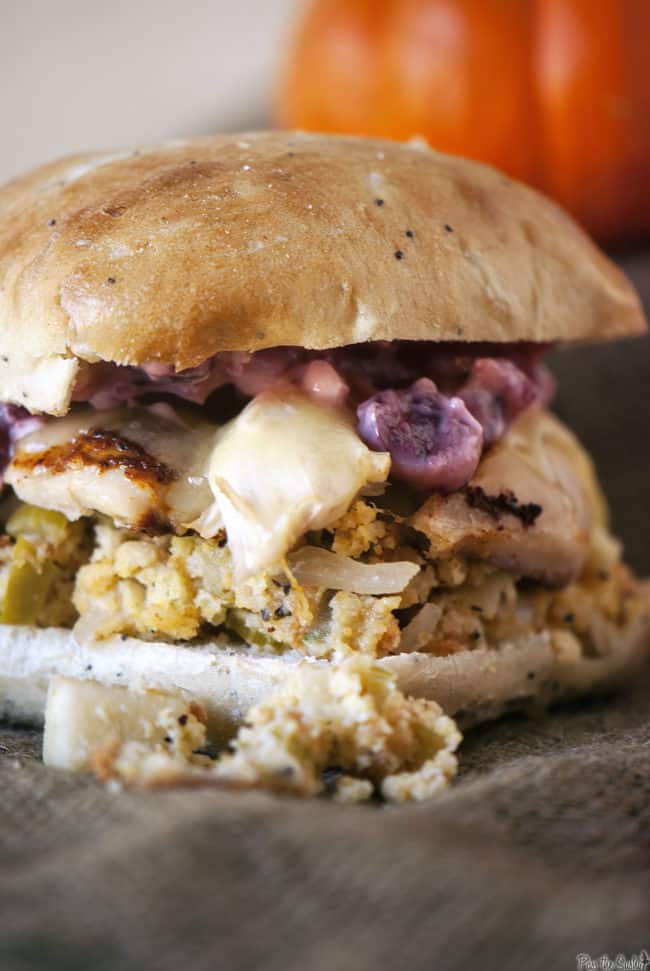 In case you're wondering, I say skip the above steps and use up that fridge full of leftovers!