The great cheese steak debate continues this week, in my home state of Delaware, where two small shops go head to head. You won't find me driving to Philly for just a cheese steak, I have hoagie shops here I like to visit. I have never tried either of these shops out, but after three weeks of this, I am really craving a cheese steak!  Let's see what the guys thought about these local favorites.
**The following text is not Kita from Pass the Sushi, but rather Chris and Sean the two guys in charge of this weekly cheese steak debate.**
Play by the rules:

When giving a choose at ordering we will stick with either "Wiz wit"or "American Wit" (no other condiments)
We will only consume water during the eating process
We must visit the head to head competing shops during the same visit.
When at all possible we will eat at the original shop of a franchise restaurant
NO TAKE OUT- we must eat at the shop
We can not be drunk while participating in the challenge
Cheese Steak Contender #1
Ioannoni's Bullroasters 624 E. Basin Rd New Castle, De 19720 302-322-5000
Back to Delaware for another round on the road to cheese steak excellence. I was excited about this round, Ioannoni's is a place that I eat often, however I have only had a cheese steak there on one occasion. Silview came highly recommended by our Facebook friends, but I had never eaten there. When we entered Ioannoni's we were met with a friendly staff, smiling from behind a glass counter where a large roast beef was setting just waiting to be carved. I have to admit, I was briefly distracted from our objective, but as soon as the cashier asked me "what can I get you?", I snapped back to our mission. We placed our order and sat down in the eat in area, it was Sunday at 11 am and the store had just opened.

Chris and I speculated how this day's competition would go. Our expectations were high. We were sure Ioannoni's would deliver a good steak. They are known for their roast beef and pork sandwiches. Chris and I had been here numerous times and have never been disappointed. We were also excited to try Silview since neither of us had ever been there. A short time later, a guy from behind the counter yelled "here ya go Sean" and we knew that it was game on. The sandwich looked great, plenty of meat, cheese melted in and onions mixed in nicely.
At first bite, Chris and I both nodded our heads in approval, I was going to enjoy this. As we ate, we both  complimented the sandwich on its great taste, the meat flavor was spot on, and the cheese and onions were just right. There was one small issue, the roll was good, but a little bit on the flat side. When you bit into the roll, it just went flat on you. It seemed to taste different than the rolls I was used to eating here. I asked the guy behind the counter and he explained to us that their normal bread guy does not deliver on Sundays, so they are forced to use a different roll. It was still a great sandwich, but next time we return I hope we go on another day to try this steak on a really good roll.

Cheese Steak Contender #2
Silview Sub Shop 800 W Newport Pike Wilmington, DE 19804
A call to cheese steak arms went out over our facebook pages. One person posted about Silview Sub Shop in Newport. Now, one of the joys of this challenge is trying new cheese steak shops that I might not have either heard of or would've taken the time to stop and eat at, and a chance to get lesser known cheese steak shops their time in the spot light. Neither I nor Sean has heard of Silview prior to this challenge, but I like a good Cinderella story just as much as the next person. So Silview was entered into the challenge.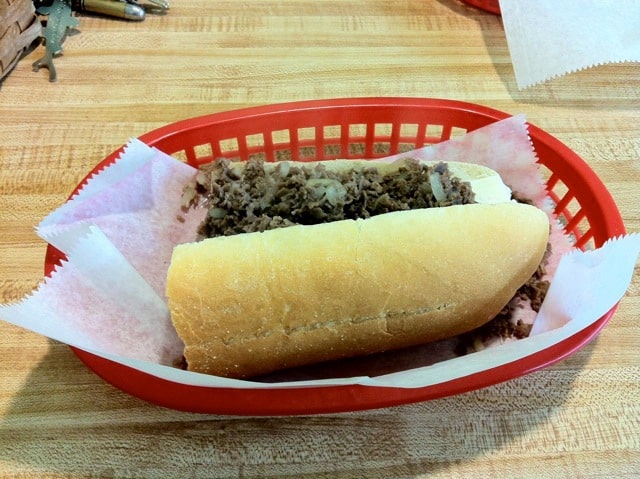 When we entered the shop we weren't greeted with a sense of friendliness like we were at Ioannoni's. They had three people working (it was a Sunday) – one person taking the orders, one cook, and one person fixing a broken cook top. Sean eagerly ordered a cheese steak with American cheese and onions while I set up shop in one of the red booths to get a good vantage point on the steak being cooked.
The steak was made to order so it took about 10 minutes to reach our table. The steak came and I looked at it with a little bit of a bewildered expression. Sean of course chimed in immediately saying what I was thinking.
"That's very interesting what they have done with the cheese?"
The onions were sauteed on the grill and the steak was chopped and then the onions got mixed in with the steak. However for some odd reason, the cook didn't feel it was "necessary" to add the cheese in with the steak at any point of the cooking process. The cheese (which was sliced in your typical deli cut) was cut in half and placed onto the roll cold. When the steak and onions were finished cooking, they were then placed onto the cheese which was already on the  roll.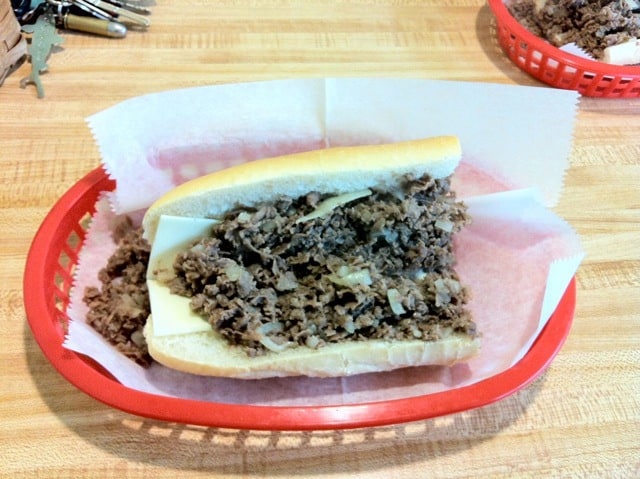 Upon the first bite I knew immediately that this sandwich was not in the same league as Ioannoni's. It was a very one  dimensional cheese steak. The steak itself had a very static almost sour taste; the onions were just there being less then inspiring and the cheese was cold and un-melted. The roll looked OK, (not by far the best I've seen down this  cheese steak road) but was thin and full of air and added nothing to the sandwich but a barrier to the meat.  Unfortunately this trip did not provide the glass roll to our Cinderella story.
~Chris and Sean