Grilled swordfish steaks are easy to make and delicious, too. They look fancy, but they are a no-fuss, flavorful, healthy dinner.
Ever wonder about who should pay on the first date? With more and more people meeting on the internet, I read an interesting article on Chow the other day, about first dates and the bill. Now, I'm funny about the tab. Actually, I pretty much have to really dislike you to not offer to help out with the bill on the first date. That being said, I think a gentleman should insist on paying on the first date, no matter what I offer, but allow lenience if there is a second date.
I'm weird about money and won't allow myself an extra drink or anything that may look a little extra on the menu if I know someone else is paying.
It wasn't until I met and moved in with Handsome that the bill always just seemed to default to him. Do I think it's right? Nope. But he makes more than me, and has a budget that can afford it. I do 99% of the grocery shopping, so there is my contribution to our food. And, I can assertively say, we eat quite well.
So what do you think? Who pays on date numero uno?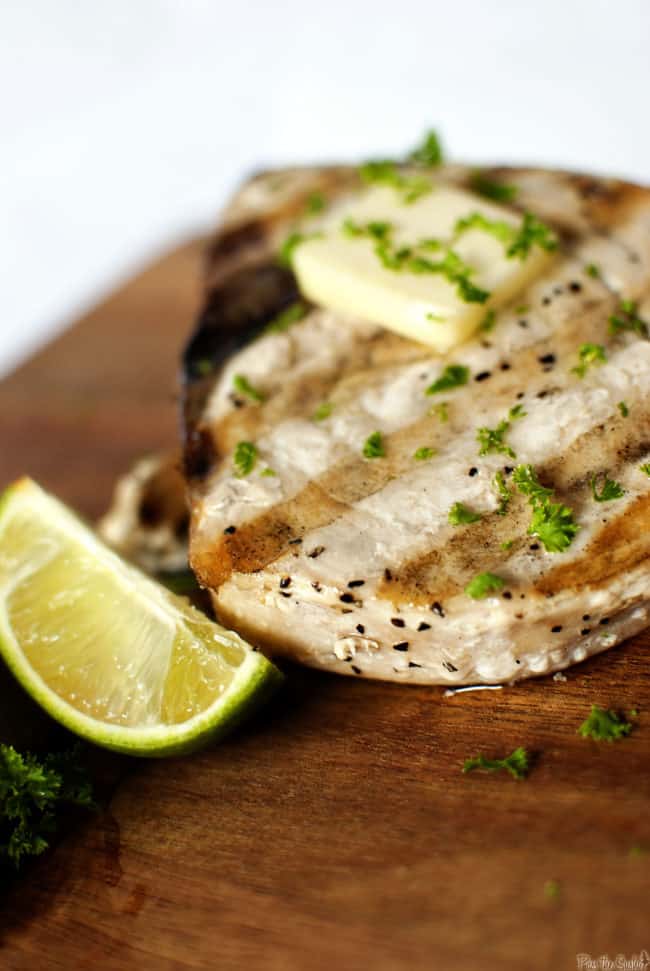 Either way, grilled swordfish steaks are a great showstopper for if you make it to round two. All the look of a fancy meal and none of the fuss.

Grilled Swordfish Steaks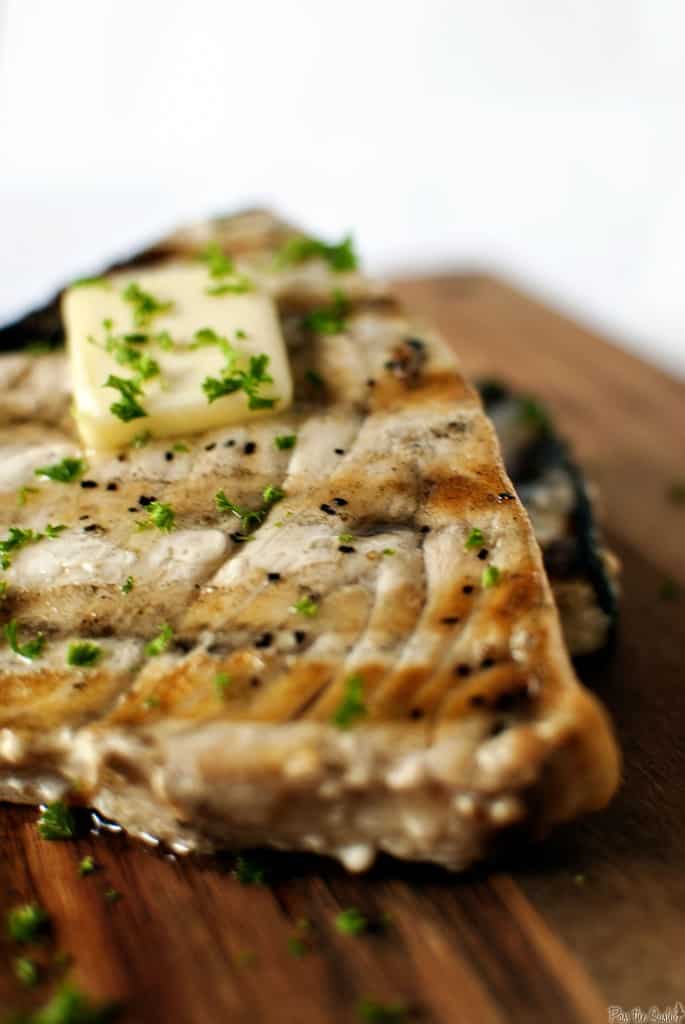 from Cook's Illustrated Summer Grilling 2011
Ingredients:
2 swordfish steaks
2 tbs extra-virgin olive oil
Table salt and ground black pepper
Vegetable oil for cooking grate
1 lemon, cut into wedges
1 tbs butter, softened
1 handful fresh parsley, roughly minced
Preparation:
Light a large chimney starter filled with charcoal and allow to burn until coals are fully ignited and partially covered with thin layer of ash, about 20 minutes. Build a 2-level fire by arranging half of the coals over grill bottom and piling remaining coals on 1 side of grill. Position cooking grate over coals, cover grill, and heat grate until hot, about 5 minutes. Grill is ready when side with coals is hot.
Cut swordfish steaks in half to make 4 equal pieces. Brush fish with olive oil and generously sprinkle with salt and pepper.
Scrape grate clean with grill brush. Lightly dip small wad of paper towels in vegetable oil; holding wad with tongs, wipe cooking grate. Grill swordfish, uncovered, turning once (using a spatula, never tongs on fish), over hot part of grill until steaks are covered with dark grill marks, 6 to 7 minutes. Move fish to cool part of frill and cook, uncovered, turning once, until center is no longer translucent, 3 to 5 minutes.
Remove from grill and place a small slice of butter on each, a spritz of lemon juice, and a sprinkle of parsley. Serve immediately.
Gas Grills: Turn all burners to high, cover, and heat grill until very hot, about 15 minutes. Follow recipe for steaks through oiling the grate, grilling swordfish, covered, turning once, over high heat until steaks are covered with dark grill marks, 7 to 9 minutes. Turn heat down to medium and cook, covered, turning once, until center is no longer translucent, 4 to 6 minutes.