Waffle House has delicious waffles, but the cheddar waffles with kielbasa and maple syrup are simply outstanding! Here's a copycat recipe for them, so that you can make them at home.
I'm not a breakfast person. I think it's because I don't wake up hungry and by the time my stomach kicks in it wants something with a bite. Something meaty, savory and preferably still bleeding. A bite from last nights burger, that cold soggy bun with the cheese stuck to it and the meat still pink in the center – yeah, that's what fuels me in the morning.
I never liked Chex or Cheeries. I didn't want to be like Mike and mornings only make my Wheaties angry. And did I mention I don't eat eggs. They are just weird.
But every now and then when he we need to get over last night's bender, we take a trip to the local Waffle House to help with the recovery process. (Seriously, it works – try it). They do hold true to their name – the waffles are delicious. I may never order one myself, but I can't stop myself from stealing a bit or two from Handsome's plate.
I do love the play with sweet and savory in a lot of dishes though and when I saw the concept for a waffle topped with crispy kielbasa my inner meatatarian did cartwheels. Finally a breakfast just for me!
Warning! This recipe is not for the faint of heart. The syrup slathering everything is very very sweet but the crunchy pan fried kielbasa evens it all out. And then there's the waffle, that signature delicious waffle dripping in buttery goodness. This meal is a gift from the heavens.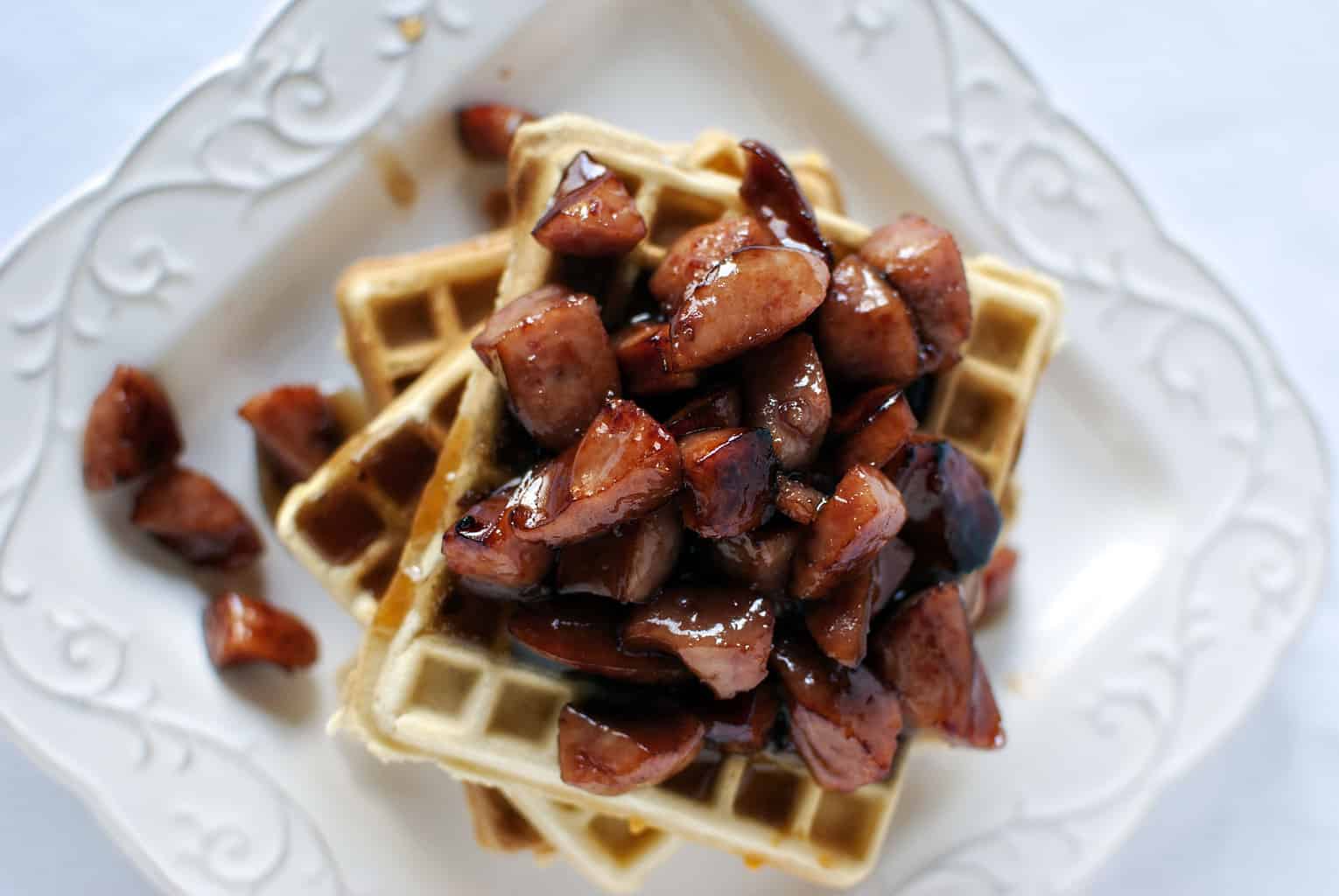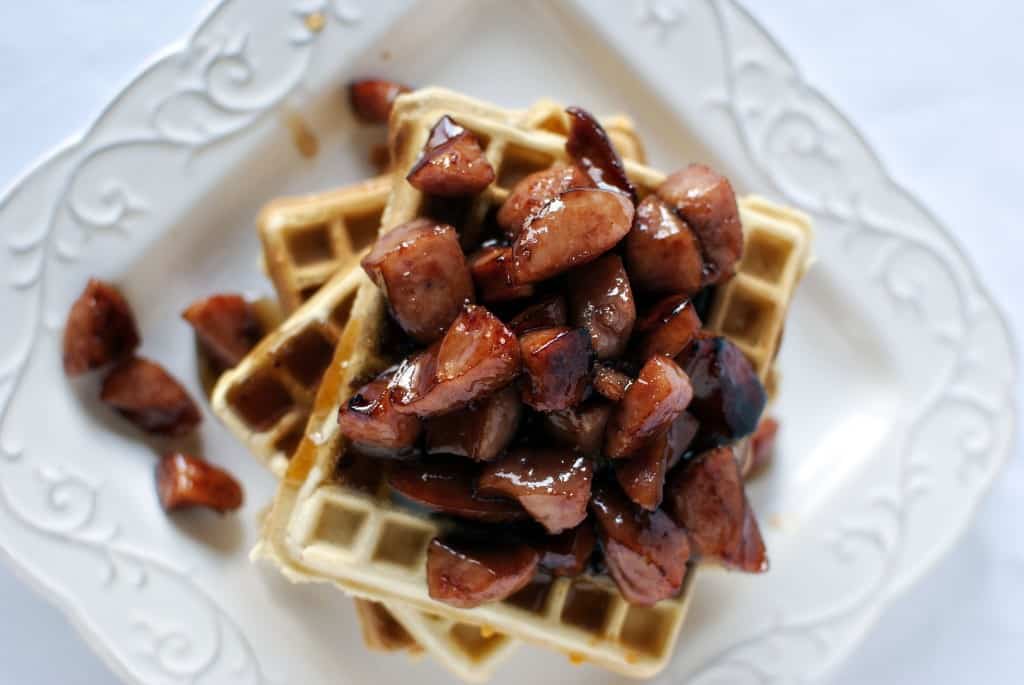 Waffle House Cheddar Waffles with Kielbasa in Maple Syrup
Inspiration from Vanilla Sugar – Copycat Waffle House waffle recipe adapted from Food.com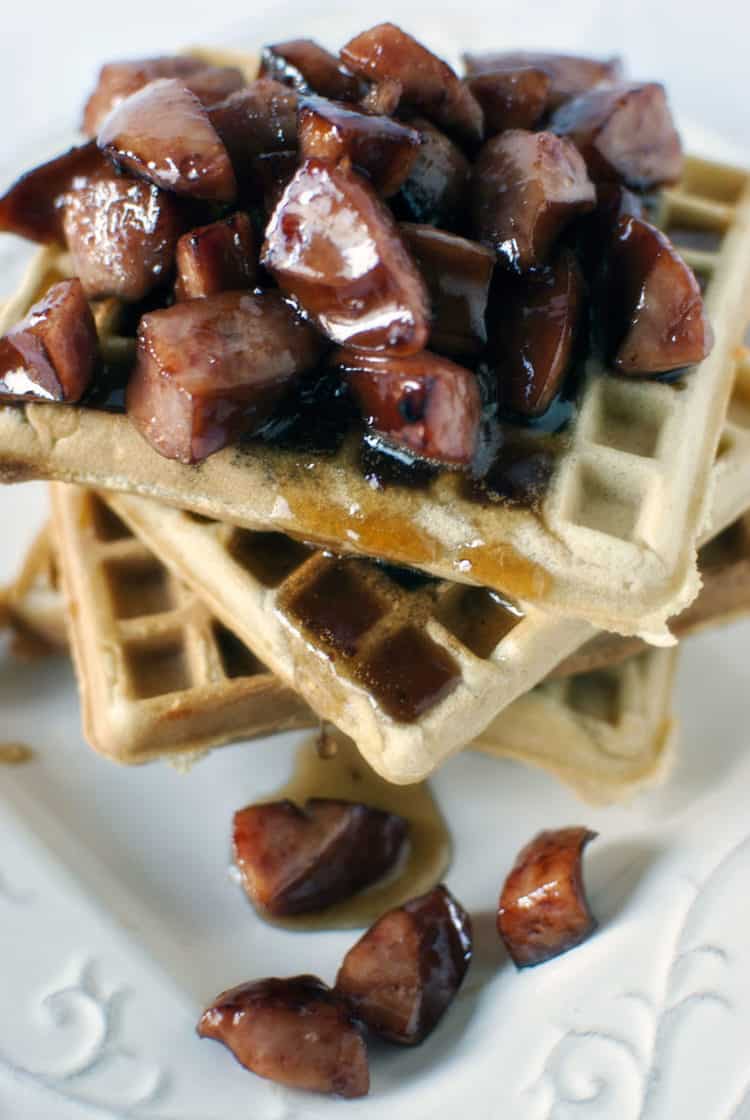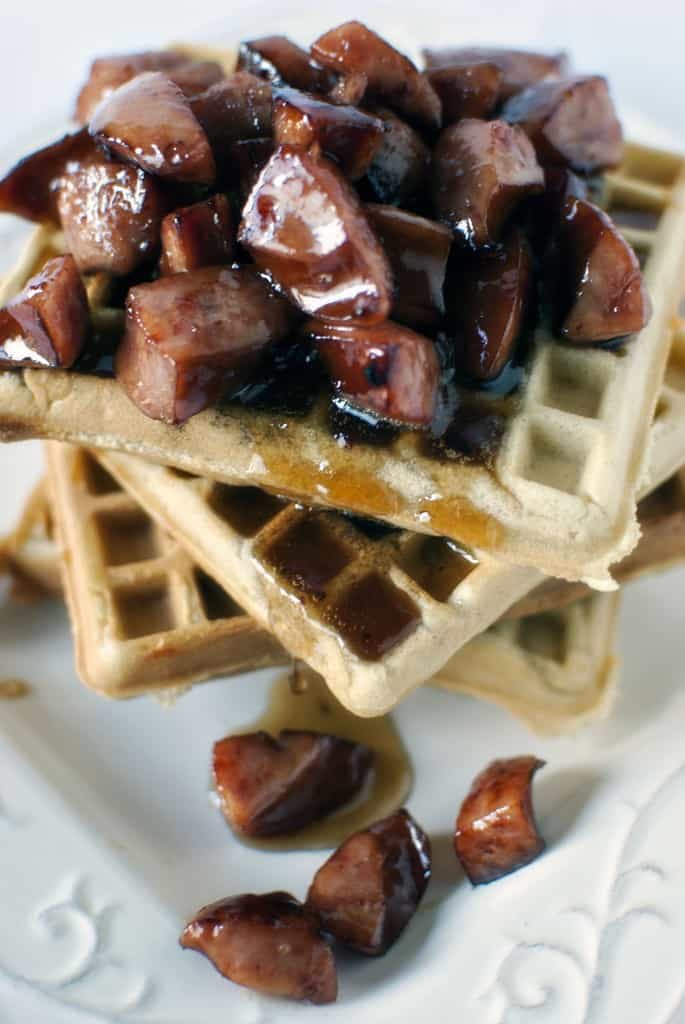 Ingredients:
1 1/2 cups all-purpose flour
1 teaspoon salt
1/2 teaspoon baking soda
1 egg
1/2 cup granulated sugar
1 tablespoon granulated sugar
2 tablespoons butter, softened
2 tablespoons shortening
1/2 cup half-and-half
1/2 cup milk
1/4 cup buttermilk
1/4 teaspoon vanilla
3/4 cup mild cheddar cheese, shredded
1 lb kielbasa, chopped into small blocks
1 cup of maple syrup
Preparation:
Combine flour, salt and baking soda in a medium bowl and stir to combine.
Lightly beat the egg in another medium bowl and combine with sugar, butter, and shortening, mixing well until smooth.
Add the half & half, milk, buttermilk and vanilla and mix well.
Add the dry flour mixture to the wet mixture while beating and mix until smooth. Fold in the cheese.
If you can, cover and chill overnight, though the batter can be used right away.
Rub a light coating of vegetable oil on a waffle iron, and preheat it.
Leave the batter out of the refrigerator to warm up a bit as your waffle iron is preheating.
Spoon 1/3 to 1/2 cup of batter into the waffle iron and cook for 3 to 4 minutes or until the waffles are light brown.
Keep waffles warm in the oven.
In a skillet over medium high heat, fry up the kielbasa until nice and crispy. Drain grease. Over low heat, pour maple syrup over the kielbasa and warm through.
Serve over waffles immediately.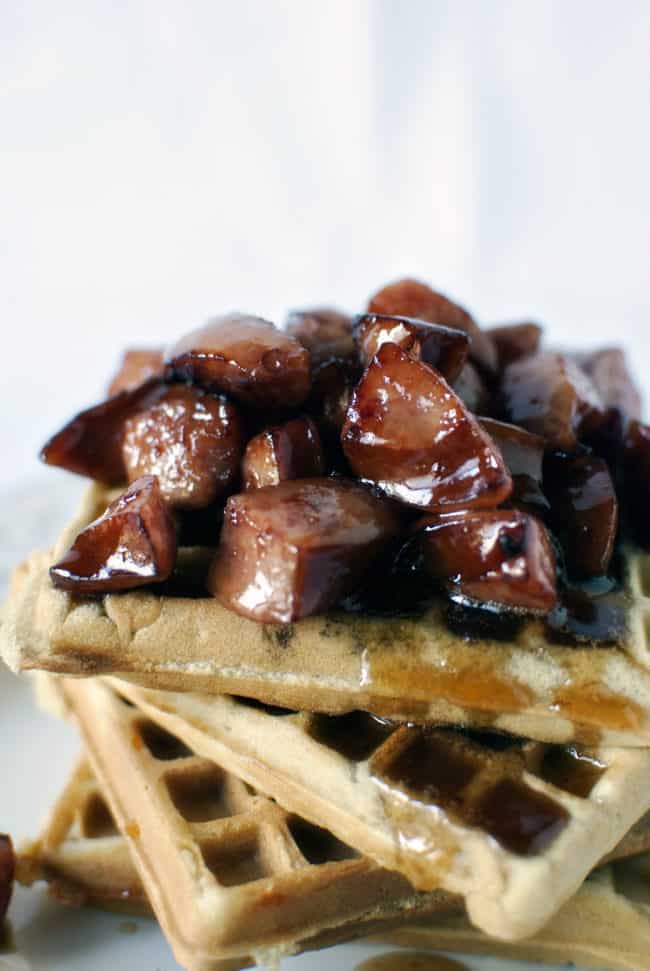 In case anyone is curious, I did make this for supper, not breakfast. That's because as I mentioned earlier, I don't wake up wanting food. I can see it being worth the effort for a late Sunday brunch though. And by worth the effort, I mean really worth it, as it only takes 10 minutes to come together if you made the batter ahead of time.
Even Waffle House can't make them for you that quickly.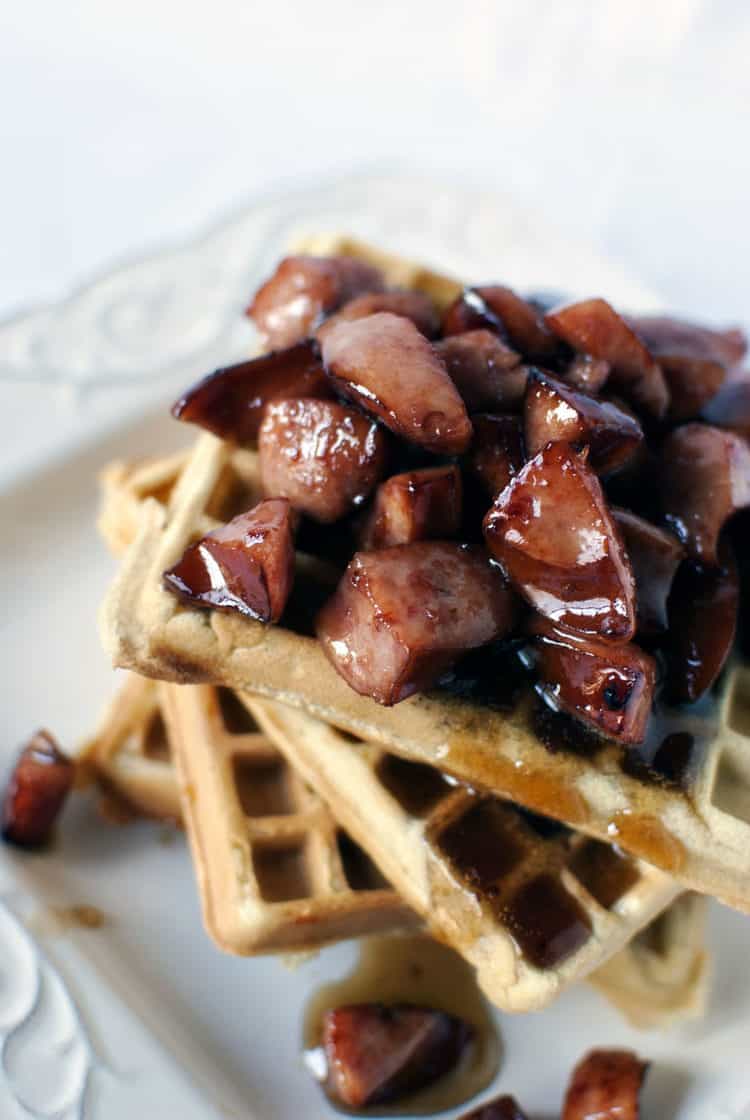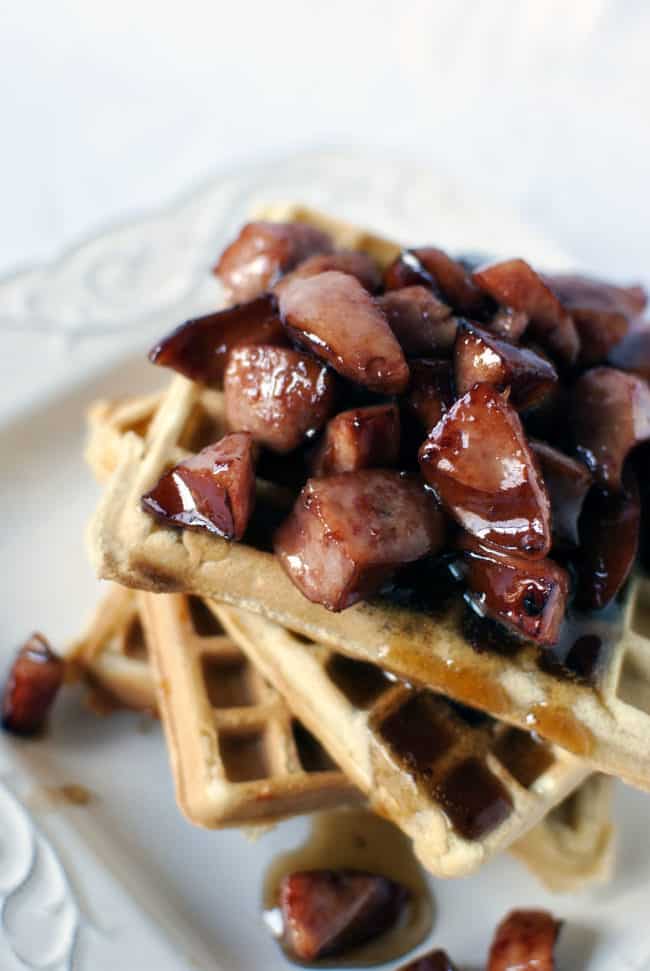 Enjoy! I know I did… 🙂