Thai corn chowder is comfort food in a bowl! This creamy, hearty soup has a tingle of heat to warm you up from the inside out.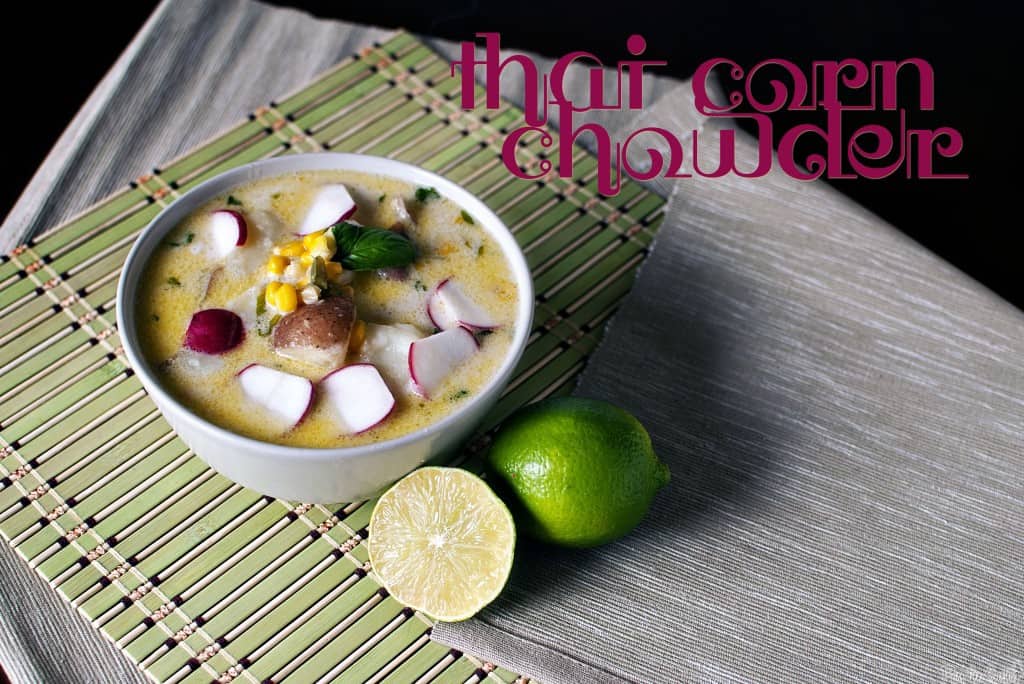 I held out about as long as I could, but it's officially winter here. Maybe I'm jumping the gun a bit and it's not really winter - but it might as well be. The weather is cold, the leaves are brown, my finger's went numb on our bike ride yesterday and we've already had snow. As far as I'm concerned, that's winter. So we'll rejoice in the good things about winter - and our favorite part? The comfort food.
I never realized how much of a soup and stew addict I was until I started this blog. I have already wiped up 5 batches of soup this year and I haven't even begun to show them on the blog yet. To be far, my soup cravings started back in August with that minestrone and I never looked back.
I can tell this season is going to be long rough one based on how many 'comfort' foods I am already prepared to indulge in. Maybe it's because the sun sets so early now (did anyone else mess up because of the time change?) and I seem to get sleepy at noon, or maybe it's just the cold weather settling into my bones. Whatever it is, soups on here at Pass the Sushi - now it's just a matter of how many we can sneak in. 😉

Yep I cheated and that's canned corn.
With no fresh corn at the market, that's as good as it gets for this Thai corn chowder. 
Thai Corn Chowder
from Food Network Magazine
Ingredients
4 ears corn
2 cups diced red-skinned potatoes (about 12 ounces)
¾ cup chopped scallions
2 tbsgrated peeled fresh ginger
4 cloves garlic, smashed
8 black peppercorns
5 cups water
1 stalk lemongrass, cut into thirds (optional)
4 tbs unsalted butter
Kosher salt
1 red jalapeno pepper, seeded and minced
1 13.5-oz can coconut milk
8 fresh basil leaves
8 fresh mint leaves
4 radishes, thinly sliced
¼ cup roughly chopped fresh cilantro
Juice of ½ lime, plus lime wedges for garnish
1 tomato, seeded and diced
Preparation:
Cut off the corn kernels; set aside. Combine the cobs, 1 cup potatoes, ½ cup scallions, 1 tablespoon ginger, the garlic, peppercorns and 5 cups water in a pot. Smash the lemongrass, if using, and add to the pot. Bring to a boil, then simmer for 25 to 30 minutes.
About 10 minutes before the broth is finished, melt the butter over medium-high heat in a separate pot. Add the remaining 1 cup potatoes, season with salt and cook until slightly soft, 5 minutes. Add the remaining 1 tablespoon ginger and the jalapeno; cook 1 minute. Add the corn kernels; cook until the vegetables are just tender, 3 to 4 minutes.
Strain the broth, pressing out as much liquid as possible; discard the solids. Add 2 cups of the strained broth to the potatoes and corn; bring to a boil, cover and simmer for 10 minutes. Add the coconut milk, basil and mint; season with salt. Stir until simmering. Remove from the heat and add the radishes, cilantro and lime juice. Top with diced tomato and the remaining ¼ cup scallions and serve with lime wedges.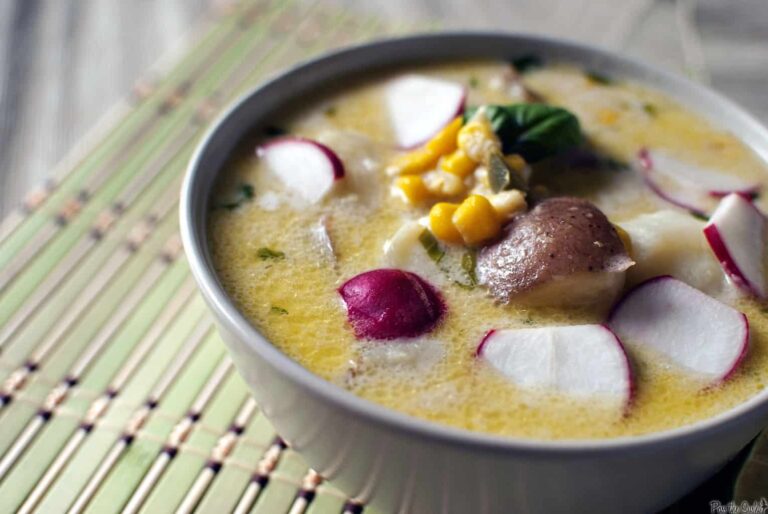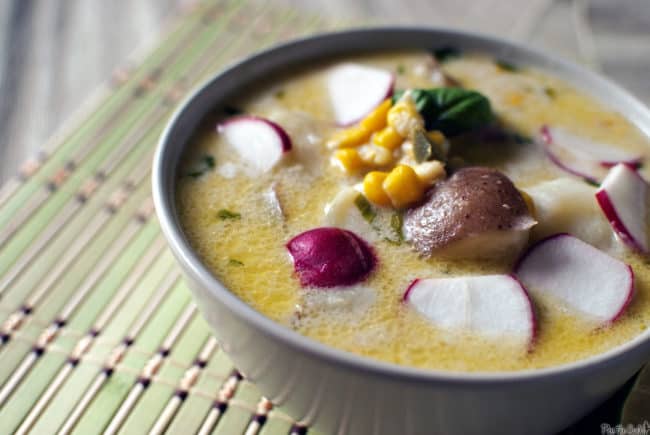 If you need more soup recipes, check out the Carolyn's soup round up over at All Day I Dream About Food.