Bread baking should be something we all strive to become good at. After all, bread is one of the most basic of foods, and has been for thousands of years.
We haven't had a good old fashioned book review on the site since summer and when Abrams publishing asked me if I would like to check out a book on bread baking, I jumped at it.
Bread baking is one of those skills I revere as essential to any well balanced chef.
It's also one of the most intimidating of things to me. For some reason, the idea of yeast, rising, kneading, and baking a dough to perfection seems like a science that requires Alton Brown and a team of lab rats holding your hand for. But it's not. As I said earlier, mankind has been making bread forever. And I'm pretty sure Alton isn't an immortal Iron Chef vampire, helping humans learn to cook for eons. Though, I wouldn't be surprised….
Early this year, I decided I was going to kick my fear of yeast, but then my confidence was crushed when the heavy thick technical book, The Fundamental Techniques of Classic Bread Baking showed up at my door step.
With a solid 91 pages of text before the first actual bread recipe appears in the book, I felt at a loss. The book has sections on everything one would ever need to know regarding the art of bread baking. From burn safety to the parts of an egg, I was overwhelmed.
I sat down with this behemoth a few days later and chose what recipe I would test.  I am not a classically trained chef, I am a cable tv trained fat kid. I have no scale, heck the numbers are rubbing off of my measuring cup. My flat work surface is not even bolted to the wall. But I could do this. Or I would have a hilarious flop of an attempt to tell you about. 😉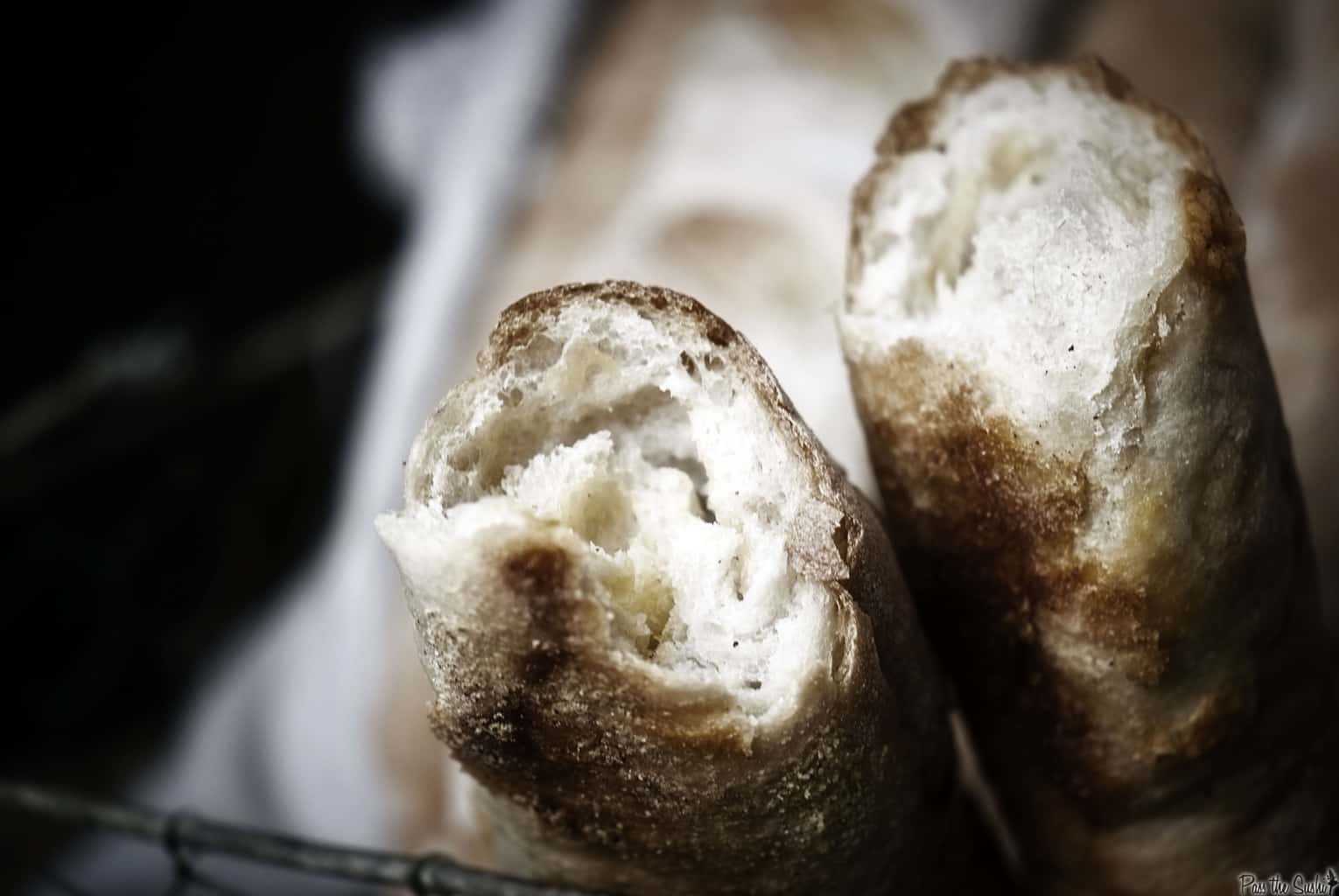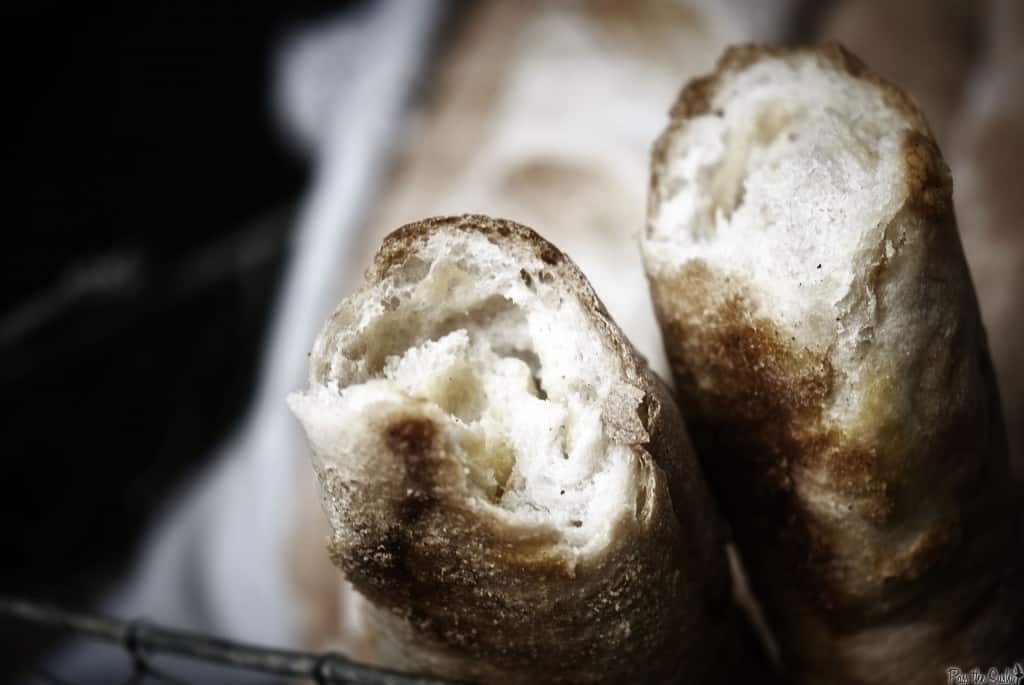 Review of The Fundamental Techniques of Classic Bread Baking
Technical Level: This book feels like my college text books. It is heavy and packed with extensive knowledge, with many reference pages and step by step instructional guides on bread baking. This is not a book for novice bakers, but a book for the brave chef who is ready to immerse themselves in the true art of making bread.
Graphic Design:  This book does not pop graphically – simply because it is not supposed to. You are not going to be thumbing through the cooking/baking section at your local big box book store and think 'oh, let me try that one'. The people who buy this book will have gone there seeking it out. It doesn't need fancy fonts and snappy lines. It is simple, with easily read fonts and pictures to show what the finished piece should look like.
Recipe Quality:  The quality of recipes in The Fundamental Techniques of Classic Bread Baking are cultural timeless essentials. From perfect kaiser rolls, classic ciabatta, bagels and panettone this book covers a wide variety of bead making. The sections are even broken down by region such as French, Italian, German and Middle European bread. For those on a special diet, or just wanting to educate themselves even further, there is a section devoted to gluten-free formulas. 

Personality: Just like with the graphic design, The Fundamental Techniques of Classic Bread Baking is not one you come to for personality. It is one you look up to and respect. Like the college professors that inspired you to work harder or put a little more time in on a research paper. This book has no snappy charisma, no breaks for humor, it is simple strict and technical, which is perfectly suitable and expected.
Why I'd Buy: In all honesty, I can't say that I would have purchased this book. I don't consider myself an expert bread maker and would have been intimidated by the sheer volume of knowledge in this book, its use of terms I am unfamiliar with and its level of technical expertise. That being said, I am so happy that I was able to preview it because I feel even more confident that I was able to make baguettes from this book – and you know what? It really wasn't all that scary! If you are up for a personal challenge, or know an amazing bread baking – I say go for it with this book.

Straight Baguette
from The Fundamental Techniques of Classic Bread Baking
Ingredients:
567 grams water
14 grams salt
5 grams fresh yeast
Oil for greasing the bowl
Flour for dusting
Ice for steam
Preparation:
Combine bread flour with the water in the bowl of an electric stand mixer fitter with dough hook. Mix on low speed until blended. Stop he mixer and
autolyse
for 15 minutes.
Add the salt and yeast and mix on low for 5 minutes.
Lightly oil a large container or bowl.
Scrape the dough into the prepared bowl. Cover the bowl with plastic film and set aside to ferment for 20 minutes.
Uncover and fold the dough. Again, cover with plastic film and set aside to ferment for 20 minutes.
Uncover and fold the dough. Cover with plastic film and set aside a third time to ferment for 20 minutes.
Finally, uncover and fold the dough. Cover with plastic film and set aside to ferment for 2 hours.
About an hour before you are ready to bake the loaves, place the baking stone or tiles into the oven and preheat to 470 degrees F. If using a pan to create steam, place it in the oven now.
Lightly flour a clean, flat work surface.
Uncover the dough and divide it into four 338 gram / 12 oz logs on the floured surface. Cover with plastic film and bench rest for 15 minutes.
Uncover the dough and, if necessary, lightly flour the work surface. Gently press on the dough to degas (to punch/tap down) and carefully shape each log into a baguette.
Place each baguette, seam side down, into a baguette pan (or on a flat baking sheet, using a non fuzzy towel pinch in between each to make dividers). Cover with plastic film and proof for 30 minutes.
Uncover the dough and using a razor, immediately score the loaves. To make the required steam, add 1 cup of ice to the hot pan in the oven. Immediately transfer the loaves to the hot baking stone in the preheated oven.
Bake, with steam, for 25 minutes or until the crust is a deep golden-brown color and the sides are firm to the touch.