Lemon grilled chicken fettucine Alfredo is a kicked up version of classic fettucine Alfredo. Chicken breast, bursting with lemon flavor, is grilled and served with a creamy Alfredo sauce.
Here it is a few days before my step-sister's bridal shower (which I am in charge of) and as time slips by, I can't help but think of a comment that was left on my blog...

Oh, I love you hon, but really, do you want to know what it's like having me plan something? I have finally written out my menu and started shopping, and stressing about the deep clean I want to give this place tomorrow, and still have yet to decide 100% on favors. There's a row of vines in my yard that just decided to up and die that need to be removed and a dog and two very friendly cats that I have no idea where I'm putting.
I'm sure there are people that can make throwing a bridal shower an easy event with pink everywhere and ruffles and feathers about. (because I think most girls like pink, ruffles and feathers?)  Put my in a room with all girls though, and you might as well be ready for the blaring your horn, high beams on, slamming your break because this deer ain't moving kind of panic that is going to set in. I work with guys. Hang out with guys. Understand guys (always with the exception of the one I'm dating). And most of all, am not at all intimidated by guys.
Girls. Women. Mothers. Oh yeah, panic. Lots and lots of panic.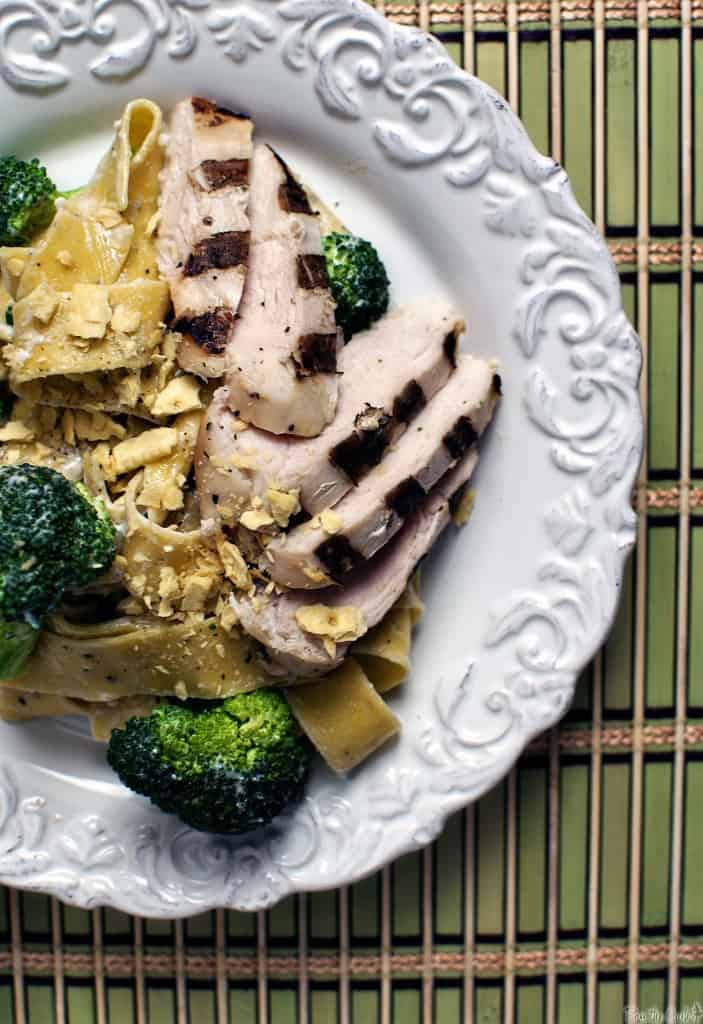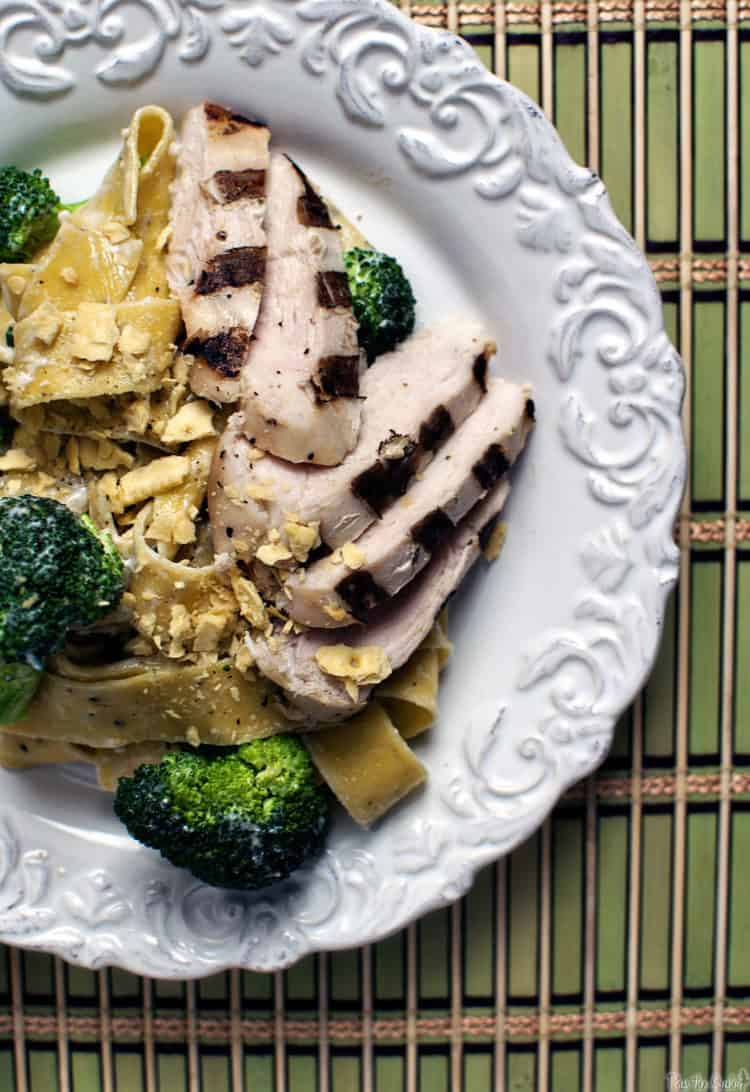 But it's all okay with a plate of lemon grilled chicken Alfredo in front of you.
Grilled Chicken Lemon Alfredo
Ingredients
1 tbs unsalted butter
1 clove garlic, minced
1 tbs grated lemon zest
2 teas all-purpose flour
1 cup low-fat, 2% milk
¾ teas kosher salt
2 tbs Neufchatal or low-fat cream cheese
¾ cup grated parmesan cheese, plus more for topping
3 tbs chopped fresh parsley
12 ounces Trader Joe's Lemon pasta, or fresh fettuccine
2 boneless, skinless chicken breasts
2 tbs olive oil
1 clove garlic, minced
Juice of 1 lemon
Salt & pepper
Instructions
For the chicken: Pat chicken dry. Season with salt and pepper. In a large resealable bag, marinate chicken in olive oil, garlic and lemon juice for 4 to 18 hours.
Preheat a grill to high. Clean grate.
Make the sauce: Melt the butter in a skillet over medium heat. Add the garlic and lemon zest and cook until the garlic is slightly soft, about 1 minute. Add in the flour and cook, stirring with a wooden spoon, 1 minute. Whisk in the milk and salt and cook, whisking constantly, until just thickened, about 3 minutes. Add the Neufchatel and parmesan cheese; whisk until melted, about 1 minute. Stir in the chopped parsley.
Back at the grill: Turn heat down to medium, and place chicken on the grate. Cook, covered about 7 minutes. Flip and cook an additional 5. Check to make sure your chicken is cooked through
Meanwhile, bring a large pot of salted water to a boil. Add the lemon pasta and cook until al dente, according to manufacturers instructions. Reserve 1 cup pasta cooking water, then drain the pasta and return to the pot.
Add the sauce and ½ cup the reserved cooking water to the pasta and gently toss to combine, adding more cooking water as needed to loosen. Season with salt and pepper.
Serve with fresh steamed broccoli and top with additional parmesan cheese and crushed white cheddar Cheez-it's.
Notes
Food Network Magazine March 2011 {Low Calorie}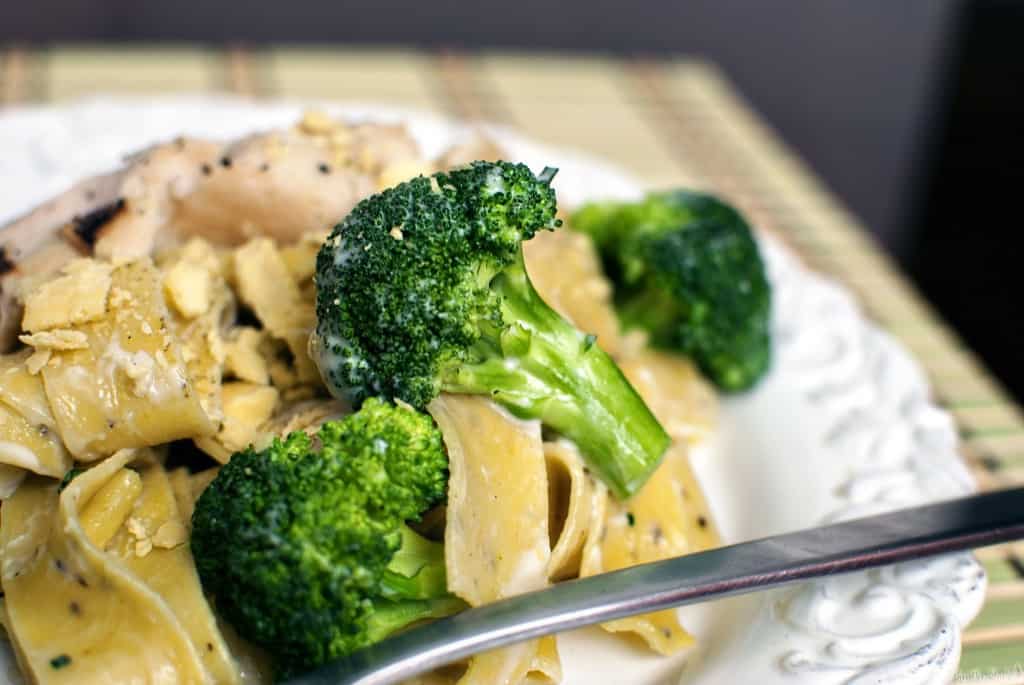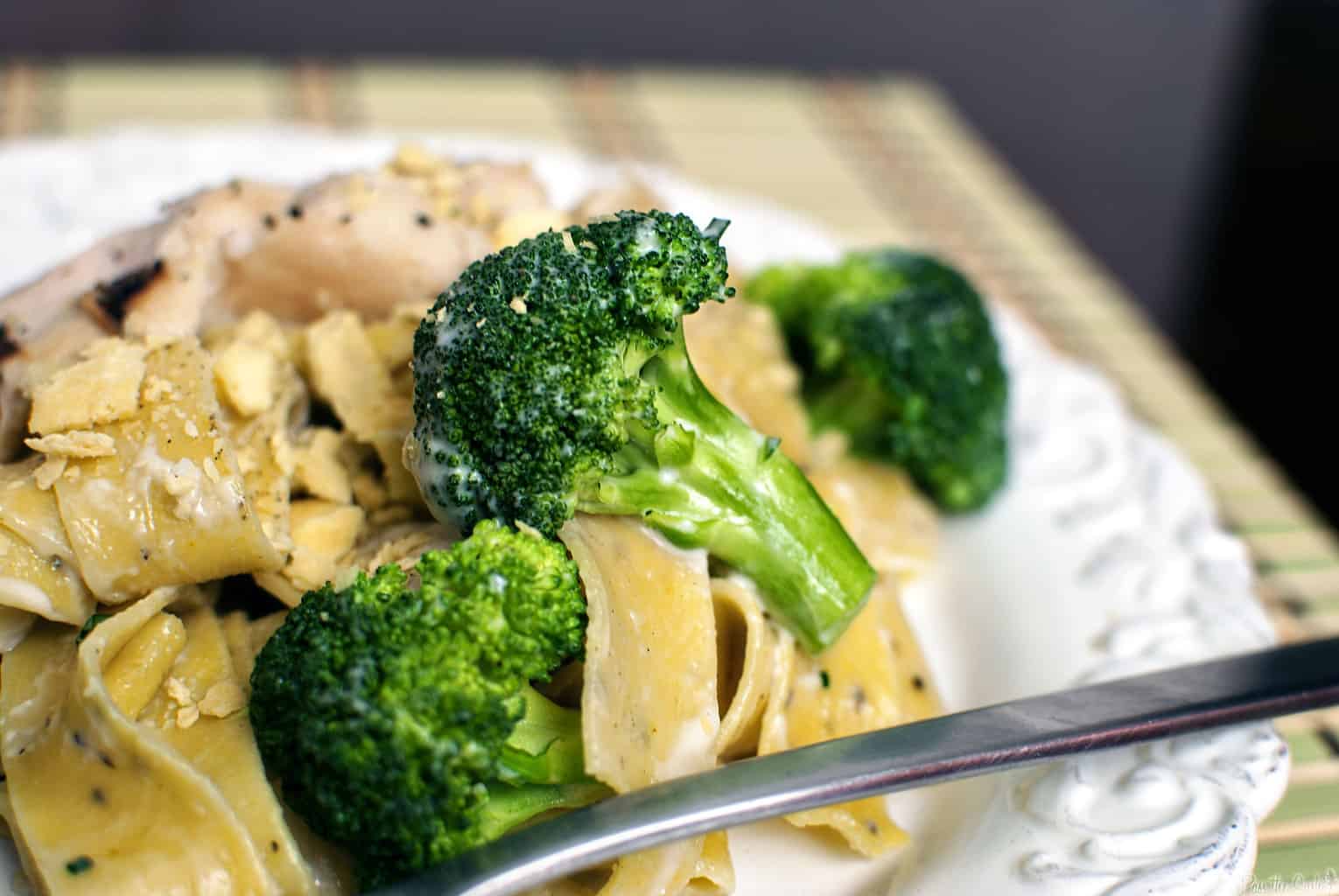 Now, please say a serenity prayer for me. It will help me get through this next weekend 😉