A light fresh cake filled with fresh sliced strawberries and a classic whipped cream frosting. This one is tried and true… and you probably need it in your kitchen right away!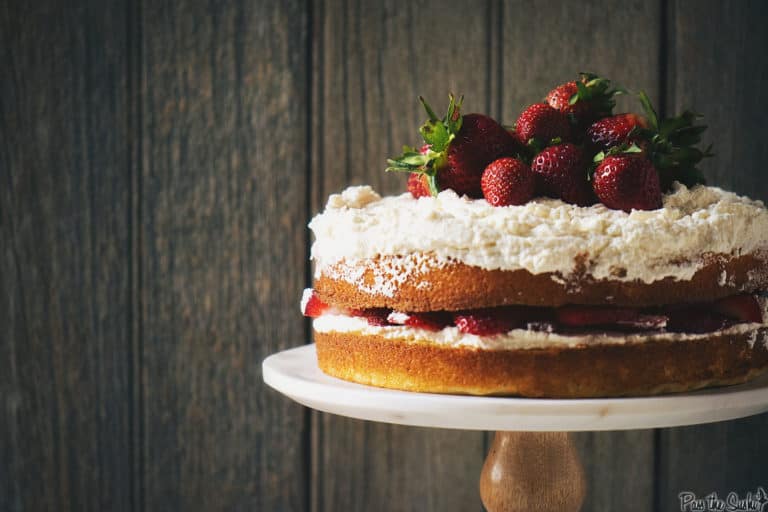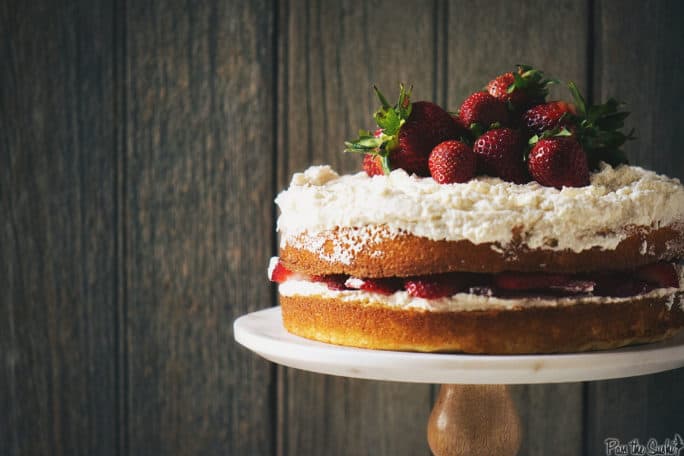 There's something about the promise of warmer weather, sunshine, and longer days. There's something that makes me feel rejuvenated, inspired, and refreshed. Perhaps that's just the way spring works. The last few nights of frosty air and clinging with gray days looming over head. It makes for a hard wake up from this long hibernation. But there's hope. It's tickling at the back of my mind for fresh blooms and the sound of the insects as I run is starting to creep up ever so slowly. The tight little daffodils I brought home to cheer us up have started to stretch out and expose their bright color filling my kitchen with a little more light. And I am waking up. The world is waking up.
The promise of fun mountain biking trails and wooded long runs no longer forced on pavement or in the gym has me excited. The idea of sitting and letting the sun warm my skin as I read is pulling me through. The dogs are itching to turn the yard into their kingdom again and to join us on some afternoon hikes. Spring is coming.
Winter can be long and hard. Dark and bleak. Day days seem to rush by and keep us cloaked in darkness. There is a chill that sinks down to your core that can be hard to shake. There is a level of introvertedness that sneaks in and burrows deep. It can be debilitating. Winter makes it easy to turn inward and drown our thoughts without us even realizing it. The dullness can break us. It can make us feel alone.
But spring is always right there. And it promises so many uplifting things. Things that were never really lost at all while winter kept us dormant, just the things it was harder to see through the layers and frostbite.
Fill your days with brightness. Joy and positivity. Combat the cold with warmth and surround yourself with good company… The days are getting longer and things are looking up. They are always looking up.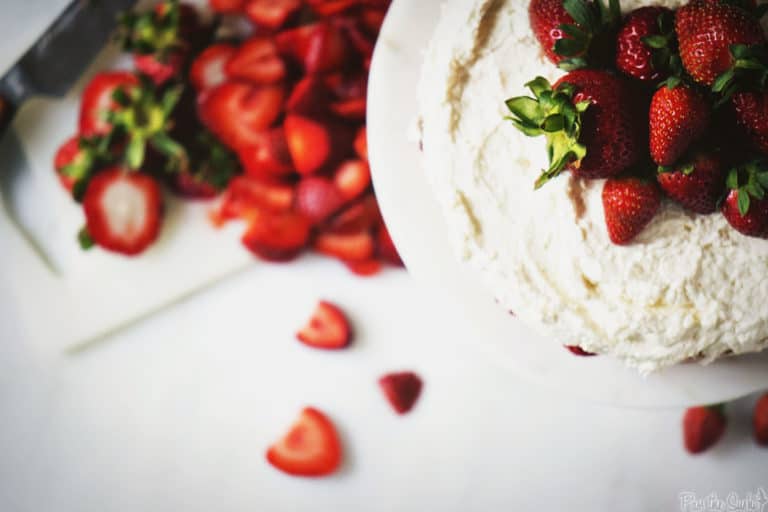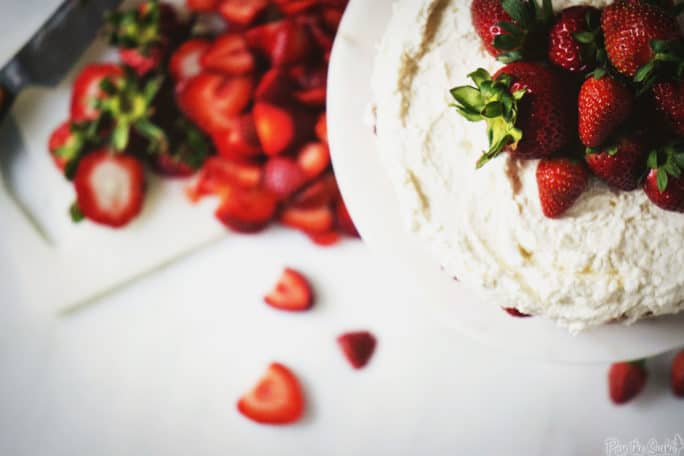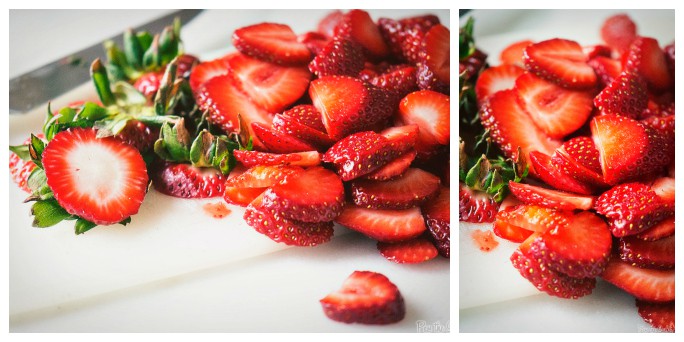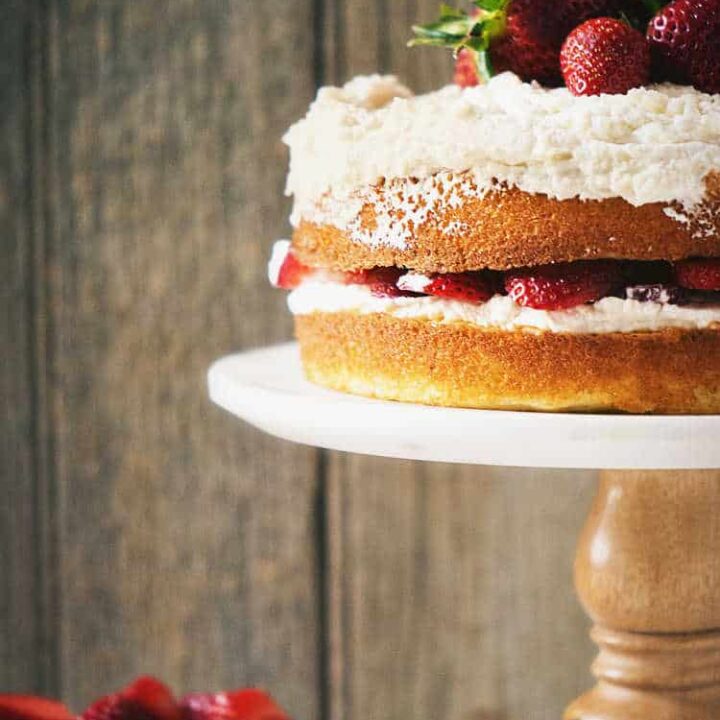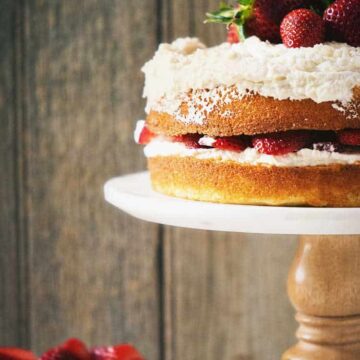 Ingredients
1 1/2

cups

cake flour

1 1/2

teas baking powder

1/2

teas salt

3/4

cup

milk

3

tbs

unsalted butter

1

tbs

vanilla extract

3

large eggs

1 1/4

cups

sugar

zest of half of a lemon

2

pints

fresh strawberries
For the Whipped Cream Frosting:
1

teas gelatin

2

cups

heavy cream

1/2

cup

confectioners' sugar

2

teas vanilla extract
Instructions
Grease and line 2 9" cake pans with parchment paper cut to fit. Grease the parchment paper as well. Preheat the oven to 350 degrees F.

In a large bowl, sift the flour, baking powder, and salt. Sift three of 4 times to make sure all the flour is broken up and very fine.

In a saucepan over medium-high heat, bring the milk and butter to a boil. Immediately remove from heat and let sit for 5 minutes. Stir in the vanilla.

In the bowl of your mixer, beat the eggs and sugar until they are have doubled in volume. With the mixer on low slowly pour the warm milk mixture down the side of the bowl. Stir in the lemon zest.

Remove the bowl from the mixer and fold in the flour mixture.

Divide the batter between the two prepared pans and bake for 15 minutes. The cakes are done when they are golden, a toothpick comes out clean and they spring back when gently pressed. Remove from oven and set on wire racks. Run a sharp knife around the edges and allow to cool for 10 minutes. Turn out from pans and remove the parchment paper before allowing to cool completely.

Meanwhile, make the whipped cream frosting. Sprinkle the gelatin over 1/4 cup of the heavy cream in the bowl of a double boiler and allow to sit for 5 minutes. Place the bowl over simmering water and whisk until the gelatin has dissolved. Allow to cool a few minutes before proceeding.

Whip the remaining cream in the bowl of your stand mixer. Sprinkle in the confectioners sugar and vanilla and whip until soft peaks form. Gently fold in the gelatin mixture.

Set aside some pretty strawberries for the topping/ Remove the tops of the remaining strawberries and slice them thin.

When ready to assemble, layer half of the whipped cream over a single layer and arrange the strawberries over top. Press the second cake over top gently to secure. Top with the remaining whipped cream.

Top with the pretty strawberries and serve.
Notes
Nutritional informations provided as a courtesy and is only an approximatation. Values will changes based on ingredients used.
⭐ Tried this recipe? Rate it ⭐
Help out the next person and give it a star rating below!