Homemade spicy Italian sausage may look difficult to make yourself, but it really isn't. Sure, it takes some time, but the results are definitely worth it!
I used to think I was tough. I thought I was rough, hard around the edges and out of my 3 co-workers the the most intimating. Yeah, I was gangster. Until the day I decided to make sausage.

Let me just tell you, making Italian sausage will knock you out of your boots no matter how tall you think you stand. Or at least it did to me.

It wasn't butchering of the pork, slicing delicately around bone - making sure the fat ratio was just right took me down.

Marinating 4 pounds of cubed pork in my tiny cramped fridge didn't put me in my place.

It wasn't the lengthy process of grinding the sausage that showed me I am indeed capable of feeling nauseous.

It was the natural hog casings. The idea of natural casings didn't bother me, if you're willing to eat meat, you should be willing to utilize the other parts. The idea of having to handle natural casings gave me pause, but more because I'm rather curious by nature then disgusted.
It was the smell. Oh Lord, the smell. I had ordered casing that came dehydrated in a heavy salt package that needed to be opened and soaked for a while. That first time you smell that, oh, there is no going back. Now, to be fair, I am led to believe that not all natural casings smell this potent and I will be trying some other options in the future.
As for the rest of the Italian sausage making process, it was a breeze.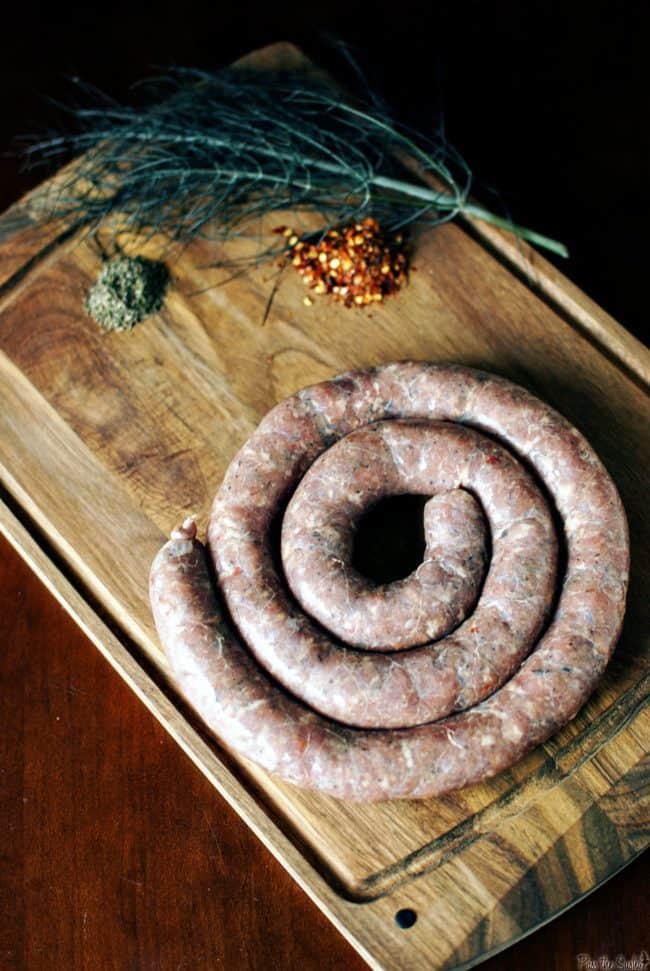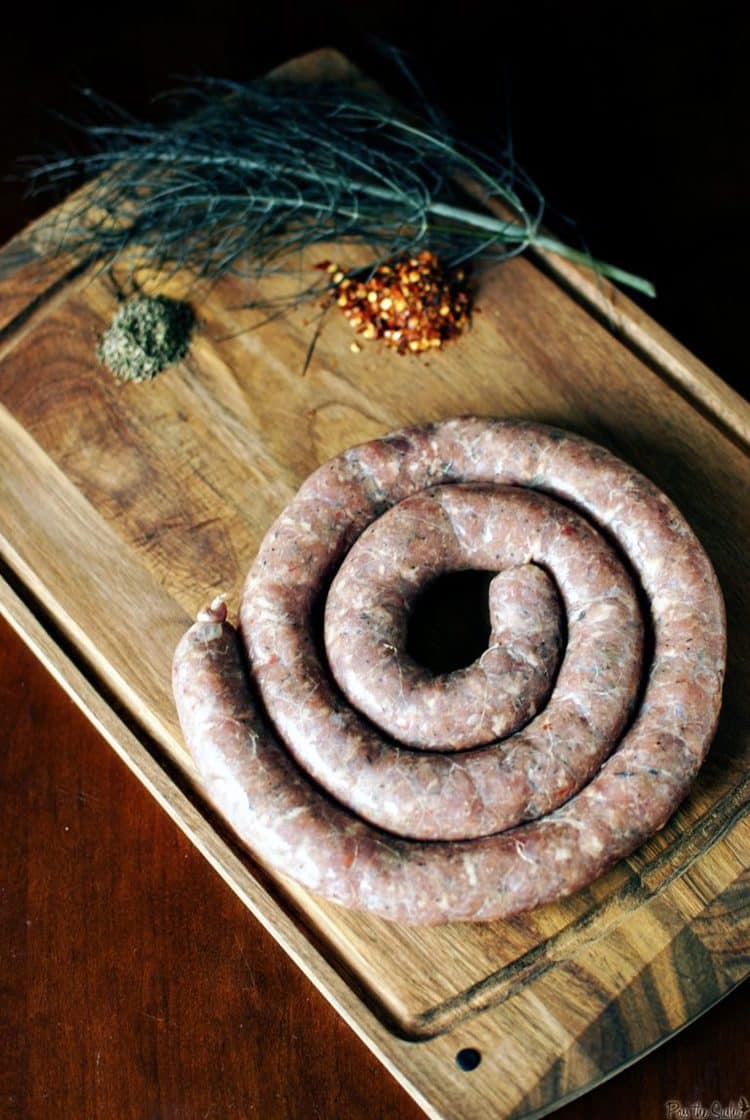 If you've read this far, you probably are the kind of person interested in making anything and everything from scratch. Here are some more things to try while you're feeling ambitious!

How to make Homemade Pasta
Bone Marrow with Oxtail Marmalade
Smoked & Steamed Homemade Pastrami
If you've tried my Spicy Italian Sausage recipe or any other recipe on passthesushi.com please don't forget to rate the recipe and let me know where you found it in the comments below, I love hearing from you! You can also follow along for more good eats and travel tips on Instagram @passthesushi & @girlcarnivore, Twitter & Facebook.
Yield: 4 lbs of sausage
Spicy Italian Sausage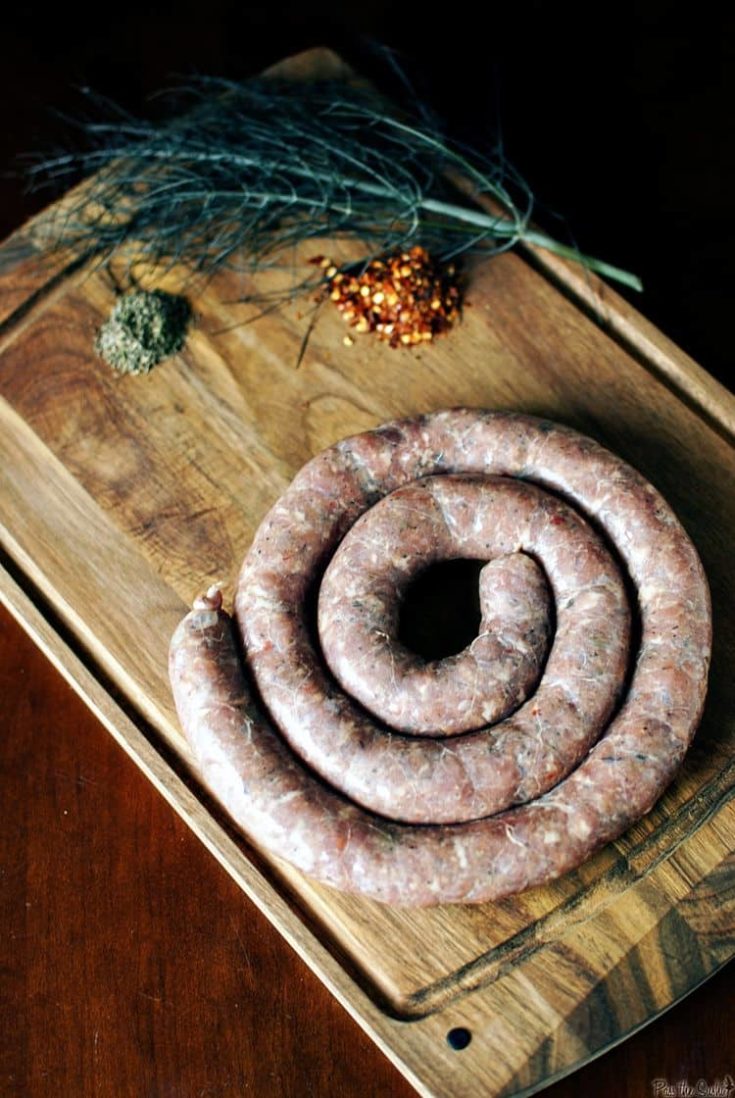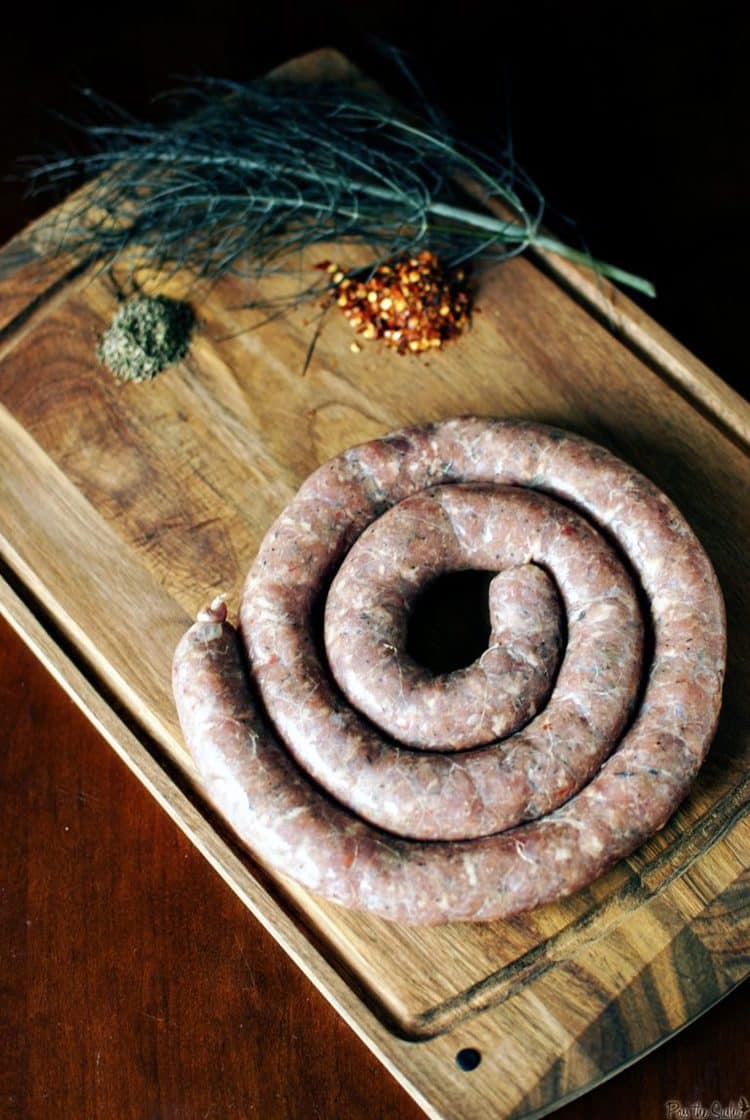 Homemade spicy Italian sausage may look difficult to make yourself, but it really isn't. Sure, it takes some time, but the results are definitely worth it!
Ingredients
2 tbsp. fennel seed
4 pounds Pork butt (or pork trim if you are doing your own butchering or cutting) about 70% lean and 30% fat
3-4 cloves garlic, minced
4 ½ tsp. kosher salt
1 Tbsp. black pepper, coarse ground
2 tsp. red pepper flakes
1 tsp. sugar
1 cup red wine
Instructions
Gently crack the fennel seeds. Combine the fennel with the sugar, red pepper flakes, black pepper and salt. Set aside.
Cut the pork into 1 inch pieces, removing any heavy connective tissue or silverskin.
Mash the garlic into a coarse paste with the side of a knife blade.
Place pork in a large bowl then add the spices, garlic, and the red wine. Mix well to evenly distribute the seasonings.
Cover all with plastic wrap to marinate for, at least 2 hours to overnight.
Check the soaking directions on the casings you have purchased and plan accordingly. Casings normally come in a salt cure and you will have to rehydrate and rinse them thoroughly before using. You will need 12 to 15 feet of casings for this batch.
1 hour before you are ready to grind your sausage, place all your grinding attachments into the freezer to chill. To make grinding easier, you will want to place the pork in the freezer at least 20 minutes before grinding as well.
Set up your grinder with the coarse grinder and grind the meat.
Once the sausage has been ground, gently mix it by hand to ensure that everything is evenly distributed.
Set up your stuffer, per the manufacturer's directions. Lightly oil the stuffer tube then slip the casing over the tube, feeding it on until only about 2 inches are hanging off. Have a sterilized needle for poking air pockets ready, and tie off your casings.
If this is your first time making sausage (second or tenth) you may want someone on standby for help. Start feeling the ground meat into the sausage stuffer and use your hand to guide the casings. You want the sausage to fill the casings, but not so tight that they rupture. Work at a pace that works for you, trying to avoid air pockets. Continue this process until the sausage is used up.
If you would like to portion off your sausage, you can do so by measuring off 5 inch lengths and twisting the sausage (gently) towards yourself, twice. Using your sterilized needle, poke holes in any remaining air bubbles that need to be removed.
Put the sausage into the fridge, uncovered for about 2-3 hours to dry out the casings slightly, then package and either freeze for future use or use up in the next few days.
Nutrition Information:
Yield:
16
Serving Size:
1
Amount Per Serving:
Calories:

337
Total Fat:

22g
Saturated Fat:

8g
Trans Fat:

0g
Unsaturated Fat:

12g
Cholesterol:

102mg
Sodium:

735mg
Carbohydrates:

2g
Fiber:

0g
Sugar:

0g
Protein:

28g
Nutrition information provided is an estimate from nutritionix.com. For specific health concerns, please put the recipe into your Dr recommended nutrition calculator.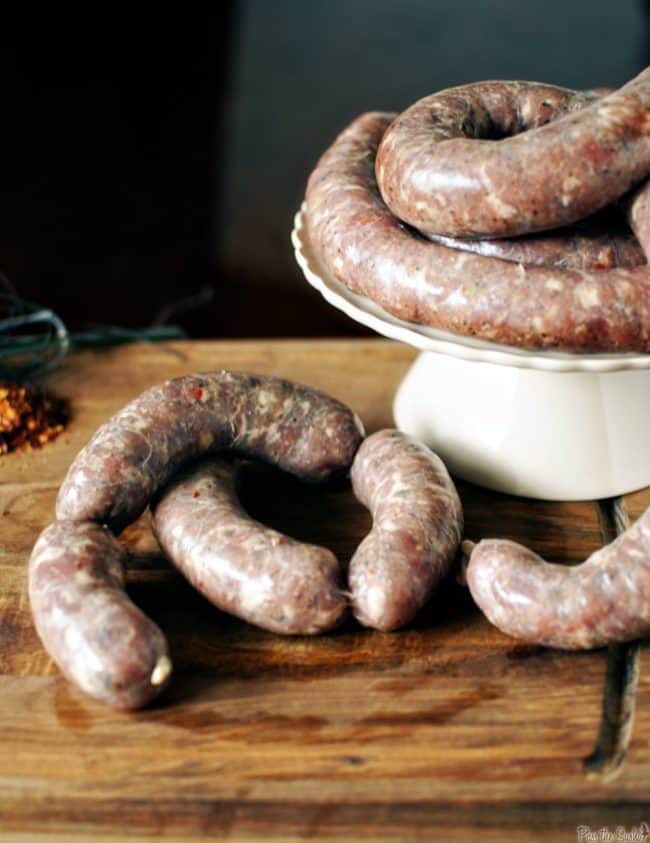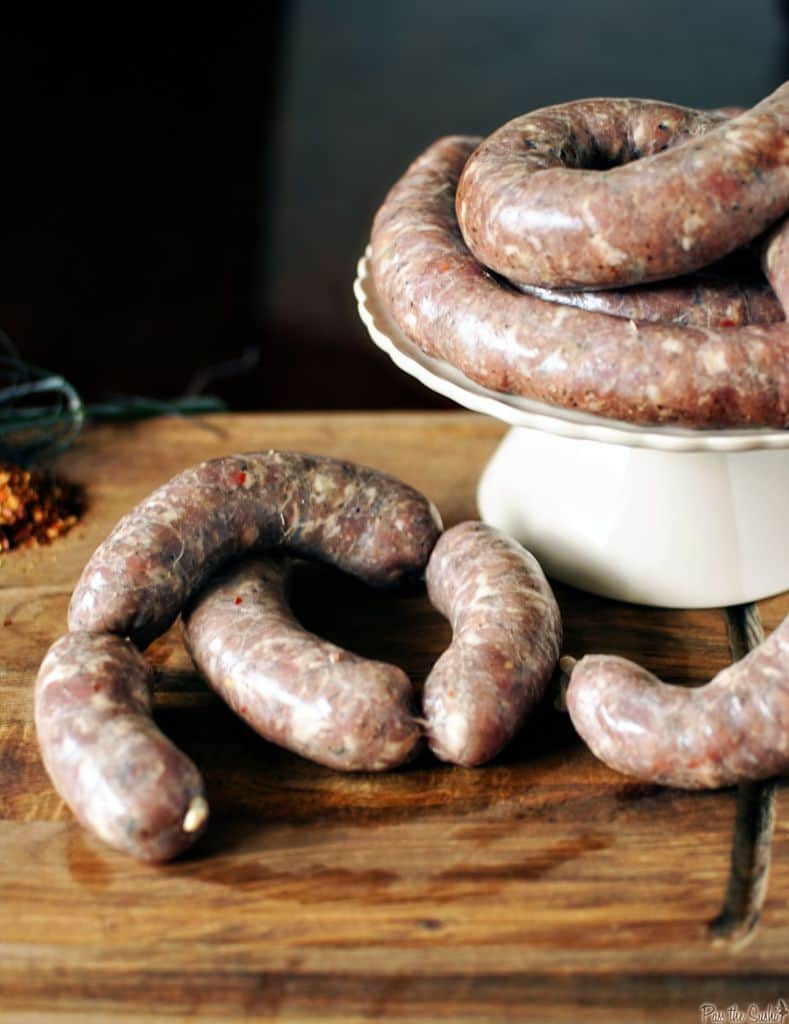 This was an experience, but I can't say it was the best Italian sausage ever. I made another batch (a beer base for a beer garden inspired party) that I also felt fell a little short in the flavor department. I will be working on improving the flavor with a few more batches, though I can't promise it's something I'll rush to do. Especially knowing what's in store for me when I open that next package of casings up.