100 Grand cupcakes are dessert heaven. 100 Grand candy bars, stuffed inside and on top of moist chocolate cupcakes. With a caramel drizzle and fluffy buttercream frosting.
I don't like to write about things that I am greatly opinionated on (well, other than food) because I don't think this is the place for it, but you're just going to have to excuse my turn at the pulpit for this. Or, just skip ahead to the 100 Grand cupcakes recipe.
What is with everyone on the road lately? Have we all forgotten that 17 million people are out there with us and that our actions do indeed effect everyone else around us? I don't consider myself an excessive driver. I have had my car for 4 years and haven't hit 30k miles yet, but when I drive, I am amazed at everyone around me.
First, put down the damn phone. Texting while driving is just not cool. I ride on the back of a motorcycle and watch you watching your phone swerving towards me. Whatever it was that was so important it wasn't worth picking up the phone to actually interact with the other individual receiving the letters on the screen can wait. I know some EMT's. I've seen pictures of the accidents. Trust me, it can wait.
When did yield signs mean speed the heck up and assume any on coming traffic you didn't bother to check for will slam on their brakes to avoid hitting you? Seriously, slow down and look. I don't want to end up back in court because you were in a rush to get to church.
Turn from turn lanes. Not the straight lane two lanes over because you missed it causing everyone else to freak out. You missed it, its America, like 99% of this country has been robbed of its scenery and paved, you can turn around at the next intersections. Ones coming I promise.
Don't cruise at 7 miles below the speed limit. That train of traffic acting like your the pace car at the Daytona 500 is just getting pissy. And late.
Riding my ass with your bass thumping will only make me drive 7 miles below the speed limit. It is not going to make me speed up.
If I watch you weaving in and out of traffic, I can become the most patient driver in the world never needing to go faster or slower than the person in front of me for a very very long time.
If your not handicapped, get out the damn spot. I know you're only running in and out, but you probably could use the extra few feet from the spot next to it.
Riding with your flashers on does not mean you are allowed to drive however you want to. It means your flashers are on and you are drawing more attention to yourself. If you don't feel like finding a spot like everyone else in this tiny crowded college town, those blinkly lights do not mean you get to stop in the road just to grab your sushi order.
That thing after the solid white line, yeah, that's the shoulder, not your own personal lane.
Now calm down and take a bite of 100 Grand cupcakes.

100 Grand Cupcakes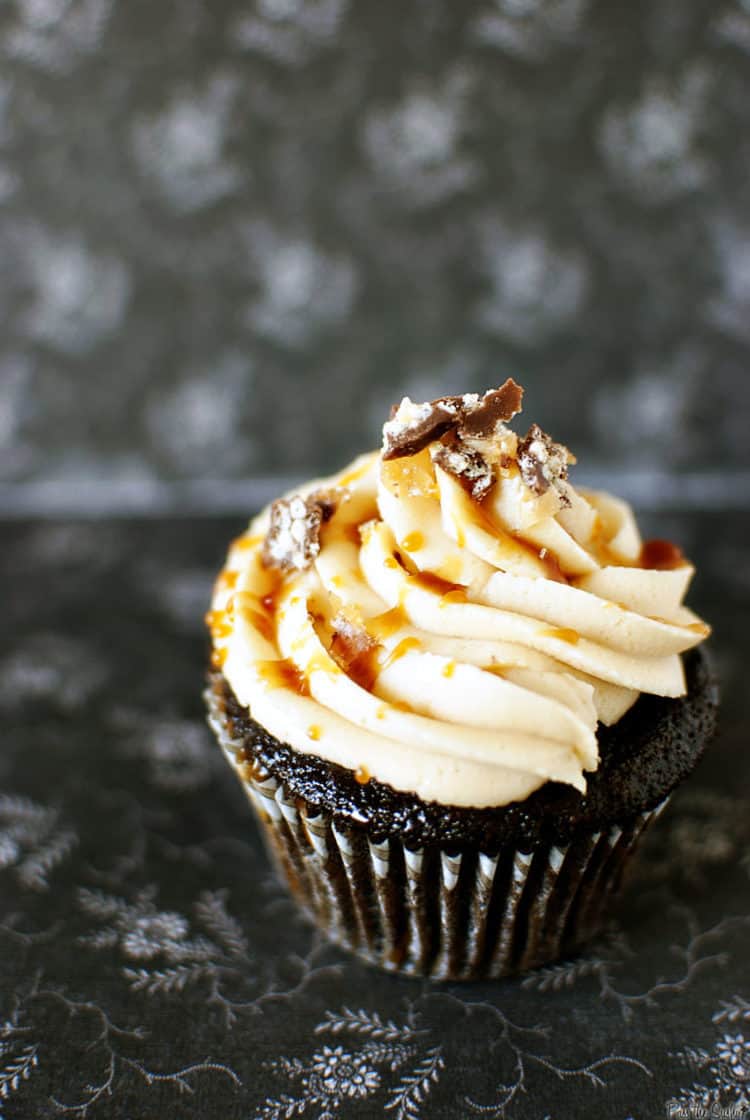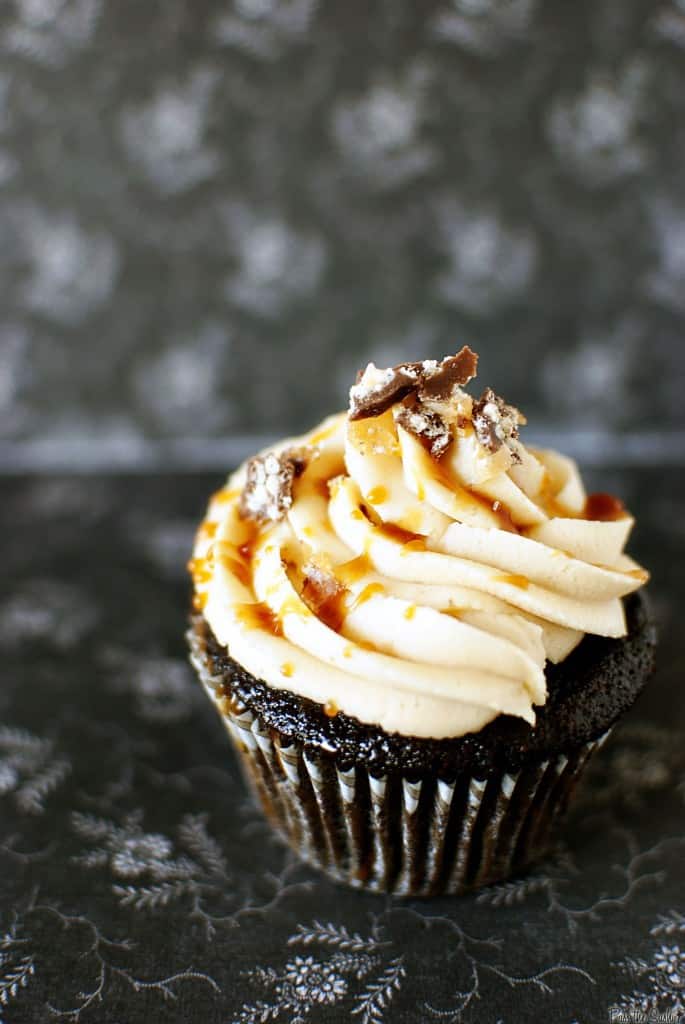 Discovered on The Novice Chef, Chocolate Cupcakes adapted from Hershey's, Salted Caramel Buttercream adapted from My Baking Addiction
Ingredients:
Chocolate Cupcakes:
2 cups sugar
1-¾ cups all-purpose flour
¾ cup HERSHEY'S Cocoa
1-½ teaspoons baking powder
1-½ teaspoons baking soda
1 teaspoon salt
2 eggs
1 cup milk
½ cup vegetable oil
2 teaspoons vanilla extract
1 cup boiling water
8 frozen 100 Grand snack size candy bars, cut into thirds
Salted Caramel Frosting:
2 sticks unsalted butter; room temperature
2 teaspoons pure vanilla extract
3 ½ cups confectioners' sugar
⅓ cup caramel topping; plus more for drizzling
1 teaspoon salt
Preparation:
For the Chocolate Cupcakes:
Freeze your 100 Grand Bars before starting this process.
Preheat oven to 350°F. Line 2 cupcake pans with liners.
In a large bowl, stir together sugar, flour, cocoa, baking powder, baking soda and salt. Add eggs, milk, oil and vanilla; beat on medium speed of mixer 2 minutes. Stir in boiling water.
Fill cups ⅔ full with batter. Add in one piece of frozen 100 Grand bar. Add an additional tablespoon batter on top to ensure the candy bar is covered. Bake 22 to 25 minutes.
For the Salted Caramel Frosting:
Cream the butter in the bowl of an electric or stand mixer. Add the vanilla extract, salt and caramel syrup and combine well.
Begin adding in the powdered sugar a little at a time and mixing thoroughly after each addition. After all of the sugar has been added and mixed thoroughly, give it a taste and decide if you want to add in more caramel syrup. For thicker frosting you can gradually add in a little more sugar.
Garnish with chopped 100 Grand bars and a drizzle of caramel of caramel syrup.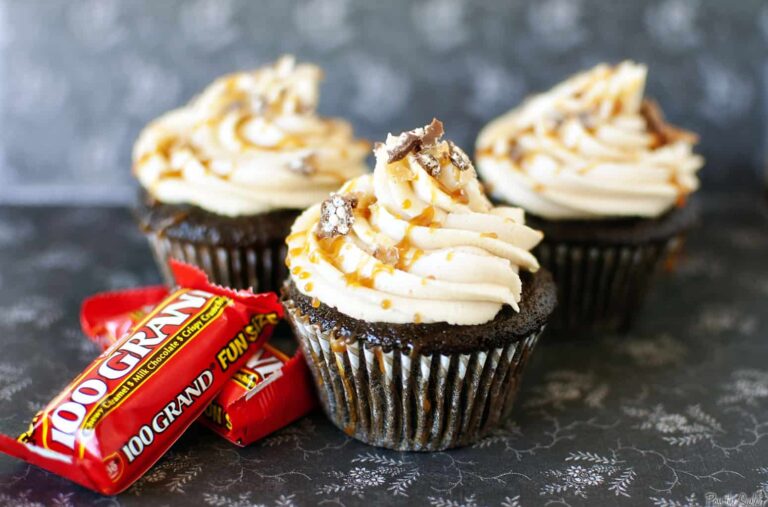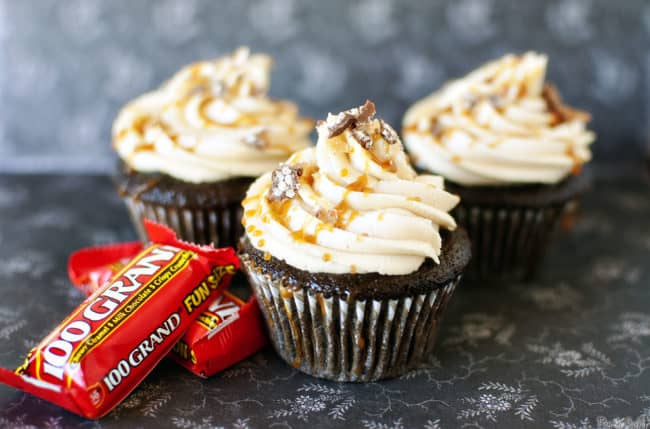 Be sure to freeze those 100 Grand candy bars! Otherwise they just melt to the bottom of your cupcake. Not talking from experience or anything...