Skillet meals are one of the easiest ways to feed a family. Chicken, potatoes, lemon, and fresh rosemary are added to one skillet, then cooked in the oven for a delicious dinner.

There's something appealing about a one dish meal (to be fair this one needs a pot of boiling water for the potatoes too…). Something magical about a skillet that can get tossed into the oven. And something quite spiffy about delicious hearty dinners at this time of year. Well, being honest, I don't think there's a time of year when I wouldn't skip breakfast or lunch for a good dinner. When all of the above combine, we can take a bite of rosemary scented heaven and relax after a long day.
This skillet chicken dinner can satisfy a hungry family on a weeknight, or easily impress guests with minimum effort.
However or whoever you want to serve it to, rush off into your kitchen and get this skillet rosemary chicken cooking as quick as you can.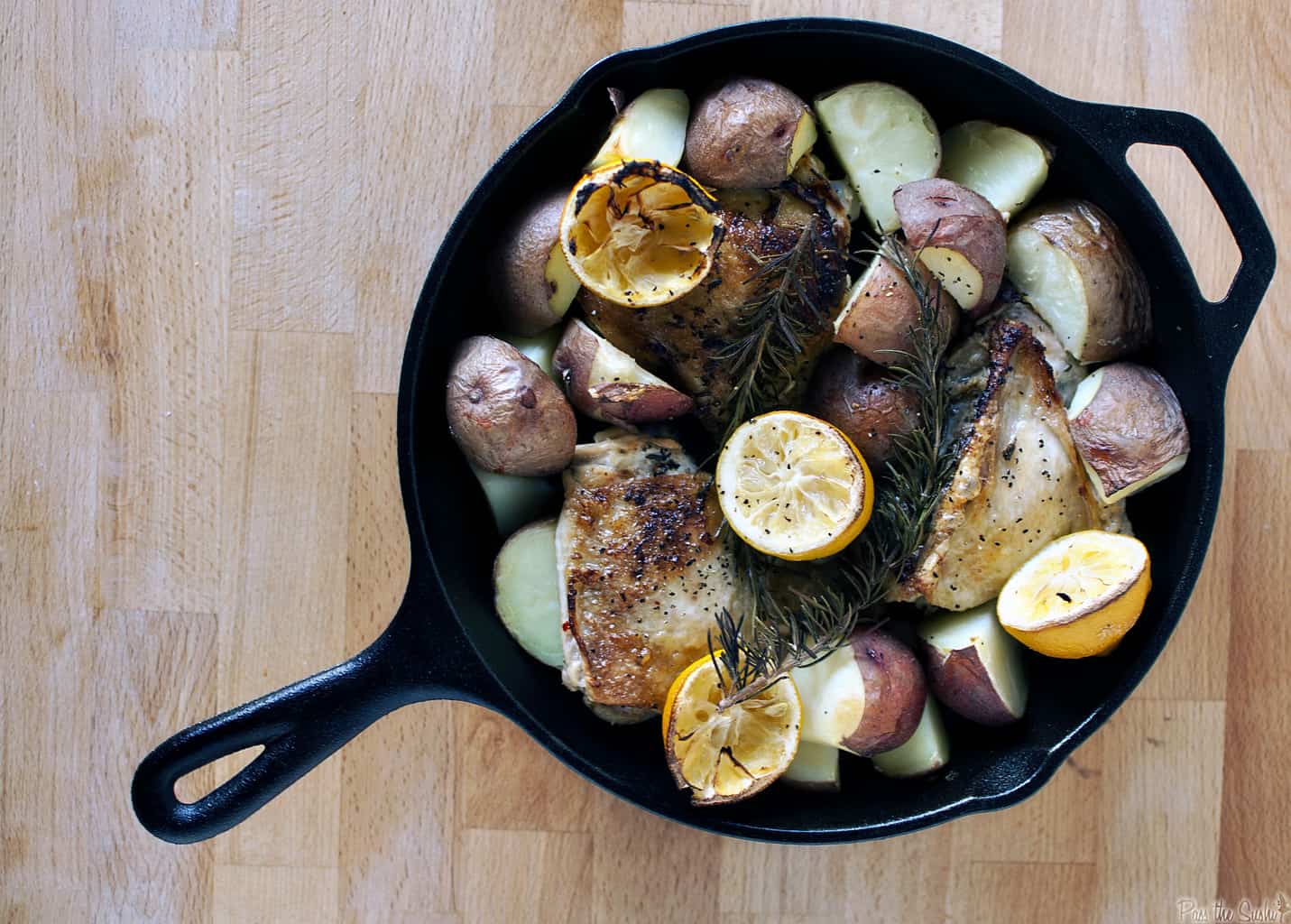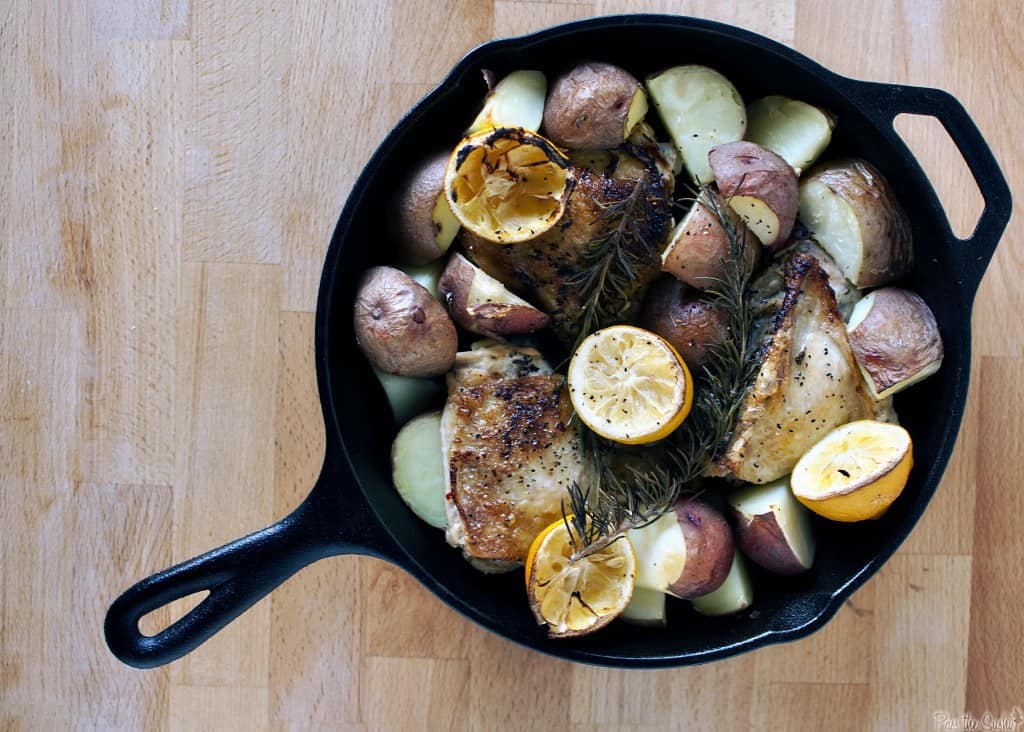 Skillet Rosemary Chicken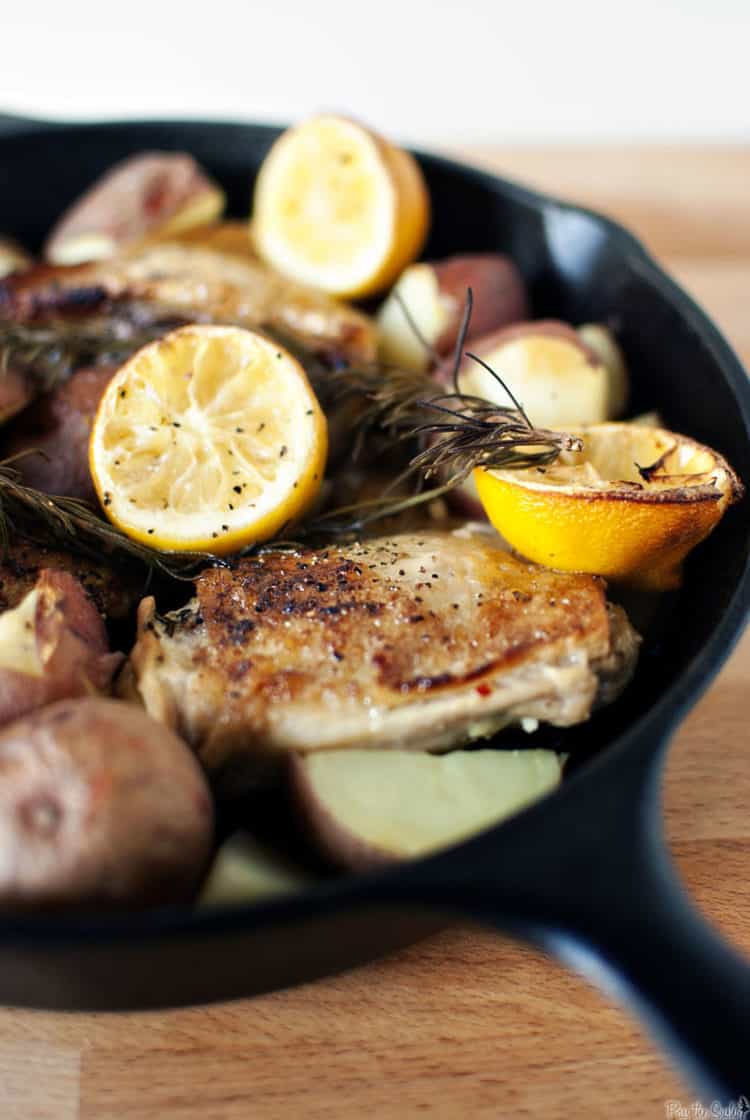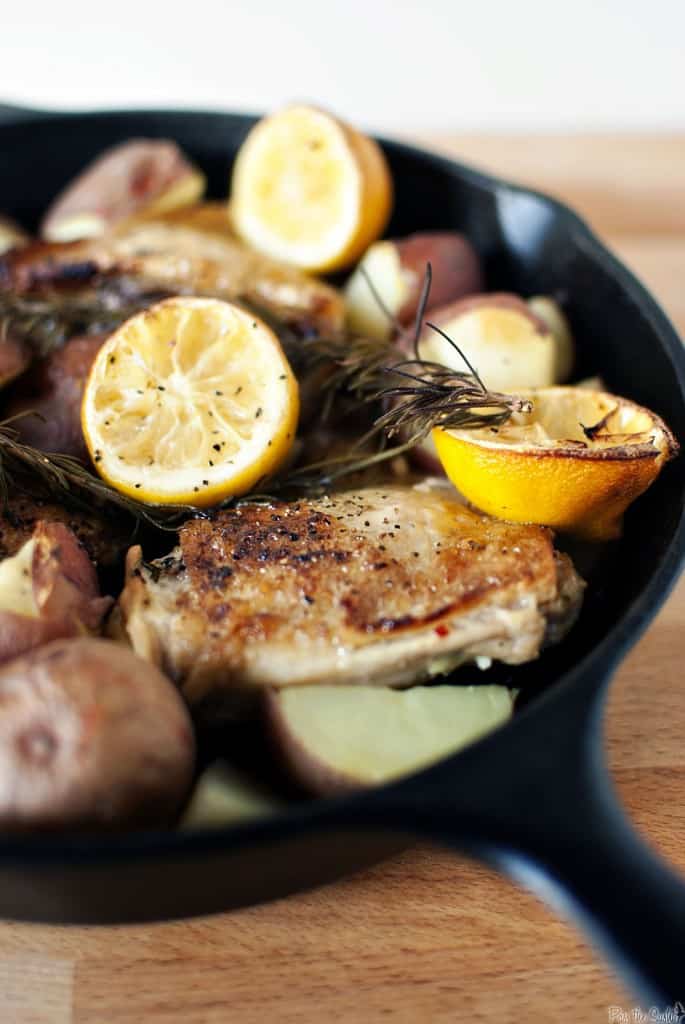 From Food Network Magazine
Ingredients
3/4 pound small red-skinned potatoes, halved, or quartered if large
Kosher salt
2 sprigs fresh rosemary, plus 1 tablespoon leaves
1 clove garlic, smashed
Pinch of red pepper flakes
Juice of 2 lemons (squeezed halves reserved)
2 tablespoons extra-virgin olive oil
4 skin-on, bone-in chicken breasts (6 to 8 ounces each)
10 ounces cremini mushrooms, halved
Preparation:
Preheat the oven to 450. Cover the potatoes with cold water in a saucepan and salt the water. Bring to a boil over medium-high heat and cook until tender, about 8 minutes; drain and set aside.
Pile the rosemary leaves, garlic, 2 teaspoons salt and the red pepper flakes on a cutting board, then mince and mash into a paste using a large knife. Transfer the paste to a bowl. Stir in the juice of 1 lemon and the olive oil. Add the chicken and turn to coat.
Heat a large cast-iron skillet over medium-high heat. Add the chicken, skin-side down, cover and cook until the skin browns, about 5 minutes. Turn the chicken; add the mushrooms and potatoes to the skillet and drizzle with the juice of the remaining lemon.
Add the rosemary sprigs and the squeezed lemon halves to the skillet; transfer to the oven and roast, uncovered, until the chicken is cooked through and the skin is crisp, 20 to 25 minutes.