Skillet cookie? Yes! A warm, chewy chocolate chip cookie that is baked in and served from a cast iron skillet. Get your fork, and don't forget the ice cream!
Today is brought to you by the letter C. As in Cookie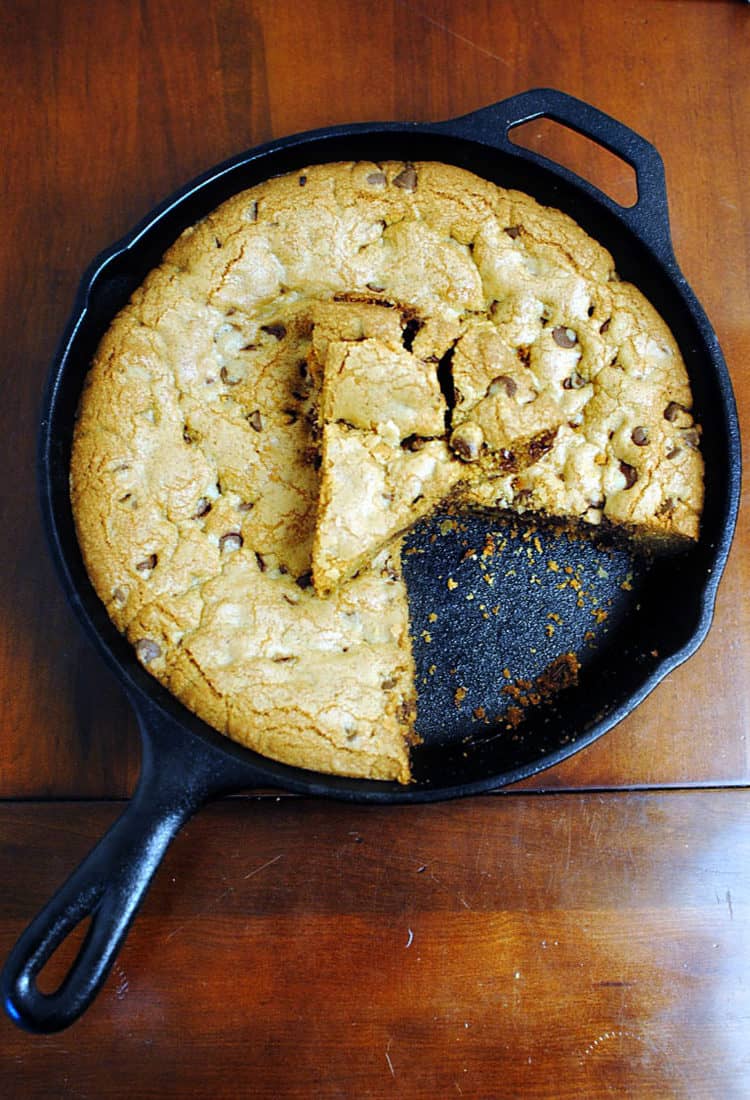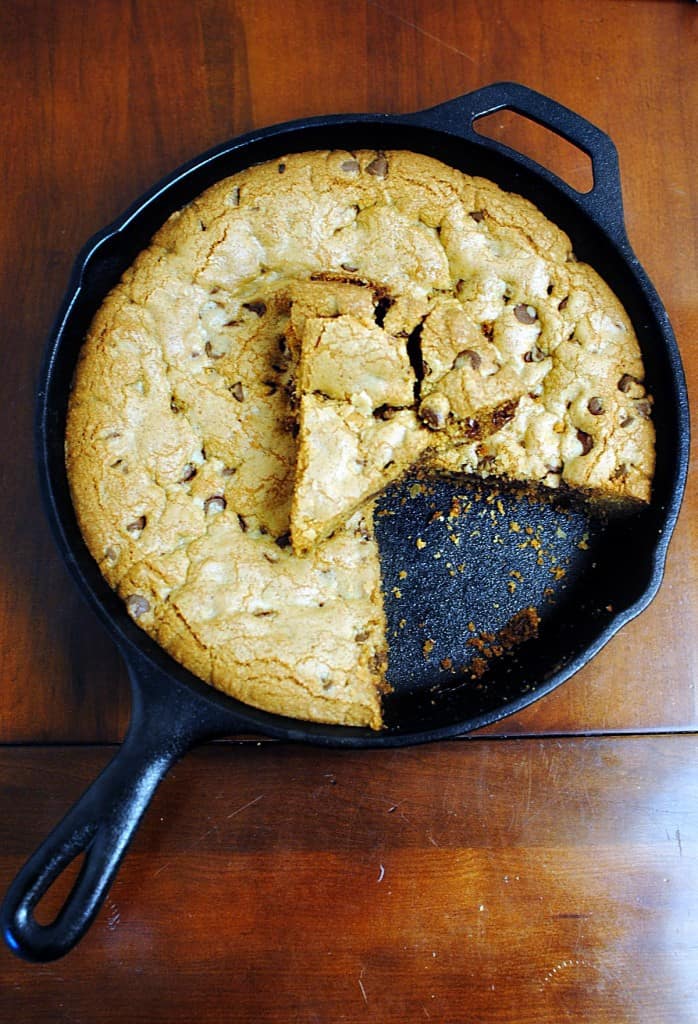 Giant skillet cookie. Mmm.
Said in my best googly eyed Cookie Monster impression.
I was watching last week's Top Chef Allstars and was happy to see the Sesame Street characters on there. Not because I think that our Top Chefs skills aren't far and above Sesame Street, but because I'm 99% sure it made some of them heroes to their children. It was also neat to see muppets making grown chefs in a serious competition laugh. Whether this says something about the direction of Top Chef or not, we'll leave to another debate. Either way, I thought it was fun.
The rest of the episode, we won't talk about, because we have a chocolate chip skillet cookie to bake!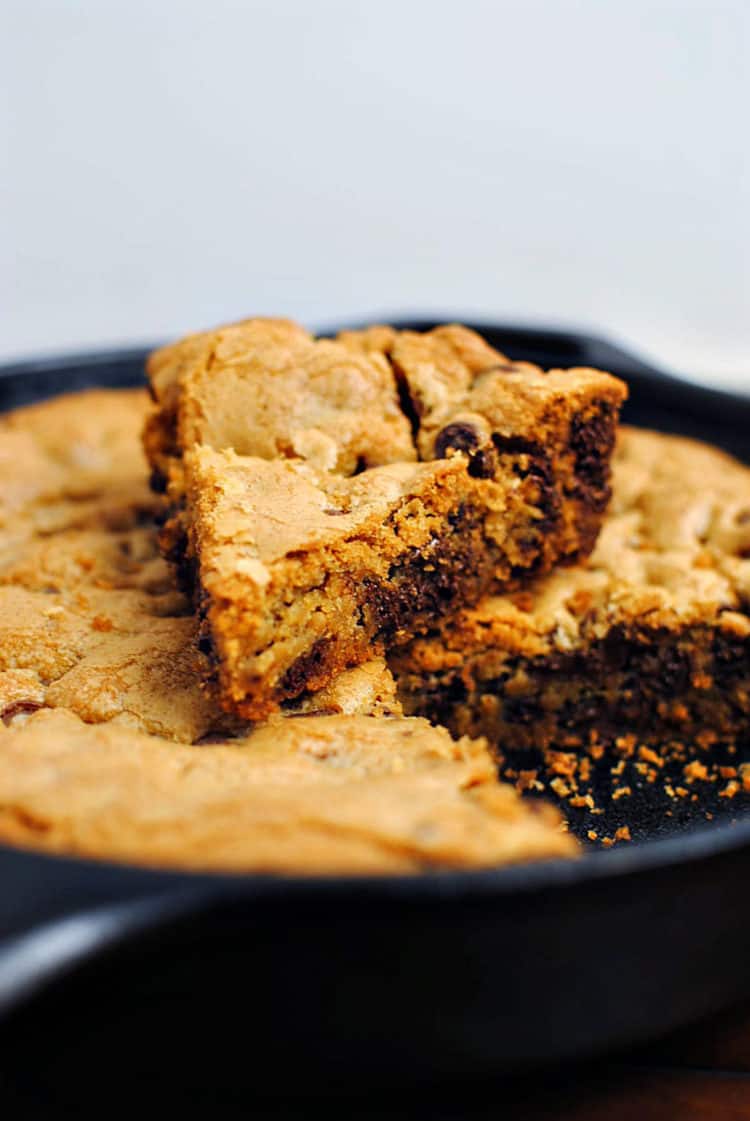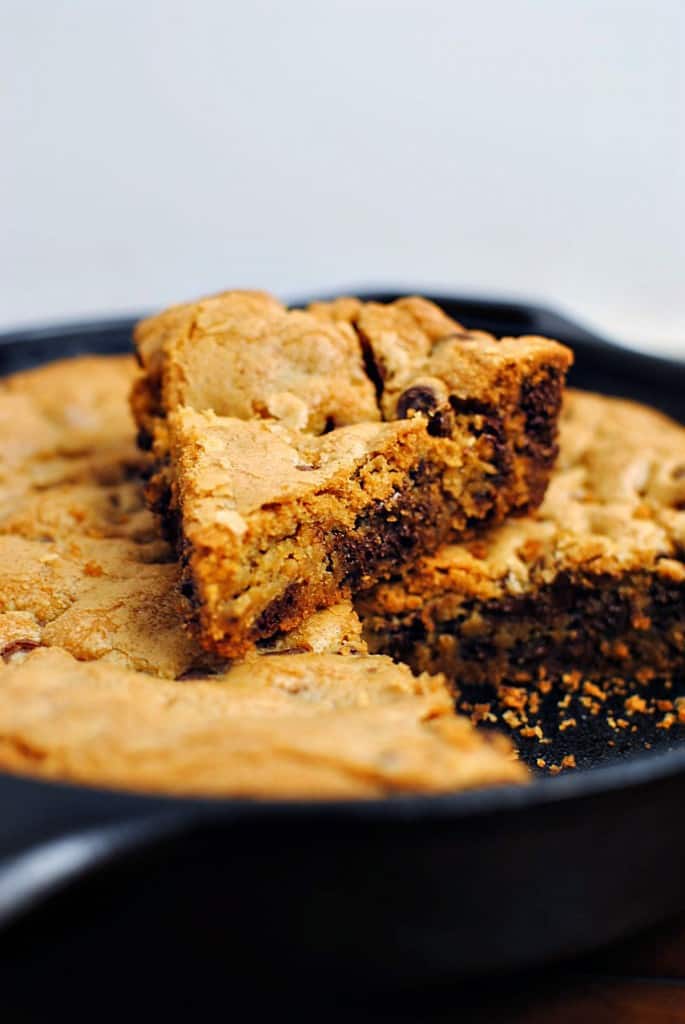 Chocolate Chip Skillet Cookie
Discovered on Tracey's Culinary Adventures originally from Martha Stewart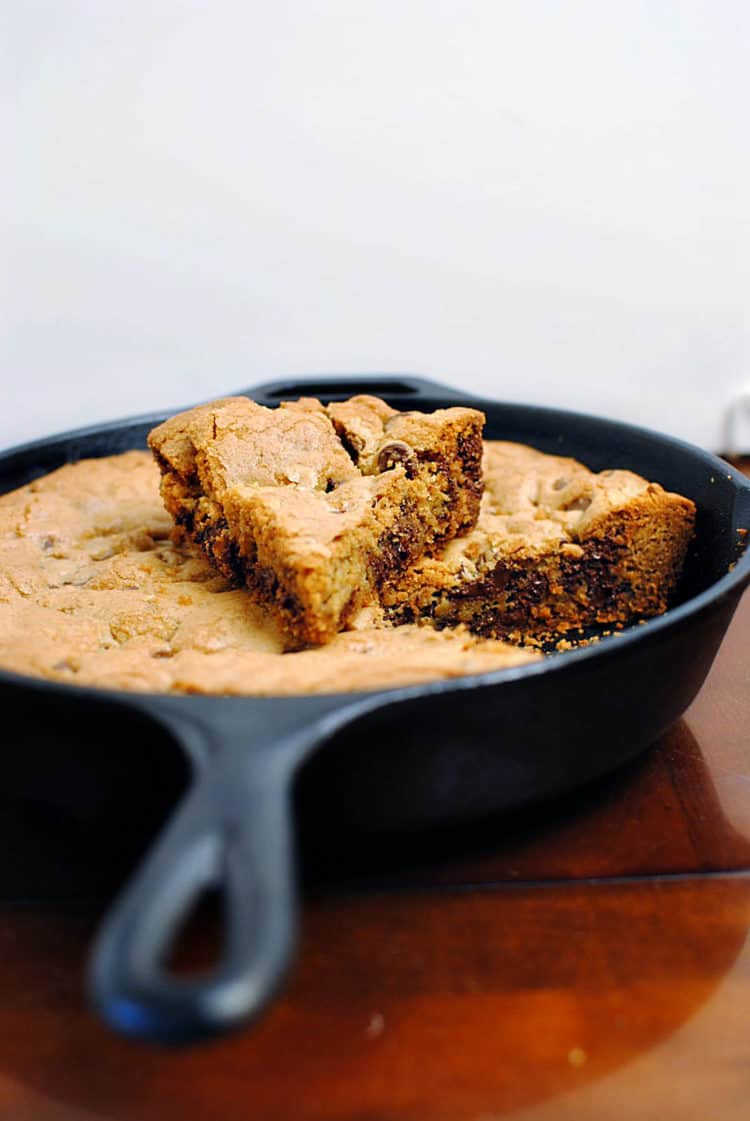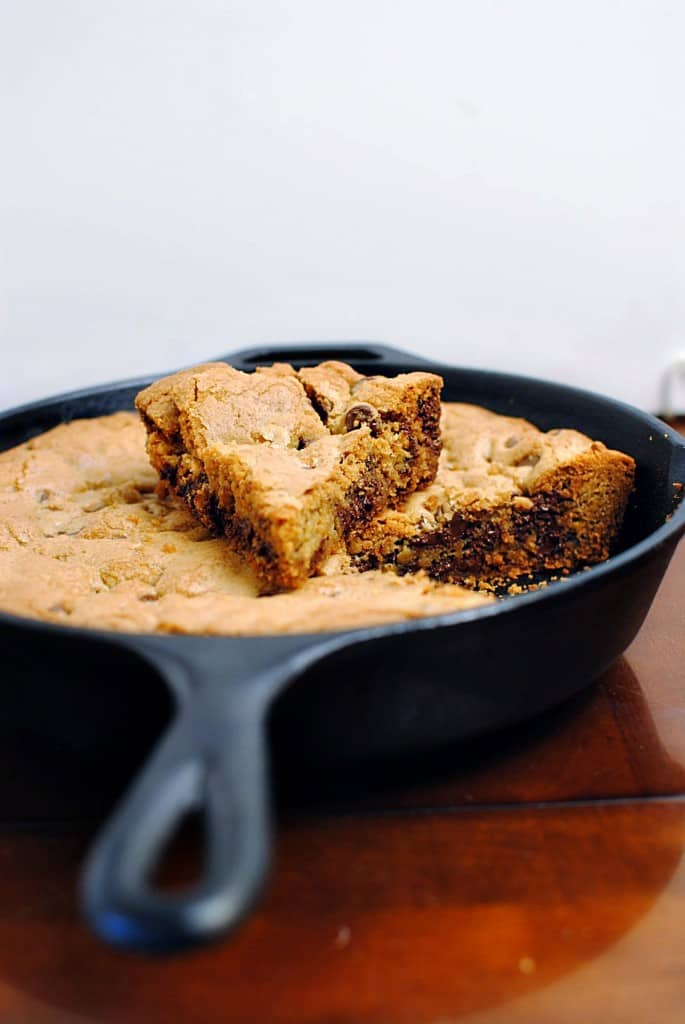 Ingredients:
2 cups all-purpose flour
1 teaspoon baking soda
½ teaspoon salt
¾ cup (1 ½ sticks, 12 tablespoons) unsalted butter, at room temperature
½ cup sugar
¾ cup packed light brown sugar
1 large egg, at room temperature
2 teaspoons vanilla extract
1 ½ cups (about 9 oz) semisweet chocolate chips
Preparation:
Preheat oven to 350 F.
In a medium bowl, whisk together the flour, baking soda, and salt.  In the bowl of a stand mixer fitted with the paddle attachment, cream the butter and sugars until the mixture is light and fluffy, about 2-3 minutes.  Add the egg and vanilla extract, mixing until well incorporated.  With the mixer on low speed, add the flour mixture and beat just until combined.  Finally, add the chocolate chips and mix to distribute.
Transfer the dough to a 10-inch ovenproof  skillet, and press to flatten in an even layer on the bottom of the pan.  Bake until the edges of the cookie are brown and the top is golden, about 40-45 minutes.  Don't overbake; it will continue to cook a few minutes out of the oven. Transfer to a wire rack to cool slightly before serving.
*I got the idea to use the iron skillet from Tracey in the post that I discovered this beauty on, but any skillet would work.
And what is this I hear about Cookie Monster only being allowed to have cookies as a sometimes snack? He's the freakin Cookie Monster! Leave the rest of the muppets to be responsible. :p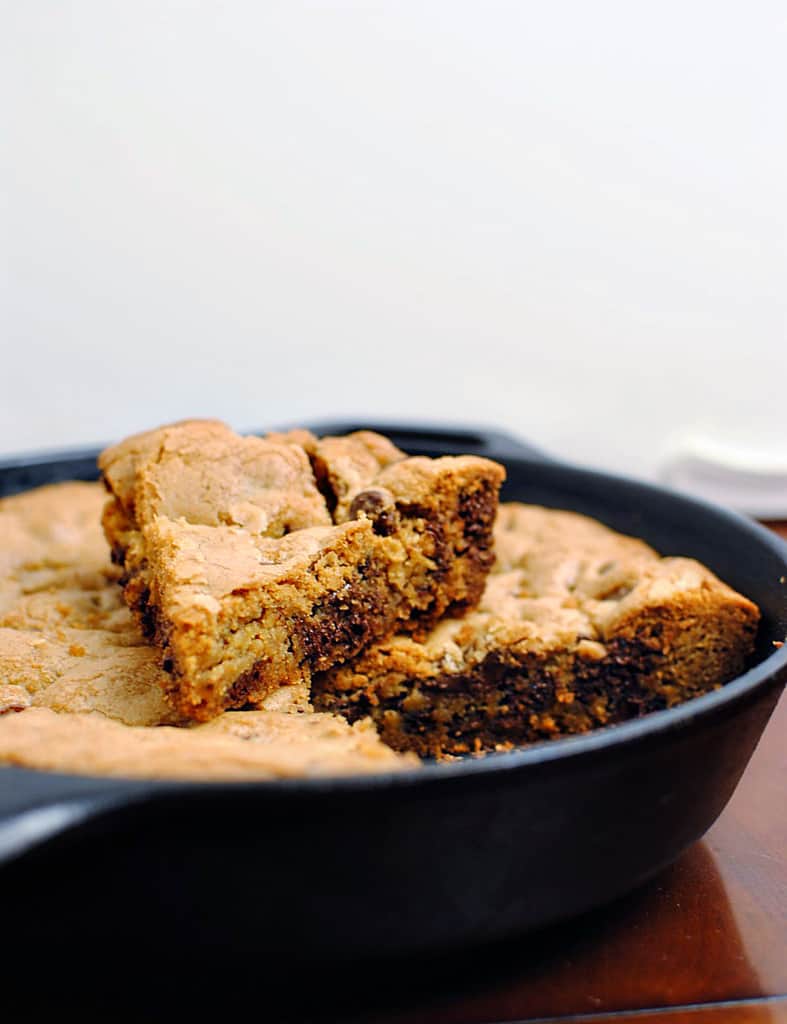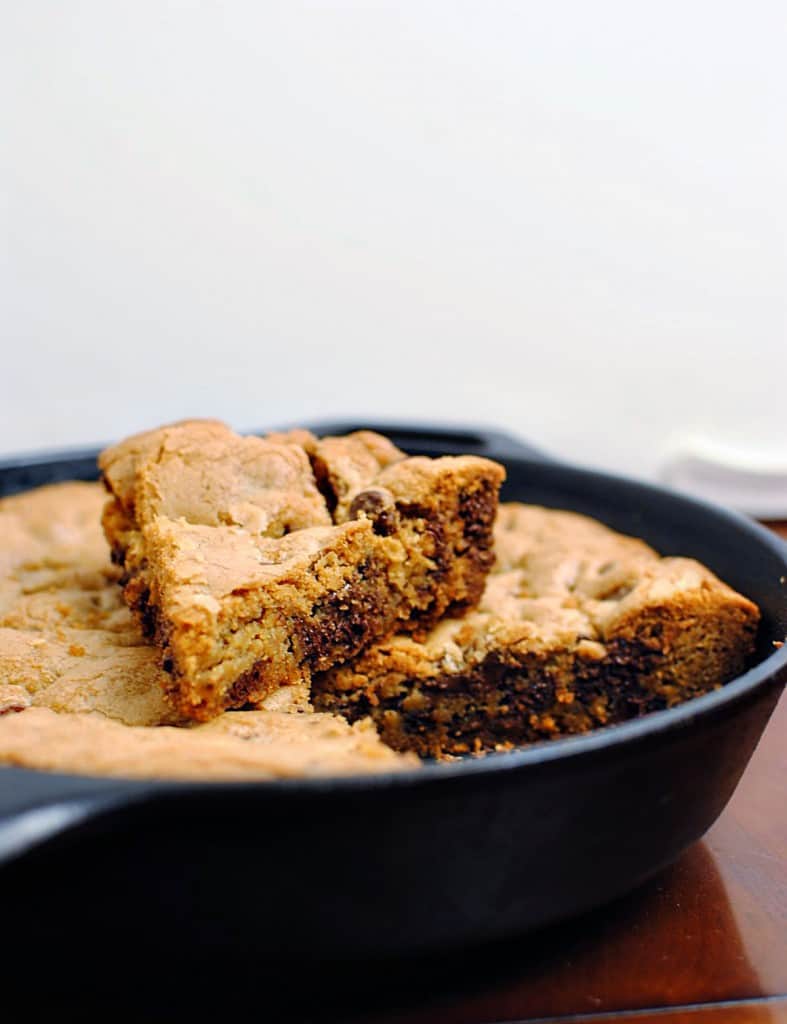 PS. Sorry the pics aren't great but this is really one hell of a skillet cookie! Try it! I promise you'll love it!