It's as easy as ______! Go on, fill in the blank.
A few weeks ago while we were at a bike race, I was cheering people on. "It's as easy as CAKE!," came flying from my mouth. I didn't think anything of it, but Handsome looked at my dumbfounded. "Cake? What the hell is that?"
Now, to be fair, I am very bad at expressions. I never get them quite right, almost like I miss the nuance of it. So, I thought for a while that perhaps cake was not the right way to say what I was trying to and that it was peculiar…. Until my co-worker said exact the same thing the other day, "Easy as cake!" Thank you!
Now on to our own pint sized cakes.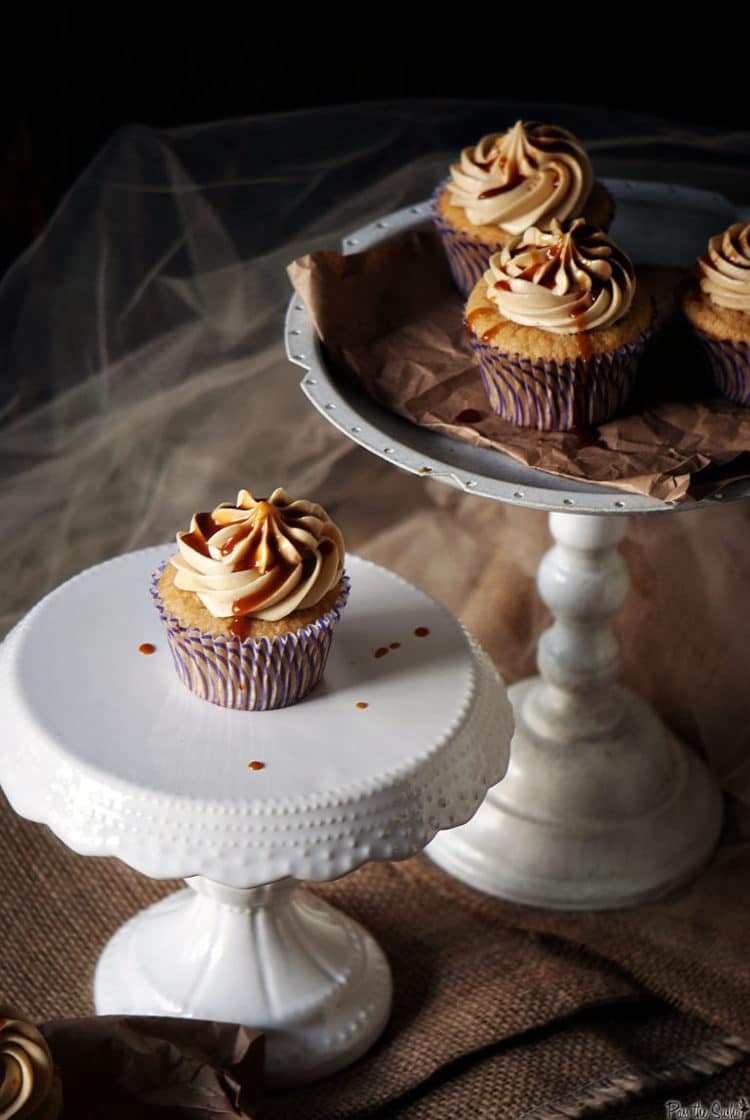 Salted Caramel Cupcakes
from SprinkleBakes
Ingredients:
For the brown sugar cupcakes:
1 1/2 cups flour
1 teas baking powder
1/4 teas salt
1 stick unsalted butter, at room temperature
1 cup plus 2 tbs packed light brown sugar
2 eggs, at room temperature
1 teas vanilla
1/2 cup plus 2 tbs buttermilk, at room temperature
For the caramel filling:
1/2 cup sugar
3 tbs salted butter, cubed
1/4 cup plus 1 tbs heavy cream, at room temperature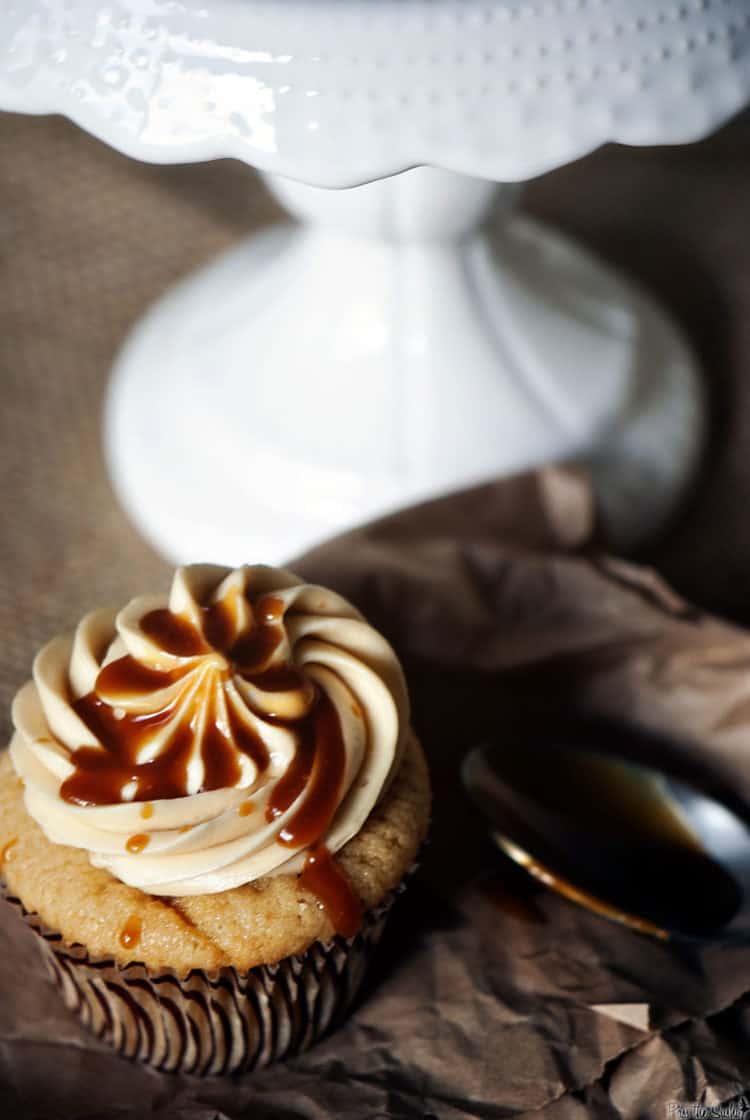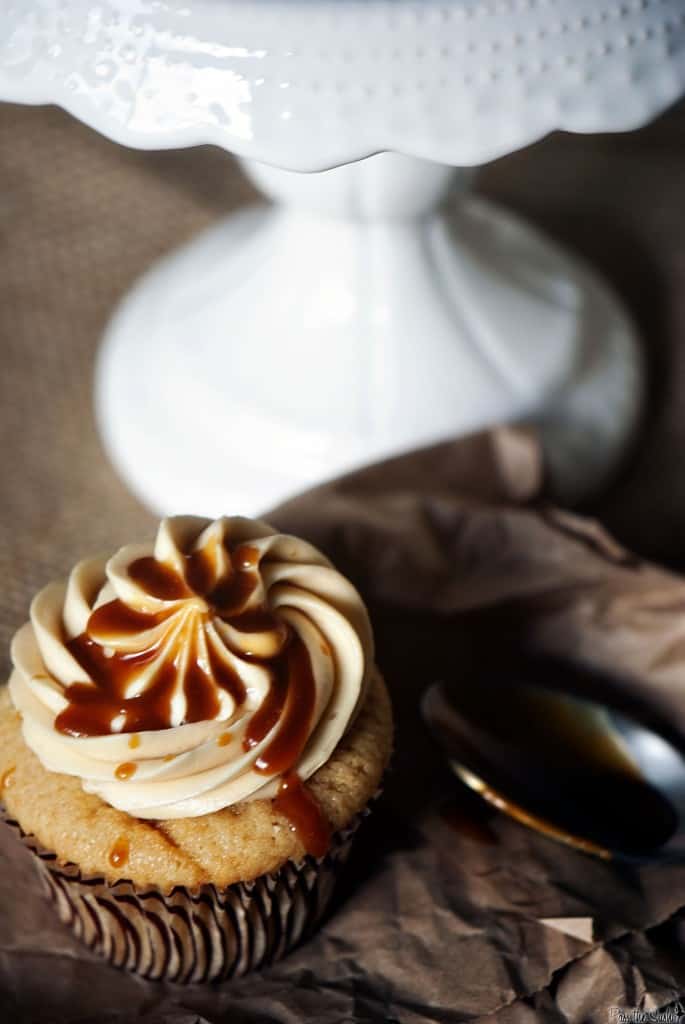 For the caramel buttercream:
1/4 cup sugar
2 tbs water
1/4 cup heavy cream
1 teas vanilla extract
1 stick salted butter, softened
1 stick unsalted butter, softened
1/2 teas sea salt
1 1/2 cups confectioners' sugar
Preparation:
For the cupcakes: Preheat the oven to 325 degrees F and line a muffin tin with paper cupcake liners.
In a large bowl, combine the flour, baking powder, and salt; Set aside.
In the bowl of a stand mixer fitted with the paddle attachment, cream the butter and brown sugar over medium-high speed until pale and fluffy, about three minutes. Add the eggs, one at a time, scraping down the sides as needed. Mix in the vanilla.
Add the flour mixture in three batches, alternating with the buttermilk, beating until incorporated.
Using a medium ice cream scoop, divide the batter evenly between the lined cups, filling each a little over half way.
Bake for 25 minutes, or until a toothpick inserted in the center comes out clean. Place on a wire rack to cool for 10 minutes, then turn the cupcakes out onto wire racks to cool completely.
Make the filling: In a medium sauce pan over medium-high heat, melt the sugar, whisking occasionally. Cook until the sugar turns a deep amber.
Stir in the butter until melted. Pour in the heavy cream carefully as the mixture will bubble and foam. Whisk until the mixture becomes a smooth sauce. Remove from heat and allow to cool slightly.
To fill the cupcakes, with a small pairing knife, cut out a circle in the center of each cupcake about 1 inch deep. Don't discard the cutouts. Spoon 1 teas of sauce in the center of each cupcake and pop the tops back on.
Make the buttercream: In a medium saucepan over medium-high heat, stir together the sugar and water. Bring to a boil and cook without stirring until the mixture turns a deep amber. Remove from heat and slowly add the cream and vanilla, stirring until smooth. Set aside and let cool for at least 20 minutes. It will still be pourable, just not burn your face off hot any more.
In the bowl of your stand mixer, fitted with a clean paddle attachment, beat the butter until light and fluffy.
Reduce the speed of the mixer to low and slowly add the confectioners' sugar. Scrape down the sides and with the motor still running on low, pour in the cooled caramel.  Increase speed to medium-high and beat until light and fluffy, about 2 minutes.
Spoon icing into an pastry bag fitted with desired tip and ice cupcakes.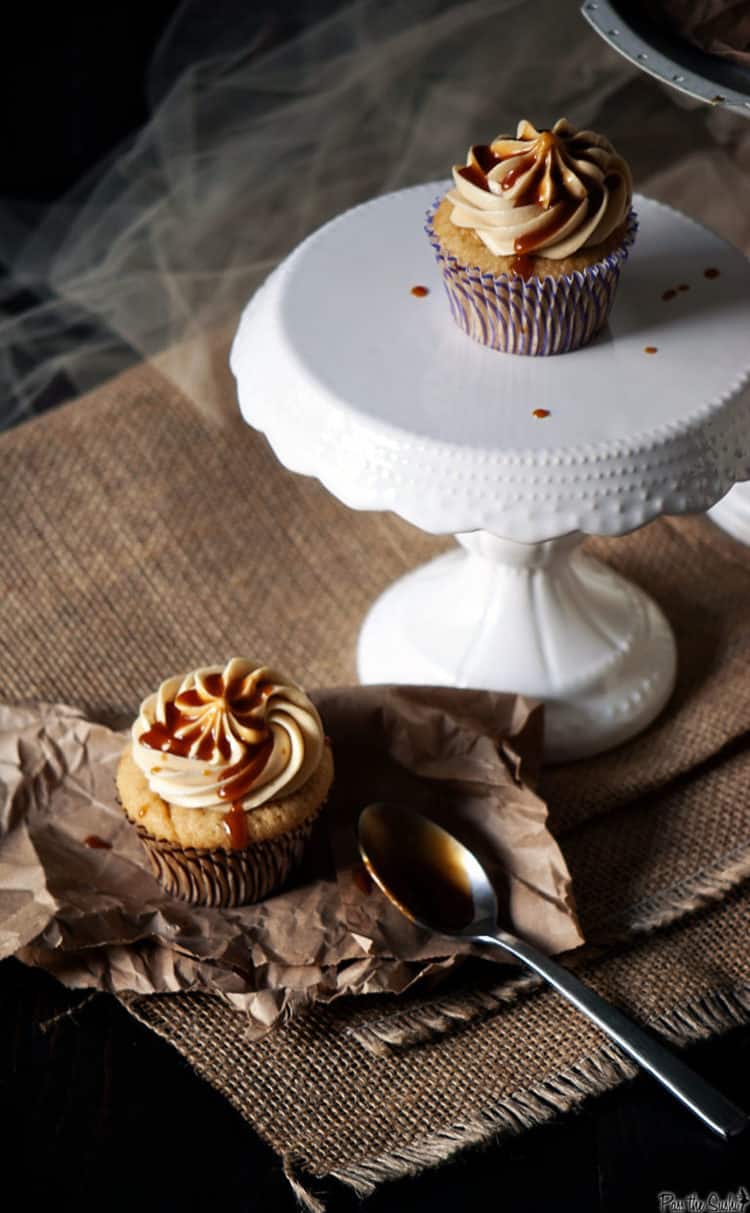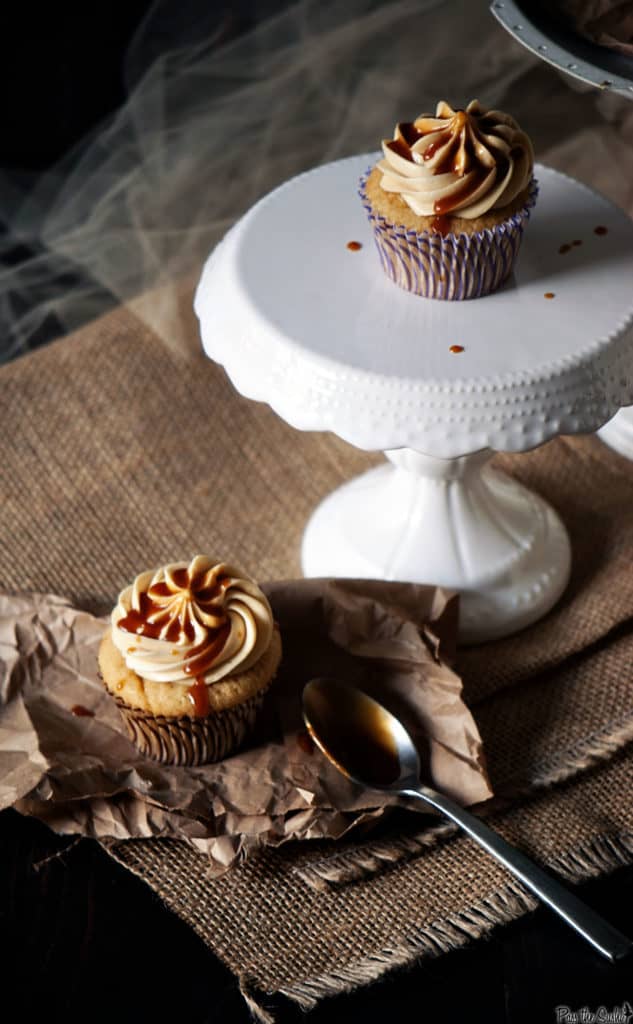 The winner of last weeks Silpat giveaway from BigKitchen was Sara!