Sage-walnut butter sauce is easy to make, with a deep, rich, earthy taste. It's elegant enough to serve at a dinner party, but simple enough to make any day of the week.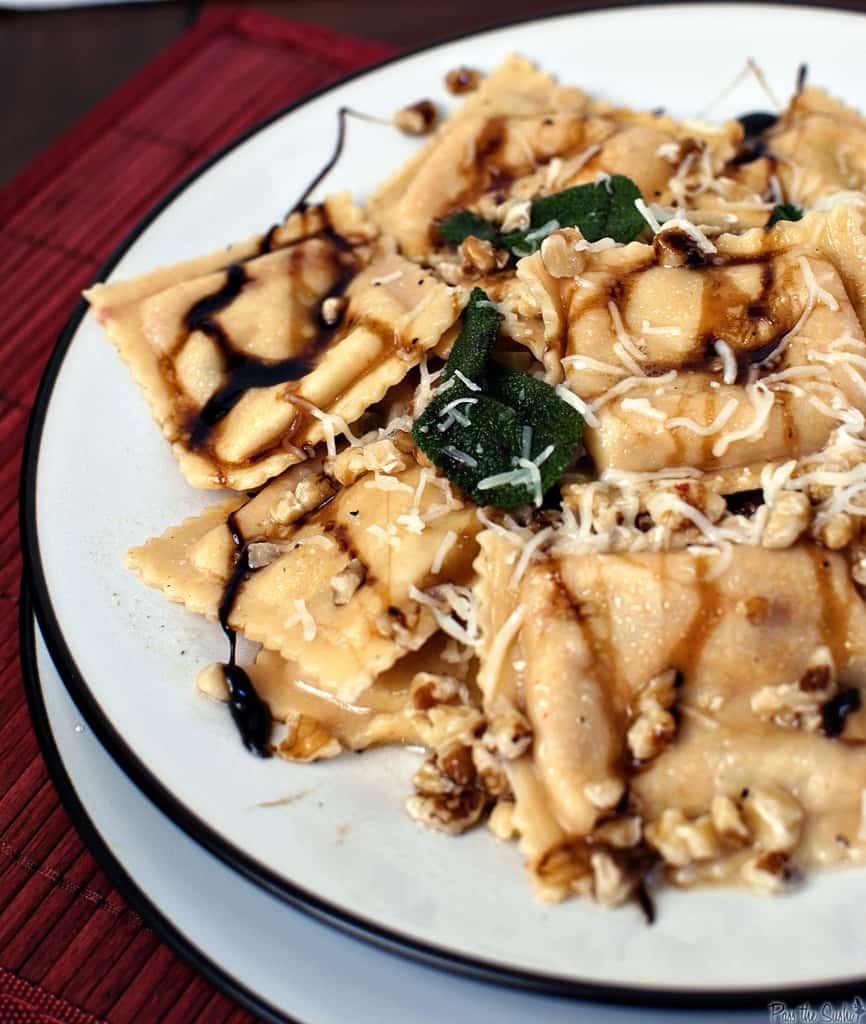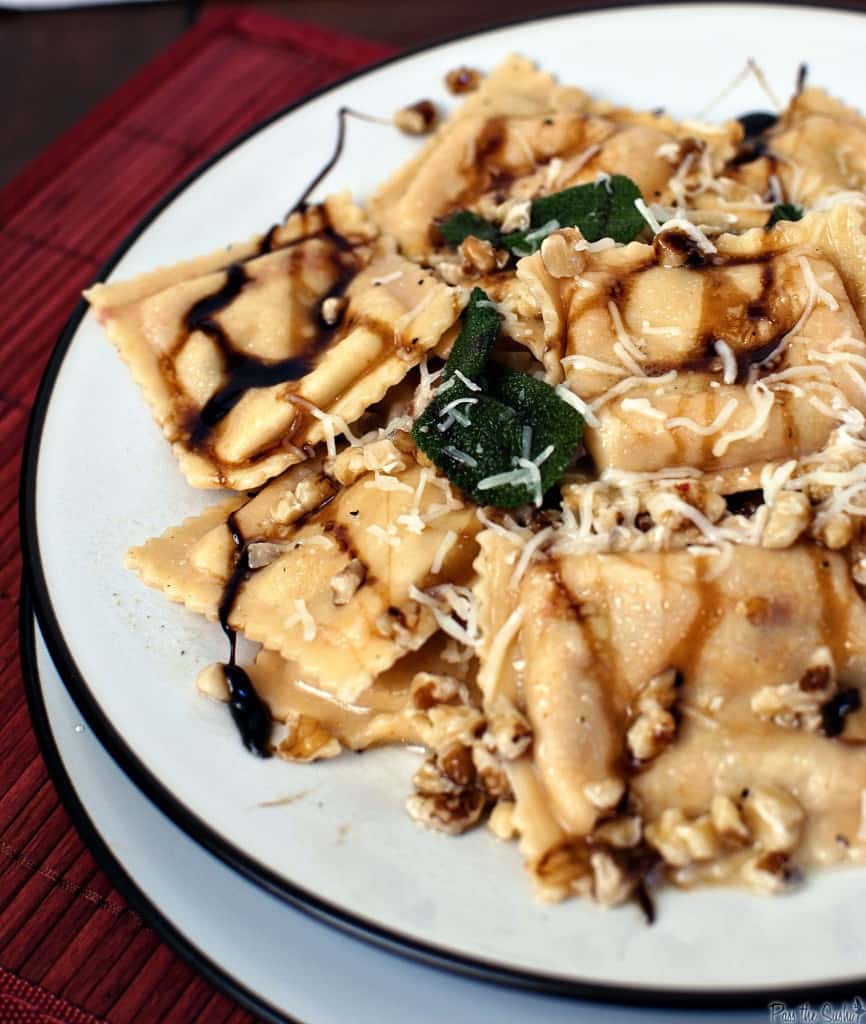 To say that I have a lot of recipes on file would be a huge understatement. I have a collection of bookmarked websites that would put the NY Public Library system to shame, more magazines than I know what to do with, and a cookbook collection so large I had to organize it in a spreadsheet to not buy the same one twice.
Recently, I realized that this needs to change. I will never find what it is I am looking for if I am swimming in so many options that I can't breath. 99 tabs of paper wont matter in any magazine if I don't have a way of remembering what it is I wanted to make when I want to make it.
So my latest organization plan has been to flip through magazines in my down time ripping out any recipes that I really really feel are worth keeping. After that I recycle the rest of the magazine, then I organize the recipes – Sweet, Savory, App, Yeast – you get the idea, in corresponding folders. Then I write on the front of the folders for each of the ones I feel need to be made immediately.
This is the most exciting post in the world, isn't it? But so far, my new method has been effective at getting rid of a ton of magazine clutter. I don't know if I'll ever have the guts to just rip recipes out of my actual cookbooks, though it's starting to sound like a good idea.
However, upon organizing my 'must try recipes', I noticed the same exact recipe, 5 months apart, in the same magazine. We're not talking a revision, an edit, or a 'Hey this was so awesome we're showing it to you in 3d' – we're talking line for line copy, except for what it was served over.
I'm not sure why I care other than to say that your readers are observant and at least one of them noticed, But secondly, for that half a page, I kind of feel ripped off. It's stupid, I know, but I maintain two new recipes a week on Pass the Sushi. Not two recipes I think you wont notice are the same, or two recipes I may have already tried a bunch of times and that I know work. No, two NEW to my kitchen recipes a week.
If I can do this, with my tight little kitchen and my even tighter purse strings, why shouldn't I expect every page of my new magazines to have new recipes?
It's not a big deal, I still love the magazine and will continue to try new recipes from it's pages – it just lost a little of the 'Disney Magic' for me.
What hasn't lost anything for me is this recipe for sage-walnut butter sauce. It's as wonderful as riding your favorite roller coaster, twice in a row – without a waiting line.
Sage-Walnut Butter Sauce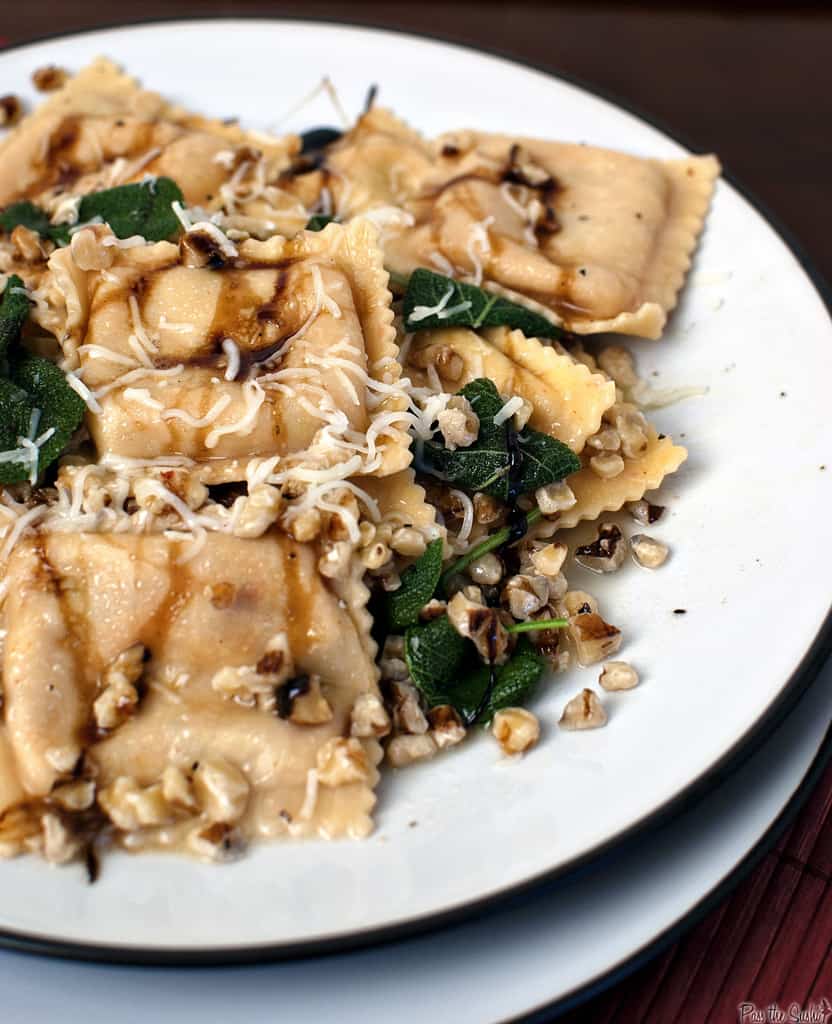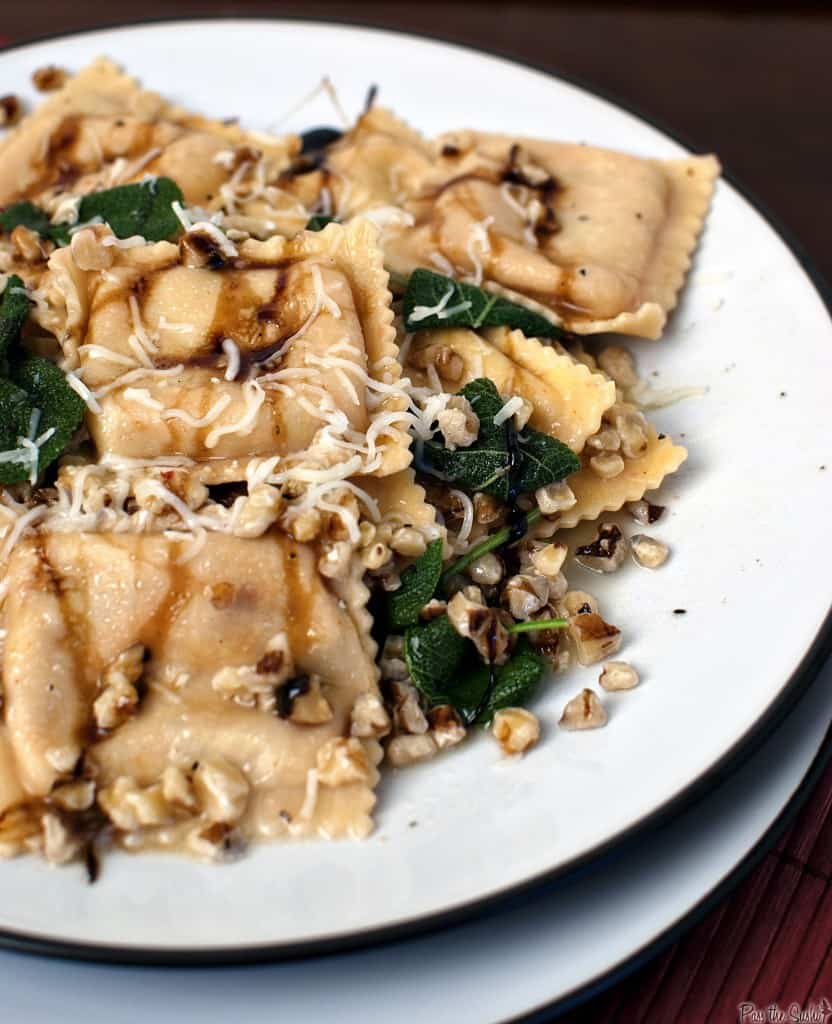 from Food Network Magazine, March 2011
Ingredients:
1/4 cup balsamic vinegar
2 teas honey
1 bay leaf
6 tbs unsalted butter
1/3 cup fresh sage leaves
1 cup chopped walnuts
1 lb cooked ravioli or tortellini
8 ounces pasta-cooking water
Parmesan cheese, salt and pepper
Preparation:
Combine vinegar, honey and bay leave in a saucepan over medium-high heat; cook until syrupy, 5 minutes (not a second longer or it will not be usable… trust me on this one).
Cook ravioli according to package.
Melt butter in a large skillet over medium heat, then add sage leaves and walnuts; cook 3 minutes. Add 1 cup pasta-cooking water and cook until reduced by half, 2 minutes. Toss with ravioli, Parmesan, salt and pepper. Drizzle with balsamic syrup.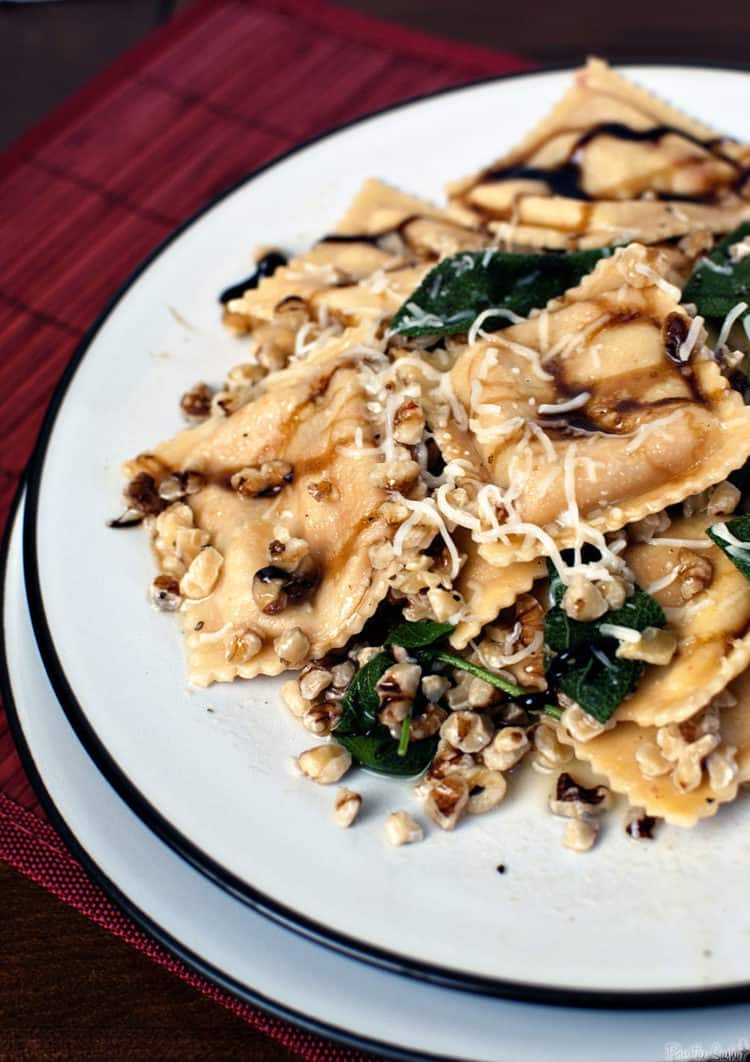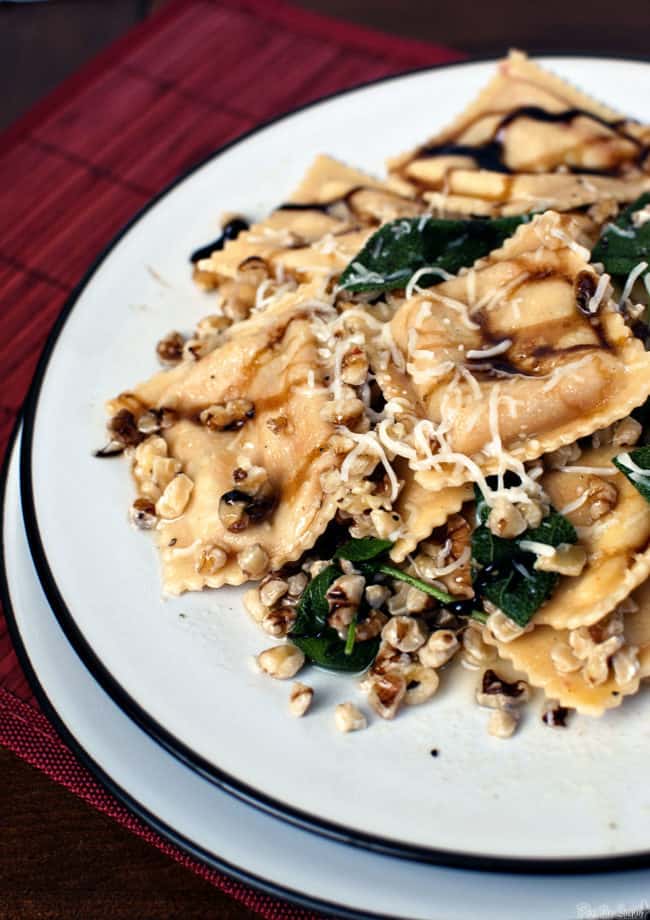 Serve this sage-walnut butter sauce over ravioli or tortellini. It doesn't matter which, as it's all the same to them. 😛