We laughed a lot, we ate well, and most of all, we relaxed for a moment in this busy summer…
Recently, we had the pleasure of driving down to the Hyatt Regency Chesapeake Bay Resort. Located just off of route 50 in Maryland, on the Eastern Shore, this is the perfect place to escape from the busy day-to day. The resort itself is sprawling, with a lovely golf course, beach front accommodations and activities, restaurants, and spa. Even though it's -extremely easy to get to, it's somehow tucked in and away from the busy roads and near by traffic, so as you walk around you will see local wildlife and feel like you have truly escaped. It's the kind of place you go when you want that 'all-inclusive' island style vacation – without the hassle of travel.
The new addition of the Rive Marsh GastroPub in June of 2014, is something that you need to carve a little time out for, especially if you are nearby and could just swing by after a round of golf. The menu is simple, one page, and everything on it reads wonderfully. A gastropub is a simple concept. Great beer deserves great food. We are not talking pub nachos and deep fried wings. We are talking taste and texture sensations from every bite. And The River Marsh GastroPub delivers just that.
When you sit, you are greeted with pretzels and two dipping sauces to get you started while you select a drink and your first round. We were treated to an extra special amuse-bouche from the chef (for which I am starting a petition to be added to the menu). A small bite of pepper crusted tuna with a mix of citrus on top and a thinly sliced perfectly cooked scallop layered between crunchy strips with fried leeks on top. The texture was amazing.
There area  few things that I find rather brave of restaurants to put on their menus. Deviled eggs and fried chicken being at the top of that list. We all have our favorite version of both – a way we solidly believe they should taste and be prepared. And can often be disappointed at pot lucks and family gatherings when they just don't deliver. So, if you are going to put a deviled egg on your menu, prepared to be judged. These particular deviled eggs were served with a duck confit and truffle pearls. They did not disappoint. They actually vanished faster than the Chesapeake Crab hush puppies we ordered to go with them.
Our main dish was strongly influenced by the charismatic chef who came out to explain his menu and dishes to us. I went with the Lamb Burger, something I would have never ordered without the strong suggestion. Ground and seasoned in house, the lamb burger by itself was absolutely wonderful. Between the grilled pita bread with the pickled cucumber, fresh tomato, Feta cheese and tzatziki it was absolutely amazing! (I may have gone as far as to immediately price lamb to grind myself when I got home in an attempt to recreate the flavors).
The Guinness Braised Short Rib was our other entree. This was everything that you want your best home cooked meal to be. The fork tender short ribs were served over mashed red potatoes and served with carrots, cauliflower and a caramelized onion sauce.  I could eat this every night this fall and never grow tired of it. There was something classy and upscale about it, and yet, comfort food at it's core. Dinner was paired with a local craft beer and a gin martini with a twist.
For dessert we ended with a special scoop of mint chocolate chip ice cream, as the host had done a little reading up on me and knew what kind of ice cream I liked and an order of the Sticky Toffee Pudding. (Because sticky toffee pudding is probably the best dessert. ever.)
We left the River Marsh GastroPub with belly's that were very full and taste buds that were very happy.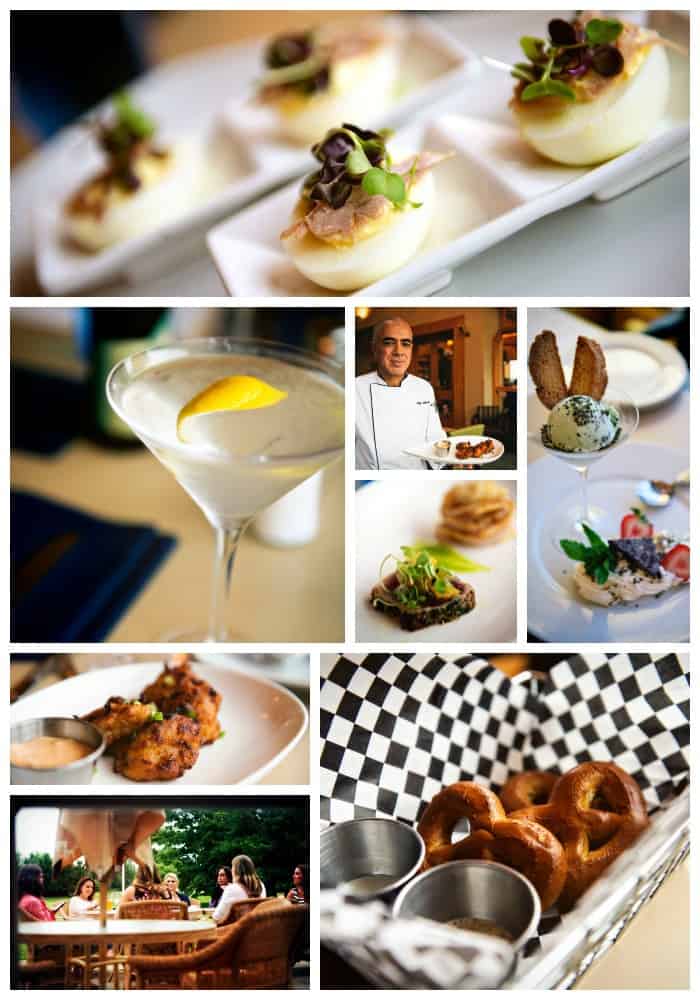 We took the opportunity to wander around the hotel grounds and explore. It was a bit cold on this particular July evening, so there was no swimming in the picturesque endless pool, but non-the-less we sat by the water side and pretended.
Finally we had a cocktail at Micheners Library and pulled up a couple of chairs by an open fire pit and sat and chatted the night away.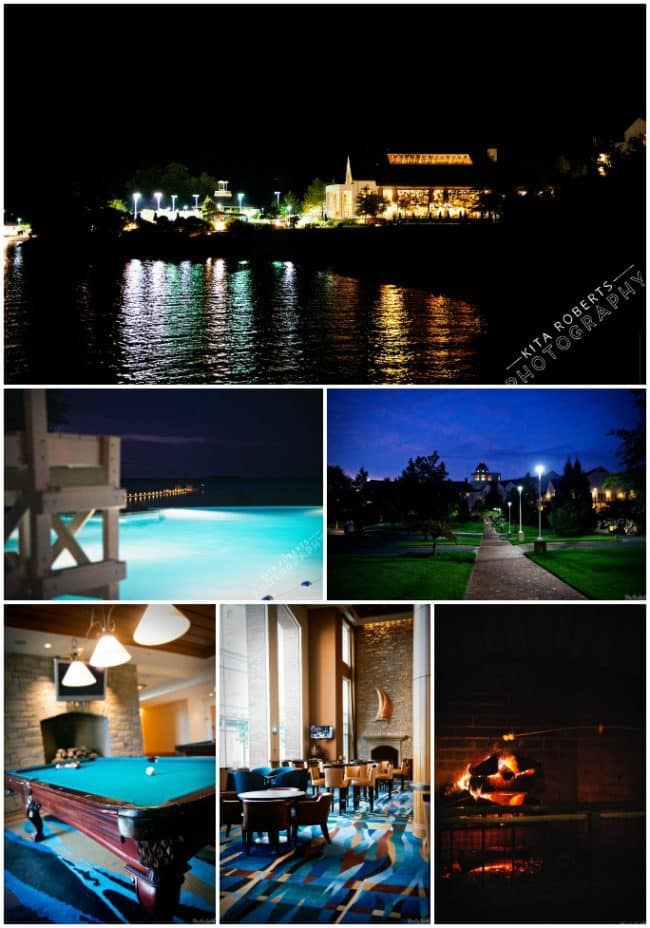 Finally we returned to our room ready to take on the sunrise with much anticipation.
Sunrise on the property was worth getting out of bed early for…

Perfect for picturesque weddings, fun business trips, and the family vacation conveniently located on the Eastern Shore – the Hyatt Regency Chesapeake Bay Resort is just what we needed for our mid summer break. And I can't wait until we can return.
Find Hyatt Regency Chesapeake Bay on Facebook and Twitter
100 Heron Blvd at Route 50
Cambridge, Maryland 21613
And be sure to check out their fun upcoming events if you are in the area or looking for a reason to get away for a bit!
Our room and dinner were provided by Hyatt Regency Chesapeake Bay, however the opinions, commentary, and photos are my own.