Skillet lasagna is a quick, easy weeknight meal that comes together in just 30 minutes. The pan is full of fresh vegetables and three types of cheese, but if you know me, you know that I added meat to my skillet, too!
Today was one of those days when you have to wonder what the heck is wrong with people.
I witnessed a car accident.
It was minor, but I figured I'd pull over and leave my number if the police needed another witness. Well, I was thanked for stopping by being told by the people in the car who hit the other I would be punched in the face if I didn't leave. Wow, really? You failed to yield at a yield sign, nail a person, and have the audacity to sit there and scream at them?
The man who was hit handled their screaming and drama rather well, took my number and I left to go to work. The police called later to ask what happened and said my statement sounded pretty much like what things looked like. That poor man. No one likes being in a car accident, let alone a car accident and extra drama.
What's with people these days?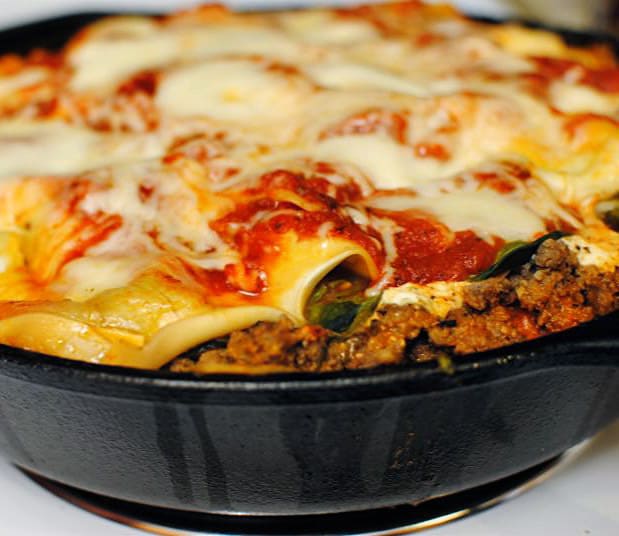 OK, let's move on to this skillet lasagna recipe.
Comfort food like this usually makes things a little bit better.
Skillet Lasagna
from Food Network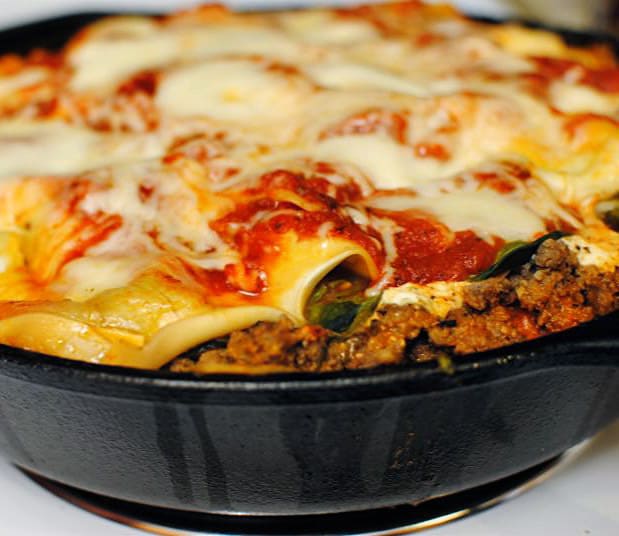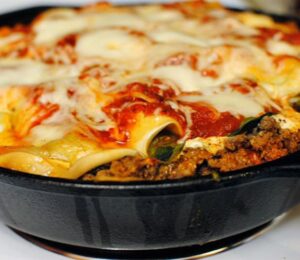 Ingredients:
¼ cup extra-virgin olive oil, plus more for drizzling
4 cloves garlic, sliced
1 ½ pounds ripe tomatoes, diced
4 tablespoons chopped fresh basil and/or parsley, plus more for garnish
Kosher salt and freshly ground pepper
1 cup ricotta cheese
1 large egg
2 tablespoons grated Parmesan cheese, plus more for garnish
6 sheets no-bake lasagna noodles
1 carrot, peeled into ribbons
1 zucchini, peeled into ribbons
3 ½ cups baby spinach
⅓ pound mozzarella cheese, thinly sliced
Preparation:
Heat the ¼ cup olive oil in a large skillet over medium-high heat. Add the garlic; cook until golden, 1 minute. Add the tomatoes, 1 tablespoon herbs, ½ teaspoon salt, and pepper to taste; cook until saucy, about 5 minutes. Transfer to a blender and puree. Return 1 cup of the sauce to the skillet and reduce the heat to low; reserve the remaining sauce.
Meanwhile, mix the ricotta, egg, parmesan, the remaining 3 tablespoons herbs, ½ teaspoon salt, and pepper to taste in a bowl.
Place 2 lasagna noodles over the sauce in the skillet. Layer half of the carrot and zucchini on top; drizzle with olive oil and season with salt and pepper. Cover with half of the spinach, half of the ricotta mixture, a few pieces of mozzarella and 2 to 3 tablespoons of the reserved tomato sauce. Repeat the layers, ending with noodles. Top with the remaining sauce and mozzarella. Cover and simmer until the lasagna is cooked and the cheese melts, 20 to 25 minutes.
Let rest for a few minutes before slicing. Garnish with more Parmesan and fresh herbs.
I add a layer of a cooked sweet sausage/ground beef mixture to this recipe and double the ricotta and spinach. This makes a quick and delicious dinner that comes together quickly and doesn't dirty many dishes.
Hope you enjoy!