Pumpkin cheesecake brownies are the perfect dessert for Fall. Pumpkin cheesecake batter is swirled into brownie batter for a little bite of Heaven.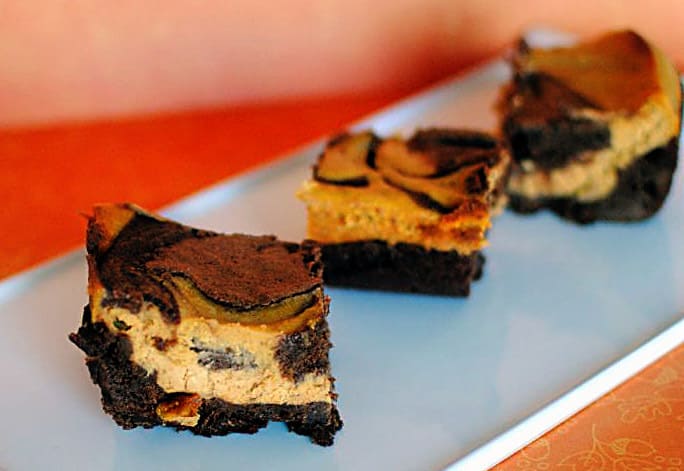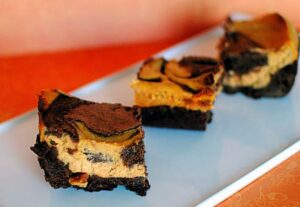 Handsome just found out that I often don't taste my baked goods before offering them to others. This seemed to shock him. I kinda giggled at it.
Yes, it's basic kitchen knowledge to taste, taste, taste. But really, with baked goods, by the time the item is on the table, I'm done.
I know I'm going to make a lot of people cringe, but I do often taste the batter. With most sweet desserts, if the batter doesn't taste right, neither will the finished product. So, I'd say 99% of the time, I have a pretty good idea how things should turn out in the end. And I knew from that taste of batter that these pumpkin cheesecake brownies would be perfect.
Besides, good friends always tell you what is delicious and what needs improvement… Sometimes a little too much. 😉
Pumpkin Cheesecake Brownies
adapted from Caras Cravings seen on  Perrys' Plate
Ingredients:
Brownie Batter:
3/4 cup (1 1/2 sticks) butter, melted
1 cup sugar
1 tbs vanilla
2 eggs
1/2 cup all purpose flour
1/2 cup unsweetened cocoa powder
1/4 teas salt
1/2 teas cinnamon
Cheesecake Batter:
6 oz cream cheese, softened
1 egg
1/3 cup sugar
2 tbs flour
1/2 cup pumpkin puree
1/4 teas vanilla
1/2 teas cinnamon
1/4 teas each ground ginger and ground cloves
Preparation:
Preheat oven to 350F. Grease an 8×8″ or an 11×7″ baking pan.
For the Brownies: Beat together melted butter, sugar, and vanilla, then beat in eggs one at a time. Combine dry ingredients in small bowl, and then gradually stir into butter mixture by hand.
For the Cheesecake: In another bowl, beat cream cheese and sugar until smooth. Beat in remainder of ingredients until smooth.
Spread about 2/3 of chocolate batter into prepared pan. Spread the pumpkin batter over top, distributing evenly. Drop the remaining brownie batter over cheesecake batter. To make the swirls, run a butter knife back and forth through the pan.
Bake for 35-40 minutes, or until a toothpick inserted in the center comes out clean and the center doesn't jiggle when you nudge the pan. Cool completely and chill before cutting and serving.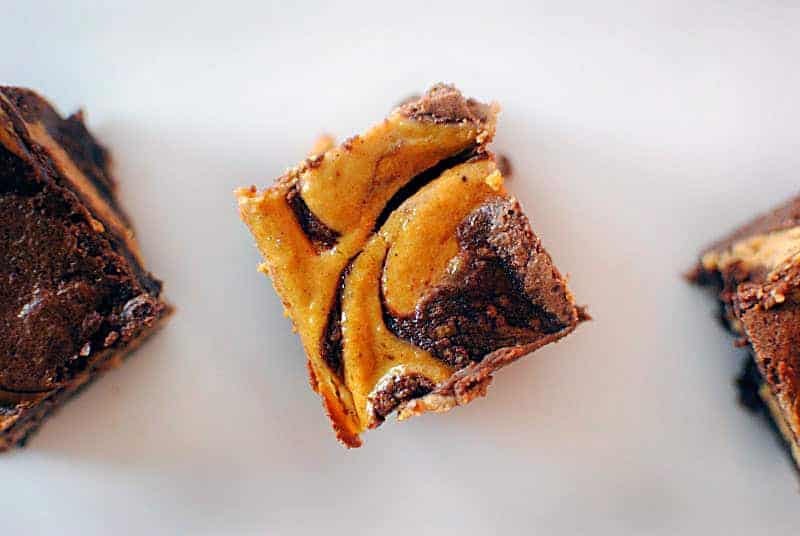 These pumpkin cheesecake brownies were a little rich for my blood, so I gave them to some people who I knew would love them. If I were to make these again, I would make them in a 9″ x 13″ pan using the same method as instructed, except lowering the cook time (probably to 25 minutes). They would be thinner brownies, which for their level of richness, I may enjoy more.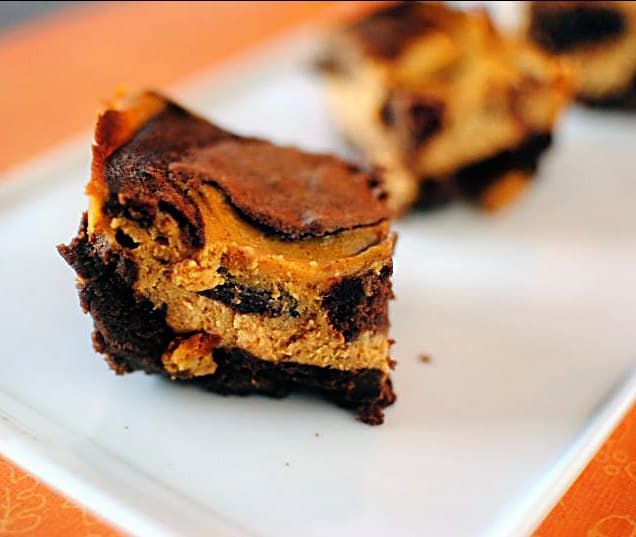 Update:
This pumpkin cheesecake brownies post made FoodBuzz Top 9!