Hoisin pork egg rolls are tasty hoisin pork paired with an Asian slaw. All wrapped up in an egg roll wrapper and fried. Appetizer perfection.
Sometimes it's all about a good concept.
I had seen several times before the idea of a BBQ egg roll and lately the idea of a hoisin pork egg roll had been running through my head.  Yeah, that idea has been tempting my pallet for a few weeks on the to do list.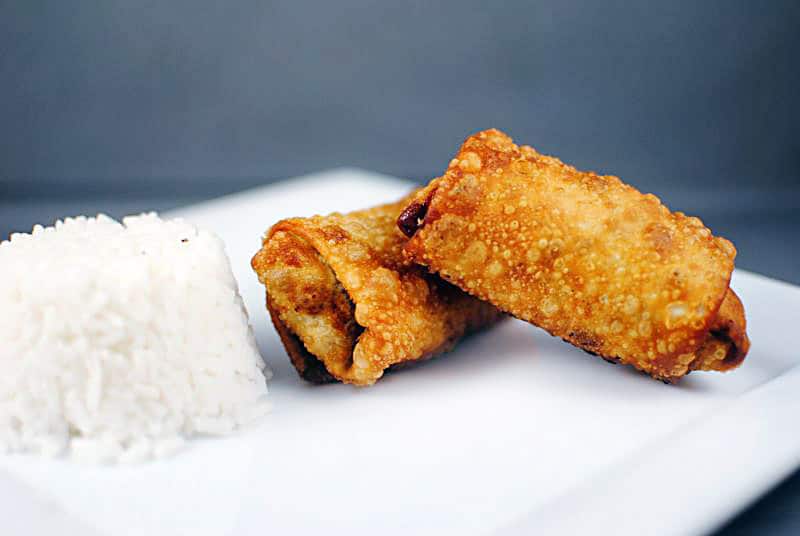 Hoisin Pork Egg Rolls with Asian Slaw
A little mix of me and some Emeril, Guy, and Google.
Hoisin Pork

Ingredients:
For the Pork:
1/2 cup hoisin sauce
1/4 cup soy sauce
2 tbs sesame oil
2 tbs rice vinegar
1 tbs minced garlic
1 tbs minced ginger
1/2 teas freshly ground black pepper
1/2 teas red pepper flakes
1/2 cup honey
1 2lb pork loin
Preparation:
In a bowl, whisk together hoisin sauce through honey. Place pork in a crock pot set to low, cover in hoisin sauce mixture.
Cook on low for 3 to 4 hours (or until pork pulls apart with a fork easily). Shred pork.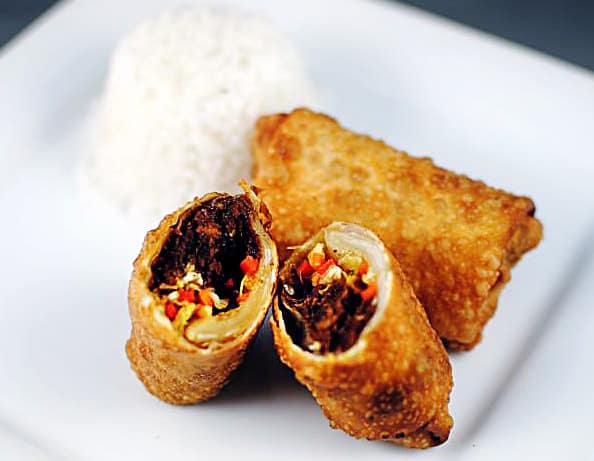 Spicy Asian Slaw
Ingredients:
for the slaw:
1 small head green or napa cabbage
1/2 small head red cabbage
1 large carrot
for the dressing:
4 tablespoons rice vinegar
1 tablespoon toasted sesame oil
1 teaspoon kosher salt
4 teaspoons sugar
1-2 teaspoons red chili flakes
1 tablespoon sesame seeds, lightly toasted
Preparation:
Finely chop the cabbage into thin strips. Do the same with the vegetables if needed.
In a large bowl, whisk together the dressing ingredients. Add vegetables, and toss well to coat. Refrigerate for a few hours if you have time, to really let the flavors soak in.
Hoisin Pork Egg Rolls

Ingredients:
Preparation:
In a small bowl, lightly whisk eggs and milk together.
Lay egg roll wrappers with a point facing you, brush edges with egg mixture. Place about 2 tbs of pork and slaw on the wrapper. Fold over outer edge, up bottom and top edges and tightly wrap up the egg roll sealing off the wrap with the last corner. Repeat for all egg roll wrappers.
Fry egg rolls in oil for about 4 minutes. Drain and lay on a plate lined with paper towels.
Enjoy 🙂
To reheat, just preheat the oven to 350 and bake for 10 minutes.
Unfortunately, the same night I had been prepped to make these Hoisin pork egg rolls, I enjoyed a late lunch of chimichangas (cuz I can't turn down Mexican), so I wasn't able to gorge myself on these delicious egg rolls the way I had planned to. But don't worry, there were plenty of them left over for annihilation later. 🙂
Update: This hoisin pork egg rolls post made it to FoodBuzz Top 9!